2018 was a very tough year for global banks. U.S Financials have been also hit badly during the recent sell-off. The market sentiment towards banking stocks has changed dramatically. As shown below, there has been the largest outflow from Financial Select Sector SPDR ETF (XLF) since 2008 lately.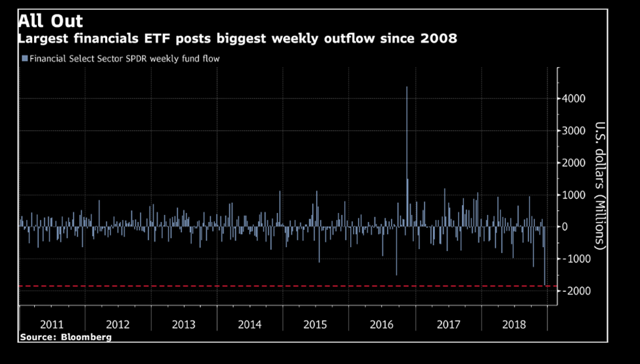 Source: Bloomberg
In addition, short interest has increased to the highest in more than two years and we would not rule out that a strong rally in US financials on 26 December was short-lived as it was largely driven by the short-covering.

Source: Bloomberg
The yield curve continues to flatten and that was likely the main reason of such a weakness in U.S banking equities. The spread between the yields on 10-year and 2-year Treasury notes (10-2yr spread) is now less than 20bps.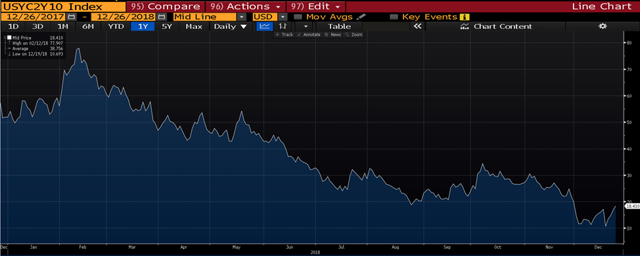 Source: Bloomberg
The chart below plots the 10-2yr spread and the performance of XLF since 1999 (please note that the dynamics of XLF is inverted to show the correlation more clearly). As you can see, historically there has been a very strong negative correlation.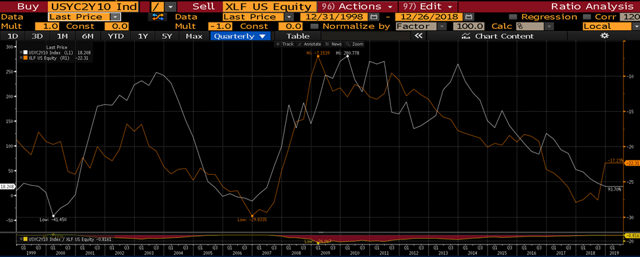 Source: Bloomberg
Indeed, conventional wisdom holds that most banks have a spread-based business model as they borrow at short rates and lend at long rates. As a result, a flatter yield curve is negative for the banks' margins. However, as we noted in our prior articles, we believe the relationship between the banks' margins and the US curve is much more complex than simply that. US banks are vastly different institutions in terms of balance sheet structures, loan mixes, securities portfolios, and funding profiles. In other words, there are asset-sensitive banks and liabilities-sensitive banks in the sector. As such, understanding the differences between them is crucial in a rising rate environment.
What should long-term investors do?
We do not have a crystal ball to predict short-term movements in the US banking equities as those are likely to be driven by macroeconomic factors rather than company-specific events. The yield curve will remain a key factor. As the chart below demonstrates, US banking stocks were quite volatile during the 2004-2006 tightening cycle, providing very attractive opportunities for short-term trades.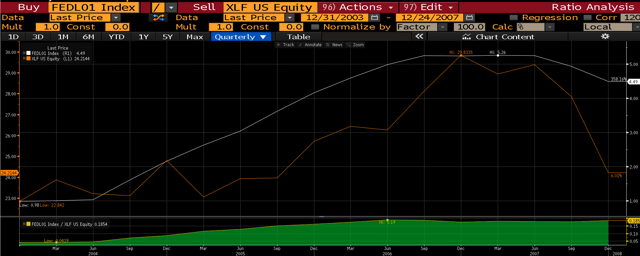 Source: Bloomberg
However, as investors, we prefer to focus on fundamentals. Of course, there is still a lot of uncertainty in the equity markets, and we believe it would be very naive of us to claim that U.S. banks' fundamentals will remain unchanged if the operating environment deteriorates from here. As of now, US banks enjoy stable-to-rising margins, moderate loan growth, and very benign asset quality trends. Without a doubt, all of them could change very quickly and it seems the market is pricing quite a sharp deterioration of those operating metrics. After all, banking is a highly cyclical industry, and we are late in the cycle.
As such, we are taking a look at two factors that are really crucial for banks in a recession/a financial crisis. The first thing is liquidity. The Fed continues to gradually reduce its balance sheet, and that is basically quite a sharp liquidity drain for the system.
The Fed's balance sheet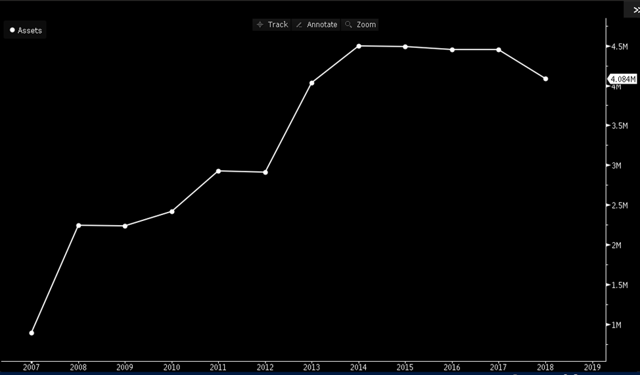 Source: Bloomberg
What's important here is that US banks have significantly improved their liquidity levels since the global financial crisis. The chart below shows the sector's loan-to-deposit ratio, which, in our view, is currently at a very comfortable level, especially compared to the 2006-2008 period.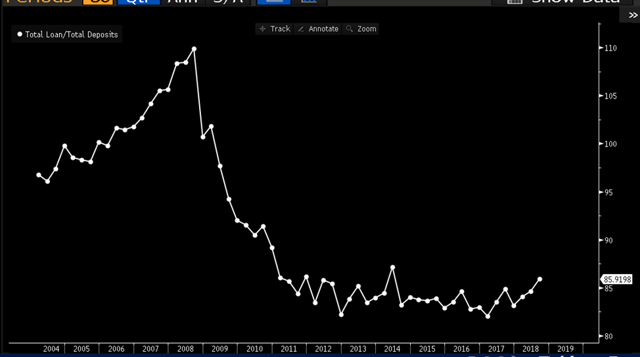 Source: Bloomberg
Another key factor is the capital position. The sector's Tier 1 capital ratio increased from 7% in 2011 to almost 12% in Q318, and US banks showed an impressive improvement in their capital positions.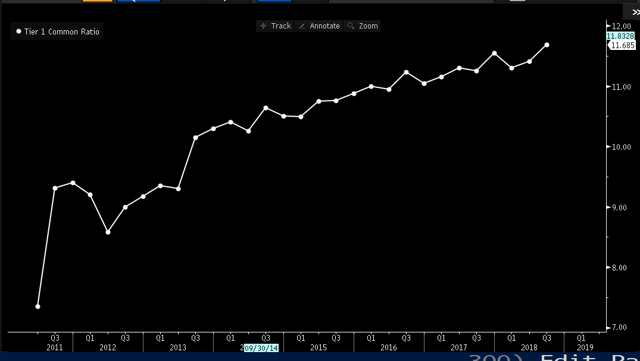 Source: Bloomberg
Valuation
Goldman Sachs (GS) and Citi (C) are trading below 8x forward earnings.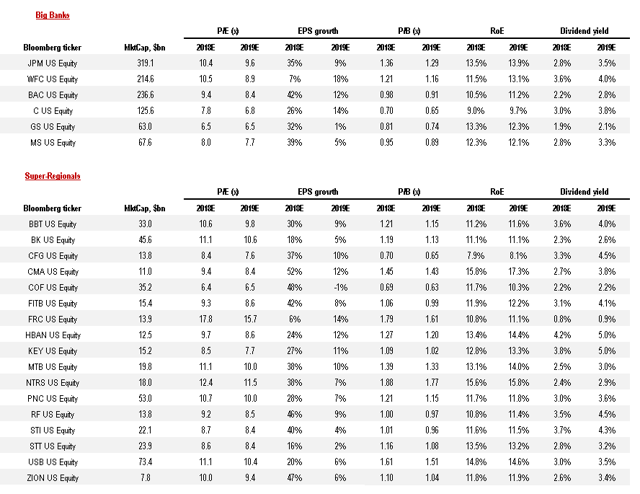 Source: Bloomberg, Renaissance Research estimates
But they are still not cheap given their low RoTEs.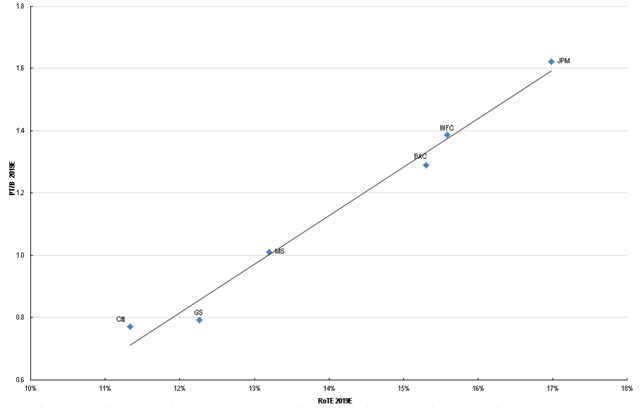 Source: Bloomberg, Renaissance Research estimates

Source: Bloomberg
Bottom line
Although operating metrics of U.S. banks remain stable and even show some signs of improvements, we believe 2019 will be a choppy year for financial stocks. With that being said, capital position and liquidity levels of the U.S. banking sector have significantly improved since the last crisis, and that, in our view, should give comfort for long-term investors.
Disclosure: I am/we are long JPM, WFC. I wrote this article myself, and it expresses my own opinions. I am not receiving compensation for it (other than from Seeking Alpha). I have no business relationship with any company whose stock is mentioned in this article.