Overview
Facebook (NASDAQ:FB) shares have declined 38% since July, and a growing number of issues have led to this decline, including regulatory pressures, data scandals, lower projected revenues by the company management in earnings conference calls and the broad market negativity.

(Source – Morningstar)
To add salt to the wound, some well reputed brokerage firms and investment banks have lowered their price targets for Facebook, over the last couple of months. Since then, two camps have emerged in the investing community, with two contrasting views on the future of Facebook. One camp believes that Facebook will continue to shred its market value and company profits will decline, and on the contrary, the other camp believes that Facebook's decline was undue and irrational, and Facebook will continue to gain its footing and remain the number one advertising platform of the world. In this analysis, I try to identify the reasons behind the share price crash and what the company management is doing to overcome the difficult times and achieve sustainable growth in profits. Thereafter, I focus on assigning a buy/sell rating to the company, based on an intrinsic value estimate.
Why did Facebook shares decline 38% in 5 months?
During the Q2 earnings conference call in July, the company management projected a decline in operating margins in the future, as the company plans to invest billions of dollars to improve safety measures to prevent data scandals from happening in the future. On the other hand, Facebook will look and feel different in the future, as the company is planning to prioritize Stories over the News Feed. Management commentary in the Q2 earnings conference call triggered the very first move in Facebook's 38% decline. In fact, the stock lost 20% upon releasing its earnings and concluding the conference call.
Secondly, Facebook as a company was involved in a series of data scandals and has attracted scrutiny of various law-makers, around the globe. In September, Facebook announced a major security breach in which hackers were able to use a vulnerable portion of Facebook's platform to access accounts of more than 50 million users. More recently, in December, A New York Times report claimed that Facebook was providing user information to major tech companies including Apple, Netflix and Google, regardless of privacy settings of users. These data scandals, coupled with a series of regulatory crackdowns on Facebook, contributed to the share price decline since July.
Thirdly, senior executives started leaving Facebook, and this was seen as a major negative sign for Facebook's future. The departure of these senior executives was seen as proof of the deteriorating future prospects of the company, and investors were keen to punish Facebook for not being able to retain top level talent. Below is a summary of executives who decided to leave Facebook in this year so far.
| | |
| --- | --- |
| Name | Nature of employment |
| Jan Koum | Co-founder of WhatsApp |
| Elliot Schrage | Head of communications and public policy |
| Colin Stretch | Facebook's top lawyer |
| Alex Stamos | Chief Security Officer |
| Dan Rose | Vice President of partnerships |
| Alex Hardiman | Head of news products |
| Kevin Systrom | Instagram co-founder |
| Mike Krieger | Instagram co-founder |
(Source – Data collected from company filings and CNBC)
This extensive list constitutes of some executives who have already resigned, and others who have announced of their departures in the coming months. Investors are fair to raise concerns over these high profile departures, as a company's eco-system is built around its senior executives.
Fourthly, the introduction of the General Data Protection Regulation (GPDR) has made company's survival in the European region more difficult, and Facebook has already lost millions of users in this region, since the introduction of these strict privacy rules. The advertising business of Facebook in the European region is expected to take a permanent hit with the implementation of GPDR. In line with these lower revenue expectations from the all-important European region, investors were quick to dump their Facebook shares, which paved the way for the massive erosion in market capitalization since July.
Among other reasons, the broad market negativity played its part as well. Since September, overall markets took a beating as part of the yield curve inverted, trade tensions rose and political woes continued to persist.
What is Facebook doing to overcome these issues?
Investors need to assess the present situation of Facebook by weighing in the positives against the negatives. Understanding why Facebook share price declined over the last few months does not provide an insight in to the future performance of the company. In this segment of the analysis, I focus on the initiatives taken by the company management so far, to tackle prevailing issues.
On the earnings front, the company has revealed new plans to monetize its massive user base. Facebook still has access to a massive user base, which the company is not monetizing at the moment. WhatsApp is a prime example of such a user base, and the company has not fully monetized the Instagram user base as well.
Facebook has 2 billion monthly active users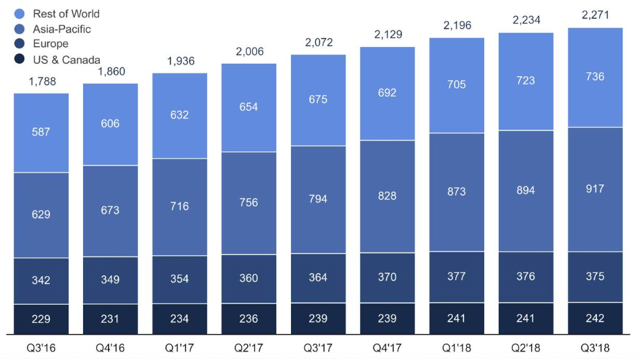 (Source – Company presentation)
In my opinion, investors need not base their focus on identifying whether Facebook's monthly active user base is growing or not. The primary reason behind this is that Facebook is approaching its maturity now, and the company will of course not be able to grow its active user base in perpetuity. The focus here should be on how Facebook can continue to monetize a user base of more than 2 billion, while retaining this user base.
Despite regulatory concerns, security breaches and data scandals, social media remains an important aspect of today's society, and Facebook is the clear leader in this segment by miles.
Instagram TV, Facebook Watch, monetizing WhatsApp and Messenger are all formidable plans, which would lead to a higher revenue base for the company.
On the other hand, margins will continue to compress as the company will invest significant amounts to improve security. However, improved security levels will help resurrect the trustworthiness of the brand, which is healthy for the long-term outlook of the company. Therefore, even if the company has to sacrifice current year profits to secure its competitive advantage and future profitability, this should not be seen as a negative trend. In any case, margins will still be significantly higher than its identifiable peers.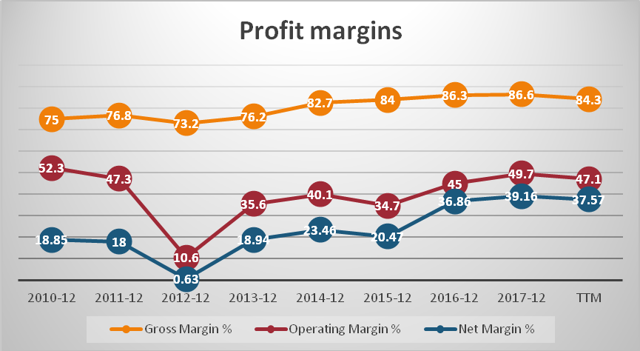 (Source - Author prepared based on company filings)
On the safety and security front, the company has taken a few measures to prevent data scandals from happening, and billions of dollars have been allocated to fund such measures.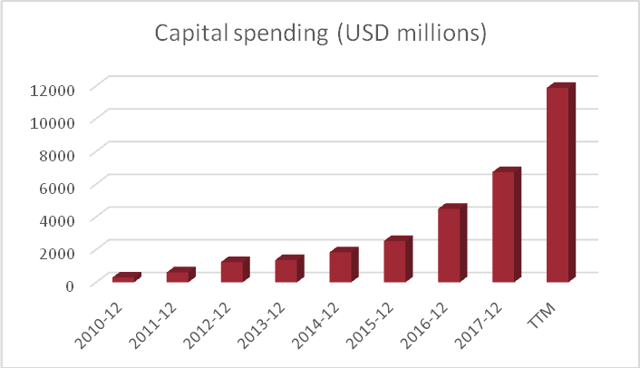 (Source - Author prepared based on company filings)
In line with the roadmap released in 2016, the company is ramping up its investments to improve security measures until the end of 2019. While a company would never be able to fully tackle security threats, taking actions and being proactive so as not to encourage security breaches is the key, as is identified by Mark Zuckerberg.
We're judging our success by, go through all of the categories of harmful content and behavior, whether it's terrorism, or self-harm, or hate speech, or just any different kind of thing that you'd be worried about. We're judging our success by how proactive can we get, so what percent of the stuff that we're taking down are we identifying before other people identify it for us. We've started issuing transparency reports so we can be held publicly accountable on this.
Facebook's investments in improving security measures include doubling its security staff by adding contractors, security engineers and deploying artificial intelligence to identify possible security breaches. In my opinion, Facebook will never be able to eradicate security breaches or data scandals, but mitigating the impact of such occurrences should remain the primary focus, which is exactly what the company is focusing on at the moment.
Next, Facebook is focused on bringing in top talent to replace the senior executives who left and are planning to leave. Facebook continues to remain one of the best places to work (number 07 in the United States), and this, coupled with the brand value of the company, should help Facebook attract top-notch talent.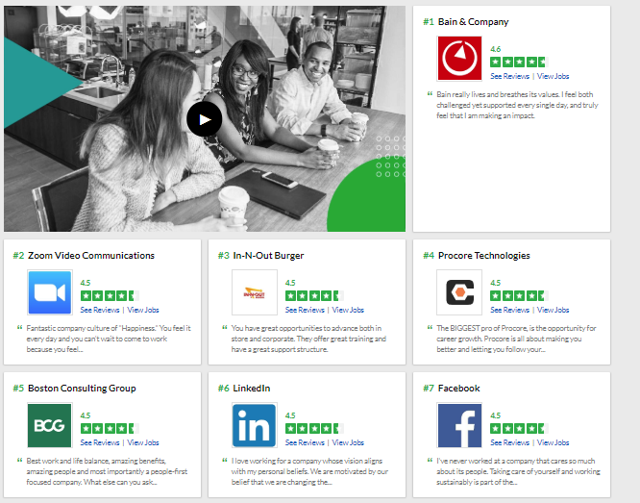 (Source – Glassdoor)
Facebook has already hired the former deputy prime minister of the United Kingdom, Sir Nick Klegg, as the head of its global affairs and communications team. A number of resigning executives have indicated that they will support a smooth transition by assisting the process of recruiting top quality talent to replace their roles.
To the credit of the management, they have identified the major risks the company is exposed to, and is working toward mitigating the impact of these issues on future earnings of the company. What's more, the management has openly admitted of their willingness to trade current profits to achieve future sustainability, which is brave and commendable.
Fair value estimate
Many investment publications have recently focused on identifying the issues surrounding Facebook, and declaring that the company is not an attractive investment at the moment. On the contrary, bulls have emphasized on how Facebook can monetize its user base and grow, and claimed the company is a very attractive investment at present. However, I believe a company cannot be assigned a buy or sell rating, without estimating a fair value for its shares.
To arrive at a fair value estimate for Facebook, I have used a Discounted Cash Flow (DCF) method, with a 5-year forecast period. Terminal value is calculated using EBITDA multiples.
Below is a discussion of the major assumptions used in arriving at the fair value estimate for Facebook.
Revenue
To project revenues in the forecast period, I have looked at historical revenue growth rates and applied a discount factor to reflect the maturing nature of Facebook's business model. In addition, the company is shifting its focus from tried and tested methods and focusing on venturing into content streaming and monetizing Stories. It will take time for Facebook to understand how to drive revenue from these segments, and I believe billion dollar investments in these segments will yield comparatively lower results for a couple of years.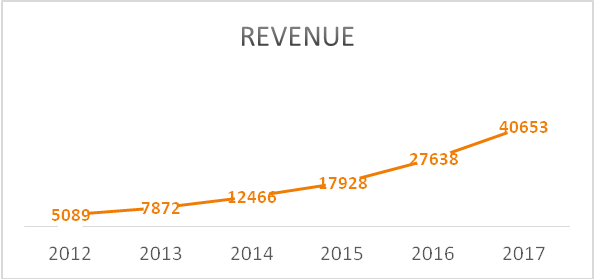 (Source - Author prepared based on company filings)
During the last 5 years, revenue has grown at a Compounded Annual Growth Rate (CAGR) of 51.5%.
Despite this stellar revenue growth, I have estimated revenues will grow at a CAGR of 22%, from 2017 through 2022.

(Source - Author's calculations)
EBITDA margin
Over the last 4 years, Facebook's EBITDA margin has improved from 49% in 2014 to 58% in 2017. However, the Trailing Twelve Months (TTM) EBITDA margin rests at just 55%, which represents the beginning of margin deteriorations. In the coming years, operating margin will further deteriorate and this will adversely affect free cash flows, which I have incorporated into my DCF analysis.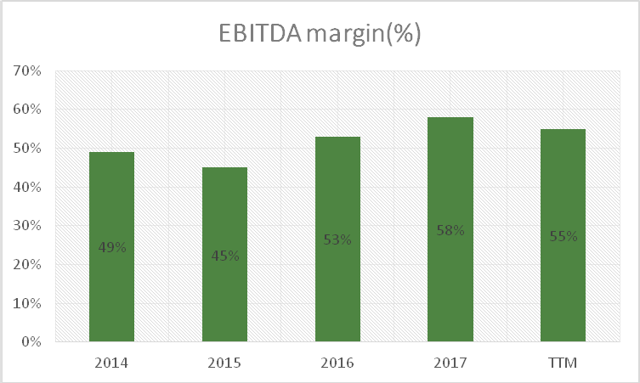 (Source - Author prepared based on company filings)
During the forecast period, I believe the EBITDA margin will continue to fall and settle for around 49% in 2022.

(Source - Author's calculations)
I forecast the EBITDA margin to fall at a faster rate till 2020, as Facebook accelerates its spending on creating original content for Facebook Watch, increase investments to improve security measures and face margin compression arising from higher administrative costs. However, beyond 2020, I expect the company to reduce its spending on security-related improvements, and on the other hand, Facebook Watch, Stories and other monetizing initiatives focused on WhatsApp and Instagram will start yielding better results on dollars spent. Based on these assumptions, I expect EBITDA margin to slightly improve from 2022 and beyond.
Capital expenditures
Historically, capital expenditures have accounted for less than 20% of Facebook's revenue, but under prevailing conditions, the company is forced to spend a much higher portion of its revenue as capital expenditures. In line with this assumption, I expect capital expenditures to reach a high of around 25% - 26% of revenue, and then to settle for around 19% of company revenues.
Finally, to calculate terminal value, I have used an EBITDA multiple of 9.5 times, and a discount rate of 9.5% was used throughout the process.
With these assumptions, I have arrived at a fair value estimate of $158 for Facebook shares, which represents an upside of 18%.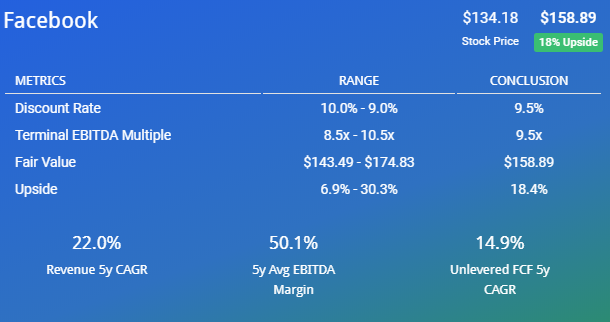 (Source - Author prepared based on author's calculations)
One major point to note is that I have used conservative assumptions in the model, from Facebook's standards. Being one of the most-followed stocks, Facebook usually tends to trade at a premium. In addition, even though I believe growth rates will deteriorate in the forecast period, Facebook might once again grow at a faster rate beyond the forecast period, driven by the possibility of a massive success in monetizing WhatsApp and becoming a leader in the content streaming industry.
To add some perspective on the conservative assumptions I have used, we can look at the consensus analyst estimate for Facebook share price, which is closer to $200, than to $150.

(Source – Market Beat)
Conclusion
Facebook has attracted a lot of attention, both from bulls and bears, in the last couple of months. Facebook is one of the stocks that trade at rich valuation multiples on a constant basis, but at the current market price, value investors can look at the company as a bargain pick. Margins will continue to compress and the profitability of the company will decline momentarily, but the long-term outlook remains intact. Facebook will continue to distribute wealth to its shareholders through share buybacks as well, and shares are trading at a discount of 18% to its intrinsic value estimate.
Disclosure: I am/we are long FB. I wrote this article myself, and it expresses my own opinions. I am not receiving compensation for it (other than from Seeking Alpha). I have no business relationship with any company whose stock is mentioned in this article.