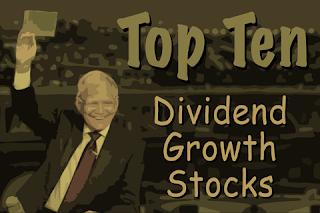 Like many dividend growth investors, I use the CCC list as a starting point for my research. The list contains nearly 900 stocks trading on U.S. exchanges with the distinction of having paid higher dividends for at least 5 consecutive years. An accompanying spreadsheet providing key data on the CCC stocks is maintained by Justin Law.
With my monthly 10 Dividend Growth Stocks series, I rank a subset of CCC stocks and present the 10 top-ranked stocks for further research. In the October edition, I debuted a new ranking system. The ranking system assigns letter grades to stocks relative to their performance among sector peers. Having a sector-oriented ranking system avoids the problems associated with ranking dissimilar stocks.
This month I decided to rank CCC stocks in one of the defensive sectors, Consumer Staples. Given the increase in market volatility since October, perhaps it is prudent to start considering defensive stocks. Defensive stocks tend to outperform the broader market during market downturns.
The CCC List: Consumer Staples
The latest CCC list (dated 11/30/18) contains 865 stocks. There are 130 Dividend Champions—stocks trading on U.S. exchanges with higher dividend payments for 25 or more consecutive years; 200 Dividend Contenders (10-24 year streak); and 535 Dividend Challengers (5-9 year streak).
The CCC spreadsheet contains 47 Consumer Staples sector stocks. I ranked 40 of these stocks after excluding stocks with yields below 1%, stocks with market capitalization below $1 billion, and stocks trading over the counter.

Collectively, the stocks have a fair value upside of 0.7% and an average dividend yield of 3.3%. An equal-weighted portfolio would have returned -4.9% in the past year. Interestingly, the stocks have outperformed the S&P 500 by about 9% over the last five years.
Overview of My Ranking System
I ranked the 40 Consumer Staples sector stocks using data available in the CCC spreadsheet and additional sources like Morningstar, F.A.S.T. Graphs, finbox.io, and Simply Safe Dividends.
My ranking system assigns letter grades to each stock relative to its performance among sector peers, in each of the following four categories:
Consistency and rate of past earnings growth
Dividend Safety and sustainability of payments
Financial Health of the company and quality of the stock
Growth of dividends and earnings (history and outlook)
I assigned A, B, C, D, and F grades to 8 stocks in each category.
The letter grades are assigned based on scores assigned to different metrics in each category. Metrics are weighted relative to how important I consider them to be. For example, I have one metric in each category with a relative weight of 3, three metrics with weights of 2 each, and several additional metrics with weights of 1 each. The maximum score per category is 25, so the total score for each stock is out of 100.
Stocks are ranked from the highest to the lowest based on total score.
Note that I no longer mix valuation metrics into my ranking system. Instead, my ranking system will attempt to identify top-quality dividend growth stocks regardless of valuation.
As before, I'll provide fair value estimates of the top-ranked stocks to help readers identify potential candidates for further research.
Top 10 Consumer Staples Sector Stocks
Here are the top 10 Consumer Staples Sector stocks according to my ranking system:
Top 10 Consumer Staples Sector Stocks (December 2018)
The stocks I own in my DivGro portfolio are highlighted.
1 • Hormel Foods (HRL)
HRL is a multinational manufacturer and marketer of consumer-branded food and meat products. The company sells its products through sales personnel, as well as through independent brokers and distributors. Customers include retailers, hospitals, nursing homes and marketers of nutritional products. HRL was founded in 1891 and is based in Austin, Minnesota.
2 • Church & Dwight (CHD)
CHD develops, manufactures and markets a range of household, personal care and specialty products. The company sells its consumer products under a range of brands through a distribution platform that includes supermarkets, mass merchandisers, wholesale clubs, drugstores, convenience stores, specialty stores, and websites. CHD was founded in 1846 and is headquartered in Ewing, New Jersey.
3 • Costco Wholesale (COST)
Founded in 1976 and based in Issaquah, Washington, COST operates more than 700 membership warehouses in the United States an internationally. The company offers branded and private-label products in a range of merchandise categories. COST also operates gas stations, pharmacies, food courts, optical dispensing centers, photo processing centers, and hearing-aid centers; and engages in the travel business.
4 • Estee Lauder (EL)
EL manufactures and markets skin care, makeup, fragrance, and hair care products in the Americas, Europe, the Middle East, Africa, and the Asia Pacific. The company offers its products under numerous brand names, including Estee Lauder, Aramis, Clinique, Origins, and La Mer. EL was founded in 1946 and is based in New York, New York.
5 • Tyson Foods (TSN)
TSN is a worldwide food company that operates through four segments: Chicken, Beef, Pork, and Prepared Foods. The company offers its products under various brands, including Tyson, Jimmy Dean, Hillshire Farm, Ball Park, Sara Lee, Chef Pierre, and Golden Island brands. TSN was founded in 1935 and is headquartered in Springdale, Arkansas.
6 • Altria (MO)
MO was founded in 1919 and is headquartered in Richmond, Virginia. The company manufactures and sells cigarettes, smokeless products, and wine in the United States. In March 2008, MO spun off the subsidiary Phillip Morris to protect it from litigation in the United States.
7 • J&J Snack Foods (JJSF)
JJSF manufactures, markets, and distributes various nutritional snack foods and beverages to foodservice and retail supermarkets in the United States, Mexico, and Canada. The company sells its products through a network of food brokers and independent sales distributors; and a direct sales force. JJSF was founded in 1971 and is based in Pennsauken, New Jersey.
8 • WD-40 (WDFC)
Founded in 1953 and headquartered in San Diego, California, WDFC develops and sells multi-purpose maintenance products, and home care and cleaning products. WDFC sells its products through mass retail and home center stores, warehouse club stores, grocery stores, hardware stores, automotive parts outlets, sports retailers, independent bike dealers, online retailers, and industrial distributors and suppliers.
9 • McCormick (MKC)
MKC manufactures, markets, and distributes spices, seasoning mixes, condiments, and other flavorful products to the food industry. The company's brands include McCormick, Lawry's, and Club House. It operates in two business segments, Consumer and Industrial. MKC was founded in 1889 and is based in Sparks, Maryland.
10 • Walgreens Boots Alliance (WBA)
WBA operates a network of drugstores in the United States. The company sells prescription and non-prescription drugs as well as general merchandise products, including household items, convenience and fresh foods, personal and beauty care products, and photofinishing services. WBA was founded in 1901 and is based in Deerfield, Illinois.
Please note that the top 10 ranked Consumer Staples sector stocks are candidates for further analysis, not recommendations.
Below is a finbox.io analysis of the top 10 Consumer Staples sector stocks for December 2018:

Only three stocks are trading below fair value (according to finbox.io) and, overall, the stocks have a fair value downside of about 8%. Note also the more modest dividend yield of 2.2%.
On the other hand, these stocks have returned 7.6% in the past year and 84% over the last five years! The 5-year performance is more than double that of the S&P 500 over the same period.
Grades and Key Metrics
The table below presents key metrics from the CCC spreadsheet (unless noted otherwise), a fair value estimate, and letter grades for each stock. The letter grades are for Consistency (C), Safety (S), Health (H), and Growth (G) as described earlier.
In the table, Years are the years of consecutive dividend increases and Payout Ratio is the earnings payout ratio, courtesy of Simply Safe Dividends. When available, I provide Standard & Poor's Credit Rating and the compound dividend growth rate over a 5-year period (5-Yr DGR) from the CCC spreadsheet. I also provide the adjusted operating earnings growth rate for a 10-year period (10-Yr EGR) from F.A.S.T. Graphs and the Dividend Safety Score (out of 100) from Simply Safe Dividends. Finally, I present my own estimate of Fair Value.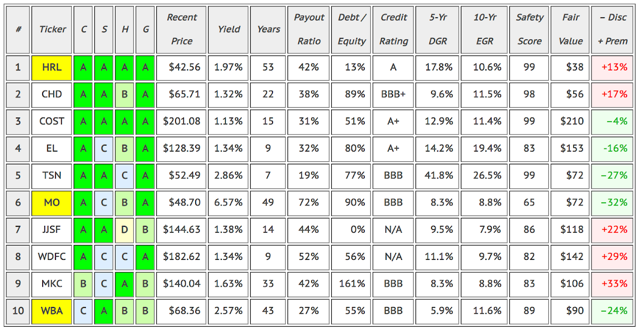 To estimate fair value, I calculate my own fair value estimates using proprietary implementations of the multi-stage Dividend Discount Model and the Gordon Growth Model. I also reference fair value estimates and target prices from other sources, including finbox.io, Morningstar, and F.A.S.T. Graphs. With up to nine estimates available, my final fair value estimate ignores the lowest and highest, then averages the median and mean of the remaining estimates.
Several stocks are trading below my fair value estimates and, of the stocks I don't own, EL and TSN seem to be worth a look.
Commentary
In September I ranked 240 stocks using my previous ranking system and presented the 10 top-ranked dividend growth stocks by sector. Here are the top-ranked Consumer Staples sector stocks from that article:

HRL tops both lists, while WBA, MO, WEC, and CHD "survived" my ranking system change.
Two stocks I own, Procter & Gamble (PG) and Walmart (WMT), no longer are in the top 10. PG is ranked #24 and WMT is ranked #33. Both have very low Consistency and Growth scores.
The only other Consumer Staples stock I own is Coca-Cola (KO), which is ranked #35.
Given their lowish ranks, I'll need to take a good look at PG, WMT, and KO. Are there higher-ranked but comparable stocks that could replace them?
Some Good-Looking Charts
Below, I'm including charts from F.A.S.T. Graphs for three of the top-ranked Consumer Staples sector stocks.
In these charts, the black line represents the share price, and the blue line represents the calculated P/E multiple at which the market has tended to value the stock over time. The orange line is the primary valuation reference line. It is based on one of three valuation formulas depending on the earnings growth rate achieved over the time frame in question. (The Adjusted Earnings Growth Rate represents the slope of the orange line in the chart).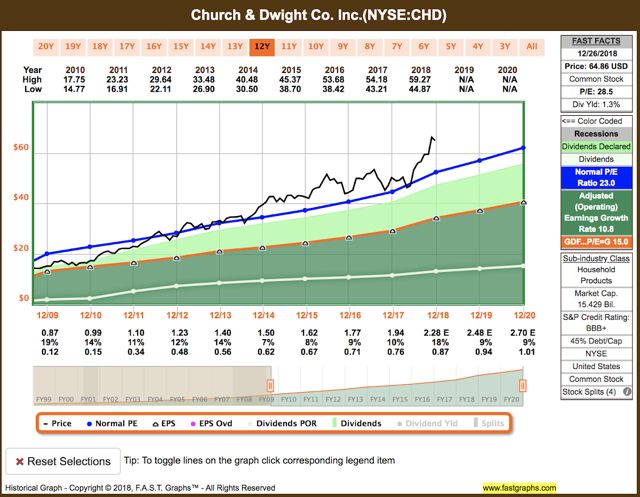 CHD's chart is a model of consistency! Over the coverage period of about 10 years, CHD achieved an earnings growth rate of 10.8%. The stock's annualized RoR (rate of return) is even higher at 18.6%. For comparison, the S&P 500 has an RoR of 11.7% over the same period.
Dividends are shown as the light green area above the orange line, but also as the white line within the dark green shaded area and relative to the orange line. The white line graphically represents CHD's payout ratio (also a model of consistency!).
The chart confirms that CHD is trading at a premium to fair value, and it would be best to wait for the share price to pull back.
Next, let's look at EL: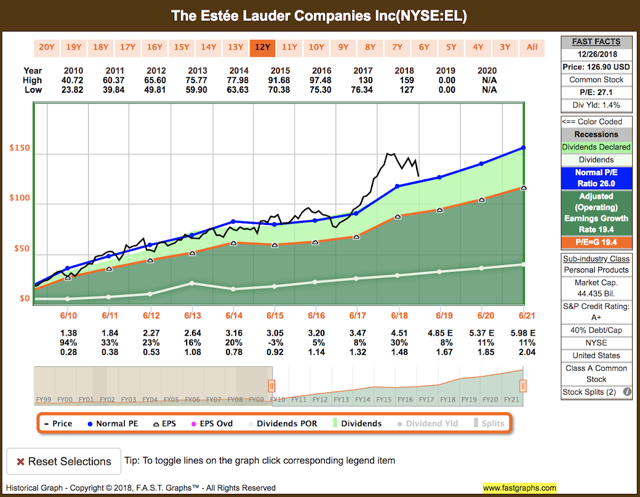 EL is not quite as consistent as CHD, but the stock's earnings growth rate is significantly higher at 19.4%. EL's annualized RoR over the period also is higher at 24.2%.
EL's share price is down about 19% from its 52-week high of $158.80. Although the F.A.S.T. Graphs analysis indicates that EL is trading a little above fair value, I think EL already is trading at a discount to fair value.
I think EL is a good candidate for further research and possible investment.
Finally, consider TSN: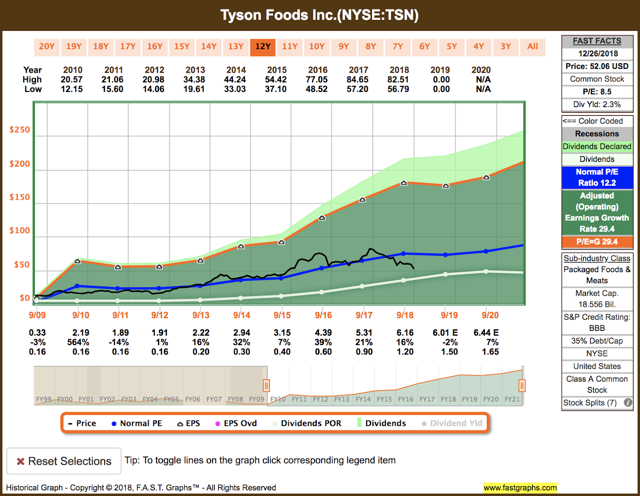 At 29.4%, TSN's earnings growth rate is truly impressive! Over the 10-year period represented in the chart, TSN's annualized RoR is 18.0%.
The stock is trading at a discount to fair value, in my estimate by about 27%.
Concluding Remarks
In this article, I ranked 40 stocks in the Consumer Staples sector.
While I don't consider valuation metrics in my new ranking system, I continue to provide fair value estimates of the ranked stocks.
Five of the ten top-ranked stocks are trading below my fair value estimates. Of the stocks I don't own, EL and TSN look most attractive. But MO and WBA are trading well below my fair value estimates, too.
Thanks for reading!
Disclosure: I am/we are long HRL, MO, WBA, PG, WMT, KO. I wrote this article myself, and it expresses my own opinions. I am not receiving compensation for it (other than from Seeking Alpha). I have no business relationship with any company whose stock is mentioned in this article.