After weeks of walking virtually alone on its rising path, gold is finally getting some support from some of closest allies. The silver price has begun to confirm gold's rally, which is always a welcome sign from a bull's perspective. Gold and silver mining stocks are also showing signs of perking up. In this report, we'll discuss the favorable developments taking place right now and how they bode well for gold's intermediate-term (3-6 month) outlook.
After spending the past several weeks locked in a tight, narrow range, the silver price has begun making headway in its attempt to join gold in reversing the damage inflicted this summer to the precious metals complex. In the last two trading sessions, the iShares Silver Trust ETF (SLV) - my favorite silver proxy - has broken above the ceiling of its 4½ month trading range. By closing decisively above the $14.00 level (see chart below), SLV has signaled that the white metal's prospects have drastically improved. This implies, moreover, that the lateral trading action in silver price since September most likely represented accumulation, or buying, on the part of informed investors.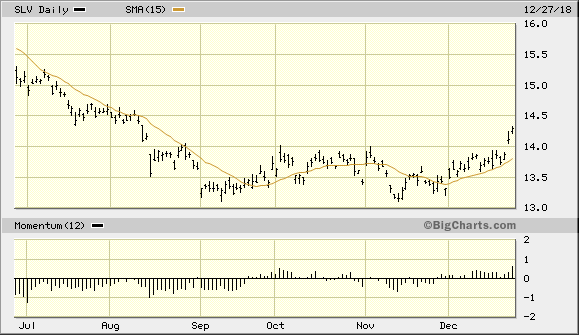 (Source: BigCharts)
The latest rally in silver also confirms the recent rally in gold price. As long-time readers of this report are aware, I consider it to be imperative that the silver price trend more or less in line with the gold price. Otherwise, if the two metals are diverging from one another, the odds are high that a gold price rally will quickly reverse.
In recent weeks, however, gold has had enough support from its "fear factor" to move higher without participation from silver. Investors have been on high alert over the suddenly tighter Fed monetary policy, as the Fed funds rate is rapidly getting closer to the yield on the 10-year Treasury bond. This fear, along with continued concerns over the U.S.-China trade war and softness in the emerging markets, has drastically increased gold's desirability as a safety asset since October.
Shown here is my favorite trading vehicle for gold, the iShares Gold Trust ETF (IAU). IAU has clearly established a stair-stepping series of higher highs and lows since bottoming in August. This confirms that gold is in the midst of an intermediate-term turnaround process which is gradually gaining traction and forward momentum. The fact that silver is now showing strength is a plus for gold, since this implies that commodity investors are looking for other assets related to gold which can benefit from a softer dollar.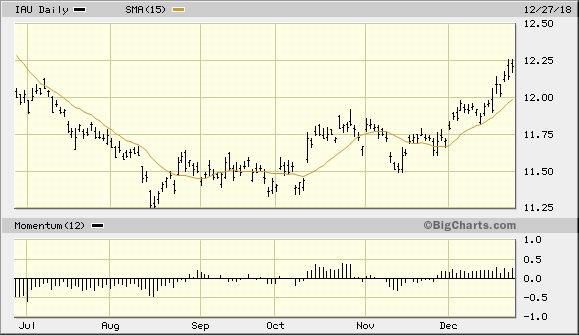 (Source: BigCharts)
The recent weakness in the U.S. dollar index is one major reason behind silver's latest rally. Shown here is the Invesco DB USD Bullish ETF (UUP), which is a useful proxy for the dollar index. As I've emphasized in recent reports, as long as UUP remains under its 50-day moving average on a weekly closing basis, the interim trend favors higher precious metals prices, especially for gold. Continued weakness in the dollar will further ensure gains for both gold and silver, although a declining dollar index isn't necessary for this. The important thing is that the dollar index isn't trending higher, for when it is, it severely erodes gold's currently component.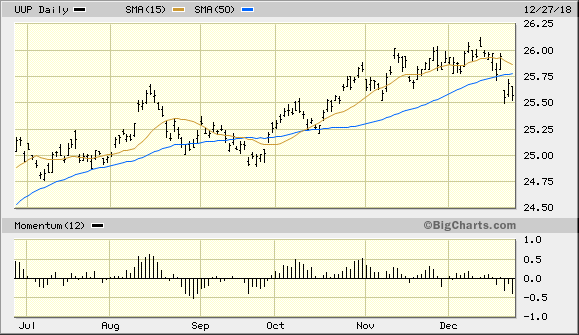 (Source: BigCharts)
Meanwhile on the mining stock front, the PHLX Gold/Silver Index (XAU) is showing signs of also being under accumulation these past few months. The daily graph shown below is quite similar in appearance to the silver ETF. The XAU has established an immediate-term uptrend, per the rules of my trading discipline, by consistently keeping above its rising 15-day moving average since early December. What's more, the XAU is also above its widely-watched 50-day moving average. A strong close above the 72.00 level - a key chart resistance - would confirm an interim breakout for the gold/silver index. More importantly, this would provide added confirmation for gold's rising trend, since participation of the major gold and silver stocks is a sign that both value buyers as well as the speculative element have entered the market. This would tell us that gold is being supported by more than just fear driving its price higher.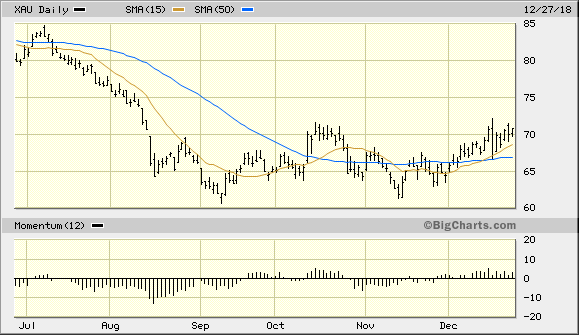 (Source: BigCharts)
The gold rally has certainly helped our trading position in the iShares Gold Trust ETF. I recently recommended that ETF traders take some profit in IAU after it rallied over 5% from the point where it last confirmed an immediate-term buy signal per the rules of my trading discipline in October. The ETF reached a 6-month intraday peak price of $12.26 on December 27 before reversing by day's end. Although this could signal the start of a temporary reversal of the rally which began in October, the most important consideration is that IAU's price remains above its rising 15-day moving average. This confirms that the fund's immediate-term (1-4 week) trend remains up.
The forward progress of the gold ETF is getting some needed support from the (belated) rally in the silver price as mentioned above. Additional participation from the actively traded gold and silver mining shares in the coming days and weeks should also give gold and gold-backed funds the additional reinforcement needed to continue the intermediate-term turnaround which began a few months ago. Further, a transition is apparently underway, in which the leading driver of the turnaround is shifting from fear- to value-driven demand based on the gradual strengthening of gold's currency component. In light of everything we've discussed here, this is the best possible scenario for the metal to continue outshining other assets in the months ahead.
On a strategic note, traders should remain long the iShares Gold Trust after recently taking some profit. I recommend raising the stop loss for the remainder of this trading position to slightly under the $11.90 level on an intraday basis. A violation of $11.90 in the IAU would mean that price has fallen under the technically significant 15-day moving average, in turn signaling a shift in the immediate-term trend.
Disclosure: I am/we are long IAU. I wrote this article myself, and it expresses my own opinions. I am not receiving compensation for it (other than from Seeking Alpha). I have no business relationship with any company whose stock is mentioned in this article.