This article was co-produced with Dividend Sensei.
My goal is to always point out quality dividend growth stocks that are trading at fair value or better, and thus likely to deliver not just safe and rising income over time, but market-beating total returns as well.
In the past, I've highlighted many of Brookfield's great limited partnerships and REITs including:
What all of these high-yield stocks have in common is being run by Brookfield Asset Management (BAM), the hands-down most experienced and best hard asset (real estate, utilities, infrastructure) manager in the world. I've often said that Brookfield is the Berkshire Hathaway (BRK.B) of hard assets, due to its love of value investing, and proven ability to deliver great total returns to investors (its official goal is 12% to 15% long-term total returns for all of its stocks).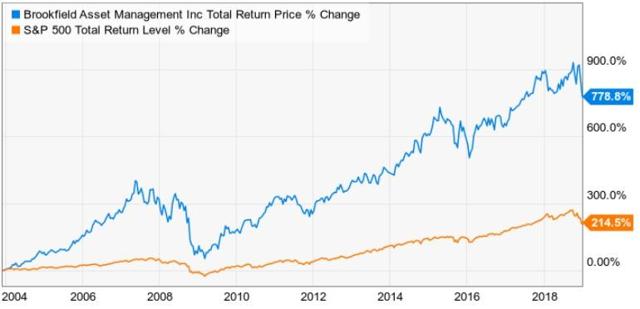 (Source: Ycharts)
Over the past 14 years, the master capital allocators at BAM have managed to exceed those targets by delivering 16.8% CAGR total returns compared to just 8.5% for the S&P 500 (and Berkshire's 9.4%).
Let's take a closer look at why investors looking to cash in on Brookfield's expertise, and literally hundreds of trillions of dollars of future growth opportunities (the longest and largest growth runway of any company I've ever seen) should consider buying this stock today. That's especially true now that the current bear market has left the company trading at a 25% discount to fair value and capable of possibly delivering over 20% total returns over the next decade (in line with its 14-year track record).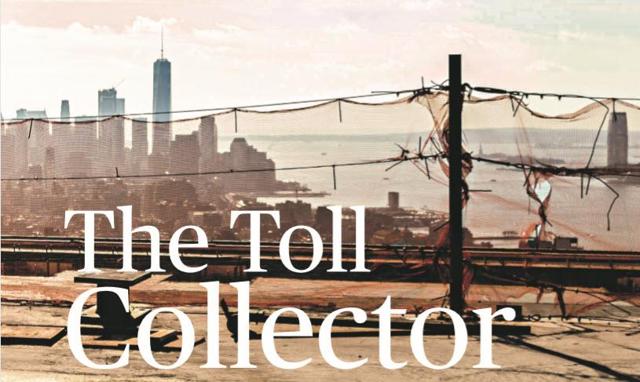 Photo Source: Forbes May 2017
Brookfield Asset Management: The Berkshire Of Global Hard Assets Has A $100+ Trillion Growth Runway Ahead Of It
Brookfield Asset Management has spent 118 years amassing over $330 billion in assets under management. It's built itself into the world's largest global hard asset manager, with over 80,000 employees operating out of more than 100 offices in over 30 countries on six continents.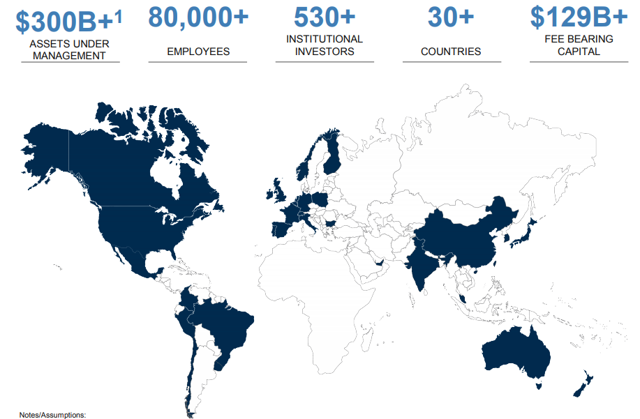 (Source: investor presentation)
The key to its success is taking a Warren Buffett like approach to deep value investing into quality cash producing assets at opportunistic times (such as during recessions when asset prices are cheap). It then operates those assets, collecting steady and long-term contracted cash flow, improves them, and eventually sells them for large profits, realizing annualized returns on invested capital ranging from 12% to 20% (official goal is 7% to 20% but Brookfield has a great track record of under promising and over delivering).
Brookfield's empire is a complex network of limited partnerships (like BPY, BIP, and BEP), as well as private equity funds.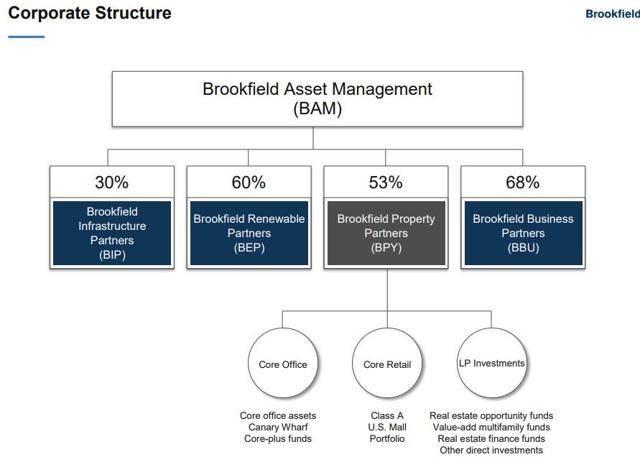 (Source: investor presentation)
The LPs raise money from debt markets and retail investors attracted to safe and fast-growing distributions. These LPs pay BAM an asset management fee (usually 1.25% of AUM), an incentive fee (based on market cap growth), and incentive distribution rights capped at 25% of distribution growth above a certain quarterly rate. In addition, BAM directly owns between 30% and 68% of its LP's common units meaning that it also benefits from the payouts of its LPs which are backed by highly regulated or long-term contracted (and recession resistant) cash flow.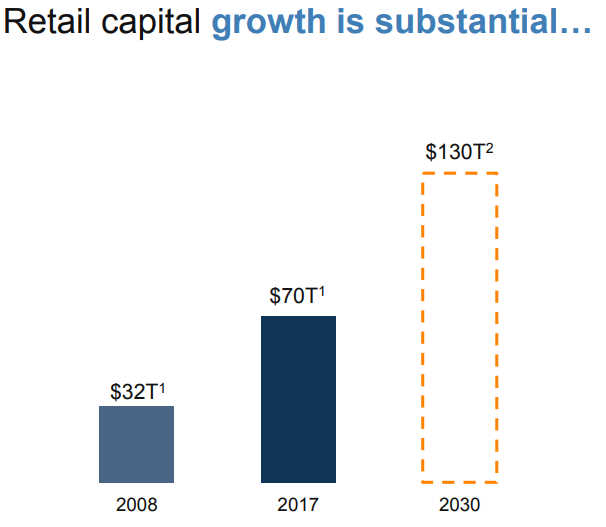 (Source: investor presentation)
The amount of money retail investors are funneling into LPs like what Brookfield runs has been growing like a weed and is expected to hit $130 trillion by 2030.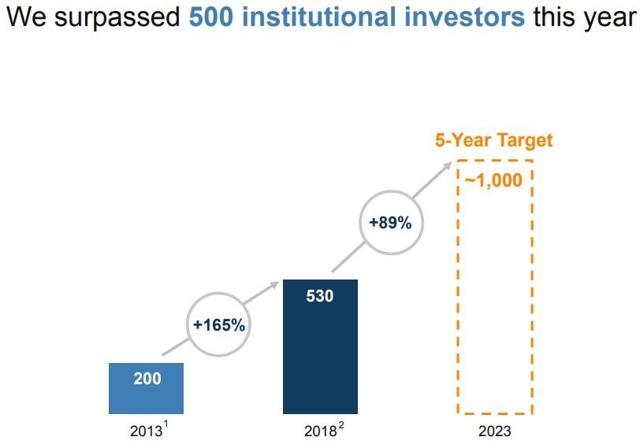 (Source: investor presentation)
The private equity funds raise money from institutions (like pension funds, sovereign wealth funds, and home offices for ultra high net worth individuals) looking to diversify into hard assets. Brookfield's private equity business raised capital through 13 sources, including leading financial advisors and home offices (who manage money for billionaires).
Brookfield has been steadily growing its institutional client base which now numbers 530. Over the next five years, it expects to double that figure, which will mean massive growth in AUM, fees, and funds from operation or FFO. FFO is the company's equivalent of free cash flow, is what funds the dividend and is what investors in BAM should focus on.
Over the past five years, Brookfield's institutional clients have become ever more enamored with its results. As a result, the average investment per institutional client has risen from $144 million in 2013 to $230 million today. If that trend continues (management expects it will), then doubling BAM's institutional client base could result in over 100% AUM growth from net inflows alone (never mind asset appreciation and profits).
Another reason BAM is seeing so much AUM growth (driving over 20% FFO/share growth per year) is that it continues to diversify into new investment offerings.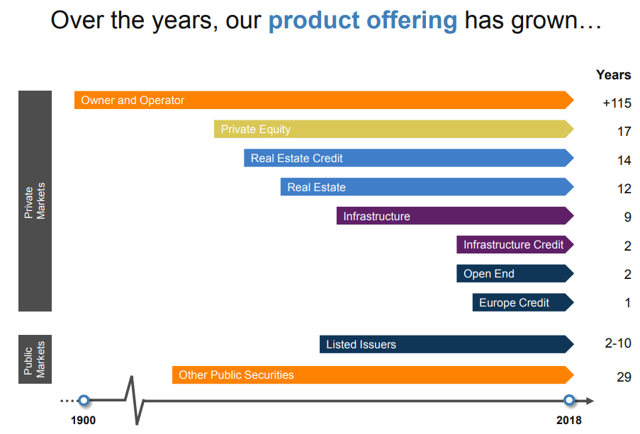 (Source: investor presentation)
While owning and operating hard assets has been its bread and butter since 1902 in recent years the company has moved into becoming a credit provider. For example, it's recently launched eight infrastructure credit funds which currently have loan books of $6.3 billion. Eventually, BAM expects those eight funds alone to grow their loan books to $160 billion. It could also potentially launch new credit funds targeting commercial real estate.
The company is even getting into investment banking (securitizing and listing hard assets on public stock markets). Basically, this shows that BAM is looking to become the global king of hard assets, with its finger in literally every part of infrastructure/real estate/utility pie.
Over the past 12 months, Brookfield has raised a total of $20 billion from these combined approaches (LPs and institutional clients) to fund $33 billion in new investments. The $13 billion difference between these figures was asset sales, which were for terms that generated 19% annualized total returns for the company and its investors.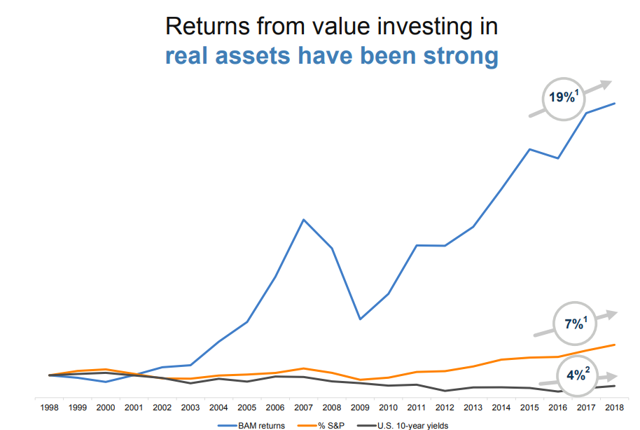 (Source: Investor presentation)
You'll note that BAM's returns on investment have been rising steadily for the past decade. The reason for this is a massive increase in institutional capital looking to invest in hard assets. As more money pours into this asset class, Brookfield is able to find willing buyers to pay rich premiums to what it paid for assets many years ago. But while it's true that investment returns on any asset class (including stocks) can be volatile, the growing popularity of hard assets is likely a long-term secular trend.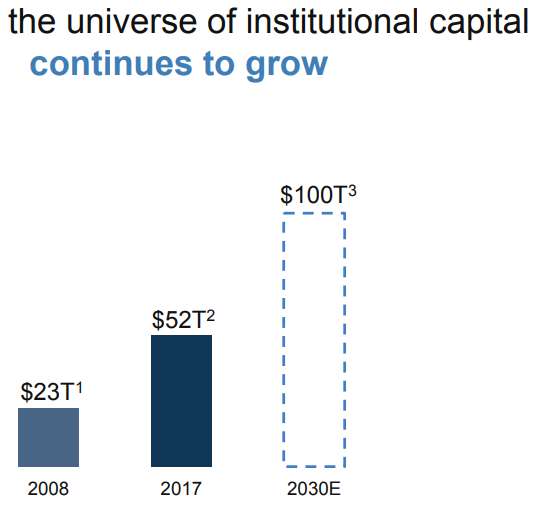 (Source: investor presentation)
Over the past decade, institutional capital flows into hard assets has doubled the total market and by 2030 the total industry size is expected to hit $100 trillion. Management believes that companies like Brookfield will be able to capture 40% of that total market, meaning that $40 trillion in AUM could be in the hands of publicly traded firms like BAM within 11 years.
This means that Brookfield's already industry-leading scale is a drop in the bucket compared to how big it could potentially grow. For example, despite being the largest and most trust hard asset manager on earth, in 2017 Brookfield's institutional market share was about 0.5% which shows it has plenty of growth ahead of it.
Why is Brookfield so confident that it can grow its market size when there are literally hundreds of global asset managers out there trying to gobble up this massive growth opportunity?
Because according to analyst firm McKinsey over the last year 38% of total AUM funneled into hard assets when to the top 20 firms. This is why over the past 12 months BAM's market share rose from about 0.5% in 2017 to approximately 1.6%, showing the wide moat power of its trusted brand.
In total BAM's total addressable market by 2030 is expected to be $230 trillion, and if it can corner even a small slice of that then it's AUM (and fees and thus FFO) are going to grow strongly for the next 11 years. But investing in BAM isn't just about the next decade, it's about looking out several decades into the greatest secular investing opportunity of the 21st century.
According to a recent OECD report, by 2040 the world is going to need to invest nearly $100 trillion into additional infrastructure to support a fast-growing and rapidly urbanizing population. This is why so much institutional money is flowing into this asset class, to fund those necessary and economy growing projects. That investment is going to be across all manner of industries and sectors including:
Renewable energy (a $11 trillion growth opportunity) and smart grids

Municipal infrastructure/smart cities

telecom/data infrastructure (5G/fiber/telecom towers)

Transportation (railroads, toll roads, ports)

Energy transportation ($1.2 trillion in new North American midstream infrastructure needed by 2050).
Brookfield's excellent track record of great returns and trusted brand means that it can quickly raise new institutional capital, including $6.5 billion for its flagship private equity fund in October alone. Rapid asset growth, combined with rising fees from its LP's (currently growing about 20% annually) has allowed BAM's revenue and cash flow per share to both grow at 17.2% over the past nine years (about triple that of the S&P 500) and 23% over the past 12 months.
And with BAM management owning 20% of its shares, retail investors can be sure that the company's incentives are deeply aligned with theirs. That management team is composed of 124 head directors, who on average have worked together for 18 years.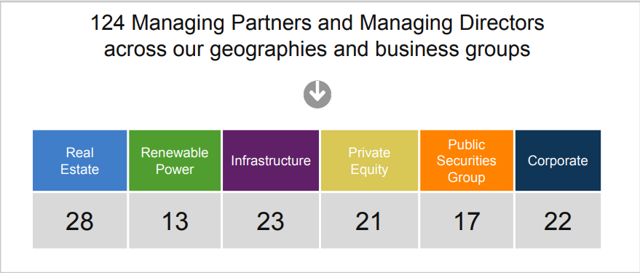 (Source: investor presentation)
Leading this army of industry expert capital allocations is CEO Bruce Flatt, who joined Brookfield 29 years ago and has been in the top job for 15 years. Before running the entire company he ran Brookfield's real estate division where he proved a master of acquiring quality properties from distressed owners (bankruptcy buys were his specialty).
That opportunistic investing model of being the "buyer/investor of last resort" (What Buffett did with big banks in 2008) has become the basis for BAM's entire global investment strategy and has made countless investors rich over Flatt's tenure.
So just how rich can Brookfield likely make you in the coming years? Realistically the company can likely deliver over 20% long-term total returns to anyone investing today.
Dividend Profile: Modest Yield And Growth Rate BUT Excellent Market-Beating Return Potential
The most important part of any income investment is the dividend profile which consists of three parts, yield, payout safety, and long-term growth potential. Combined with valuation, this is what drives total returns over time.
Now Brookfield's paltry yield of 1.6% is not anything that will excite most income investors. Nor will the company's dividend growth rate which has averaged 8% over the past two decades. BAM may be a money minting machine, but management is focused on growth of its cash flow not high or fast-growing yield (that's what its LPs and REIT are for).
This is why the company's FFO payout ratio is a very low 14% because its cash flow has been outpacing cash flow growth for a long time. Currently, analysts expect that to continue through to a smaller extent (consensus dividend growth is 10% vs 11% FFO/share growth).
But while even 10% long-term dividend growth is hardly spectacular (many dividend stocks offer the same) as I'll explain in a moment, Brookfield is still a great investment to consider.
Yield: 1.6%

TTM FFO payout ratio: 14%

Net Debt/EBITDA: 10.9 (industry average: 2.6)

Corporate Leverage Ratio: 2.4

Interest Coverage Ratio: 1.9

Corporate Interest Coverage ratio: 9.0

Debt/Capital: 43% (industry average 54%)

Corporate Debt/Capital: 19%

S&P Credit Rating: A-

Average Corporate Interest Rate: 4.5%
When it comes to dividend safety I consider BAM a true blue-chip 'sleep well at night' or SWAN stock. That's because the rock bottom payout ratio means that even in a recession (and bear market for asset prices) the dividend isn't likely to be cut, or even stop growing.
The other half of the dividend safety formula is the balance sheet. At first glance, you might think me mad to say that a leverage ratio of 11 or an interest coverage ratio that's under 2 is "safe". However, it's important to realize that due to the way Brookfield operates (its LPs use large amounts of non-recourse self-amortizing asset level debt) the balance sheet is actually far safer than it looks. Due to how international accounting standards work, BAM's has to consolidate its share of the non-recourse debt of its LPs onto its own balance sheet. This makes it appear as if BAM investors are drowning in debt.
In reality, the vast majority of the debt (about 80%) is linked to the assets its LPs have bought/built. Creditors can't come after either Brookfield's LP's entire cash flow, much less that of the parent company. The safe use of non-recourse debt is why Brookfield enjoys an A- credit rating from S&P.
The actual corporate leverage ratio is just 2.4, the actual interest coverage ratio is 9 (8 or above is safe for most corporations) and the company's average interest rate is 4.5%. The bottom line is that BAM's balance sheet is very strong which is why it has $11 billion in corporate liquidity available to right now and another $11 billion at the LP level to invest in great opportunities.
What about dividend growth potential? Well with its very low payout ratio BAM could afford to grow the payout at 15% to 20% for many years. But even if it merely grows at the 10% analysts expect income investors are going to be thrilled for other reasons.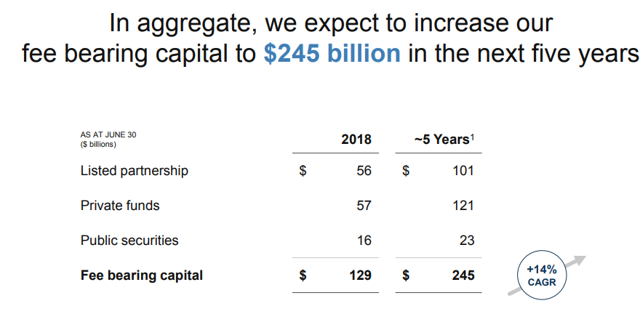 (Source: investor presentation)
That's because the fee bearing capital that is the main driver of its FFO is expected to double over the next five years. Brookfield is usually conservative with its growth guidance which is why it typically exceeds its long-term targets by substantial margins. With fee capital expected to grow at 14%, I think analyst estimates of just 11% FFO/share growth are probably overly conservative.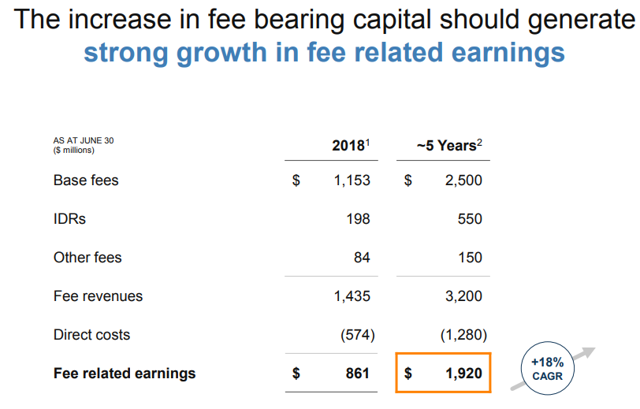 (Source: investor presentation)
That's because the company expects 14% growth in fee capital to translate into at least 18% growth in fee earnings (and thus likely FFO/share). This faster rate of growth is why Brookfield is forecasting that BAM investors could enjoy 24% total returns over the next five years.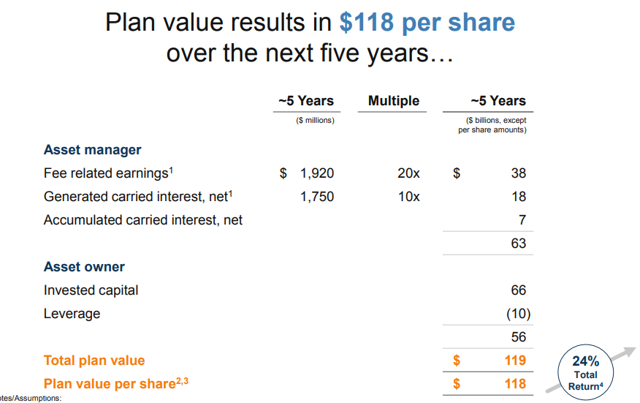 (Source: investor presentation)
How realistic is that forecast? Well, I think it might very well be reasonable. That's because when you combine fast cash flow growth (about 18% annually) along with the current yield and the company's discount to fair value, that's roughly what my long-term valuation adjusted total return model says.
Price/FFO: 8.6

20-year average P/FCF: 11.5

Potential Discount to fair value: 25%

Potential Upside To Fair Value: 34%

10-Year Valuation Boost (OTCPK:CAGR): 3.0%

Potential 10-Year Total Return: (yield + long-term FCF growth + valuation boost): 22.6%

Long-Term Total Return (factoring out long-term valuation mean reversion): 19.6%
Today BAM is trading for just 8.6 times FFO, far below its 20 year average of 11.5. That agrees with management own estimate that share are 25% undervalued (based on adjusted net asset value incorporating the carried interest it enjoys as an asset manager).
That 25% undervaluation means that investors are likely to experience a 3% annualized total return boost over 10 years as shares revert back to their historical cash multiple. Then add that to the Gordon Dividend Growth Model (Brookfield's official total return model for all its LPs) of yield + long-term cash flow growth and you get: 1.6% + 18% + 3% = 22.6%.
That's roughly in line with management's total return forecast and keep in mind that my model assumes it takes 10 years for BAM's P/FFO to return to its historical norm. If it takes less time then my and management's return forecasts align even closer.
So with the Berkshire of global hard assets trading at a steep discount to fair value, it's a fantastic buy for all investors, right? Well only if you're comfortable with its risk profile.
Risks To Consider
No company is risk-free and there are three things to consider before investing in BAM.
First, because it's a Canadian company (it pays dividends in US dollars) US investors face a 15% withholding tax on their dividends in taxable accounts (but not IRAs or 401Ks). Thanks to the tax treaty we have with Canada the IRS allows Americans to deduct this from their US tax bills, effectively neutralizing the withholding.
However, you still have to file the paperwork to get that credit and just $300/$600 per individual/couple in total withholdings (across all foreign companies in all your portfolios) can be claimed with the standard 1040 tax form. For figures above this, the more complex form 1116 is required.
As for company risk, the biggest thing to realize about BAM is that this is a highly complex beast. BAM's involvement in so many different investing areas and products means that there is a chance that management oversteps its expertise and goes outside its circle of competence.
Now that's not to say that BAM is going to blow itself up with its new credit funds, and face an existential threat to its survival ala the Financial Crisis. However, there is a risk that management might end up being forced to take larger losses than are currently baked into its models, which could end up hurting its FFO/share (though probably not enough to threaten the dividend).
Finally, I have to point out that BAM is a highly volatile stock. Over the last 10 years, it's been about 31% more volatile than the S&P 500. However, in the short-term, its volatility can spike, including its 1-year beta soaring to almost three during the Financial Crisis (when anything connected to finance took a swan dive).
Another credit meltdown is highly unlikely which means BAM isn't likely to fall 72% as it did during the Great Recession (market fell 57%). But my point is that BAM's blue-chip SWAN stock status only pertains to the safety of the dividend and the quality of the company. It does not imply that BAM (or any SWAN stock for that matter) will avoid large paper losses during a market downturn (BAM's peak decline during this bear market has been 18.1% so far).
Bottom Line: You've Seen The Rest, Now Invest In The Best
While Brookfield Asset Management's relatively paltry yield and unexciting long-term dividend growth rate might make it appear a lackluster income growth stock, I still consider it a fantastic addition to any dividend growth portfolio. In fact, Dividend Sensei is soon planning on adding the Berkshire of global hard asset management to his new Deep Value Dividend Growth Portfolio.
That's because, while BAM is far from the highest-yielding asset manager you can buy today, it is likely trading at a steep discount to fair value. And under the Buffett mantra that "it's better to buy a wonderful company at a fair price than a fair company at a wonderful price" I eagerly recommend Brookfield Asset Management anytime it's trading at fair value or better.
That's because not only is BAM undoubtedly a wonderful company but as the head of the mighty Brookfield global empire, it's the simplest way for investors to cash in on a decades-long, $100+ trillion growth opportunity in global real estate, infrastructure, and renewable energy.
Not just does BAM have the longest and largest growth runway I've ever seen for any company, but with its proven master capital allocators finding the best long-term investment opportunities around the globe, this dividend growth stock is a "legend of tomorrow". One that is likely to deliver high double-digit total returns not just for the next few years, but for many decades to come (and likely over 20% total returns over the next five years). This makes Brookfield as close to a "buy and hold forever" stock as you can find on Wall Street, and a very strong buy during this bear market.
Author's note: Brad Thomas is a Wall Street writer and that means he is not always right with his predictions or recommendations. That also applies to his grammar. Please excuse any typos and be assured that he will do his best to correct any errors if they are overlooked.
Finally, this article is free, and the sole purpose for writing it is to assist with research, while also providing a forum for second-level thinking.
Brad Thomas is one of the most read authors on Seeking Alpha, and over the years, he has developed a trusted brand in the REIT sector. His articles generate significant traffic (around 500,000 views monthly) and he has thousands of satisfied customers who rely on his expertise.
Marketplace subscribers have access to a growing list of services, including weekly property sector updates and weekly recommendations. Also, we are now providing daily early morning REIT recaps, including breaking news across the entire REIT universe. Take charge!
Disclosure: I am/we are long BPY. I wrote this article myself, and it expresses my own opinions. I am not receiving compensation for it (other than from Seeking Alpha). I have no business relationship with any company whose stock is mentioned in this article.