Introduction
I am building a portfolio that is high yield and growth-oriented in order to retire within 7 or 8 years. At the point of retiring, this portfolio will transition into a safer distribution yield-based portfolio which is targeted to yield 4% or 5% to cover my daily expenses.
Note: This is meant for a 5 to 7-year portfolio, and I hence take a longer-term approach to stock-picking and selection.
There is a need for some active management in terms of selection and market timing. I am not assuming I am confident or more intelligent in being able to beat the market, but I am willing to take more risks to generate the returns while I continue to have a stable job supplemented by a high savings rate.
With growth in mind, I started my first FIRE Building Portfolio with positions initiated in November. December has been volatile and this impacted my portfolio significantly with Amarin Corp. (AMRN) which I had held for 5 years, and Facebook (FB) incurring losses while short positions in Caterpillar Inc. (CAT) and Tiffany & Co. (TIF) helping to buffer the loss.
I continue to keep most of my portfolio in short term peer-to-peer lending as it has given me pretty good returns. (note: some readers have asked what platform I use and also warned me of the risks of P2P lending and I hope to cover this in detail as well)
In December, I have been shoring up cash because of the choppy market. I have in total $428,000 in this portfolio and 24% is held in cash, 50% in P2P lending under 12 months, 14% in traded endowments mostly over 5 years to maturity. The remaining 12% is in stocks, and that is mostly concentrated in Amarin Corp. Hence, over the duration of 2019, I am looking to increase my exposure to stocks and to deploy some cash to get more leverage if there is a steep market correction through secured overdraft loans or share financing.
Objectives of the Portfolio
Please do read this to understand my context of building the screen, but I also welcome feedback and opinions about building this nest egg because at the moment, I have decided, while still young, to incur more risks and to hunt for growth, in what I call a FIRE Building Portfolio.
Note:
While I am able to continue generating income through employment and am confident I can and want to take on more risks to accelerate the retirement plan. However, others who are more patient and more risk averse should consider this article only as an alternate viewpoint to consider. Do your own homework.
Current month on month performance:
| | | | | | |
| --- | --- | --- | --- | --- | --- |
| | Dec-18 | Nov-18 | Gain/Loss | % gain/loss | Remarks |
| Liquid | | | | | |
| Cash | $101,000 | $50,000 | | | |
| in-flow (savings from work) | $29,000 | | | | |
| in-flow (withdraw from brokerage) | $22,000 | | | | Undeployed funds |
| P2P Lending | $212,000 | $220,000 | | | Portfolio of loans made under 12 months |
| out-flow (withdrawal) | ($8,000) | | | | |
| Illiquid (Long Term) | | | | | |
| Traded Endowment Policies | $60,000 | $60,000 | | | |
| Stocks/Trading Portfolio | $55,000 | $85,000 | | | Loss of $7,700 and withdrawal of $22,000 |
| Amarin Corp. (Long) | $12.41 | $20 | ($15,180) | | 2,000 shares, historical position average cost at $5.48 |
| BHF 6.25% (Long) | $21 | $24.71 | ($371) | | 100 shares, initiated in November at $24.71 |
| Deutsche Bank (Long) | $7.91 | $10.21 | ($230) | | 100 shares, initiated in November at $10.21 |
| Newell (Long) | $17.95 | $17.61 | $69 | | 200 shares, initiated in November at $17.607 |
| Sumitomo Chemical (Long) | JPY488 | | ($168) | | 200 shares, initiated in December at JPY585 |
| Facebook Call Option (Long) | $8.10 | | ($646) | | 1 Option, initiated in December at $14.50 |
| XAUUSD Option (Long) | $20.04 | | $271 | | 1 Option, initiated in December at $17.33 |
| Yoma Strategic Holdings (Short) | SGD0.325 | SGD0.36 | $1,277 | | 50,000 shares initiated at SGD0.31 |
| Caterpillar Inc Put Option (Short) | $10 | $8.85 | $654 | | 6 Options initiated at $8.85 |
| Tiffany & Co Put Option (Short) | $24.55 | $7.93 | $6,625 | | 4 Options initiated at $7.93 |
For the month, the net returns were a loss of $7,700 mainly due to mark to market losses on Amarin Corporation, which I had held historically at a cost of $5.50. I have recovered my bulk of my investment cost having sold 1,000 shares at $14.88, and some of that cash was withdrawn from the brokerage into my cash position.
From the recent trades made, I have not fully allocated my portfolio into shares due to the choppy markets. As a result, I have started to add new positions to protect from the risk of a weak 2019.
However, I am still looking to invest into growth and am keen on Qualcomm (QCOM) and Magna International (MGA), both of which I had previously written on but had not initiated positions yet.
For my shorts, the general theme is to short consumer discretionary items, and I have done well on Caterpillar (CAT) and Tiffany (TIF) in particular. I continue to see both companies coming off considerably in 2019 and intend to cover them in detail soon on Seeking Alpha.
Yoma Strategic (OTCPK:YMAIF) is a position that I took after looking at the real estate market in Myanmar and also because the country does not seem to have gotten its act together. My article on Yoma can be read here.
Newly Initiated Positions
Long Facebook (FB) via call option was an idea I wrote about on Seeking Alpha recently, and I executed on the trade just before FB tanked from $140 to $120. Thankfully, I have not fully invested and am continually monitoring to enter the market for more. Caveat is there is continued growth overall and a stabilizing USA and European daily active user despite boycotts and account closures.
From its 52-week peak at over $220, the stock has declined 45%, while operations have continued to generate cash, and there has been no material drop in daily active users ("DAU") or monthly active users ("MAU"). In fact, these figures have continued to grow.
Analyst estimates an average price target for next year of $189.76. With Dec. 2019 Call Options based on strike price at $160, the cost of $14.50 works out to be a total of $174.50. Potential upside of 109%.
Assuming the lower end EPS estimate of $6.03 and 19x PE, the price would trade at about $114. My estimate for the downside is about $132. Hence, the risk in this trade is a total loss on this trade.
Stable growth in earnings remains my base case, and I would be long FB at this stage, but since it is cheaper to go long via options, and the volatility of this stock has been pretty large, I figured going into a 1-year call option would be an alternative exposure for me.
I previously wrote that I would review this strategy if FB trades near $114, representing a nearly 50% decline from its $220 peak and buy the stock outright if it does trade that low. However, taking a look at the options I have, the price just looks pretty tempting again.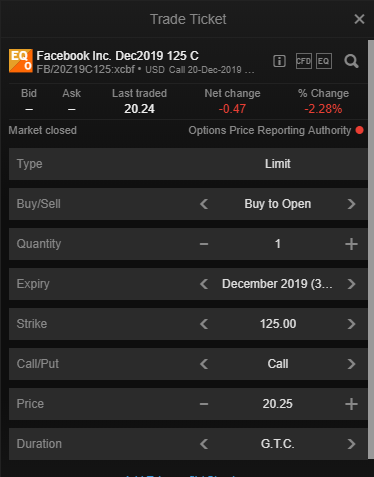 Source: my brokerage account
The Dec. 2019 call option last traded at $20.25, which works out to be at a total cost of $145. My base case is $132, and if the price goes below my base case, that would be time to pull the trigger on FB.
Gold Options
I recently bought a Dec. 2019 call option on the XAUUSD to hedge against a possible political and economic conflict between China and the USA or in an event EU does not work out well. This is a small position and does not impact the portfolio by much.
Potential Investments - QCOM and MGA
I did not set out to short companies over the short term, but I did it as I looked and found some companies to be worthwhile investments which turned out otherwise. I am still looking to go long on companies I find have growth potential over a 7 to 8 year horizon. Hence, I am looking at investing in QCOM and MGA for the following reasons:
1. Qualcomm is high on my shortlist right now. My potential 7% dividend yield play has now shot up further because I wrote at a time when QCOM was $55. It has traded slightly lower at $53.65, and I my base case has not changed. I believe there is an opportunity to pick up QCOM at or near its 52-week low of $48, which brings the yield potential to 8%. Extremely solid!
For those who did not have a chance to read the article, my 2019 base case is that QCOM would likely generate adequate free cash flows to cover interest expense of $768 million (based on 2018 figure) and buy back $11 billion worth of shares with debt (roughly $1.5 billion in interest expense in 2019 factored in). This would leave cash available for dividends to be roughly the same or slightly lower than 2018.
After all that financial engineering, I reckon by September 2019, QCOM would have a market cap reduced by about 1/3, at $45 billion and a possible ability to maintain dividends of $3.2 to $3.4 billion.
The upside is someone purchases QCOM and if there is a favorable settlement with Apple (AAPL).
2. Magna International is a stock I wrote about that just keeps getting cheaper. Trading at 6.6x PE and a dividend yield of 3%, this automobile component manufacturer has been dragged by the consumer discretionary theme as demand for cars has declined/stagnated.
Magna has declined 10% since I wrote about the stock, and nothing material has changed my view.

Source: Statista.com
Yes, vehicle sales have declined, and the trend is more acute in China. However, MGA has qualities that would allow the company to ride through the storm.
While the industry has lagged, Magna picked up +7% sales and +14% EPS growth. The historical dividend record is strong as well, growing at 14% in the past 5 years, and on top of that, Magna is buying back shares.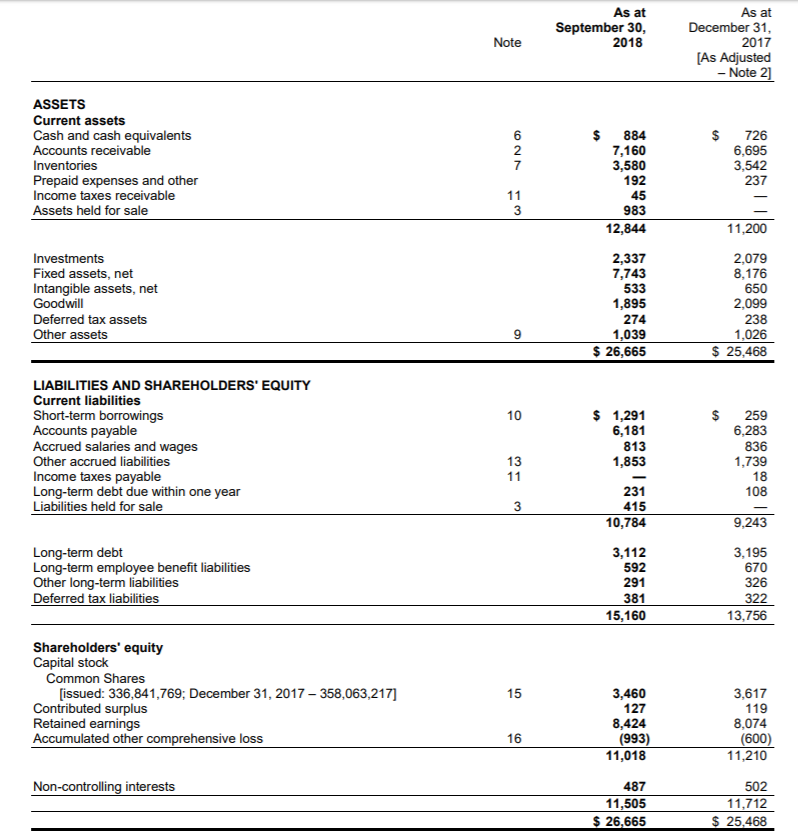 Source: MGA Company filings
The NTA (NAV adjusted for intangibles and goodwill of $2.43 billion) is $24.24 billion compared to a $14.7 billion market cap - 0.6x tangible book value. MGA also has cash to repurchase shares, and its cash flow remains strong. Having assumed all else remains similar to 2018, my base case is that MGA grows EPS by 3% just through a $500 million share repurchase.
Management shared that they expect $6b of free cash flow between 2018 and 2020, and I reckon the share buyback will continue or increase to about $1 billion annually instead.
Given the share price correction, I see this as a stable cash generating business with over 20% upside even as a cyclical stock. However, we might see $30 before we hit a bottom, given that car manufacturers are all suffering. No harm waiting this out to initiate a position closer at those levels. I estimate $30 which is in the region of 5x earnings just because the manufacturers are trading at those valuations or lower.
Conclusion
Going forward, while I still look to deploy more cash towards investing in stocks, I will be tracking Facebook's active user and overall traffic growth because this is a position I either decide to cut loss or add more depending on whether anything significant occurs. I will also be looking at opportunities to buy into MGA and QCOM. However, there have been some consumer discretionary stocks that I have come across that are quite pricey, and I do keep an open mind towards shorting such stocks. I am also looking to go long in markets like Russia, Hong Kong and Japan through ETFs because I find there is quite good value in those countries.