Please Note: This analysis was prepared using end of week data (December 21st). The specific contract of reference is the NYMEX WTI Crude Oil February 2019 futures contract (CLG9). All indicators and valuations reflect the same.
Quick Take
On the back of rising inventories and deteriorating sentiment, the crude market has plunged toward my models' measures of fair value. The bearish technical momentum is still fierce, and we may see a further drop toward longer-term technical support around $40-42/bbl. With bearish sentiment already quite extended, I don't believe the bears have the requisite ammunition to break through that support. I expect it to hold, with $50 functioning as near-term resistance should the shorts abandon their positions. Short of an unexpected pickup in demand or significant and prolonged production outages, we will probably need OPEC+ or Iran sanction waiver reductions to remove another 500 thousand barrels/day from the market for a sustained breach of $50/bbl.
My View
Early in 2017, the OPEC+ production cuts became evident in visible global oil inventories. At first, the oil market was hesitant to buy into the improving fundamentals, as it had been severely chastened by the precipitous plunge in crude from 2014-2016. By mid-year however, the bulls came to life. WTI crude prices rose from $44/bbl to nearly $70 by February of 2018. Bullish speculative sentiment soared. After a brief pullback below $60 during the February equity sell-off, crude resumed its upward march. The market clung to the bullish narratives, while brushing aside the bearish, as a growing number of analysts were calling for $100 oil. With crude ultimately topping at $77 on October 3rd, these calls have proven to be ill-advised, and the build up in sentiment led to an overpriced market that sowed the seeds for its recent collapse.
Earlier this year, with a booming global economy, rapidly declining Venezuelan production, and a hyper-focus on the anticipated Iran sanctions, the crude market seemed to all but ignore the hard data that ran counter to the bullish story. US shale production has exploded, lifting total US crude production by over 3 million bpd (barrels/day) since 2016, and an additional 1.2-1.3 million bpd is expected next year. While Iranian production has indeed dropped by about 1 million bpd from its recent peak in May, Saudia Arabia and Russia have more than made up for the reduction, and by mid-2018, global oil inventories were once again on the rise. The US has extended sanction waivers to 75% of Iran's oil importers, prompting analysts to estimate continued Iranian exports of between 1 and 1.5 million bpd (in line with October export estimates compiled by Refinitiv). The "synchronized global growth" story that pervaded the market throughout 2017 has revealed some undeniable cracks, with industrial indicators out of China and Europe pointing to a slowdown. A hiking Federal Reserve and strong relative growth out of the United States drove the dollar sharply upwards, making crude oil (which is priced in US dollars) more expensive for international buyers and incentivizing production for international producers, both bearish for crude. All the while, despite a brief pullback from peak bullishness in February, speculative sentiment remained extreme.
In early October, the story quickly changed. The combination of over-extended bullish sentiment detaching crude from "fair value" and a deteriorating macroeconomic backdrop was met with rapidly rising US oil inventories and a global shift in risk sentiment. This prompted the precipitous fall of over 40% in WTI crude prices that we've witnessed over the past two months. In response, OPEC+ (OPEC plus Russia and former soviet countries) recently agreed to cut production by 1.2 million bpd next year, with suggestions this week they would adjust further if necessary. In my view, these cuts are simply insufficient, and we will need another 500 thousand bpd removed from the supply/demand balance one way or another to sustain WTI crude prices above $50/bbl.
Ganalytics
Throughout my analysis, I will utilize indicators, charts, and features from an extensive, data-driven analytics platform I developed, the "Reduction Reports". Instead of just providing vague analysis and relevant context, I will quantify everything we discuss through the Reports' analytics. Rather than simply describing something as "bearish" or "bullish" and leaving it at that, I will tell you how bearish or how bullish on a simple scale of 0 (most bearish) to 10 (most bullish). I won't just tell you I think the price is "cheap" or "rich"; I'll provide 0-10 indicators and actual prices to back that up through a variety of fair value models, ranging from complex multi-factor models derived from many price-driving variables to simpler models like a P/E ratio for an equity index or relative value for a commodity. Of course markets are not concrete mathematical equations; they are the results of the actions and decisions of the billions of people on our planet and innumerable factors that are out of our control. However, having a rigorous, quantified analysis presented through an easily interpreted framework makes it a lot easier to wrap our heads around them.
Lastly, I break down the markets and express my views through five core concepts, which I define as follows:
Fair Value: What's the "right" price?
Factors: What explains the price?
Drivers: What's the market paying attention to?
Risk: What could happen to the price?
Technical Analysis: What's the market telling you?
Reduction Indicator: All Things Considered

The Reduction Indicator (RI) is my data-driven, "all things considered" indicator of bearishness/bullishness. It accounts for fundamentals, technicals, and other considerations and reports its reading on a scale of 0 (most bearish) to 10 (most bullish). The current reading of 2.7 is bearish.
Source: Ganalytics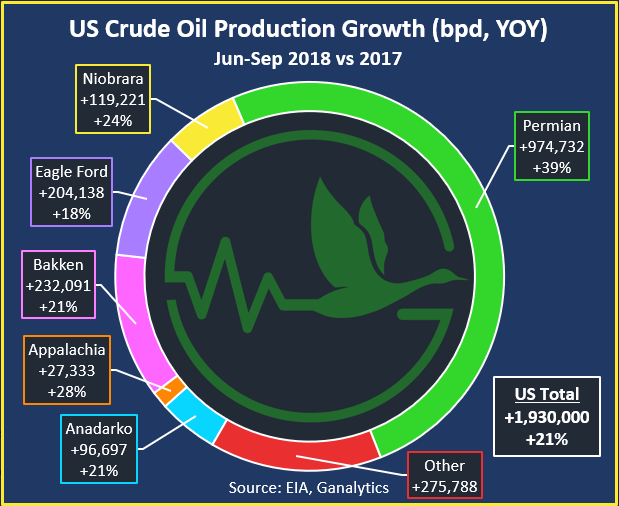 Factor: Inventories/Production Balance
The most significant supply factor upsetting the market balance in crude oil has been US shale production. Led by explosive growth out of the Permian Basin, the United States has increased crude production by almost 2 million bpd in the past year alone (see above). This accounts for a majority of the overall 2.5 million bpd of growth in global liquid fuel production over the past year and has propelled the US into the top slot for global oil production. As a result, US oil inventories have swollen, and with the prolific Permian now pumping 3.5 million bpd (up 39% from a year ago), stocks at the Cushing hub have led the rise. As Cushing is the delivery location for the US benchmark (WTI crude), this has taken a serious toll on the US futures.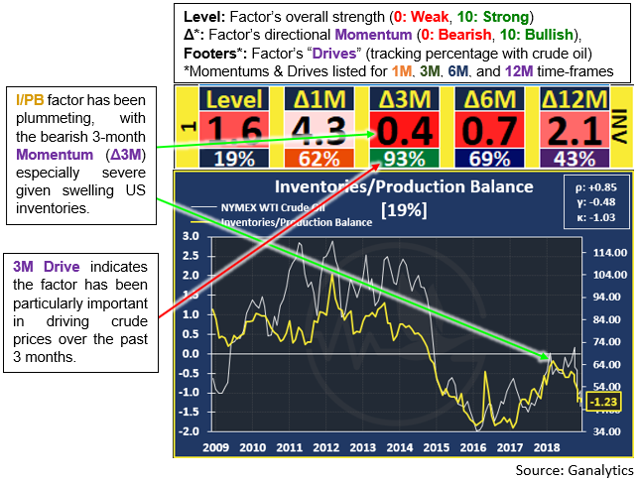 The Inventories/Production Balance factor accounts for the rising US stocks and many of the other production and storage related issues already discussed. It peaked in March and started to head downwards as the oil supply/demand deficit started shrinking. It accelerated aggressively downwards when US inventories started to explode in September. Note the divergence between the I/PB factor and the crude price that began in June. While the factor was continuing to decline, crude resumed its upward march, setting up the fundamental price dislocation that sowed the seeds of the aggressive declines we're currently experiencing.
Factor: Sentiment
The Sentiment factor draws from a variety of sources to quantify the level of speculative and investor sentiment built into the crude market. With the global glut retreating throughout 2017 thanks to the OPEC+ production cuts, a booming global economy, and Venezuelan production plummeting, sentiment for crude oil grew to bullish extremes, peaking in early 2018. The risk-off sell-off in February caused the bulls to pare back some of their positioning, but fears of Iranian exports being removed from the market due to Trump's sanction impositions kicked the bulls back into action. This proved to be unwise, as the supply/demand balance was already shifting towards surpluses, Russia and Saudi Arabia started to pump more, and the US eventually granted waivers for many of Iran's oil importers. Once US inventory figures began reporting unseasonably large builds, the bulls exited en masse, and crude tumbled.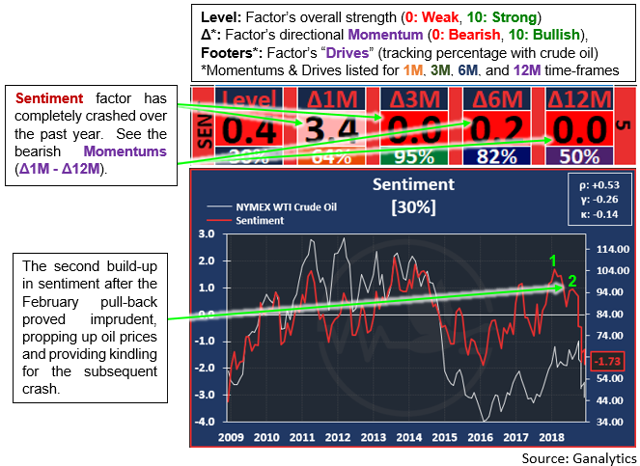 As can be seen from the factor's chart and level indicator (at a very weak 0.4) above, bearish sentiment is now quite extended. Time will tell whether this is appropriate or not, but this suggests there is not much speculative ammunition left for the bears to push down crude. Given this lack of ammo, the strong technical support in the $40-42 range, and my models' fair value estimations (discussed further below), I expect this support to hold. However, given the strongly bearish technical momentum and risk-off moves consuming the markets, I would not be surprised to see the $40-42 range tested shortly.
Fair Value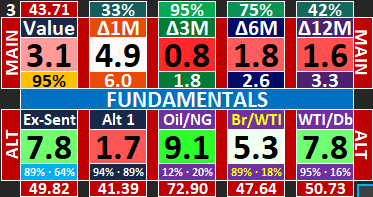 I include three factor-based models and three relative value models for my assessment of crude oil fair value. The factor-based models account for a wide variety of price-driving considerations (macroeconomics, supply/demand, etc.), while the relative value models weigh WTI crude against its historical relationships with the included assets (natural gas, Brent crude, and Dubai crude). The apparently "cheapness" of WTI versus Dubai and Brent is not surprising given the rampant US production growth and relatively large storage builds. Natural gas has too many independent dynamics and has recently spiked on winter weather fears and low amounts of gas in storage, so I'm not reading much into its relative value indicator.
My primary factor-based model has viewed crude as overvalued since June, with the dislocation coinciding with the second jump in the Sentiment factor and then continuing to widen until crude's peak in October. At this peak, the model estimated crude as overvalued by $12-13. With the recent builds in global inventories (led by the US) and deterioration in sentiment, the model has dropped along with crude, and after a five month long or so dislocation, this recent plunge has finally placed crude close to fair value. Of the $32 decline, I assign approximately $8 to the production/inventory builds, $8 to the drop in sentiment, $2-3 to other factors (e.g. USD strength), and the rest due to reversion to the model (i.e. prices were significantly over-extended).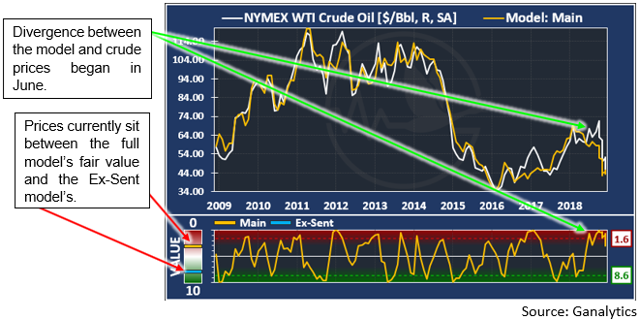 Where we stand, crude is nearing full convergence with my primary factor-based model, which pegs a fair price at $43.71. The "Alt 1" model uses a similar methodology with different variables/weights and sees fair value a bit lower at $41.39. My "Ex-Sent" model reports the anticipated valuation if sentiment were to return to neutral. In other words, if the speculators reverted to a neutral stance, what would the model expect the price to be? Barring any changes to the underlying fundamentals, its $49.82 valuation is a reasonable estimate for where prices may be headed should the bearish speculators close out their bets. This coincides with the psychological $50 barrier that functioned as recent support.
Risk: OPEC+ Production
In my view, the biggest variable confronting crude prices is the production cuts from OPEC+. The recent Short-Term Energy Outlook from the EIA factors in the OPEC+ cuts and still points to a market surplus and further inventory builds next year (primarily due to continued production growth out of the US). If the projections play out, my Ex-Sent model would drop by about $6 (right in line with the current primary model's valuation at about $43-$44). This tells me that under current projections, crude is reasonably valued at those levels. However, I believe there is an upside risk here of OPEC+ making further cuts. With the market already punishing crude and failing to blink at the agreed 1.2 million barrel cut, OPEC has already suggested further cuts would be implemented if necessary. While it's always difficult to sort jawboning from genuine clues, I suspect that short of a Trump decision to reduce Iran sanction waivers, OPEC+ will announce further cuts, viewing prices this low as intolerable. For an additional 500 thousand bpd removed from the market one way or another, I estimate crude may rise $5-10, bringing fair value back above $50/bbl.
Wrap-Up
A booming global economy and over-compliance with the previous OPEC+ cuts (aided by geopolitics out of Venezuela and Iran) managed to drastically reduce the global glut of crude that dictated low prices from 2014 through 2016. In anticipation of the Iran sanctions implementation, Saudi Arabia and Russia began pumping more oil, driving sentiment for crude prices to bullish extremes. This led to a detachment of crude prices from my modeled fair values, and the data simply never caught up. The US started issuing waivers to many of Iran's oil importers. Led by the US's rampant shale growth, global inventories began to swell. This confluence of factors precipitated a dramatic drop in sentiment, and crude prices came tumbling down along with it.
At present, crude is finally close to full convergence with my fair value models. We may see some more bearish follow-through as technical momentum is heavily bearish, and there is still a bit of further downside suggested by my factor-based models. Longer-term technical support is in the $40-42 range, and I expect it to hold given my models' fair values and the lack of available bearish ammunition (thanks to sentiment and speculative positioning already at bearish extremes). I would not be surprised to see a rebound towards $50 on a paring of sentiment or outright short-squeeze, but barring additional cuts from OPEC+, a reduction of Iran sanction waivers, or some other unforeseen production disruption or pickup in demand, prices look fair in the mid $40's. Given OPEC+'s presumed intolerance for prices at that level, I am watching closely for news or rumors about further cuts. I would expect roughly $1-2/bbl in crude price appreciation for each 100 thousand barrels removed from the market.