Editor's note: Seeking Alpha is proud to welcome William North as a new contributor. It's easy to become a Seeking Alpha contributor and earn money for your best investment ideas. Active contributors also get free access to the SA PRO archive. Click here to find out more »
Despite oil being at 17 month lows, dropping over 40% from its peak, many in the airline industry are unjustly at, or close to, their 52 week low. Also, a reduction in fuel hedging will amplify the benefit from the drop in oil prices, potentially leading EPS to be over 20% higher than recent guidance suggests.
Oil as a major input cost
The second largest expense for most airlines is the cost of jet fuel, the only cost higher being that of labor. As a result, oil prices can be very influential on profit margins and overall net income, making it important to consider oil prices when investing in the airline industry. The graphic below shows the inverse correlation between oil prices and overall airline industry profits.
Fuel Costs and Net Profit Correlation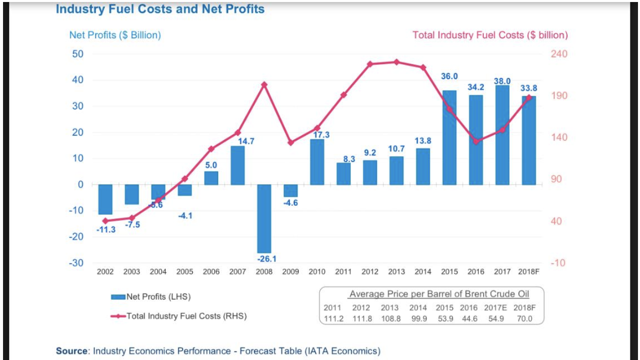 As of 12/24/2018, oil hit a fresh 17 month low, down over 40% from its recent highs, meaning the second largest input cost for the airline industry has reduced as jet fuel is derived from oil. A recent example of the impact of this is seen in JetBlue. In Q3 of 2017, JetBlue paid an average of $1.69 per gallon for a total of $347 million in aircraft fuel and related taxes. Compare this to Q3 of 2018, where JetBlue paid $2.32 per gallon for a total of $515 million in aircraft fuel and related taxes. This is an increase of 48.4% in total expenditures in this category, partly from increased demand of jet fuel and party from an increase in oil prices.
JetBlue Q3 2018 Results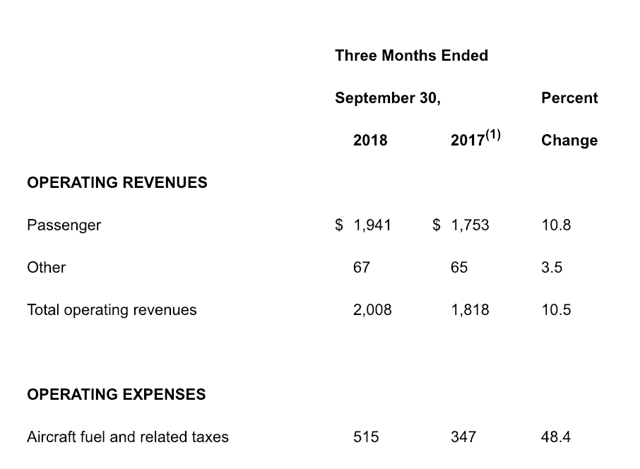 Source: Mediaroom.jetblue.com
As the chart below depicts, the price of oil is returning to the levels that it was in Q3 of 2018, if not slightly lower. As a result, the price JetBlue pays for jet fuel per gallon is likely to be even lower than it was in Q3 of 2017 ($1.69), implying over a 27% saving per gallon. If that 27% decrease were to be applied to last quarters aircraft fuel and related taxes expenditure, there would be $139 million dollars in savings, raising JetBlue's EBITA from $83 million to $222 million (83 original + 139 in savings). This shows how much oil prices can impact an airlines bottom line.
WTI Crude Price From 2017 to Present

Source: Cnbc.com
Airline Hedging
A fuel hedge contract allows for an airline to buy options or commodity swaps. The benefits of a fuel hedge are that it enables an airline to determine the the price of their jet fuel in advance, allowing them to better plan flights and reduce fluctuation in ticket prices. Also, it protects the airline from a large upswing in the oil market, which would increase their input costs, reducing net income.
Although hedging may sound like a good way to mitigate risk, it can also decrease an airline's bottom line as the company must pay in order to hedge. As a result, airline companies that do not hedge will reap large rewards when oil prices tumble as they are able to purchase cheap oil, while not paying millions of dollars to hedge against higher prices.
A great example showing just how much it costs to hedge fuel comes was Delta in 2015. In Q1 of 2015, Delta (DAL) lost over a billion dollar in its fuel hedging portfolio when the price of oil plummeted. In 2015, Delta (DAL) ended up paying $2.40 per gallon, while American Airlines (AAL), which was not participating in a hedging program, had a per gallon price of $1.90.
We are currently witnessing many airlines stop hedging as oil prices are low, such as American Airlines (AAL), United Airlines (UAL), and now even Delta (DAL) as well. Since oil prices are low, airline companies will get the best of both worlds: low oil prices and no hedging costs. Both of these will work to lower the average price per gallon of oil and drastically increase the bottom line, just as American Airlines (AAL) did in 2015.
Future Outlook
So, where does this leave the airlines for the future? I believe that these benefits of a drop in oil will begin to partially show up in Q4 of 2018 with a decrease in jet fuel expenditures per gallon. The average price of jet fuel thus far in Q4 of 2018, including projected fuel and transportation costs, is $2.16 compared to that of $2.30 in Q3 of 2018, a decrease of 6%. For this example, I am going to use American Airlines (AAL) as they will not be impacted by any historical hedging as they have not hedged at all during these time periods.
In 2018, American Airlines (AAL) paid the following for fuel:
| | |
| --- | --- |
| Time | Average Price per Gallon |
| Q1 2018 | $2.10 |
| Q2 2018 | $2.24 |
| Q3 2018 | $2.30 |
| Q4 2018 | *$2.16 |
*estimated based on average of jet fuel (October 1st to present) plus $.18 for fuel and transportation costs
When American Airlines made estimated full year EPS during Q3 2018, they initially predicted $5.50 to $6.50 in EPS, estimating jet fuel to be around $2.22 per gallon for Q4 2018. However, following an uptick in oil, this guidance was adjusted to $5-$6, then finally to $4.50-$5. The large drop in oil means that investors can expect to see earnings above the original estimation of $5.50-$6.50 as that EPS was based on a $2.22 per gallon, an over 20% increase in EPS than the most recent guidance of $4.50-$5.50.
As a result, the EPS for American Airlines, among other airlines, will improve. Let's say we go very conservative and estimate American Airlines' EPS is towards the lower end of its range at $5.50. This is conservative considering jet fuel will be lower per gallon than the original guidance took into account. Also, $5.50 was even the low end of that projection. With EPS of $5.50, American Airlines would have an P/E of 5.87 (Current price as of 12/27 is $32.29), which would be historically low for American Airlines (AAL). For reference, P/E of American Airlines in January of 2018 reached close to 12.
American Airlines (AAL) is just one of the many airlines that will see such a boost to the bottom line as a result of lower jet fuel prices, causing a great reduction in airline companies' P/E ratios.
Risks
According to American Airlines, "Our business is very dependent on the price and availability of aircraft fuel. Continued periods of high volatility in fuel costs, increased fuel prices or significant disruptions in the supply of aircraft fuel could have a significant negative impact on our operating results and liquidity."
It wouldn't be fair to say that my thesis is foolproof because it is not. There is always a chance a large spike in oil prices could occur, leading negative results. Additionally, the reduction or total stoppage of hedging could act as a double-edged sword, brutally punishing airline companies by potentially making them face to full brunt of higher jet fuel prices.
That being said, my thesis is based on what has already occurred and the prices that currently exist. Based on this information, it is quite clear that the market is undervaluing the quantitative boost many airlines will receive to their bottom line as a result of this selloff.
Conclusion
Jet fuel is a very important factor in determining the profitability of any company in the airline industry. Normally a company's second largest cost is around 20-33% of total costs. When jet fuel prices are low, airlines become much more profitable, as the price for each gallon of fuel becomes much cheaper. Some companies use hedging to reduce the impact that rising oil prices can have; however, it can easily backfire when oil prices slip, as it did with Delta in 2015, causing an over billion dollar loss. As a result, many companies have stopped, or greatly reduced, the amount that they hedge. That being said, these companies that stopped hedging are currently getting the best of both worlds. First, they no longer have to spend millions of dollars on a hedging program. Second, they reap the benefits of larger profit margins, due to one of their largest input costs being much less expensive. All in all, the drastic decline in oil will lead airlines to beat recent EPS guidance by a large margin, push P/E ratios lower, and create a buying opportunity for a potential airline investor.