The entire market has been decimated over the last three months as S&P 500 (SPY) sectors ranging from energy and oil to blue-chip industrials to technology have found themselves deep in the claws of a bear.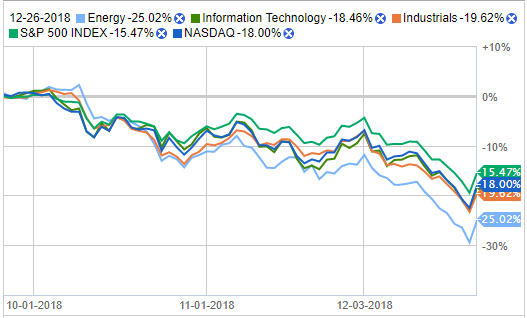 (Source: fidelity.com)
Since my focus and expertise is in technology, I will take a look at what names have the best potential for a rebound once the market starts climbing as well as what names have weathered the storm the best. This list should allow you to add names to a "shopping list" which can be used to accumulate shares when the time is right (which could be soon).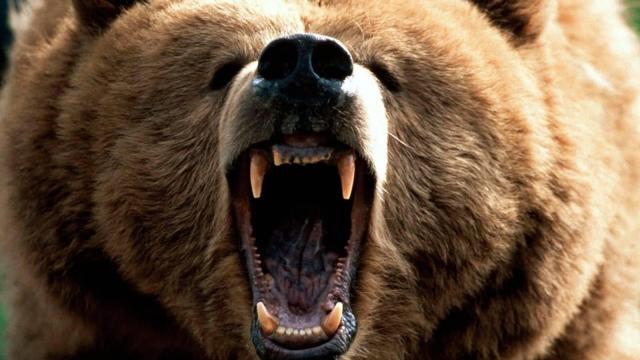 Broadcom
Ever since Broadcom's (AVGO) earnings report on December 6th, I've been more interested in getting the stock into my portfolio. At a time when tech has been hurting, and there have only been pockets of strength in software and cybersecurity, it was a pleasant surprise to see such bullishness from a hardware company's management.
Broadcom doesn't fit into the tech wreck narrative since it has maintained a flat response in the face of a NASDAQ (QQQ) bear market. However, this is why I am attracted to it - it's a standout.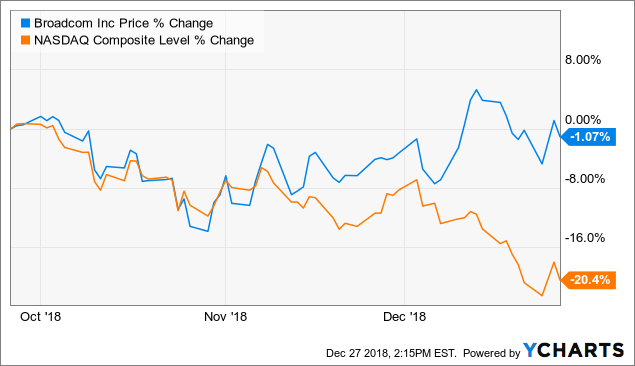 With expectations for about 17% revenue growth to $24.5B and free cash flow of $10B in 2019, the company is plowing money back to shareholders in the form of buybacks, (potential) acquisitions, and dividends. According to CFO Tom Krause:
...on the dividend based on approximately $8.2 billion of free cash flow that we generated in fiscal 2018, we are increasing our target quarterly cash dividends starting this quarter to $2.65. This constitutes an increase of 51%...we are also budgeting to return an additional $8 billion to stockholders through stock buybacks in fiscal 2019. Coupled with the dividend, this means we are planning to return approximately $12 billion to stockholders in fiscal 2019, which constitutes all of our projected free cash flow, plus the excess cash that we have on our balance sheet today.
This is not management pulling back the reigns as they head into an otherwise tech tepid 2019. I like the confidence and the expected growth - it bodes well for me and my portfolio.
Now, the question is when do I enter? Considering the stock has closed the gaps it created following earnings, there's not much more I'm waiting for. The only expectation I have is for the stock to test the 50 and 200-day moving averages which are compressed at this point. A bounce off of this level would make me a buyer. A break underneath it would make me hold off a bit longer for a better entry. I do, however, like the bounce off the 50-week moving average and that bodes well for an expectation of a test and bounce off the 50/200-day moving average.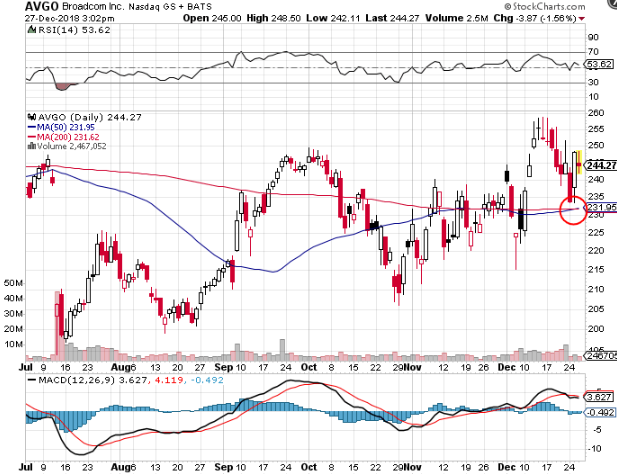 Both sides of the analysis make me a buyer of shares - pending the moving average test - in the low $230s.
CyberArk
CyberArk (CYBR) is another strong candidate in today's environment as it has weathered the 2018 fall/winter storm much like Broadcom.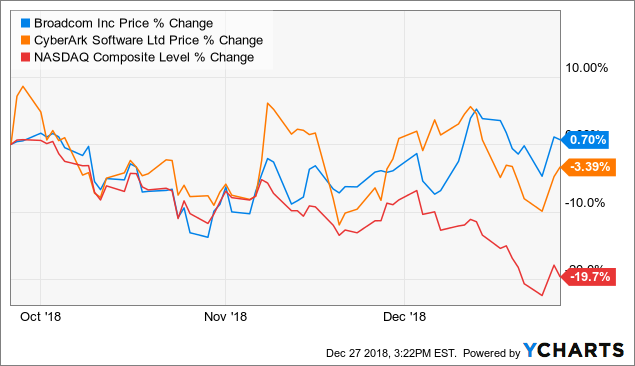 I updated my thesis on CyberArk in mid-November in a public article, and nothing has changed a month and a half later. We will know more fundamentally when the company reports in February - but the climate has remained strong.
As for when to enter the stock, there has been opportunity recently on some weakness, but I still see an opportunity looming given some softness in the overall market continuing. I'm specifically talking about a gap the stock hasn't finished filling.
I'm not convinced it will fill it; there's no rule which says it has to, but it is a point to keep in mind. The problem now is it must contend with the 200DMA if it wishes to close the gap, which can be done and then close over the 200DMA with no issues. However, a close below the 200 would signal caution.
With it crossing over the 50DMA late Thursday, it may be headed for some higher moves in the coming weeks. However, the chart doesn't convince me of that either, necessarily. All that said, I'd be a buyer on weakness into the mid-$60s while watching carefully.
Apple
Now, I start to get into the names which are not doing so hot in this environment but have the largest opportunity for rebound given a better market climate along with improving company-specific issues.
Apple (AAPL) is the first in my list in this category. Apple has moved down further than I've seen it move in a few years; rivaled only by when it fell 31% moving into 2016.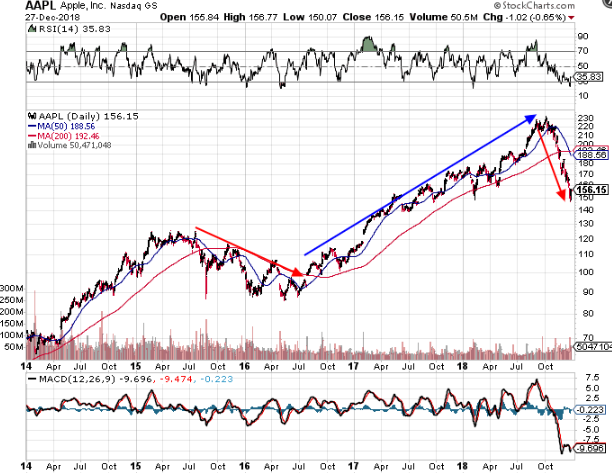 As you can see, the decline was much more spread out, lasting almost exactly a year.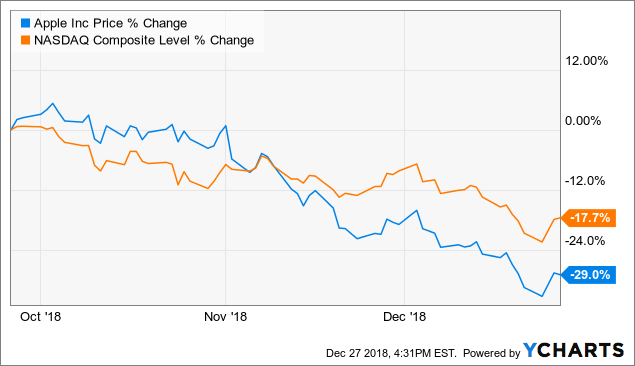 Apple went from outperforming the NASDAQ to hugely underperforming it as it headed deeper into November. A lot of this downward move started at earnings when the company announced it would no longer breakout unit sales of iPhones, among other products. On top of that, slowing growth from suppliers like Qorvo (QRVO), Lumentum (LITE), and Cirrus Logic (CRUS), among others, has caused the market to freak out and bring expectations down for iPhone sales as the company heads out of the holiday season.
The company has more than just iPhones to lean on for its business such as Services, which is growing at a mid-20s growth rate. As long as iPhones don't see the bottom drop out in the next couple of quarters, the company has the maneuverability to grow revenue in other areas without seeing overall growth disappear.
Looking at Apple's near-term chart brings us to the scarier side of tech stock charts.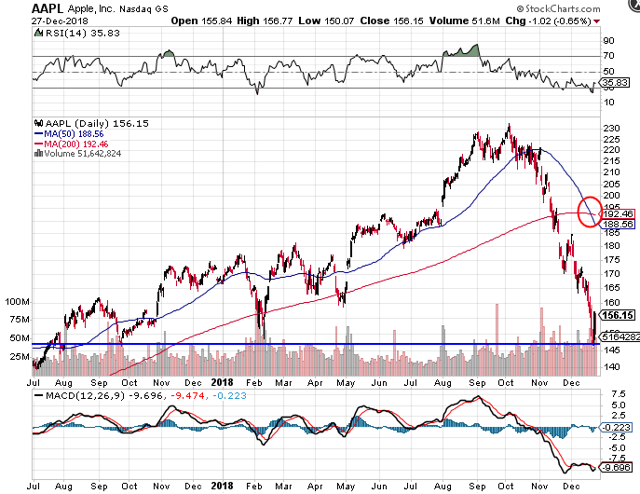 I had to go all the way back to August of last year to find some resistance-turned-support to identify where Apple's stock could find a spot to land. The problem now is even though it has found support the moving averages made a death cross (circled in red). Additionally, the MACD is the lowest it has been in the last five years - so there's a bit of damage done to the chart technicals.
Having said that, I still like Apple down in the $150s as valuation is turning to quite undervalued.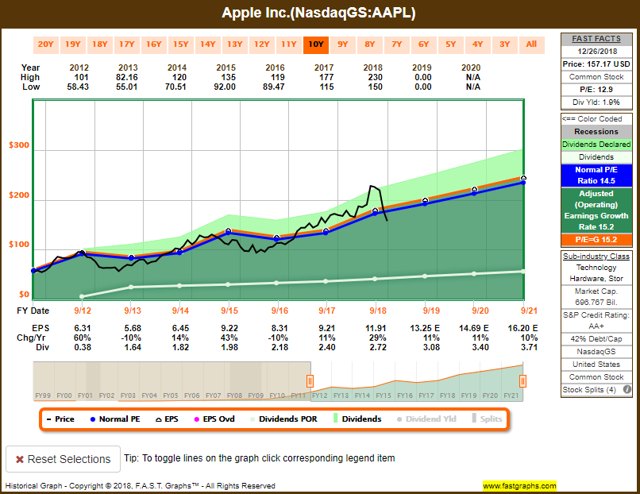 I like to break out F.A.S.T. Graphs for times like this where a consistently performing company and a consistently performing stock can be shown a solid fair value level. Currently, the fair value according to F.A.S.T. Graphs is $178-$179 at the normal P/E compared to the mid $140s where it was trading just a few days ago. I'm looking to start accumulating shares here.
Skyworks
Speaking of Apple suppliers, Skyworks (SWKS) has been sinking on rather minimal news in the earnings department. Management expects to see growth continue into 2019, but the guide for Q1 was apparently too big to handle - $60M downside on a $1.01B guide.
Skyworks is what I would classify as a thrown out with the bathwater kind of situation. As the company has worked its way away from being Apple customer dominated, it has allowed itself to be less reliant on the ebbs and flows of Apple news. Wait, it hasn't? That sounds like an opportunity to me, and with the company expecting a growing 2019, why is the stock getting punished like it expects growth to turn negative?
I asked F.A.S.T. Graphs the same question, and it told me, "Looks to be pretty cheap here." Fair value is considered to be $98 versus a current stock price around $67.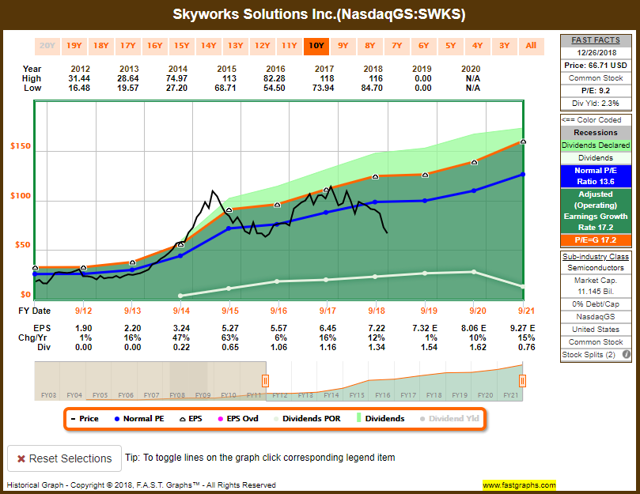 As far as the stock chart and determining if this is a falling knife, I'm leaning towards no. What I notice right away is a continued lower lows stock price but a diverging MACD, where the MACD is making higher lows in the face of the stock price movement - this is a bullish sign. Additionally, I also see a small channel which is on the verge of a breakout due to the last two days' worth of gains.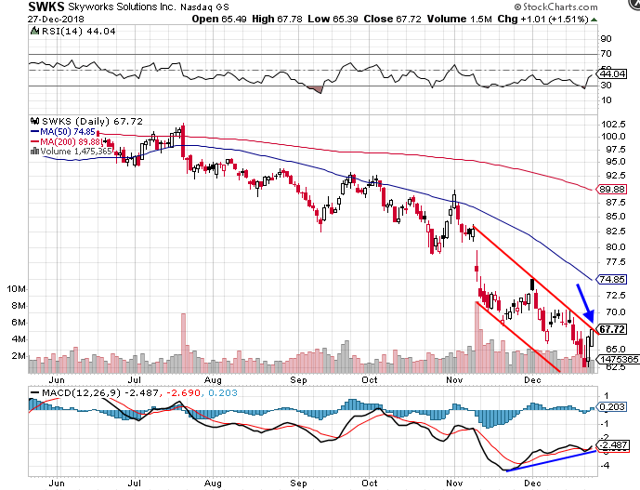 At the moment, I own a healthy amount of Skyworks so I'm not looking to add personally, but I would consider this is a great entry point for someone looking to initiate or fill out a position.
Nvidia
This is a stock I have been trying to suppress my excitement on because I never thought I'd see it this low again. Nvidia (NVDA) has had a rough go over the last several months, especially before and then after earnings where the slide which preceded only accelerated.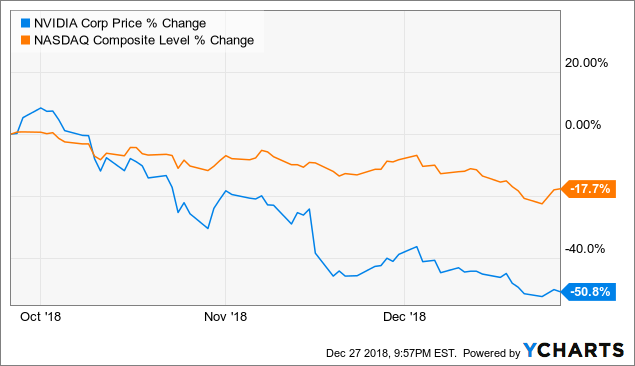 The reason for the drop is due to the expected negative top and bottom line growth coming in 2019. However, the stock market would have you think this is the new normal. Let's not forget the company's RTX cards are not a dud. The reason for this revenue hiccup is due to inventory mismanagement. This is not a fundamental flaw in the company's technology but rather a retail-sided speed bump. Once this inventory issue clears, much of where Nvidia was heading will be recognized in the financials. Helping this will be the support in the GPU driver and gaming software side for RTX which will continue to mature throughout this inventory issue.
As for the chart, it looks the scariest of all with no support found yet and a large gap much further down with a $104 bottom to it.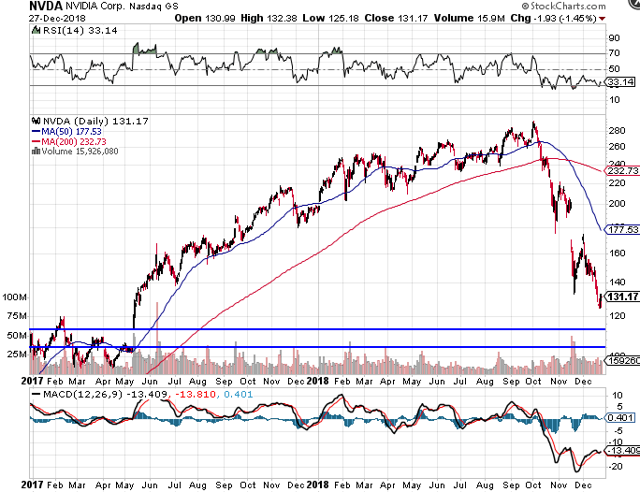 Part of me wants to begin picking up shares here, which may not be a bad opportunity, and if the stock manages to go down to the low 100s, I can continue to dollar cost average my position. I'd be OK with an average in the 100 teens. For now, I continue to hold off but not without a finger close to the trigger. I'd prefer to wait for bottoming action as Nvidia still appears to be a falling knife.
Tech Wreck Continuing?
Right now, the market is still falling. However, as my first two stocks in this article show, healthy stocks are waiting to be picked up. The rest of the list has a varying degree of falling knife syndrome. Accumulation in smaller parts is the best approach as we don't know where the bottom will truly be - it could have happened, or it could be two months away. Dollar cost averaging is something I will side with while the market decides when that bottom is.
Make Cash With My Cache
Get alerted to my tech analysis by clicking the follow button at the top of this page next to my name. Subscribers to my Seeking Alpha service Tech Cache get the content you just read on a weekly basis. I discuss a variety of tech stocks and give subscribers my opinion and strategy as I formulate them. You also get real-time, chatroom access to ask me followup questions and hear ideas of other Tech Cache subscribers. Right now, you can try it risk-free with a 2-week free trial!
Disclosure: I am/we are long SWKS. I wrote this article myself, and it expresses my own opinions. I am not receiving compensation for it (other than from Seeking Alpha). I have no business relationship with any company whose stock is mentioned in this article.
Additional disclosure: I may initiate a Long position in AAPL, NVDA, CYBR and/or AVGO over the next 72 hours.