Welcome to the latest edition of the Energy Recap, the final one for 2018. It was another interesting year, with lots of highlights and lowlights in the sector. Here are just a few notable energy-related items:
OPEC raised oil production back in June, then cut it by 1.2 BPD in December. The former move was due to oil prices having recovered back to the $70/bbl range. The latter move came after the oil price collapse in the fall (aided by Saudi Arabia increasing production).
The previous monthly record for U.S. crude oil production - 10.044 million BPD set in November 1970 - was broken earlier in the year. That number rose throughout 2018, reaching 11.475 million BPD by September.
Oil prices were up and down in 2018, with West Texas Intermediate (WTI) and Brent crude starting the year at $60/bbl and a little under $67/bbl, respectively. By October, WTI was near $80/bbl and Brent had made it above $86/bbl. With just a few days remaining in 2018, WTI has dipped to $45/bbl while Brent crude is around $54/bbl.
Natural gas saw a sudden resurgence in the fall of this year, experiencing a monthly average above $4/MMBtu for the first time in several years.
The Permian Basin saw a rapidly rising production rate in 2018, and appears set to gain additional momentum in 2019.
Ethanol producers got a boost this year after the resignation of Environmental Protection Agency Administrator Scott Pruitt, who was rather hostile toward the industry, and the ending of restrictions on the year-round sale of fuel blends containing 15% ethanol (E15).
China's solar sector took a hit in 2018, in part due to a 30% tariff imposed by the U.S. on imported solar equipment for at least the next four years. This, in turn, led to a decline in the global growth rate of solar power.
We'd love to get your thoughts on the above items or anything else you found noteworthy this year. What's your opinion on what 2019 holds for the energy sector? Where do you think the price of oil is headed in the coming year? What about natural gas prices in the new year? Please leave us your comments below.
As we close out the year, we want to reiterate that we greatly appreciate the contributions from all of our readers, so please keep them coming. Finally, we want to wish all of you a happy, healthy and prosperous new year!
Energy Articles of Note
"Reflections On The 2018 Energy Sector's 'Year Of The Transaction' And A Sneak Peek Into 2019" by Tortoise
"Vladimir Zernov Positions For 2019: General Market, Drillers, And Gold" by Vladimir Zernov
"The Next Energy Leg" by SA Marketplace
Energy Sector IPOs for the Week Ended Dec. 28, 2018
Here's a list of the most recent initial public offerings in the energy sector:
- None.
Feel free to add any that we might have missed in the comments section below.
U.S. Oil Rig Count
As per Baker Hughes, the number of active U.S. oil drilling rigs rose this week.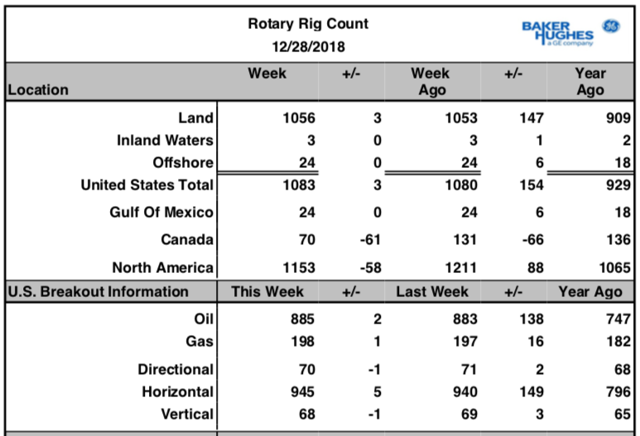 Weekly Natural Gas Storage Report and Summary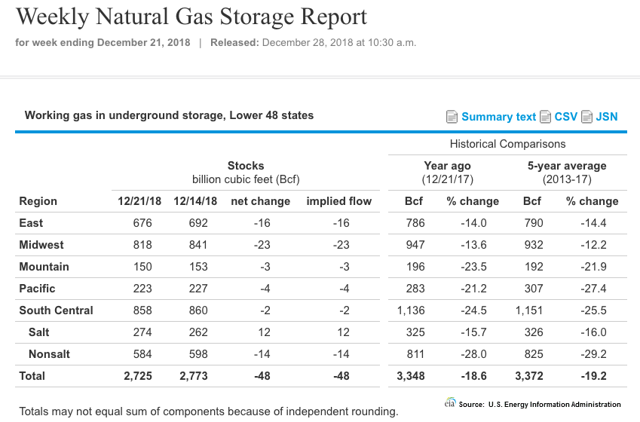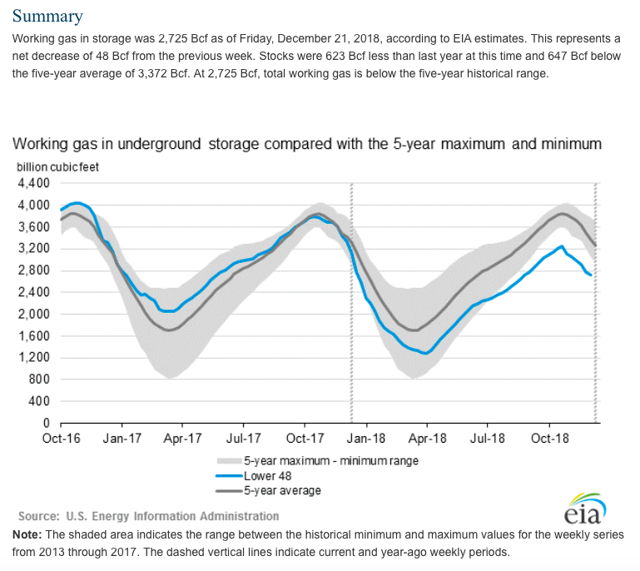 Natural Gas Rig Count
(Note: When this article was published, the latest charts for both the Natural Gas Rig Count and Oil Production were not yet available; the charts here are from last week.)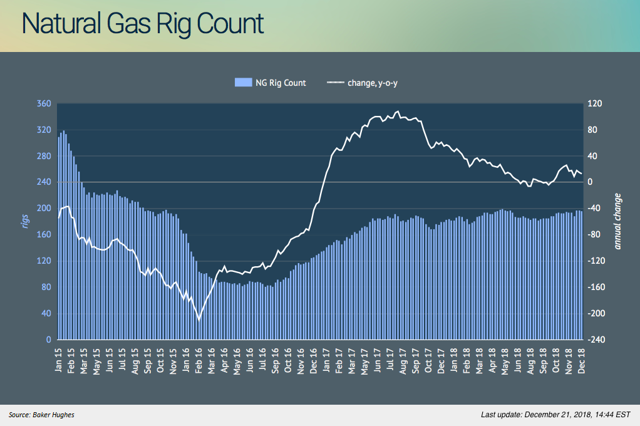 Oil Production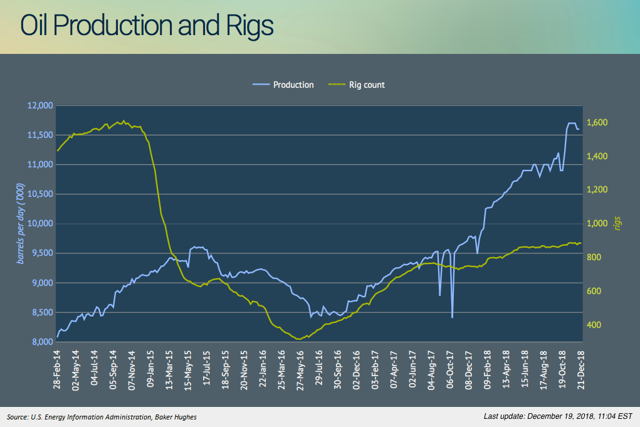 As always, we encourage you to submit your own article by clicking here, if you haven't already done so.
Disclosure: I/we have no positions in any stocks mentioned, and no plans to initiate any positions within the next 72 hours. I wrote this article myself, and it expresses my own opinions. I am not receiving compensation for it (other than from Seeking Alpha). I have no business relationship with any company whose stock is mentioned in this article.