Perhaps no company in the cannabis market has experienced more criticism than Canadian operator Aphria (APHA). As players in this space try to grow and as other companies not in the space seek opportunities to jump in at what is objectively a good time given the legalization of the product in Canada that occurred in October of this year, there's a lot of money to be made. On the other hand, there's a lot to lose for those prospects that fail to capture consumers' interest and potentially even more to lose for bad actors. In the latest move for Aphria, investors have been gifted (perhaps) with an offer by Green Growth Brands (GGB), what used to be called Xanthic Biopharma Inc., whereby Green would acquire Aphria in an all-stock transaction valued at a significant premium to Aphria's current share price. Should a deal ultimately come to fruition, the upside for shareholders would be attractive, but there's a lot of uncertainty here that warrants consideration first.
A necessary disclosure
Unless otherwise stated, and even then on a case-by-case basis, all references to dollars or "$" will refer to Canadian dollars, not US dollars.
A look at the offer
Green's offer to acquire Aphria is fairly simple but it comes with a couple of odd twists. For each share of Aphria out there today, Green is willing to provide investors 1.5714 shares of its own stock, with an intended price on Aphria of $11 per share. In all, if this deal were to come to fruition, it would imply a value on the company of $2.8 billion (or $2.1 billion USD), a price that's 45.5% higher than Aphria's closing share price on Dec. 24.
This is simple enough, but this is where things get a bit odd. Green's current share price today stands at $5.11, far lower than the $7 per share the company is basing the transaction off of. This is because the company has stated that it's raising a sum of $300 million, $50 million of which it will inject into Aphria, at a price of $7 per share. The rationale, from management's perspective, is that if investors willing to put big money in will pay a meaningful market premium then the price of its stock should eventually rise to reflect that. If, instead, Green's price remains unchanged from where it is today, the implied price for Aphria stands at just $8.03 per share.
Upon closing the transaction, according to Green, the company will have meaningful operations throughout Canada, some other parts of the world like Latin America, as well as in the US through its retail presence. This is a tantalizing idea, especially because the US has the makings of a significant market, but Aphria's management team elected to reject the offer, and to consider it, instead, a low-ball offer considering that several days prior to it coming out, shares were worth far more than where they are today.
Major controversy
The great thing about the cannabis market today is that, if more and more countries continue to legalize it, the upside for market winners will be huge. There's no doubt about that. In prior articles, like here and here, I talked about other operators in this space and discussed that, for the most part, players in the market think that its ultimate size will likely range between $150 billion and $250 billion, if not more. Sadly, though, in such a hot area, where significant fortunes stand to be made over the next 10 to 20 years, there's also a lot of opportunity for bad actors.
Enter Hindenburg Investment Research and Quintessential Capital Management: In articles published earlier in December, the product of these two parties working together to analyze Aphria, the allegation was made that, in essence, many of Aphria's recent acquisitions are worthless and that the firm is a shell game with a cannabis business on the side. I confess that I did not listen to the interview posted under Quintessential's name, but I did read, in great detail, the article published by Hindenburg. What I found was simply stunning and it reminded me of the exploits of David Einhorn in his book, Fooling Some of the People All of the Time: A Long Short Story, in which he chronicles his war against Allied Capital.
Not only was I convinced that the two are likely correct about Aphria following the publication of that work, I had actually believed, following the announcement of this deal coming out, that it might prove an ideal opportunity for management at the cannabis company to essentially bail on the firm, giving investors who bought in at higher prices the chance to limit losses while allowing a retail-centric operator in the space the opportunity to take on what assets are good. After all, according to Green, it's expected that by early next year Aphria will have annual production capacity of 250,000 kg per year worth of cannabis (though this figure is certainly less if allegations are true).
You can imagine my disappointment, then, when Hindenburg published another article pointing out very real related-party influences existing between the firms. I will not regurgitate what was stated there due to brevity, but I do recommend that investors, before buying Aphria and/or Green, familiarize themselves with these related-party concerns. After all, while having related-party transactions is not illegal, it can add an image of impropriety to a deal and it also can open up the company or companies in question to additional scrutiny, especially from regulators.
Don't throw out the baby with the bath water
In all likelihood, there is something nefarious (at worst, but potentially just negligent at best) going on with Aphria, and that's enough for me to stay far away and to suggest that investors only consider putting what money they can afford to lose into it. That said, just because related-party transactions exist does not mean that both sides of the equation are tainted. Yes, Green's second-largest shareholder is a firm that has Aphria's chairman and CEO as a member of its Board, plus there are numerous other ties, but it's also important to keep in mind the leadership team in charge of Green.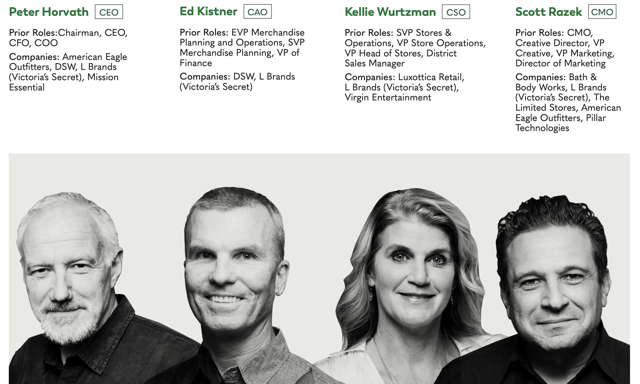 *Taken from Green Growth Brands
As you can see in the image above, the leadership team at Green's helm consists of high-level executives with extensive experience in the retail space. Peter Horvath, the CEO, for instance, was previously the Chief Global Commercial and Administrative Officer at American Eagle Outfitters (AEO), EVP and COO of Victoria's Secret Stores, and president of DSW Inc. (DSW). The other top members of the company have significant exposure to retail as well, which fits well with the company's vision of becoming a key player in the cannabis retail space.
One thing pointed out to in Hindenburg's analysis was the financial data presented by Green. The company does, indeed, have a thin and weak balance sheet, plus its actual revenue is limited. There's no denying this. According to management, sales over the last 12 months, if annualized, would be $17 million. That said, this is for a single retail establishment called The Source (it appears there are two locations at this time) that allegedly completes 1,000 transactions per day and that boasts a more than 20% EBITDA margin.
Investors might say, and rightfully so, that such a small presence can't justify the $915 million market cap that Green is trading for as of the time of this writing. That said, this kind of disconnect from reality is the norm, not the exception, for the cannabis space right now. Because legalization in Canada is so new, no player has a full quarter's financials regarding the space (and because The Source is located in Nevada, it is missing out on this upside), but the belief that other nations will eventually legalize marijuana for recreational purposes has resulted in all of them trading at ridiculous prices relative to the sales they are bringing in.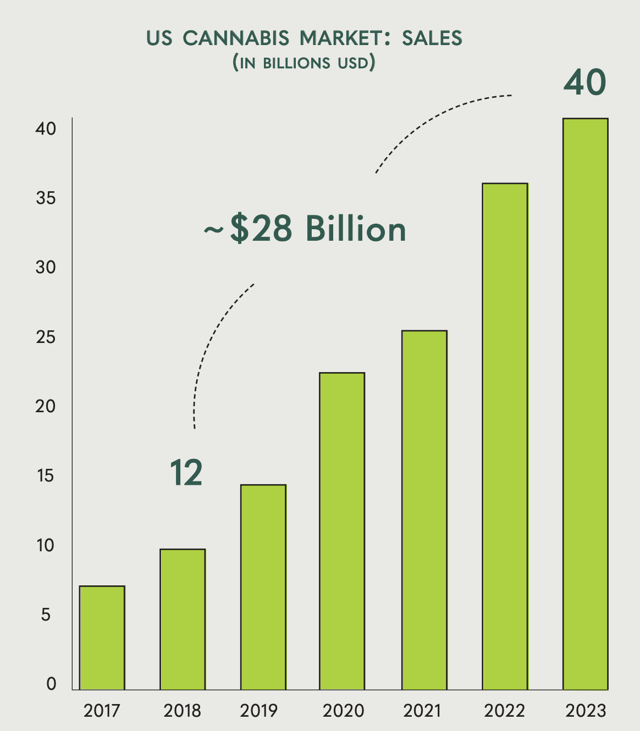 *Taken from Green Growth Brands
Take, for instance, the kind of upside that Green expects it can tap into in the years ahead. In the image above and in the image below, you can see two key segments of the market that the company believes it can tap into in order to grow. The largest of these is the US cannabis market, which Green believes will see revenue grow from $12 billion this year to $40 billion by 2023. The CBD market, meanwhile, should expand from $500 million this year to $3 billion by 2021. As an early player in the US, with a reputable management team (and assuming capital comes in as needed), the upside moving forward could be tremendous if they can get the right recipe to attract the 14 million new customers in the US that will be coming online. This excludes what potential could exist in other markets for the firm, as well as in other verticals.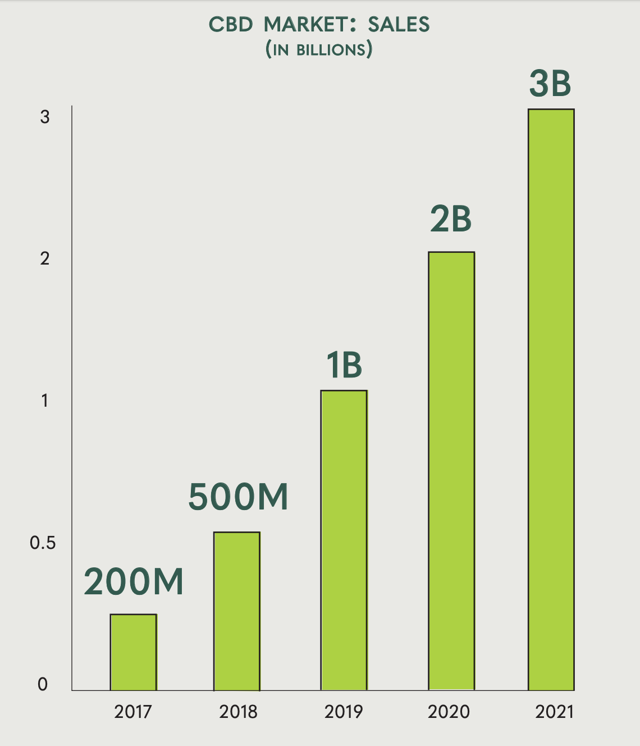 *Taken from Green Growth Brands
In a rather unusual move, management at Green gave some insight as to what they believe the future holds. With retail partners allegedly in place already, the company believes that by 2021 it will be generating $690 million (in USD) worth of sales, with its products in around 4,000 establishments nationwide. A big chunk of this growth will supposedly take place through those retail channels, where management will focus on CBD-infused beauty/personal care products for the masses. If their forecasts come to fruition, EBITDA by 2021 will be around $227 million, for an EBITDA margin of 33%. With an EV/EBITDA multiple as pointed out by management of around 8.4, this would imply equity plus net debt value for the firm (also known as enterprise value) of around $1.91 billion. Of course, all of this appears to be under the assumption that no deal with Aphria takes place.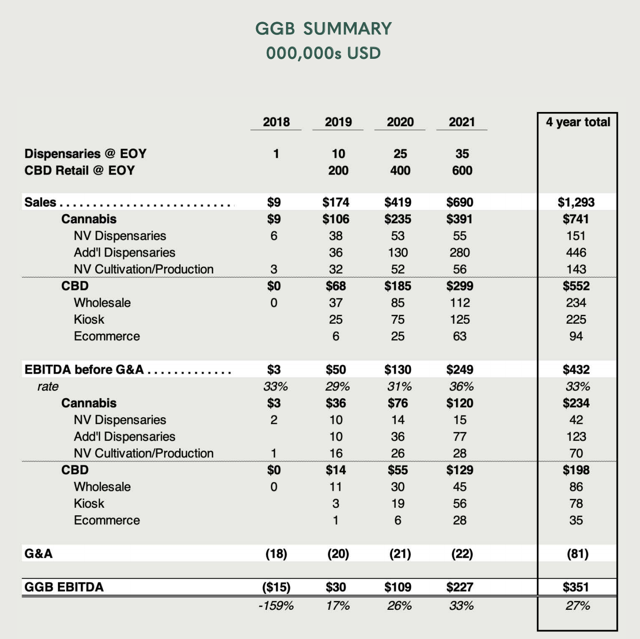 *Taken from Green Growth Brands
Takeaway
Right now, what's going on in the Aphria/Green story is fascinating, but there's a lot of risk for market participants who want to place their money in the game. In addition to the prospect of there being natural winners and losers in any "new" and fast-growing market (and the extreme stock price volatility that's likely to be seen as investors rush to pay a premium just to get a taste), you have to add in legitimate concerns regarding the legality of current operations. In all likelihood, Aphria is a dangerous prospect for investors to consider and I, myself, am staying as far away from it as possible. Green, on the other hand, is a different story. The company, even with some overlap among key players, is still run by a sophisticated retail team, and if it can succeed in expanding as it suggests, the upside is material. That said, because of the high premium being asked by the market today and because management is even gambling with Aphria, I don't intend to buy, but I can't blame other investors who might like the dynamics at play here, especially if it's revealed that allegations against the firm are unwarranted.
A community of oil and natural gas investors with a hankering for the E&P space: Crude Value Insights is an exclusive community of investors who have a taste for oil and natural gas firms. Our main interest is on cash flow and the value and growth prospects that generate the strongest potential for investors. You get access to a 50+ stock model account, in-depth cash flow analyses of E&P firms, and a Live Chat where members can share their knowledge and experiences with one another. Sign up now and your first two weeks are free!
Disclosure: I/we have no positions in any stocks mentioned, and no plans to initiate any positions within the next 72 hours. I wrote this article myself, and it expresses my own opinions. I am not receiving compensation for it (other than from Seeking Alpha). I have no business relationship with any company whose stock is mentioned in this article.