AK Steel (AKS) has been under heavy pressure since the steelmaker announced disappointing third quarter earnings in late October. The company's stock has heavily depreciated since the beginning of December and the bonds have followed suit. Currently, the company's unsecured bonds due in 2021 are trading at 90 cents on the dollar and yielding nearly 12%. The attractive yield is higher than that of the company's 2023 secured bonds and even bonds maturing in 2025 and 2027. By analyzing the company's financial performance and management objectives, fixed income investors will find the 2021 bonds to be a unique opportunity.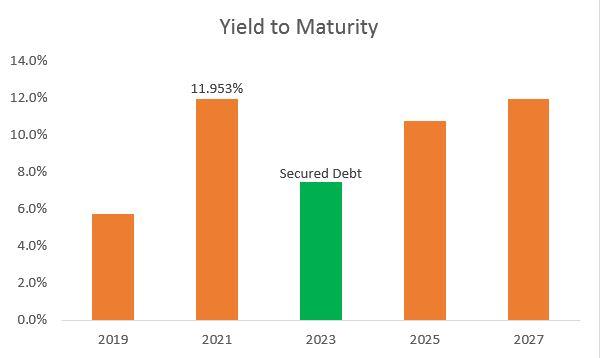 Source: FINRA (2021 Quote, AKS bond Prices)
AK Steel's operating profit has been under pressure in 2018. Despite a revenue increase of greater than 10%, or $500 million, the company's operating profit has declined by more than 10%. The main driver behind the drop in operating profit has been an increase in cost of goods sold (slightly more than revenue), and an increase in S&GA expenses.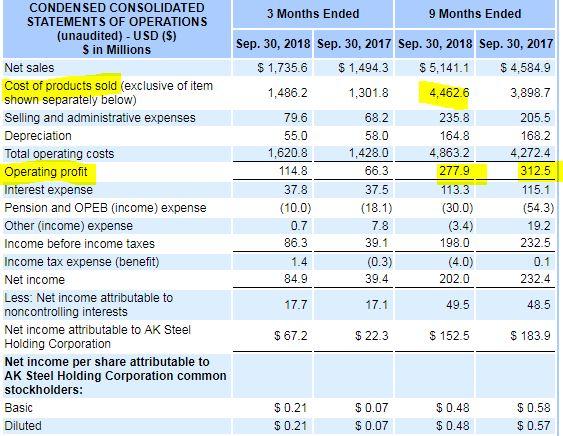 Source: SEC 10-Q
While AK Steel's profitability pressures is undoubtedly scaring shareholders, the company's capital structure may have bondholders concerned. While the company has built equity in 2018, it remains heavily leveraged with a debt-to-equity ratio around 9.25. Fortunately for debtholders, the company's current assets (mostly inventory and A/R) cover its long-term debt. The company has also been making progress to reduce its pension obligations, as demonstrated in slide 14 of the most recent earnings slideshow.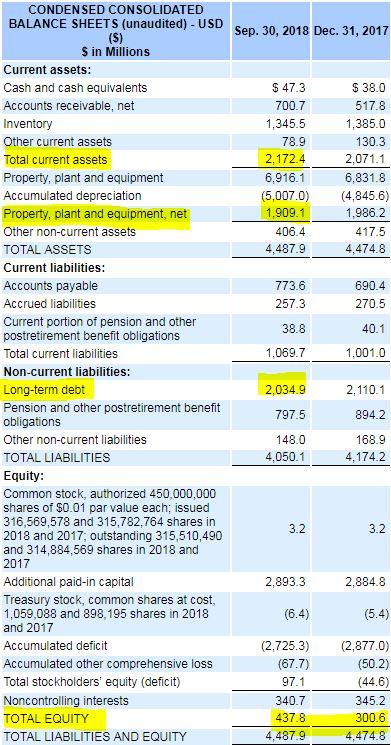 Source: SEC 10-Q
Despite pressures in profitability, AK Steel has been able to reduce its debt by $85 million in the first nine months of 2018. The company has managed to increase its operating cash flow by nearly $100 million, mainly due to the changes in working capital. It is important to note when determining the company's ability to pay down debt through free cash flow.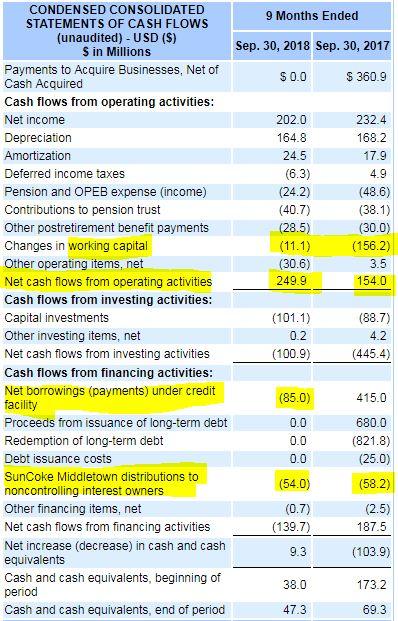 Source: SEC 10-Q
While the company has not provided operating cash flow guidance for 2019, management estimated capital expenditures of $160 million in the most recent earnings conference call. Based on comments on the earnings call and NASDAQ earnings estimates, I believe operating cash flow will increase with earnings next year. Beyond 2019, I'm taking a more conservative approach to operating cash flow and growing capex based on the changes between 2017 and 2018.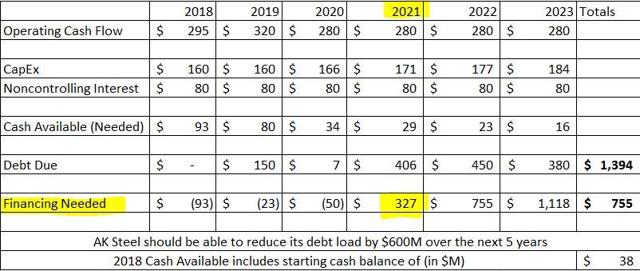 Source: Cash Flow Estimates, CapEx Guidance, NASDAQ Estimates
Management iterated on multiple occasions during the last conference call that AK Steel will dedicate excess cash toward debt reduction in the foreseeable future. I believe that AK Steel should use excess cash to buy back 2021 unsecured debt and, over the next five years, the steelmaker should reduce its debt burden by around $600 million.
While steel is a commodity and price changes have the potential to cause problems, AK Steel has a credit facility that it can pull from if it needs additional liquidity. This credit facility, which is likely collateralized by the company's inventory has over $900 million in availability as of the end of the third quarter. The company's continued profitability combined with management's commitment to reduce debt should give fixed income investors security in getting a nice return to maturity with AK Steel's 2021 bonds.
CUSIP: 001546AS9
Price: 90.30
Coupon: 7.625%
Yield to Maturity: 11.853%
Maturity Date: 10/1/2021
Credit Rating (Moody's/S&P): B3/B-
Bond Type: Unsecured
Disclosure: I/we have no positions in any stocks mentioned, and no plans to initiate any positions within the next 72 hours. I wrote this article myself, and it expresses my own opinions. I am not receiving compensation for it (other than from Seeking Alpha). I have no business relationship with any company whose stock is mentioned in this article.
Additional disclosure: I own AK Steel bonds maturing in 2021.