In case you missed it, I have been busy mining for gold, so to speak, except in the REIT sector. And thus far, I have uncovered two moat-worthy gems.
The first pick is Iron Mountain (IRM), a REIT that actually commenced when the founder, Herman Knaust, was mining mushrooms. That's right. As the story goes, he made a small fortune growing and marketing mushrooms after purchasing a depleted iron ore mine for $9,000 in 1936. Source: Wikipedia
These days, "Iron Mountain is an industry leader in storage and information management services, serving 230,000 customers in 53 countries on six continents (with over 24,000 employees worldwide)." Along the way, Iron Mountain has built an exceptional moat powered by a "combination of (1) switching cost, (2) network effect, and (3) efficient scale" - all of which are denominators for Iron Mountain's most important moat characteristic, it's brand value as the #1 TRUSTED GUARDIAN OF PRECIOUS ASSETS.
The second 'moat-worthy' pick is Kimco Realty (KIM), a leading best-in-class shopping center REIT that has successfully recycled capital into more productive assets while also fortifying its balance sheet.
Kimco's goal long-term is "to be the best shopping center REIT in the entire sector" and the company believes that in order to do that, it will "have to have same site NOI growth that's really north of 2.5% on a long-term run rate and an FFO growth rate that's in that 4% to 5% or higher."
Both Iron Mountain and Kimco Realty are considered moat-worthy because of their competitive advantages, but also for their valuation. The primary mission for the quest for 'wide moat' supremacy is to generate strong growth and margins over the long term. These companies must be able to withstand the competition and generate sustainable economic profits (aka: dividends).
Now, we are mining for a third 'moat-worthy' REIT and this one has all of the ingredients of something special. Recognizing the term best-in-class is a commonly-used phrase in the investing arena, I am going to replace the phrase with a new term: superior. This adjective best describes my belief that Ventas, Inc. (VTR) is a 'superior' moat-worthy REIT.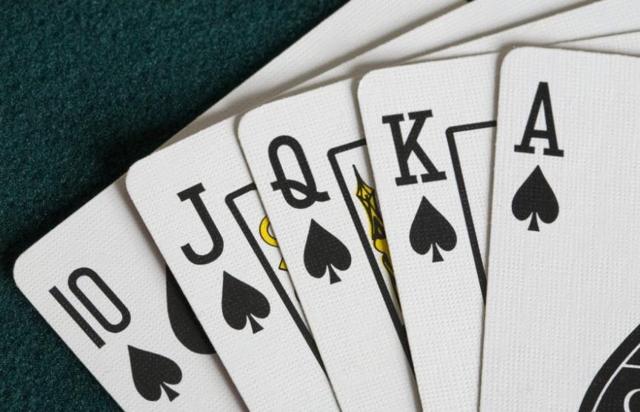 The Business Model
Ventas is an S&P 500 company, that provides capital to leading seniors housing, healthcare companies and research institutions. The diverse portfolio of approximately 1,200 properties includes Senior Housing Operating (31%), Office (26%), Triple-Net (24%), Acute Care (8%), and Loans (4%).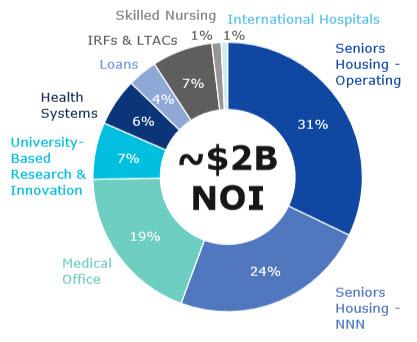 Source: VTR Investor Presentation
Ventas recognizes that there is so much more opportunity in the large, fragmented real estate healthcare space which continues to be supported by compelling demographic trends. In this highly dynamic market, the opportunities are immense and Ventas position is, as I said earlier, superior.
Moat Advantage #1: Scale Advantage
Economies of scale is considered a cost advantage, because Ventas is able to generate meaningful cost benefits by leveraging its superior size. Ventas' has four primary pillars underneath its umbrella flagship. Let's break them all done:
Ventas has 31% exposure in senior housing operating (SHOP), and the biggest headwind facing senior housing is the "mis-match" of timing (supply and demand). Certain markets are experiencing greater pressure as overall occupancy has declined.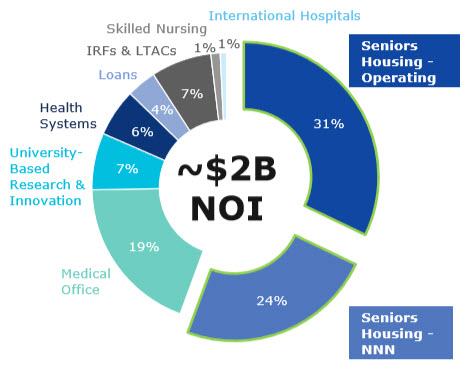 Source: VTR Investor Presentation
However, Ventas has 'superior' senior housing properties: 65% of SHOP NOI is in high-barrier-to-entry coastal markets in which median home values are 2.0x the national average (and median household income is 1.4x national average)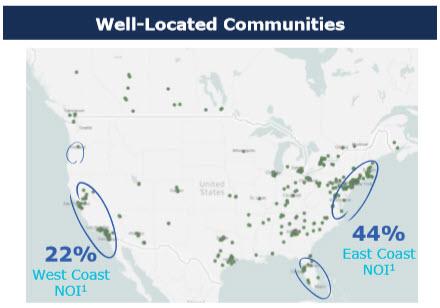 Source: VTR Investor Presentation
Also, since 2015, new shovels (construction) is decreasing (starts nationally were >50% lower in Q3-18 vs. 2015 peaks). On the third quarter earnings call Ventas CEO, Debra Cafaro, explained that "the recently reported continued improvement in senior living starts, which are at a five-year low. Importantly, in primary markets, net absorption in assisted living in the third quarter of 2018 was the strongest third quarter for net demand on record."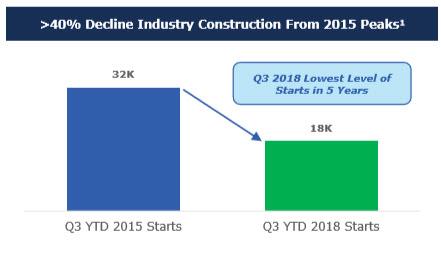 Source: VTR Investor Presentation
Ventas has 26% exposure the 'office' sector, that consist of medical office buildings (19%) and life science buildings (7%). In Q3-18, the property sector saw increased same-store cash NOI of 3.5%, and the segment was led by a terrific results from the university-based life science portfolio, which grew same-store cash NOI by 12.4% in Q3-18 as a result of strong lease-up activity.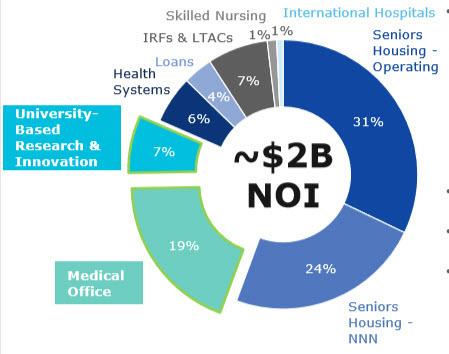 Source: VTR Investor Presentation
The life science portfolio grew NOI by nearly 23% in Q3-18, fueled by new projects at Wash U, Duke and Penn. For the full year the life science same-store pool in 2018 expects same-store NOI growth in the range of 3% to 4%.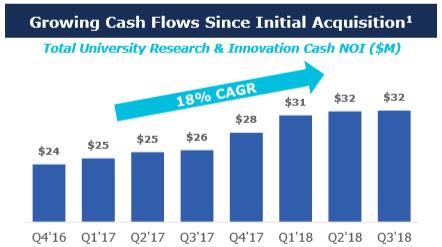 Source: VTR Investor Presentation
Also in Q3-18, the medical office business grew same-store NOI by 1.1% as a result of increased in place escalators (approximately 3%) and best-in-class tenant retention of nearly 87%. The pipeline of university-based research and innovation projects is robust and Ventas is making the life science sector the #1 capital allocation priority.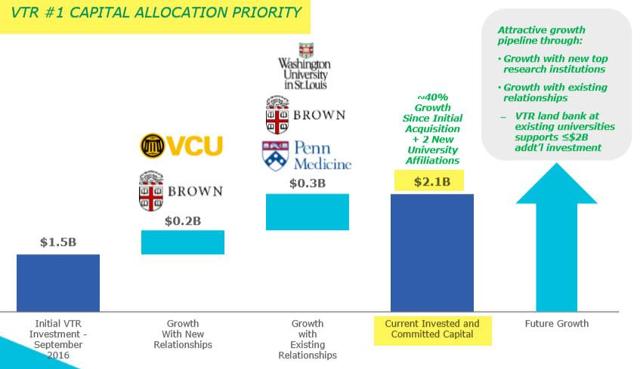 Source: VTR Investor Presentation
Ventas has 39% exposure to Net Lease senior housing and the segment grew overall same-store cash NOI by 3% in Q3-18, where in-place lease escalations were the primary driver of this increase. The trailing 12-month EBITDAR coverage in the triple-net same-store seniors housing portfolio held steady at 1.2s through Q2-18 (the latest available reporting period).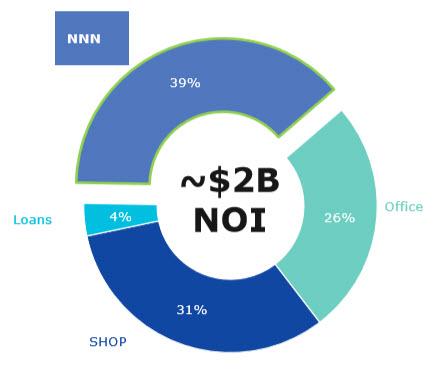 Source: VTR Investor Presentation
Ventas announced (in Q1-18) that its senior housing triple-net portfolio was improving by extending out its maturity profile. Specifically, the company reached a mutually beneficial deal with Brookdale, a long-standing tenant (and the nation's largest senior living operator), to combine and extend all of the Brookdale assets into one guaranteed master lease.

Source: VTR Investor Presentation
Essentially, this new deal eliminates mid-term rollover for the Brookdale leases by extending the terms out to 2026 (12/31/2025). This provides more clarity for Ventas investors and also gives Brookdale enhanced cash flow (VTR provided an average of $6 million in annual rent credit to Brookdale in each of the remaining years of the lease). Note: VTR's cash rent from BKD is $180 million prior to the rent credit, so the $6 million credit is modest.
Ventas has 6% exposure to 'health systems' and the company's Ardent coverage remains strong and steady at 2.9x. Momentum at Ardent continues and the business is performing exceptionally well. Ventas is holding its 2018 same-store NOI guidance range for the triple-net portfolio overall to grow between 2.5% and 3%.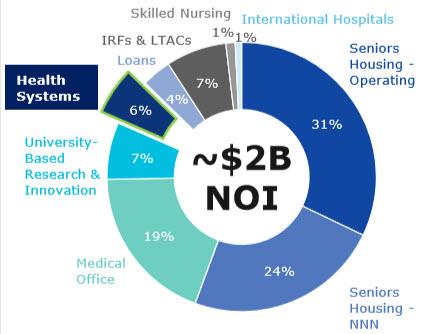 Source: VTR Investor Presentation
In addition to senior housing (operating and net lease), office (MOB and life science), and health systems, Ventas has modest exposure to acute care. In addition, Ventas has a loan portfolio of well-structured, high IRR loans. The loan book now is only 4% (of VTR NOI with $300M loans maturing 2H 2019 yielding an average ~8.5%).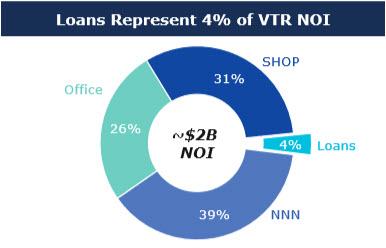 Source: VTR Investor Presentation
Moat Advantage #2: Network Effect
Network effect occurs "when the value of a particular good or service increases for both new and existing users as more people use that good or service." I consider this competitive advantage to be one of the most attractive, as Ventas continues to leverage its 'superior' relationships.
As referenced above, Ventas has a diversified portfolio of superior properties across asset classes, operated by leading care providers, innovative premier institutions and partners. While other peers (namely HCP and HCN) have attempted to leverage its diversified platform to generate sustainable economic profits, Ventas has built a superior moat rooted in its long-term investment objectives.
In Ventas' 2018 Annual Report, the company's CEO, Debra Cafaro, explains
"Ventas has consistently advanced and improved through cycles because we know that every environment provides pathways to create value. Our cohesive and skilled team stays consistently prepared, productive and ready to seize opportunities. With two decades of proven strategic vision, exceptional foresight and innovation, and intelligent, timely capital allocation decisions, we expect to build upon our successful track record long into the future."
In other words, it's no fluke that Ventas spun its skilled nursing portfolio before many (skilled nursing) operators began to struggle. In 2015, the company decided to de-emphasize skilled nursing facilities (or SNFs) and opted to spin off a majority of these "higher risk" properties to Care Capital Properties (now owned by Sabra (NASDAA: SBRA).
Also, it's no fluke that Ventas is now focusing on critical mission life science properties that are designed to generate predictable and durable rent checks.
Of course, all of the various property sectors are complimentary as they share one common denominator: they are dedicated to the long-term success of their customers. Ventas has "cultivated strong relationships with best-in-class care providers and research institutions".
Ventas has a well-earned reputation for using creativity and innovation to execute deals others can't. Big or small, complex or straightforward, Ventas has the speed and skill to make a deal work. As the company website states:
"We operate at the intersection of two dynamic industries — healthcare and real estate, and we have experience partnering with leading care providers and developers in seniors housing, healthcare and life sciences."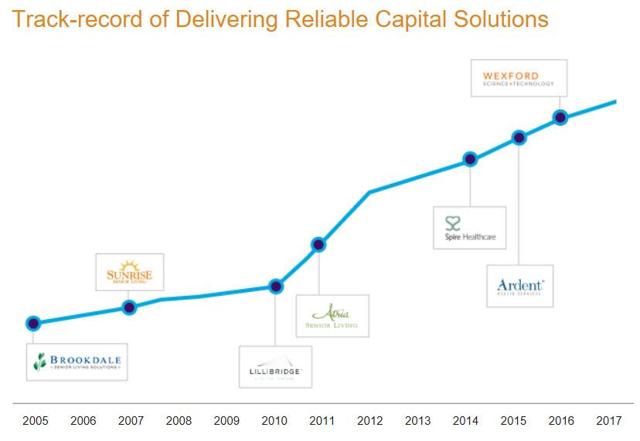 Source: Ventas Website
Moat Advantage #3: Cost of Capital
Ventas has a 'superior' balance sheet as illustrated below:

Source: VTR Investor Presentation
Stepping back since 2005, Ventas has completed nearly $8 billion in value creating capital recycling activities. Over that time period, Ventas has been highly proactive in refinancing debt maturities to extend duration and limit interest rate exposure. In 2018 alone, the company retired or refinanced $3.2 billion in debt.

Source: VTR Investor Presentation
As a result, Ventas has sector-leading financial strength and flexibility, evidenced by fixed charge coverage of 4.6x, a net-debt-to-EBITDA ratio of 5.4x, and less than 12% of total debt matures in the next three years.
This means that Ventas has a war chest of liquidity, nearly $3 billion, and by aggressively reducing debt and extending maturities, we believe that the company is worthy of a credit upgrade (perhaps A- ?). All of the metrics are there today.

Clearly, Ventas has the 'superior' credit profile in the healthcare REIT sector with a long track record of balance sheet strength and consistency, with substantial dry powder ($3.1B on the credit facility) and continued de-leveraging puts the company in an enviable position to grow its cash flow and pounce on opportunities when they arise.
All Of The Ingredients Of Something Special
So, with all of these 'superior' advantages, why is Mr. Market struggling?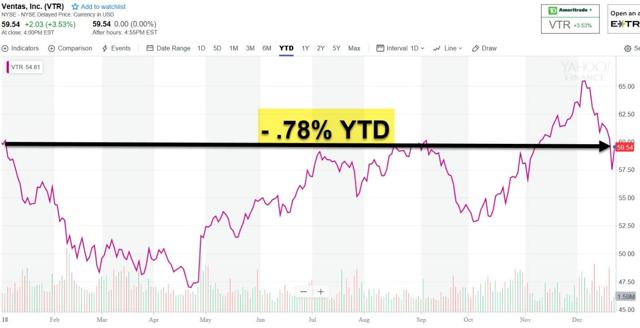 Source: Yahoo Finance
Keep in mind, most REITs are better capitalized for external growth opportunities and we look for companies like Ventas to excel in 2019, because they have been squirreling cash away, and shifted the focus to the Life Science sector.
Given the considerable liquidity of Ventas today, I can only speculate as to which portfolio Ventas will "pounce on." It's obvious that the CEO recognizes how to navigate market cycles as she has done so many times before.
For 2018, for the third time this year, Ventas improved its full-year outlook for normalized FFO per fully diluted share, which is now forecasted to range between $4.03 and $4.07.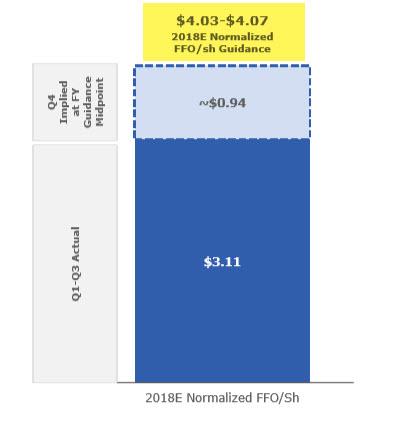 Source: VTR Investor Presentation
I recognize that Ventas recently announced a modest .30% dividend increase (from $.79 per share to $.7925 per share), but it was a signal that the company would keep growing. The FAST Graph below illustrates a company that was growing earnings (FFO/share) by double-digits for over twenty years, and then in 2016 it decided to pivot and forge a more defensive pathway to profits.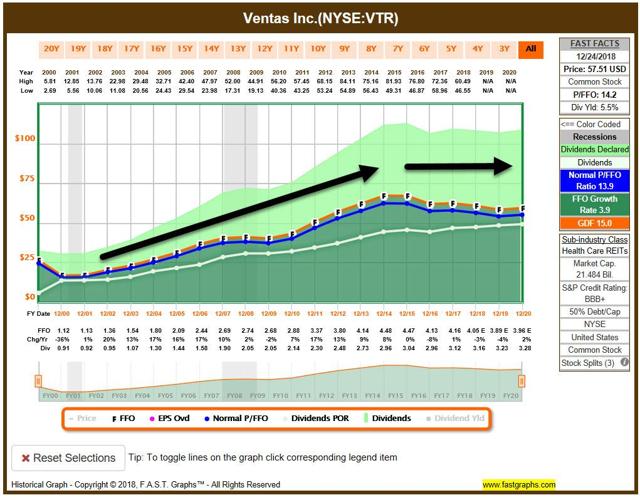 Source: FAST Graphs
One of the things that I have learned over the years is that talking to managers and understanding the outlook for a company's future profitability and competitive forces is the key to investment success.
There is no doubt that senior housing NOI has been a drag on Ventas' profits, but we have insight into the tremendous industry tailwinds led by growth in the seniors population and benefits of communal living. The demand growth of target seniors and penetration rate offer powerful upside, as viewed below: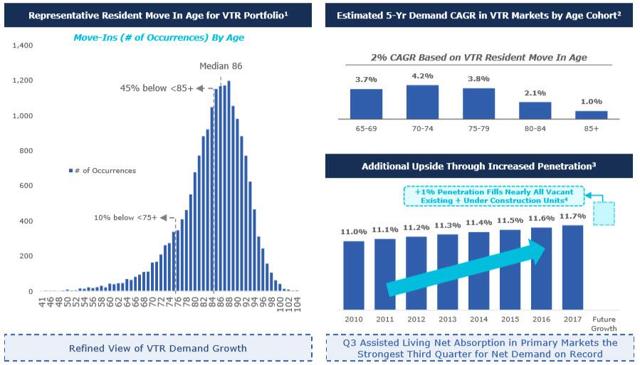 Source: VTR Investor Presentation
Make no mistake, Ventas is a 'superior' capital allocator, yet Mr. Market is not providing this healthcare credit with the credit it deserves…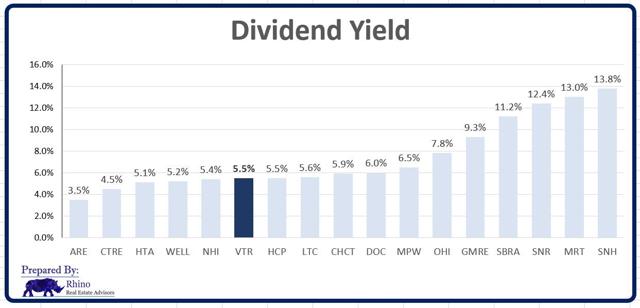 As you can see, Ventas is yielding 5.5% and the P/FFO multiple is trading at a wide discount (especially when you consider the quality metrics).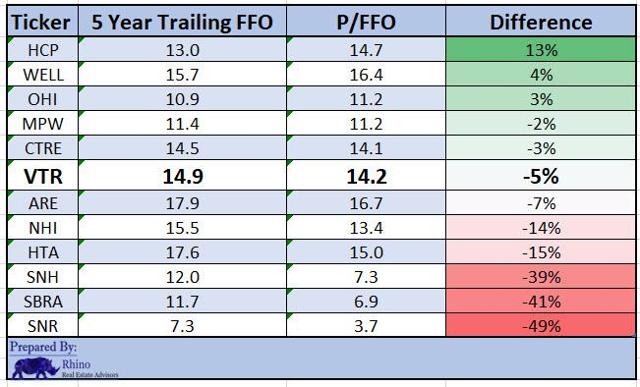 In closing, we believe that "pound for pound" Ventas is the best healthcare REIT around. Driven by tighter lending, there will be increased difficulty in finding senior housing operator partners, and higher construction costs. Accelerating demand is expected to offer powerful seniors housing coming out of the cycle and Ventas is well-positioned to benefit.
Given the highly disciplined management team, we believe execution risk is minimal and that Ventas will be able to manage through the current cycle and maintain its superior competitive advantages. As Heather Brilliant and Elizabeth Collins explains (in Why Moats Matter),
"These companies are able to withstand the relentless onslaught of competition for long stretches, and these are the wealth-compounding machines that we want to find and own."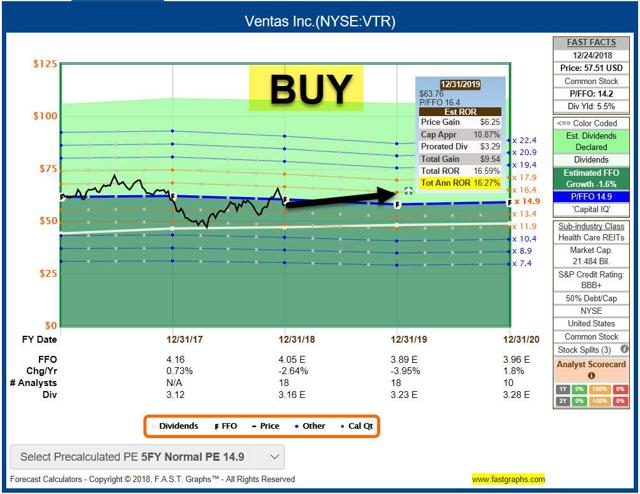 Source: FAST Graphs
Author's note: Brad Thomas is a Wall Street writer and that means he is not always right with his predictions or recommendations. That also applies to his grammar. Please excuse any typos and be assured that he will do his best to correct any errors if they are overlooked.
Finally, this article is free, and the sole purpose for writing it is to assist with research, while also providing a forum for second-level thinking.
Brad Thomas is one of the most read authors on Seeking Alpha, and over the years, he has developed a trusted brand in the REIT sector. His articles generate significant traffic (around 500,000 views monthly) and he has thousands of satisfied customers who rely on his expertise.
Marketplace subscribers have access to a growing list of services, including weekly property sector updates and weekly recommendations. Also, we are now providing daily early morning REIT recaps, including breaking news across the entire REIT universe. Take charge!
Disclosure: I am/we are long VTR, KIM, IRM. I wrote this article myself, and it expresses my own opinions. I am not receiving compensation for it (other than from Seeking Alpha). I have no business relationship with any company whose stock is mentioned in this article.