Week 1 Breakout Forecast 2019: Year In Review Analysis And New Stock Picks
Includes:
XXII
by: JD Henning
Summary
Two new Breakout Stocks for Week 1 with better than 10% short-term upside potential.
Performance results for 2018 ended with +34.83% gains, outperforming the S&P 500 by +40.05% over the same trading period.
Year end analysis and 2019 trading changes are detailed below for continuous improvement of results since the start of the model testing in 2017.
The Momentum Gauge ended the week with positive momentum unchanged at extremely low value of 3 and negative momentum at 78 still in very high negative territory since Week 39.
Continuing from last year now makes it 73 out of 86 trading weeks (84.88%) with at least one stock move 10% or greater within a 4 or 5 day trading week.
When I first joined Seeking Alpha in late 2016, I was looking for a great financial platform to forward test my doctoral research on the Price Momentum Anomaly and the related reversal event signals to see if any statistically significant results emerged. My first breakout portfolio selection model started in the initial trading week of 2017 and has since covered 86 trading weeks to deliver results that have outperformed all the major market indexes through two very different and challenging years. As the second full year of published testing comes to a close, I am pleased to report significant results and observations.
Breakout Stock Portfolio 2018 results +34.83%
The Breakout Stock Portfolio selection model returned +34.83% compared to the S&P 500 loss of -5.22% over the same period through 2018. This now marks the second year in a row that the Breakout selection model has substantially outperformed the S&P 500.
In 2017, the first full year of testing, the Breakout selection algorithm beat the S&P 500 by a difference of 28% through 40 active weeks of trading, +40.98% to +12.98% respectively.
In 2018, the Breakout selection algorithm was improved slightly and again beat the S&P 500 by a difference of 40.05% through 46 active weeks of trading, +34.83% to -5.22% respectively.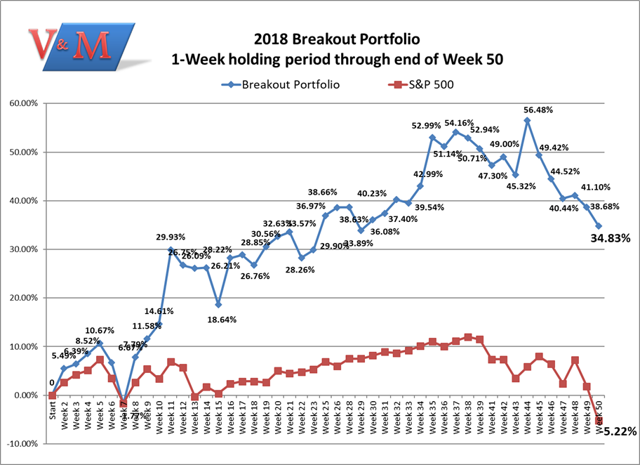 Value & Momentum Breakouts
One of the single biggest takeaways from 2018 after trading through the most volatile market year since 2011 and the worst December since 1987, was the importance of the Momentum Gauge signal.
Here is a look back at the Momentum Gauge Week 39 switch from higher Positive momentum gauge value to higher Negative momentum value with the black gauge line showing the current week value and the light gray gauge representing the prior week: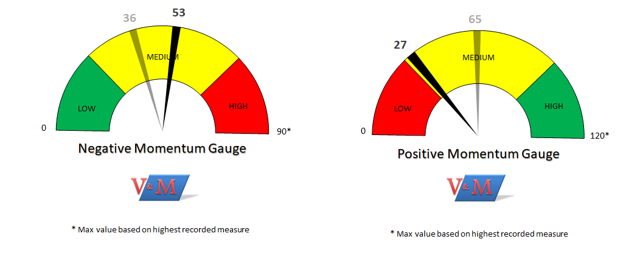 Back in Week 39, the Momentum Gauge crossed to a red warning signal of higher negative momentum than positive momentum. You can see where this Week 39 signal corresponded on the 2018 chart above. While the weekly breakout picks still managed one very positive +11.16% gain in Week 45, the Momentum Gauge continued giving strong negative signals from the end of September through today (see Momentum Gauge chart below).
IF the Momentum Gauge had been integrated directly in the 2018 trading model, and no picks were traded from Week 39 through today while the signal was deeply negative and red, the Breakout Stock portfolio would have finished 2018 up +47.30%. This shows that by implementing the Momentum Gauge signal for 2018 we would have beaten the S&P 500 by over 52% instead of the 40% difference achieved this year, an improvement of over 12%. Based on the evidence I have compiled since 2017, Please consider using the Momentum Gauge more frequently in your trading decisions.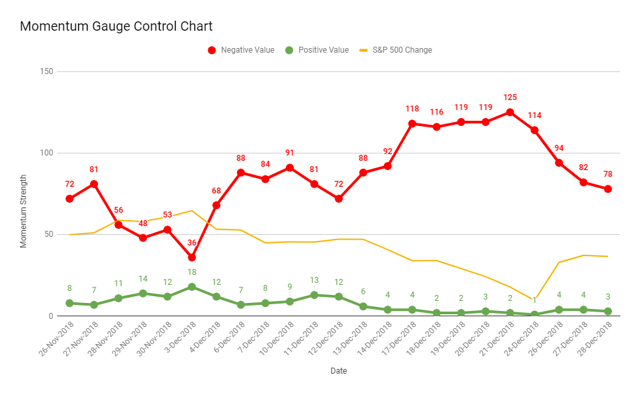 Value & Momentum Breakouts Dashboard
Using the signals of the Momentum Gauge may significantly improve your returns in 2019. Two conditional signals that are very important to watch:
Avoid/Minimize trading when the Negative score is higher than the Positive momentum score.
Avoid/Minimize trading when the Negative score is above 70 on the gauge.
In addition to the Multiple Discriminant Analysis parameter improvements that I continue to apply each year since 2017, the stringent application of the Momentum Gauge may prove to be a very significant measure to avoid record market declines as we saw in 2018.
All these steps and more will be integrated into the trading model for 2019. Also based on consensus feedback, I will be reducing the weekly selections from 8 stocks to 4 stocks. This proposed change also reduces by half the number of stocks available per week that has yielded weekly breakouts above 10% for 73 out of 86 trading weeks (84.88%) going back to 2017. This percentage will likely drop in proportion with the decline from 8 to 4 weekly picks with two stocks released publicly each week, so keep all these effects in mind going forward.
Breakout Stock Portfolio Total return +76.02%
The Breakout Stock Portfolio Total return has gained +76.02% compared to the S&P 500 gain of 7.76% over the same period since the first full trading week in 2017. This remains a statistically significant difference over the S&P 500 of more than 68% and well ahead of all the major market indexes.You may notice that when I first began the testing of the algorithm in 2017 it didn't look very promising initially. It wasn't until Week 6 that the model began significantly outperforming the S&P 500 Index.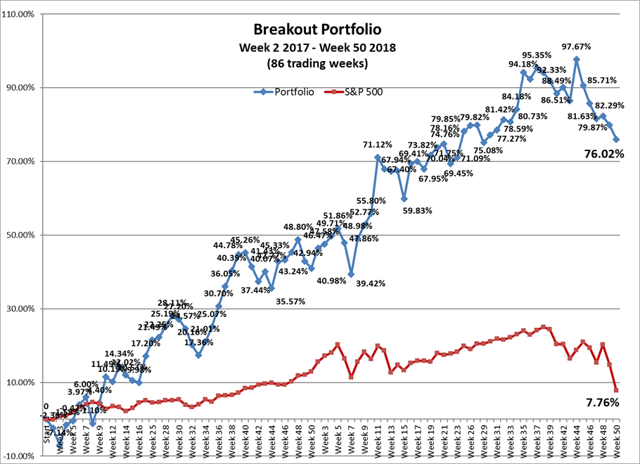 Value & Momentum Breakouts
With continued improvements to the MDA criteria and integration of the Momentum Gauge signals, I fully expect 2019 to yield very substantial returns as well. There is every indication as I detail in the VIX anomaly reports that volatility will continue to increase as the quantitative tightening program of the Federal Reserve continues.
The Week 1 - 2019 Breakout Stocks for next week are:
The two Breakout Stocks to start Week 1 consist of 2 healthcare sector stocks. The Momentum Gauge is still signalling very high negative momentum conditions - so trade these selections at your own risk.

Remember to use caution as Negative Momentum is still much higher than Positive Momentum on the Gauges.
Imprimis Pharmaceuticals (IMMY) - Healthcare / Biotechnology
22nd Century Group (XXII) - Healthcare / Biotechnology
These selections are based on the parameters of key fundamental and technical variables derived from multiple discriminant analysis of over 50 variables. The selection criteria may be a function of leveraging behavior driven by the machine-led trading that is estimated to represent more than 80% of the daily volume in stock trading across all the US exchanges. The following two stocks offered here and selected by the model for short-term gains are shown below:
Imprimis Pharmaceuticals (IMMY) - Healthcare / Biotechnology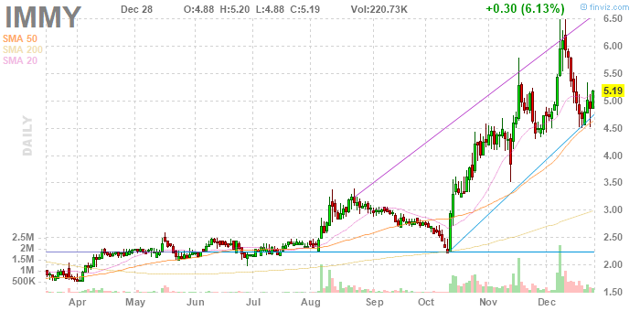 Price Target: 6.50

Imprimis Pharmaceuticals, Inc., an ophthalmology-focused pharmaceutical company, engages in the development, production, and sale of medications to physicians and patients in the United States. It offers ophthalmology focused compounding formulations; and sterile and non-sterile compounded medications.
22nd Century Group (XXII) - Healthcare / Biotechnology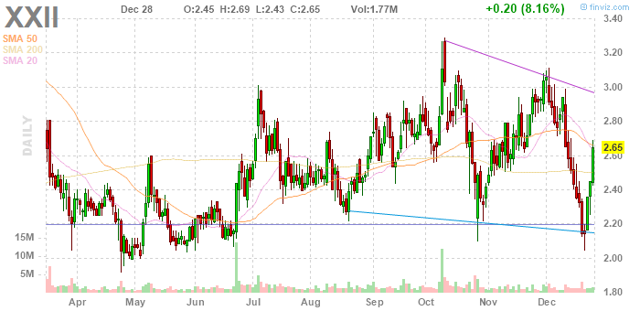 Price Target: 3.20

22nd Century Group, Inc., a plant biotechnology company, provides technology that allows increasing or decreasing the level of nicotine and other nicotinic alkaloids in tobacco plants, and cannabinoids in hemp/cannabis plants through genetic engineering and plant breeding. It offers premium cigarettes under the RED SUN and MAGIC brands; and SPECTRUM, a line of research cigarettes for use in independent clinical studies.
Caution: These stocks are not necessarily recommended for long term buy/hold unless you are comfortable with very large price swings. These are the most volatile selections I offer from among all the different Value & Momentum portfolios.
I think these breakout stocks will serve you well in 2019 as the momentum conditions start to improve. I hope you all do well with these stocks and always diversify to minimize some of the market risks.
All the very best and have a great week of trading!
JD Henning, PhD, MBA, CFE, CAMS
To subscribe to Value and Momentum Breakouts, click on the link here.
Disclosure: I/we have no positions in any stocks mentioned, but may initiate a long position in IMMY, XXII over the next 72 hours. I wrote this article myself, and it expresses my own opinions. I am not receiving compensation for it (other than from Seeking Alpha). I have no business relationship with any company whose stock is mentioned in this article.