At the beginning of 2018, stocks were on fire and many financial analysts had counted out the precious metals investors. But the cyclical nature of the markets has really made itself felt in the final parts of 2018, and it would seem that those same precious metals investors are now having the last laugh. During this period, the SPDR Gold Trust ETF (GLD) has posted sharp reversals off its long-term lows, and this has occurred in situations where the S&P 500 seems to be looking (unsuccessfully) for anything that resembles a life raft.
As a classic safe-haven instrument, it is not really much of a mystery for precious metals to explain why these events have occurred. But what might be less obvious is the relative strength of GLD versus other key components in the sector, and this will be critical when defining a positioning stance for 2019. Fortunately, the market has already given us some excellent clues with respect to how GLD might perform in comparison to its counterparts. Thus far, GLD appears to be emerging as a clear bullish winner.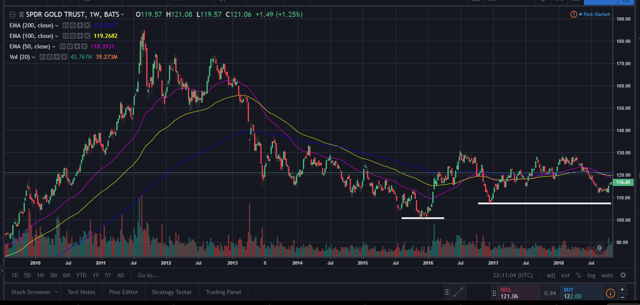 (Source: Author)
Of course, the term "winner" might be difficult for some investors to accept, given the massive declines which have been generated by the ETF since it reached all-time highs in 2011. What we can say in favor of GLD bulls is that a three-year series of higher lows has brightened the long-term outlook. Additionally, recent destruction in riskier areas of the market (i.e., technology stocks) may continue to place safe-haven instruments at the forefront as we move into 2019.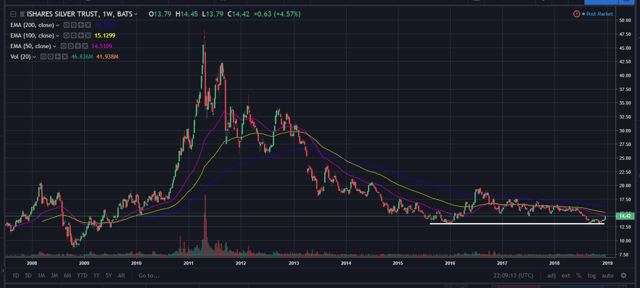 (Source: Author)
Whether this recent optimism will translate for those holding long positions in the iShares Silver Trust (SLV) is another question. Upside moves in the valuation of this ETF have been much harder to come by, so it seems SLV bulls will have a greater distance to cover if they can reasonably hope to maintain pace with investors focused on GLD.
In many cases, it can be difficult to assess the validity of the price trends which are found in these two important precious metals ETFs. Fortunately, the market activity is making itself clear for us as investors. Evidence of sharp reversals in sentiment can be found in GLD, and this is an event which has not yet become apparent in SLV.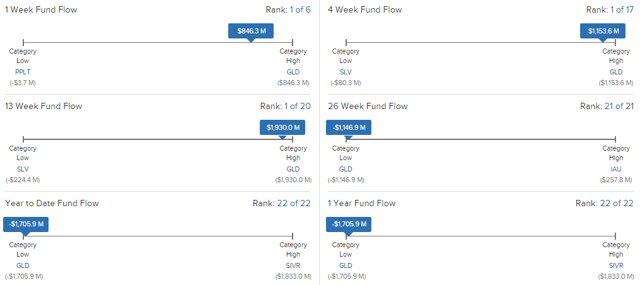 (Source: ETFdb.com)
Relative to where we closed the year, we can see some stark differences in the market activity which was exhibited in the early parts of 2018. For the full-year period, GLD was negatively impacted by outflows of $1,705.9 million. This activity puts GLD near the bottom-end of its category and it helped generate many of the losses which were absorbed by precious metals investors throughout the period.
Even more troublesome trends (in terms of momentum) can be seen over the last 26 weeks, as GLD was negatively impacted by outflows of $1,146.9 million during this abbreviated period. This bearishness is not entirely surprising, given the fact that this is the activity which ultimately propelled GLD to its 2018 lows of $111.06.
But it is the market activity in the periods that followed, which is where things actually start to get interesting for the bulls. Over the last 13 weeks, sharp reversals have become apparent as GLD has actually benefited from inflows of $1,930.0 million. This sets GLD near the top of its category, and that bullish trend has continued with consistency over the last month (with inflows of $1,153.6 million) and over the last week (with inflows of $846.3 million).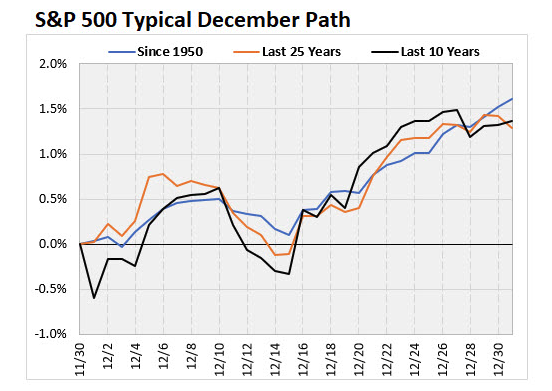 (Source: Schaeffers Research)
Perhaps what is even more interesting is the fact that the month of December is typically bullish for stocks. Since 1950, the average return for the S&P 500 during the month of December comes in at 1.61%, and the final results are positive 75% of the time. But this did not occur this year, as the S&P 500 fell by roughly 10% for the month. During the same period, the gains in GLD actually rose to 4.78%. This marks a clear indication that "things may be different this time," as investors are certainly seeking the safe-haven protection of reliable instruments like GLD.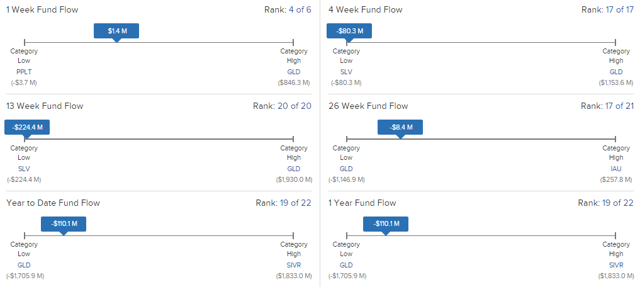 (Source: ETFdb.com)
Unfortunately, that same level of enthusiasm has not been directed toward SLV, as precious metals investors have clearly had their attention placed elsewhere. SLV was negatively impacted by outflows of $110.1 million in 2018, and (similar to GLD) this placed the fund near the bottom-end of its category performance. But (unlike GLD) those trends held up relatively well throughout the year.
Most of the selling pressure has been visible during the last 13 weeks, where massive outflows of $224.4 million negatively impacted the fund. Even during the last month (as growing optimism became visible within the precious metals space), SLV saw outflows of $80.3 million. We have finally flipped into positive territory last week, but the inflows of $1.4 million leave much to be desired for those currently holding positions in SLV.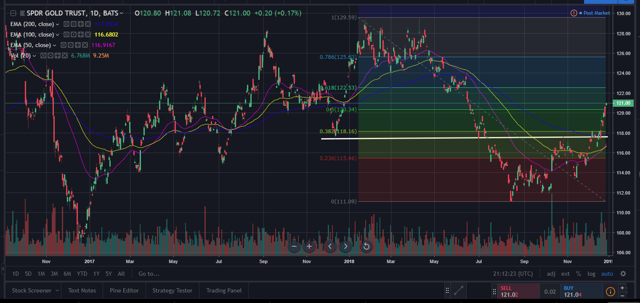 (Source: Author)
The financial markets have sharply reversed the dominant trends which were visible in the early months of 2018. But those reversals have benefited loyal precious metals investors able to withstand the tumultuous summer declines. The SPDR Gold Trust ETF has moved higher by 9.01% since its high lows in August, and this gives us almost a mirror-image of the experience which has been felt by stock investors in the periods which have followed.
It can often be difficult to assess the validity of the price trends which are found in the market's most important precious metals ETFs. But the momentum displayed by those long GLD looks incredibly encouraging in an otherwise dismal financial environment. GLD appears to be emerging as a clear bullish winner heading into 2019, and it would not be surprising to see more investors focus on these upside potential of these sectors in coming quarters.
Thank you for reading.
Now, it's time to make your voice heard. Reader interaction is the most important part of the investment learning process! Comments are highly encouraged. We look forward to reading your viewpoints on GLD.
Disclosure: I/we have no positions in any stocks mentioned, and no plans to initiate any positions within the next 72 hours. I wrote this article myself, and it expresses my own opinions. I am not receiving compensation for it (other than from Seeking Alpha). I have no business relationship with any company whose stock is mentioned in this article.