In today's article, I will review a major player in the consumer staples sector: Nestle S.A. (OTCPK:NSRGY). In this analysis, I will briefly review Nestle's recent earnings results, some other news, and run the company through the Dividend Diplomats' Stock Screener to determine if it is considered an "undervalued" dividend growth stock based on our metrics. Based on the valuation metrics and one other factor, I ultimately will not be investing in Nestle today. But let's see how I arrived at this conclusion!
Nestle is headquartered in Switzerland and its financial figures are reported in Swiss francs. It is always fun analyzing a company when their currency and figures are not reported in U.S. dollars. Nestle is one of the world's largest food producers and distributors. Going into this analysis, I always knew the company was large and had a great brand portfolio. However, I had to take a step back when I reviewed the brands listed on the company's page.
The company has major brands in the following sectors: baby food (Gerber), bottled water (Nestle Pure Life - my wife's favorite), cereals (Cookie Crisp), chocolate (Nestle, KitKat, and Toll House), coffee (Nescafe, Nespresso, and Coffee-Mate), frozen foods (Stouffer's, Hot Pockets, DiGiorno, Lean Cuisine, and Tombstone), dairy (Carnation, Coffee-Mate), drinks (Nesquik, Nestea), healthcare nutrition (Boost), ice cream (Dreyer's, Haagen-Dazs), and petcare (Purina, which includes Fancy Feast). Take a step back and re-read that list if you need to. That is a lot of strong brands that are found in nearly every household. I love companies with strong brands, and I must say Nestle has one of the strongest brand portfolios I have reviewed over the years.
The company last reported earnings October 18, 2018. In the release, it announced 2.8% organic growth and an overall sales increase of 2% over the first nine months of the fiscal year. The company also provided details about the sales growth in several operating segments. Sales growth occurred in all sectors except Americas. In the Americas, sales growth was negatively impacted by mergers and acquisitions and foreign exchange. Ultimately though, it is hard to form too strong of a conclusion about the company based on the reported results since the earnings release did not include a lot of details about expenses. So we will place a heavier reliance on our stock screener today. But at least it is encouraging to see sales growth reported during the period, especially in a time where sales growth isn't the easiest to come by for some of the major consumer staple companies domestically.
Before running the stock screener, there was one other item to note. Nestle and Starbucks (NYSE:SBUX) announced a major partnership in May. Nestle paid Starbucks over $7b to grant exclusive rights to market and distribute Starbucks Consumer Packaged Goods and Foodservice globally. This deal was closed in August. This deal was important for both companies. From Nestle's perspective, it allows it to gain access to a major company in the coffee industry and enhance its offerings. While I listed the company's coffee brands above, Nescafe does not carry the same brand recognition as Maxwell House (Kraft (NASDAQ:KHC)) or Folgers (J.M. Smucker (SJM)). This agreement allows the company to bolster its coffee brand without a full-blown acquisition or incurring the costs to create a new brand/product. Sure, $7b is an expensive price tag; however, with this one-time cost, the company is gaining exclusive access to one of the most recognizable names in the coffee industry.
Dividend Diplomats' Dividend Stock Screener - Nestle SA
Now, it is time to move on to the fun part and run Nestle through the Dividend Diplomats' Stock Screener to see if the company currently passes our investment filters used to identify undervalued dividend growth stocks. The fact that Nestle reports its figures in Swiss francs made this challenge difficult. However, using various sources below and the Swiss francs to USD conversion rate of 1 Swiss franc to 1.01 USD on the date this analysis was written, we did our best to provide an accurate analysis. If a company passes our screener and a few other metrics, we will consider purchasing. Our stock screener uses three simple screens to identify the stocks: P/E ratio (valuation), dividend payout ratio (ability to continue growing their dividend), and their dividend growth rate/history of increasing their dividend (as we focus on companies that have demonstrated their ability to increase their dividend over a long period of time). Let's see the results!
| | | | | | | |
| --- | --- | --- | --- | --- | --- | --- |
| Ticker | Price - 12/28/18 | Forward EPS | Annual Dividend | Yield | Payout Ratio | P/E Ratio |
| NSRGY | $80.72 | $3.89 | $2.38 | 2.95% | 61.18% | 20.75 |
**Sources: Pricing information and forward EPS were obtained from Seeking Alpha. The annual dividend was calculated using the annual dividend of 2.35 Swiss francs, converted using the 1 to 1.01 ratio listed above. The remaining figures were calculated by the author.
1) Dividend Yield: Typically, I look to invest in companies with dividend yields exceeding the S&P 500 yield of just under 2%. Otherwise, I would consider investing in a nice, diversified S&P 500 mutual fund, or ETF. Further, in this market, there are a lot of great dividend growth stocks with higher dividend yields. Thus, I want to stand firm on this 2% requirement. Luckily, NSRGY's dividend yield is at 2.95% at the time of this analysis.
There is one other item I had to consider before saying that Nestle passes this screener. Since the annual dividend is subject to currency exchange, has the Swiss francs to USD conversion rate swung significantly enough to cause the dividend yield to drop below 2%? To investigate this, I looked up the 5-year exchange rate per XE.com and included the chart below.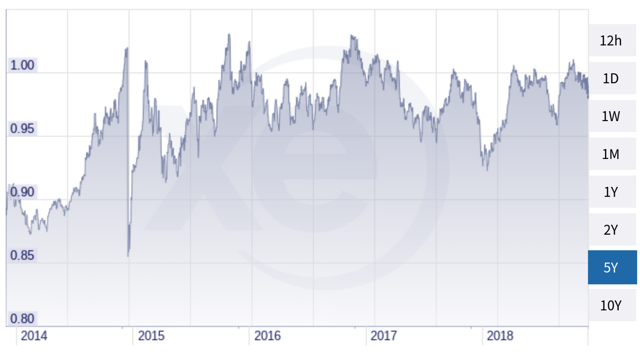 In this chart, it shows that the lowest exchange rate was .85X. Even when calculating the dividend yield at the lowest exchange rate, it was still well above 2%. Now, I can comfortably say that Nestle passed this aspect of our stock screener.
2) Payout Ratio: We typically use a 60% threshold when reviewing a company's payout ratio, as we believe this percentage point allows a company to continue to grow their dividend going forward without sacrificing the safety of their dividend. Nestle is right on the money with a payout ratio above ~61%. However, this amount will slightly fluctuate based on the exchange rate. Thus, I'll say that Nestle passes this metric of our stock screener.
3) Dividend History and Dividend Growth Rate: This is where the currency fluctuation makes things interesting. When reviewing the company's investor relations page, Nestle has increased its dividend annually. Its website discloses the amount in Swiss francs, however, so it is more difficult to tell if the dividend has increased annually from a USD perspective. However, this indicates to me at least that management has a long-term history of increasing its dividend. I quickly calculated the 5-year average dividend growth rate based on the values on the investor relations webpage. I calculated an average rate of 2.8%. Not the greatest for a company with a ~3% dividend yield.
4) P/E Ratio: The final metric of our stock screener focuses on the current valuation of the company. I'm always looking for companies that are trading at a multiple below the broader market. Currently, the broader market has a historical P/E ratio in the mid-20x and a forward P/E ratio between 17x and 18x (per The Wall Street Journal). Per our calculations, Nestle's P/E ratio is 20X. Regardless of the range we compare this to, this indicates that Nestle is NOT trading at a discount compared to the broader market at this moment.
Summary
Am I logging into my brokerage account immediately and adding shares of Nestle? No. That is despite the company's strong brand portfolio, its recent sales growth, and the licensing agreement with Starbucks. Here is why. First, the company is not trading at a discount compared to the broader market. Let's even take this one step further. How does Nestle's P/E Ratio compare to Hershey (NYSE:HSY), Kraft-Heinz, and Unilever (NYSE:UL)? Nestle's P/E ratio is in line with Hershey (~19X forward) and Unilever (19X) and much higher than Kraft-Heinz (~12X forward). Not only is Nestle in line with the industry, but it is in line with its industry peers as well (excluding Kraft). Thus, it is not trading at a discount.
Second, while the company's dividend payout ratio passes our stock screener, I was not a fan of its dividend yield and dividend growth rate. A 3% dividend yield is solid; however, the sub-3% dividend growth rate is not appealing for a company with its current dividend yield. In my opinion, there are better values out there for companies with higher dividend yields and dividend growth rate combinations.
For example, the other Dividend Diplomat recently wrote an article identifying 3 dividend growth stocks to review and consider investing in during a downturn. Each of the three companies in the analysis, AT&T (NYSE:T), Archer Daniels Midland (NYSE:ADM), and Dominion (NYSE:D), offered higher dividend yields. The two lowest, ADM and D, offered higher average dividend growth rates compared to Nestle. I understand that these companies operate in different sectors. But this solidifies that there are other industries and other Dividend Aristocrats that offer a higher dividend yield with a higher dividend growth rate at a lower P/E ratio. My portfolio is already heavily weighted with consumer staple stocks, so it may be a better option at this time to focus on a different sector that provides a better value at this moment.
Due to these two factors, I will not be purchase Nestle at this moment in time and will continue my quest to identify an undervalued dividend growth stock to invest in elsewhere. Do you agree with my conclusion? Are you buying Nestle at this time? If not, what other companies are you considering?
Disclosure: I/we have no positions in any stocks mentioned, and no plans to initiate any positions within the next 72 hours. I wrote this article myself, and it expresses my own opinions. I am not receiving compensation for it (other than from Seeking Alpha). I have no business relationship with any company whose stock is mentioned in this article.