With the S&P 500 close to entering a bear market, and many household names down over 25% from all-time highs, this is a golden opportunity for young investors to enter the market. Below, I am going to go over some tips and personal thoughts on how to invest and how to manage your portfolio when you are in your 20s. After, I will go over my holdings, offer some thoughts on my top holdings, then discuss some of my exits. If you are an experienced investor, feel free to skip the first two sections.
Portfolio Management in Your 20s
Investing in your 20s presents different challenges and risks than investing at any other age, as your portfolio increases more through contributions than capital gains or dividend reinvesting. Because of this, investors have to consider the opportunity cost of investments, and if an investment fits your priorities and goals.
Before I go over some examples of what I mean, I am not saying that young investors should ignore investments that pay dividends, or overlook dividend growth investment principles. In fact, I believe young investors should embrace this strategy, especially in tax-advantaged accounts. Although dividend payments may be less than your monthly contributions, the combination of time and compounding can lead to excellent returns for several decades. However, investments should still reflect your time horizon.
To explain, we'll look at the technology sector. In your 20's, I believe investors should target companies such as Alphabet (GOOG) or Microsoft (MSFT) over companies such as IBM (IBM) or Cisco (CSCO). Although Cisco and IBM represent higher dividend yields, Microsoft and Alphabet offer more growth potential and opportunities. Does this mean that Alphabet and Microsoft will definitely generate higher returns? No. But in your 20s, stocks with higher growth potential should outweigh high dividend yields.
This is what advisers mean by taking on more risk when you're young. And for dividend growth investing, companies such as Microsoft, Mastercard (MA), and Apple (AAPL) all represent companies that have low dividend yields, but healthy dividend growth rates and high growth potential. I am also not saying that Cisco and IBM are bad investments either, but presently, these are stocks better suited for those looking for high yield investments, rather than growth. Cisco has been making some strategic changes recently, but in the present, I believe young investors should look for companies with better growth prospects.
Another factor young investors should consider is the regressive pricing of commissions. Commission fees represent a higher percentage of your investment when you're investing $200 every paycheck, versus $20,000 at a time. Because of this, there are two ways for young investors to save money.
First would be passive fund investing. In a Vanguard Roth IRA, investing in Vanguard funds is free, which allows you to spread out contributions in small amounts without paying a fixed commission. Second, several start-ups offer no fee trading. M1 Finance is a brokerage that is a mix between a regular brokerage and an AI platform, where you can control which companies you buy, but you can't control what price you get, with trading occurring around 10:30 am each day. However, you can invest in partial shares, which can benefit young investors. Another brokerage that offers free commissions is Robinhood. However, understand that you "get what you pay for" with no fee brokerages, and investors should weigh the risks and trade-offs made in exchange for no fee investing.
With regards to very new investors, I'll defer to Jim Cramer on where to invest:
"There's too much risk in individual stocks to just put together a portfolio of them of your own choosing," Cramer said. "So, at a minimum, I am demanding that you put your first $10,000 beyond what you have from your first twenty years into an index fund, the S&P 500 being my favorite."
Risk vs. Speculation
Many advisers and media analysts say that you should take on more risk in your 20s, and that you have plenty of time to make up loses. But I also believe there's a difference between taking more risk, and speculating. I'll again compare some stocks to explain.
We'll look at three stocks in the healthcare sector, TransEnterix (TRXC), Illumina (ILMN), and Johnson & Johnson (JNJ). When people say take more risk when you're young, they are referring to investing in companies such as Illumina rather than Johnson & Johnson and TransEnterix. Illumnia is innovating in the sector with DNA sequencing, offering clear growth prospects, while having a relatively healthy balance sheet. This is a growth investment, with a high valuation, and is considered more risky than a stalwart like Johnson & Johnson. Johnson & Johnson is a good investment as well, with a healthy dividend yield and a strong pharmaceutical pipeline. Young investors can very easily make a great portfolio with Johnson & Johnson, but Johnson & Johnson's stock has a lower ceiling than Illumina, and this is what advisers mean by taking risk, although I personally prefer Johnson & Johnson over Illumina anyways.
Now, TransEntrix can be argued to have a higher ceiling than the other two combined, and more risk, so should young investors choose this? Well, no. Companies such as TransEntrix, penny stocks, and negative cash flow companies could all be a part of a portfolio, but shouldn't be a main holding, nor a significant weighting in a portfolio. Speculative stocks are advertised to be potential ten-baggers, but this is not what advisers mean by taking more risk. Speculative stocks typically have unbelievably high valuations, a passionate following, a weak balance sheet and/or are cash flow negative. Investors of any age should limit the amount of money they invest in stocks like these, or understand that there is a strong potential of loss of principal.
Ryan Zentko's Portfolio
Below, I will list my current holdings. These are my holdings in my taxable account, which is actively managed. To hedge against dumb mistakes, I keep my HSA, Roth IRA, and 401k fully invested, using average costing strategies. In these portfolios, around 60% of funds are in a S&P 500 fund, along with an active growth fund and a dividend appreciation ETF. In my taxable account below, I stick with individual stocks that fit my risk portfolio and time horizon.
| | | |
| --- | --- | --- |
| Holdings | Weight | Dividend Yield |
| LMT | 16.70% | 3.40% |
| BA | 13.30% | 2.60% |
| ULTA | 12% | 0% |
| XYL | 10.80% | 1.30% |
| MDT | 10.20% | 2.24% |
| UNH | 9.30% | 1.46% |
| STZ | 9.00% | 1.82% |
| MSFT | 7.60% | 1.83% |
| GOOGL | 6.60% | 0.00% |
| AMZN | 4.00% | 0.00% |
(Currently about 35% in cash due to recent volatility and tax loss selling)
As an investor, I try to stick to a few principles. First, keep the portfolio diversified, but understand the principle of diminishing returns. To reach this, I try to keep between 10 – 15 holdings, and no sector represents over 25% of my portfolio. However, stocks don't always trade in line with their sector. For example, Lockheed Martin (LMT) and Xylem (XYL) are both industrials, but don't have business overlap, limiting sector risk. So to include this, I use a correlation matrix to analyze my portfolio as well.

Source: Portfolio Visualizer (link here)
For portfolio management, I use 20 day rolling correlations, and a time frame of the last five years. As a goal, I try to keep correlations below 0.70. For example, Visa (V) and Mastercard (MA) have a correlation above 0.90, representing a small amount of diversification gained from holding both. This also makes me feel confident with having three tech giants in my portfolio, as correlations aren't too high between them.
On the sector level, industrials represent the largest sector, with technology, consumer spending, and healthcare representing the other sectors I have exposure too. Although I'm open to investing in other sectors, I do not believe investors should buy into other sectors just so they can say they have sector exposure. If an opportunity comes, I am open to entering the financial, utility, energy etc. sectors, but I believe diversification comes from not having one sector representing too much weight, rather than having exposure to each sector.
Going back to holdings, I believe young investors don't necessarily need to have several companies. Diworsification is a true risk to investors, and I believe having ~40 holdings or more can bring on laziness for investors, and offer a very small amount of benefits outside of an index fund or ETF. However, investors that follow dividend growth investing principles are in a different situation, and I believe there are benefits to having a large amount of holdings in this case. But my personal belief is 10 to 15 holdings are the sweet spot for established portfolios. I would encourage new investors to stick with 4 or 5 holdings after funding an index fund while starting out, as the focus should be on increasing contributions and education
Top 5 Holdings
Lockheed Martin – The defense sector has fallen hard recently. However, I am still bullish on the defense industry, and believe the market will soon begin to price in recent developments soon after the shutdown ends. Even with a risk of a defense budget cut, Lockheed Martin has a healthy backlog, and favorable regulations have allowed Lockheed Martin to grow their international orders. My original thesis of defense being a hedge against the trade war hasn't turned successful yet, but I do believe a cold war or a military spending increase is a strong possibility as hypersonic weapons and South China Sea tensions, among other developments, gain prevalence. NATO being pressure to increase military spending is also a favorable development. International orders may help Lockheed Martin hedge against a U.S. budget decrease.
Leverage is a concern for Lockheed Martin. A large budget cut may hurt their ability to pay off debt. While this is an important consideration to monitor, I do not believe this is a real risk as of now, to either financial health or to the dividend. But this must be actively monitored by investors. Strong dividend yield, size, F-35 backlog, and product diversification are why I prefer Lockheed Martin to the other large contractors.
Boeing (BA)– Boeing also benefits from a large backlog, and operates in a duopoly. Cash from their aerospace business helps Boeing land defense contracts at lower prices than competitors, which reminds me of what Amazon (AMZN) does when entering new industries. Short-term downside is a possibility with trade war concerns, but demographic and secular tailwinds should outweigh short term concerns. Boeing and China have a healthy, not perfect, relationship, and I expect Chinese investments will increase as Boeing navigates a relationship and trade war with China. China is investing heavily in infrastructure, and China may need Boeing too much to attack Boeing in a trade war. Favorable tailwinds, dividend growth, operating in a duopoly, and aggressive growth initiatives through defense are why I view Boeing as a growth investment, and a rare stock that fits portfolios at any age.
Ulta (ULTA) – I wrote about Ulta as an investment here, so I won't go too much in depth. To maximize tax loss harvesting and maintain portfolio composition, I did trim my overall investment, but I still remain bullish on Ulta. Domino's Pizza (DPZ) CEO Patrick Doyle often told investors that Domino's was a tech company that happens to sell Pizza. This time next year, I believe the media will start talking about Ulta Beauty as a tech company that happens to sell cosmetics. Weak guidance at a bad time caused Ulta stock to fall, but my long term thesis remains intact. Since my article, Ulta bought two tech startups, one specializing in analytics and shopper trends, and one specializing in augmented reality. The former is a welcomed addition to an extremely strong and passionate loyalty program (30 million active members, 95% of sales), and augmented reality is an aggressive addition that could bolster online sales beyond the 54% yoy increase in e-commerce. Similar to Boeing, Ulta also operates in a near duopoly with Sephora. An industry best loyalty program, a healthy balance sheet, forward looking management, and an attractive industry contribute to my strong conviction in Ulta. Ulta being considered consumer discretionary and Estee Lauder (EL) being considered a consumer staple doesn't make much sense to me, and I consider Ulta a defensive investment, similar to Constellation Brands (STZ)
Xylem (XYL) – I already covered my thesis on Xylem here, and there hasn't been many moves since then, unlike Ulta above. Xylem is an excellent way to play the growth in China with little exposure to the trade war and economic growth slowing. Water quality is extremely low in China and India, and I believe the fear of spending in a downturn is exaggerated. I also believe the stock market has brought down Xylem to a more reasonable valuation after being overbought in September. A combination of operating in a business that is crucial to societies, and growth in emerging markets despite global economic concerns gives me confidence in Xylem. To show this strength, I'll share a quote from the earnings call:
"Revenue in the quarter grew 8% organically with strength across every end market and region. Revenue in Emerging Markets increased 13% in the quarter with a couple of standout results. Our business in China grew more than 20% in the quarter. There, we continue to see strong investment by utilities to upgrade their facilities to meet new regulatory requirements, particularly those around sewage discharge standards. We also saw strong growth in Latin America, up 20% in the quarter. Our business in this region is smaller relative to our other Emerging Markets, but our team there is building very good momentum with a focus on the most promising opportunities, such as strength in public utilities and mining."
Medtronic (MDT) – Medtronic provides strong exposure to the medical device market. Recent acquisitions have brought an increase in international sales, and innovations in diabetes is starting to have an even stronger effect on revenue growth. Medtronic is a dividend aristocrat that is projecting 5-7% organic revenue growth, with a growing diabetes business.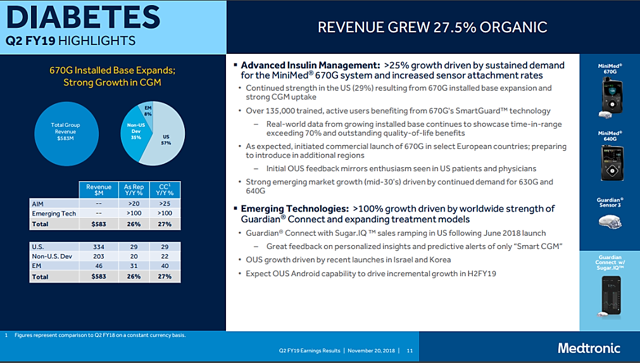 Source: Medtronic IR
Medtronic's acquisition of Mazor Robotics should also produce long-term rewards in their surgical unit, which grew organic revenue at 7% last quarter. Despite several higher growth stocks in this sector, I believe Medtronic will provide strong total returns, as well as represent a very rare undervalued investment in healthcare. Between UnitedHealth (UNH) and Medtronic, I believe both represent strong growth profiles in a defensive sector, as well as limited exposure to possible legislation risks.
Notable Exists / Tax Loss Harvesting
I also exited several positions recently for various reasons, and I will quickly highlight a few and my thoughts on them. When I first started writing articles, I would get aggressive with adding more and more stocks as I researched them, and my portfolio got too big. In several articles in September, I cautioned about the enterprise software sector valuations, and I began exiting several positions at that time. Also throughout October, I did a "flight to quality" rotation in my portfolio, exiting several mid cap names. Due to recent market volatility, tax loss harvesting, and short-term concerns, I currently hold a 35% cash position. I plan to use this money to increase my exposure to healthcare and technology through already held positions. Below, I will list positions I exited that represented a significant portion of my portfolio at the time, my reason why, and my current view on it.
Square (SQ) – Locked in profits, selling half at $78, half at $67. Long term I remain bullish, although I see short-term downside. Could be acquired if it falls too low.
Alibaba (BABA) / Altaba (AABA) – tax loss harvested by selling Alibaba and buying Altaba in early September, exited Altaba in early October. Attractive valuation, but don't consider it a buy until trade negotiations are done. Also concerned with reporting.
Mastercard (MA) – Locked in tax loss. Still bullish, may re-enter.
ServiceNow (NOW) – Valuation concerns. Still bullish, may re-enter.
The Trade Desk (TTD) - Took Profits among market volatility. Still bullish, may re-enter.
Starbucks (SBUX) – Took profits after earnings report due to market volatility. Neutral outlook.
Lululemon (LULU) – Exited after earnings, locked in tax loss. Details of the tests of a loyalty program make me concerned about the company direction. Also concerned of "wealth effect" hurting Lululemon. Neutral outlook.
Adobe (ADBE) – Locked in tax loss. Concerned about too many acquisitions too quickly, also fear of downside in a bear market versus Alphabet and Microsoft. Bullish outlook.
Raytheon (RTN) – Tax loss harvested by selling Raytheon and buying Lockheed Martin. Neutral outlook.
Johnson & Johnson (JNJ) – Sold on morning of talc report, took profits. Talc report mixed with market sell-off brought JNJ lower than I thought it would go. I don't believe the media storm is over, and will remain patient. Dividend yield becomes 3% at $120, which could be a good time to enter. However, bad press mixed with possible early year prescription price legislation encourages me to remain patient.
2019 Outlook
I have been focusing on positioning my portfolio with a focus on recession resistant names. The wealth effect and lack of CFO spending may lead to a recession, and I am targeting companies that I believe can either succeed or become aggressive in a recession or bear market. Microsoft and Alphabet both have strong balance sheets, and may become aggressive in a bear market. Amazon will continue to see strong gains in AWS, and as an IT professional, I am already seeing AWS expand and become a market leader in several areas.
Valuation concerns me for Amazon and several other tech companies even after the correction, and I believe tech will be hit harder in a bear market. I don't plan on entering a full position in Amazon at this price, and I believe the tech sector will change focus from growth to fundamentals in 2019. I also believe a trade war deal could delay a possible recession, and reinvigorate the bull market. In this case, tech will likely lead the market.
Overall, I remain cautious, and currently hold a 35% cash position and plan on adding selectively. I disagree with mainstream media on whether the first week of January will determine whether the it's a bear market or just a correction. First, bank's earnings will give the market a better view of what's occurring in the economy, and then I believe companies will offer lower guidance due to the Fed comments and market volatility. If this happens, I believe a strong sell-off and overreaction could occur in the market. Average costing and increasing contributions for the next several months look like an excellent strategy.
Disclaimer: The above references an opinion and is for information purposes only. This information is general in nature and has not taken into account your personal financial position or objectives. It is not intended to be investment advice. Seek a duly licensed professional for investment advice. Past performance is not an indicator of future performance.
Disclosure: I am/we are long LMT, BA, ULTA, XYL, MDT, UNH, STZ, MSFT, GOOGL, AMZN, VFIAX, FDGRX, DGRO. I wrote this article myself, and it expresses my own opinions. I am not receiving compensation for it (other than from Seeking Alpha). I have no business relationship with any company whose stock is mentioned in this article.