Summary
I summarize dividend increases of a selection of CCC stocks on a weekly basis. This article provides a summary and interesting statistics of 2018's dividend increases.
What is the average dividend increase in 2018?
Which companies announced the largest increases?
Which sectors announced the largest increases?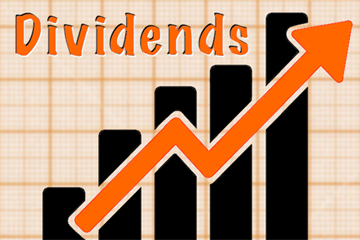 I like monitoring dividend increases for a selection of stocks in the CCC list because I consider such stocks to be worthy candidates for further analysis. The following screens determine the selection:
Dividend Yield ≥ 1.0%
Market cap ≥ $1 billion
No stocks that are being acquired
No Over-The-Counter or Pink Sheet stocks
This article provides a summary of 2018's dividend increases, as summarized in my weekly Dividend Increases articles.
In preparing for this article, I excluded dividend increases of stocks not in the latest available CCC list (dated 11/30/18) and those that no longer pass the above screens.
Exactly 471 companies in the latest CCC list announced dividend increases in 2018, but several companies increased their dividends more than once in 2018. In all, there are 580 dividend increases.
Top Increases
The top increase is from NetApp (NTAP) with a 100% increase. NTAP is a hybrid cloud data services company headquartered in Sunnyvale, California. The company offers hybrid cloud data services to accelerate digital transformation and to simplify the management of applications and data across cloud and on-premises environments. NTAP was founded in 1992. The stock yields 2.71% at $59.09 per share.
The runner-up is Zions Bancorporation (ZION) with three different increases. The effective year-over-year increase is 87.5%. Founded in 1873 and based in Salt Lake City, Utah, ZION is a financial services company that provides banking and related products and services in the western United States. ZION offers retail banking services; residential mortgages; trust and wealth management services; and a variety of loan products for commercial and residential development, and construction.
Third is Comerica (CMA) with an increase of 76%. Founded in 1849 and headquartered in Dallas, Texas, CMA is a financial services company that provides various financial products and services to business and individual customers. In addition to Texas, CMA locations can be found in Arizona, California, Florida, and Michigan, with select businesses in other states, as well as in Canada and Mexico. The stock yields 3.54% at $67.88 per share.
Here is a summary of the top 10 increases: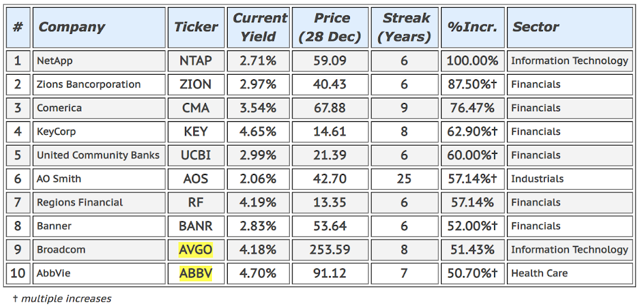 Stocks I own in my DivGro portfolio are highlighted.
The top increases are dominated by stocks in the Financials sector. The only other sectors represented in the top 10 are Information Technology and Health Care.
Analysis of Increases
Here is a table of tickers in 5 different categories based on the percentage of each dividend increase. Stocks in my DivGro portfolio are highlighted: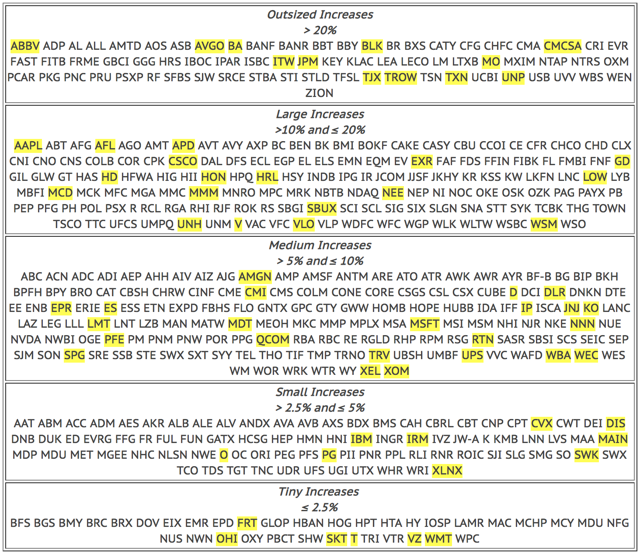 The following table presents a summary of the average dividend increases by Category, along with average dividend yield and average years of consecutive dividend increases: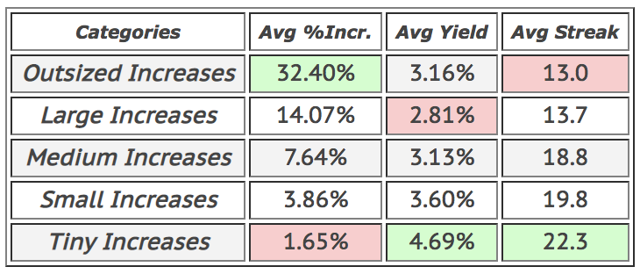 Generally, there is an inverse correlation between average increase and both average yield and average streak (though the correlation with average yield is not perfect).
In DivGro, I have 12 outsized increases, 18 large increases, 23 medium increases, 9 small increases, and 6 tiny increases. The average increase of my DivGro stocks is 12.33% and those stocks yield 3.48%, on average. Moreover, the average streak is 22.8 years.
Other Statistics
The following table presents a summary of the average increase overall (i.e. for the 471 stocks included in this analysis), and by Sector. Also included are the average yield and average streak: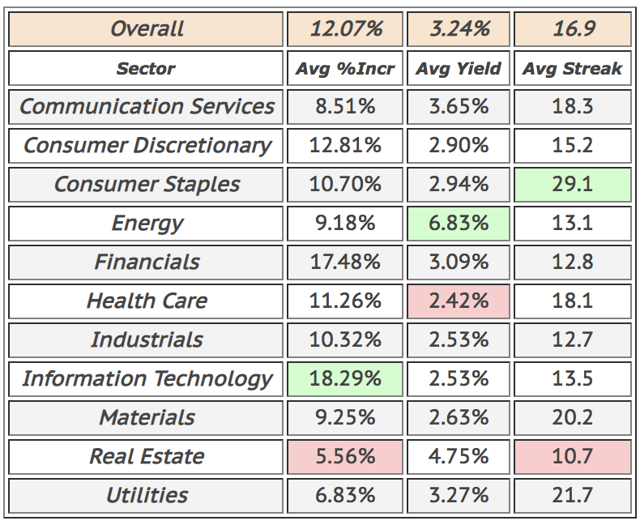 In the table, the highest and lowest averages are indicated with green and red sells, respectively.
Top Increases By Sector
Finally, here are the top 7 dividend increases by Sector. As before, stocks in my portfolio are highlighted.
Please note that I'm not recommending any of these stocks. Readers should do their own research on these companies before buying shares.

• Comcast (CMCSA) — Communication Services
Founded in 1963 and headquartered in Philadelphia, Pennsylvania, CMCSA is a media and technology company. The company's Comcast Cable business provides video, Internet, and voice services to residential customers under the XFINITY brand. CMCSA's NBC Universal business consists of cable networks, broadcast television, filmed entertainment, and theme parks.
• Lear (LEA) — Consumer Discretionary
LEA designs, develops, engineers, manufactures, assembles, and supplies automotive seating, and electrical distribution systems and related components primarily to automotive original equipment manufacturers worldwide. The company operates through Seating and E-Systems segments. LEA was founded in 1917 and is headquartered in Southfield, Michigan.
• Universal (UVV) — Consumer Staples
Headquartered in Richmond, Virginia, and founded in 1918, UVV is a global leaf tobacco supplier. The company procures, finances, processes, packs, stores, and ships flue-cured and burley leaf tobacco for consumer tobacco product manufacturers. UVV does not manufacture cigarettes or other consumer products, but derives revenue from sales of processed tobacco and from servicing fees.
• Phillips 66 Partners (PSXP) — Energy
Founded in 2013 and headquartered in Houston, Texas, PSXP acquires and distributes crude oil and refined petroleum products in the United States. The company owns and operates natural gas liquids pipelines and terminals, as well as other transportation and midstream assets. Phillips 66 Partners GP LLC operates as the general partner of PSXP.
• Zions Bancorporation (ZION) — Financials
See above.
• AbbVie (ABBV) — Health Care
ABBV is a world-wide, research-based biopharmaceutical company that develops and markets products to treat conditions such as rheumatoid arthritis, psoriasis and Crohn's disease; hepatitis C; human immunodeficiency virus; endometriosis; thyroid disease; Parkinson's disease; and chronic kidney disease and cystic fibrosis. ABBV was incorporated in 2012 and is based in North Chicago, Illinois.
• A.O. Smith (AOS) — Industrials
AOS manufactures and markets water heaters, boilers, and other products for residential and commercial end markets in the United States, China, Canada, Europe, and India. The company provides electric, natural gas, gas tankless, and liquid propane water heaters, as well as solar tank units for use in residences and businesses. AOS is headquartered in Milwaukee, Wisconsin.
• NetApp (NTAP) — Information Technology
See above.
• Packaging Corp. Of America (PKG) — Materials
PKG manufactures and sells containerboard and corrugated packaging products in North America and Europe. The company provides various corrugated packaging products, honeycomb protective packaging, and packaging for meat, fresh fruit and vegetables, processed food, beverages, and other industrial and consumer products. PKG was founded in 1867 and is headquartered in Lake Forest, Illinois.
• American Tower (AMT) — Real Estate
AMT is a real estate investment trust that owns, develops, and operates multi-tenant communications sites across the globe. Customers include wireless service providers, radio and television broadcast companies, wireless data and data providers, government agencies, and municipalities. AMT was founded in 1995 and is headquartered in Boston, Massachusetts.
• SJW (SJW) — Utilities
SJW provides water utility services in the United States. The company produces, purchases, stores, purifies, distributes, and sells water. Additionally, the company provides non-tariffed services, including water system operations, maintenance agreements, and antenna leases. SJW was founded in 1866 and is headquartered in San Jose, California.
Concluding Remarks
Throughout 2018, I reported dividend increases for a selection of stocks in the CCC list. In all, 471 companies announced dividend increases, but several stocks did so more than once. In all, I reported 580 dividend increases.
This article provided a summary of these dividend increases and some interesting statistics.
Below is a comparison with the statistics from last year's summary article:

Note that I changed the screens I use to select CCC stocks, so the comparison is not exactly an apples-to-apples comparison. For example, I previously included stocks with a market cap of at least $500 million, whereas now I require a market cap of at least $1 billion.
Nevertheless, it appears that dividend increases generally exceeded those of 2017.
Thanks for reading and have a happy, healthy, and prosperous new year!
Disclosure: I am/we are long ABBV, CMCSA. I wrote this article myself, and it expresses my own opinions. I am not receiving compensation for it (other than from Seeking Alpha). I have no business relationship with any company whose stock is mentioned in this article.