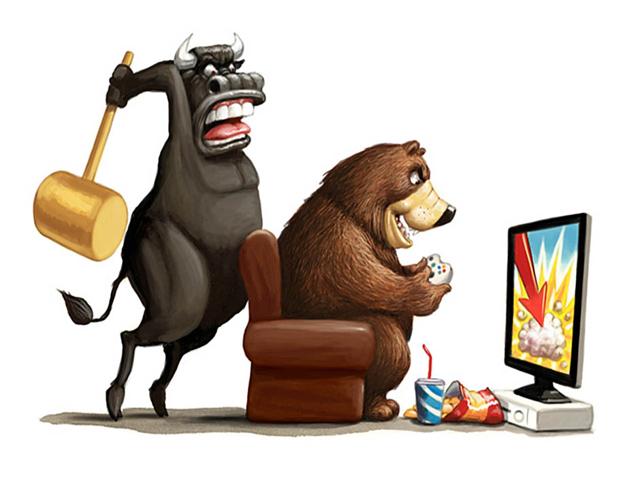 (Source: Evil Speculator)
Anyone thinking 2018 investing hasn't been anything other than a proverbial roller-coaster ride needs their sanity checked. Thankfully, the end of the year is fast approaching, and if given the option to choose - bull or bear - I would have, and did, opt for being on the bull, where I'm now hanging on for dear life. Will 2019 bring better tidings for the retail investors? Is a "buy and hold" strategy for biotechs still a valid place for one's investment funds?
As we approach the 10-year anniversary of the infamous and disastrous 2008 meltdown in the stock market, it appears we could be on the verge of revisiting this former experience with similar events currently unfolding daily. With the DJIA standing at 8,000.86 at the beginning of January 2009 and the S&P 500 index holding at 825.88, the ensuing 10 years have provided one of the longest sustained recoveries in the history of the stock market.
The DJIA ended 2017 at the lofty level of 24,719, when it had started the year at 19,864.09. During the same time frame, the S&P 500 had gone from 2,278.87 to 2,823.87. This translates to the DJIA rebounding from the beginning of 2009 to the end 2016 by 11,863.14 points. For the same period, the S&P 500 experienced a gain of 1,452.99 points.
With the end of 2018 at hand, we have seen the 2018 DJIA retrace from 24,719 to the current (12/28/18) 23,062 (loss of 1,657 points.) From the all-time high in the index being 26,951 on October 3rd, 2018, we have seen a drop of 3,889 points, or a little more than 14%. This latter decline stood at the 20% threshold only a few days ago, where this level has historical indicated we are in a bear market.
Based on the tumultuous unfolding of events, I would like to recap the 2018 stocks I've written articles about here on SA. In a couple of cases, I will cite stocks I had earlier written about, but subsequently had events where I did a follow-up article in 2018.
My Stock Articles on SA for 2018
Column 1: Stock Symbol Linked to Article
Column 2: Date of Initial Article
Column 3: Initial Price
Column 4: Interim High Price for Stock
Column 5: Interim % Gain/Loss
Column 6: Current Price As of 12/28/2018
Column 7: Dollar Amount Gained or Loss Based on Current Price
Column 8: Percentage Gain or Loss as of 12/28/2018
11/24/2017

$7.84

$14.62

86.40%

$5.15

($2.69)

(34%)

8/8/2018

$17.50

$22.74

30%

$20.04

$2.54

14.5%

7/17/2018

$8.47

$8.75

3.30%

$6.56

($1.91))

-22.5%

3/22/2018

$27.21

$43.00

58%

$34.67

$6.96

27.4%

10/25/2017

$33.20

$68.05

204.9%

$40.03

$6.83

20.5%

HMHC*

10/12/2018

$6.05

$9.95

-64.40%

$8.92

($2.87))

-47.00%

6/8/2018

$12.15

$13.70

12.75%

$6.29

($5.86)

-48%

1/5/2018

$12.10

$19.95

64.80%

$9.87

($2.30)

-19%

5/1/2018

$6.50

$13.49

Buy Out

$13.49

$6.99

207.50%

* HMHC is a Short Recommendation
Adaptimmune (ADAP): I shared my first article about this company on 11/24/2017. Subsequently, I wrote a follow-up article on August 6th, 2018. The stock in the interim was on a roller-coaster ride - first up, then down, recovered and then the bottom fell out for investors. Personally, I had some nice profits from this stock, as I traded it twice during the year. However, late in the year, after having shown positive data for their drug candidate, they reported disappointing results. The results shown were not a total loss of potential. But a cardinal rule I have about investing in biotechs is - when you see data that doesn't support your initial hypothesis for investing in the stock, get out. Based on my earlier profit-taking and selling my total position at the $12.00 price level on the disappointing news, this was a nice investment. As for the future, Adaptimmune could report data in 2019 that could lead to a rebound. I wouldn't start a position until they have shown such results. I've moved on from owning ADAP!
Amphastar (AMPH): I have continued to add to my position in this stock. In my initial article, I gave my basis for why this could be a profitable investment. Subsequent to my initial article, I shared another update outlining the latest event that should give the stock further room to run in the near term. The launch of Flu-Mist within the next few days should make 2019 a good place for investors' money with a long-term outlook for this stock. AMPH is a stock holding great potential in 2019. With the company expanding its footprint in the China market, while growing its approved products in the US market, investors should see net profits increasing, with a sizeable percentage increase for the coming year.
Alumina Limited (AWCMY): When I shared my article for this company, I was basing it on the potential for a dividend increase and the fact that the pending trade tariffs proposed by the US and China would be a short-lived event. Instead, we got a cut in the dividend - $0.372 to $0.334 - and now we find the trade issues having grown from bad to horrible issues. I've reminded myself one more time - don't investing in individual foreign-based companies where the issue of tariffs and embargos are pending and impacting such an investment. Conclusion - move on from the likes of AWCMY. No more foreign-based metal companies for me, where the tariff issues control the situation for making a profit.
Biohaven (BHVN): Biohaven is a very promising biotech with a very supportive pipeline of potential drugs in major areas of need for new drugs. The interim high seen in 2018 has shown the potential for future investor interest as they move closer to FDA approvals for their drugs. Currently, the company has filed with the FDA its BHV-0223 product that is a sublingual delivery of relizole for Amyotrophic Lateral Sclerosis (ALS), and a response should be expected in 2019. I think the odds are very favorable for this approval. Biohaven has plans for filing its NDA for rimegepant, a drug designed for addressing the huge migraine market. Filing the NDA should occur early in 2019. Phase III data to this point has been very positive. And finally, Biohaven just concluded a secondary offering grossing $140 million, putting a company in a nice position with its cash on hand. IMO, Biohaven is a biotech to own in 2019!
Global Blood Therapeutics (GBT): I shared my initial article for GBT on 10/25/2017. I issued my second article on May 23rd, 2018. In the interim from the initial article, the stock more than doubled - from $33.20 to $68.05. My enthusiasm for the stock has only grown. On 12/3/2018, the FDA agreed with Global's proposal related to accelerated approval for its sickle cell disease drug. The company has plans for submitting its NDA in early 2019, where it is possible the FDA decision should come by the end of the year. On 12/7/2018, it proposed a secondary offering, with the gross revenue potential being $150 million of new operating cash. Investors have seen the potential and enthusiasm shown for this critical need area where the price doubled before succumbing to the massive downturn in the biotech market. IMO, the current pricing of the stock gives investors an excellent entry point.
Houghton Mifflin (HMHC): My article about this company was a nostalgic visit to what was a dynamic industry where I had my nearly 40-year work career. Long term, I don't see how Houghton Mifflin can support the capital needs to support its business model. Don't be influenced by the bounce in the stock, as this occurred based on the 3rd quarter results. Investors should understand that this quarter (3rd) reflects most of the revenue that will be seen for the year. Customers place their orders for the textbooks over the summer, where delivery and invoices are paid in the 3rd quarter. IMO, we will see in the first two quarters of 2019, states and local districts will continue to cut their budgets for individual textbooks. IMO, a bleak future still exists for this industry.
Lexicon (LXRX): Investing in the likes of Lexicon during a bull market, one can see the carnage when the bubble burst and all biotech ships start taking on water. The good news for those still holding or thinking about taking a position in the stock - the wait for the potential catalyst that will decide the fate of the company is near. On January 17th, 2019, the FDA and its Endocrinologist and Metabolic committee will meet, where any issues will be presented to Sanofi/Lexicon (SNY) for a response. The committee's agenda should be available a few days before the event. The FDA's response to the NDA is scheduled to occur by March 22, 2019. In many cases, the ultimate outcome can be decided by the advisory committee's issues, which, in the case of Lexicon, will happen in a little over two weeks. However, in the interim, the company is scheduled to present at the huge J.P. Morgan healthcare conference happening on January 8th, 2019. I plan to hold my current position - and hope all goes well on January 17th.
Surgery Partners (SGRY): I continue to have confidence in the long-term future of this company. The combining of all the new parts and weeding out of the weak links in the business model is taking more time than I thought it would take. With this said, I offer a recent article by a fellow SA contributor where he has a different opinion on the stock. This contributor cites a potential of a 40% drop in the share price during the coming year. Only time will tell who is right! However, I always like to see contrarian opinions on stocks that I'm invested in or considering investing my money. I'm inclined to think we have seen the worst of the decline in the massive sell-off we have seen in Nasdaq stocks over the past couple of months. The initial 65% gain we saw early in the year, well before any catalyst occurred, shows there has been great investor confidence in the potential for this company. There is no doubt management needs to speed up its plans for meeting its business model plans as outlined!
Xerium (XRM): If one has followed my articles over the recent years, they might have noted I often seek out companies that are what I consider - overlooked by Wall Street, located in small-town America, and still having underlying potential for being bought out by a larger corporation where owning the smaller company will make for a good transition and bring immediate profits for the acquiring corporation. Xerium met all these qualifications! On May 1st, I wrote my article for my SA readers. Less than two months later, they received a buyout offer and consummated the deal on October 17th, 2018, for a double in the price at which I purchased my stake in the company. Another example of this type of investing can be seen in my article about Headwaters. The article was shared on 12/17/2014, when the shares were trading for $13.53. Subsequently, Headwaters was taken over for $24.25. My point is simple - don't look for investments where you heard about them in the public media. As the old saying goes, investing in stocks being touted in the public, you are late for the real party. Smart money is already invested and waiting to sell to the highest bidder. I will continue to seek those hidden gems that haven't been discovered by Wall Street.
2018 Stock Recap Results
The carnage and the massive daily swings in the respective index models has been gut wrenching for investors. It has required nerves of steel to avoid the herd mentally of selling into the massive swings and downturns seen on nearly a daily basis. At first glance, one can see that of the nine stocks I wrote about, five of them declined. However, if one looks closer, they will see the cumulative dollar amounts for the respective stocks reflect the net dollar gains for the portfolio increased by 49%. ($23.32 + versus $15.63 -) My point is simple - always have a balanced portfolio, cull stocks when the expected catalyst doesn't happen, and don't let stockbrokers get rich by churning your account.
Early Bird Specials for 2019
I'm not giving up on hopefully identifying biotechs for what I think will be a rebound category for the New Year. I've identified two biotechs which I consider as offering investors an excellent entry level due to them having been oversold in the current massacre that has taken place in this segment of the market. Biotechs still hold the greatest opportunity for investors seeing the greatest capital appreciation for their investment funds. One only has to select those who have proved their drug is an approved product and can be successfully marketed.
The first stock is Bausch Health Companies, Inc. (BHC). Last week, I started accumulating a position in the stock at the $18.00 level. If you had mentioned the stock to me in 2015, I would have laughed at the person making mention of this Canadian-based biotech. At the time, the company was named Valeant, and it represented the ultimate example of greed and malfeasance by management.
Management was ousted, and the CEO job was given to a gentleman named Joe Papa. At the time, I wondered why anyone would take on the helm of Valeant due to the well-deserved scorn that had been heaped on its leadership and the business model. In July 2018, they changed the name from Valeant and opted to take on the name of one of their prized and most recognized operating division, Bausch.
Mr. Papa has, in my opinion, done an excellent job of righting this ship and paying down the onerous debt load the previous management had taken on. If my assumptions for a turnaround being in place come to fruition, the bloated 2015 price of $250.00 a share might not be in the realm of possibility anytime soon, but the current deflated price share should be a floor for the stock. If the market stabilizes in the coming months, 2019 should be a good year for owning this stock. I have plans to write a more detailed report in the coming weeks. My holiday schedule and upcoming travel plans have altered my ability to complete this task at this time. In the interim, investors should start their own due diligence for this turnaround story.
The second stock for 2019 is Arqule (ARQL). This is a Boston area biotech that finally seems to be on track to achieve what has been a long wait for any degree of success with its pipeline. In mid-2018, the company had some very positive data for one of its drugs. The stock traded as high as $7.00 plus, but in the ensuing 4th-quarter melt-down in biotechs, it retraced back to the $2.00 price level. I made my initial purchases at the $2.30 price level with hopes that 2019;s data releases will take us back to the $7.00 price level. At the current price level, one might consider the investment as merely a low-entry option play on the stock's future.
Conclusion
The first takeaway from my articles and the ensuing related events that occurred in 2018 is the glaring and obvious realization that investors should always have a well-defined purchase price in place. But probably more important is having a better-defined price level where they would opt to sell their shares, assuming the price has increased from the initial entry level. Deciding to purchase a stock, is in my opinion, an easier task than making a sell decision. As a stock begins to make a desired run upward in valuation, the level of procrastination and fear clouds the investors' decision-making process - where second-guessing, they are selling too soon and leaving money on the table. My long-time friend and CPA gave me some very sage investing acumen many years ago. I was complaining about having sold out my position before its peak gain. My friend Tom told me to remember an investor will never go broke by banking a profit on their investments. It's the losses where an investor should concentrate their concerns.
After MannKind (MNKD), the stock that I've written more SA articles about, has been Nektar (NKTR). Nektar has been what I call a conviction stock, as I wrote my first SA article on December 3rd, 2013: "Timing and Good Science: Is Now the Time to Get on Board with Nektar." This being my first article for SA, it amassed a whopping seven comments, with four of them being my own. The stock was trading around $11.00 a share. In the ensuing five years, I wrote six more articles about the merits of the "good science" behind the company. My long-term conviction was based on the science eventually making the company a success. This event finally happened on March 12th, 2018, when the shares hit the stellar price of $111.36, all based on the largest biotech partnership alliance in the history of biotechs. On February 14, 2018, Nektar had signed a $1.85 billion deal with Bristol Myers-Squibb (BMY) for its cancer candidates.
Now the good news and the bad news for my investment in Nektar stock. I had a predetermined sell price for my shares set a $50.00, and it was executed as planned. By this decision, I left $61.00 a share on the table. And as of 12/28/2018, the stock traded at $33.17, making my friend Tom an investor savant. With this all stated, I think NKTR could be a good place for investors' funds in 2019, as then we should get clarification of whether the Bristol Myers-Squibb deal was a good investment. One thing is for certain, my position will only be a fraction of my previous holding in the stock.
As previously mentioned, my investment with ADAP turned out being a good investment based on a predetermined selling price. However, with my Lexicon investment, my predetermined selling catalyst was seeing the FDA decisions for its Type 1 diabetic product where it is aligned with Sanofi. Sitting currently with a near 50% loss on my position, a lot is riding on the February 17th FDA meeting.
Now let me conclude with the status on my long-time and most prolific subject for my articles: MannKind. I find it hard to believe that I've written 53 articles about MannKind, where my first article was published on October 2nd, 2014 and the stock was trading at $11.48 based on the announcement of the Sanofi deal for Afrezza. On December 27th, 2018, the stock traded as low as $0.94 cents, making the price, based on the pre-reverse split, $0.188 a share - a loss of 98.4% for those who continue thinking Afrezza will become a viable product in the market. The ability to gain the needed market share, for what will soon be the 5th calendar year that the product has been marketed, is moving further away from accomplishing anything positive for investors.
There are many obstacles overhanging the stock market as we enter 2019. The insane stand-off with China must be resolved. The current political atmosphere in our nation must be addressed. Sound business principles for allocating our resources to remediate the degradation of our infrastructure must be at the top of the list from our political representatives. Building a wall isn't necessarily a good investment, and the lack of affordable health care doesn't bode well for our future!
Good luck with your future investing decisions!