Mastercard (NYSE:MA) has been one of the best investments since its IPO in 2006. If you purchased shares at the IPO for a split-adjusted $4.60 per share, the investment would have grown over 4,000% or 34%+ per year. Mastercard the "stock" has performed wonderfully and as you'll see below Mastercard the "business" has been excellent as well.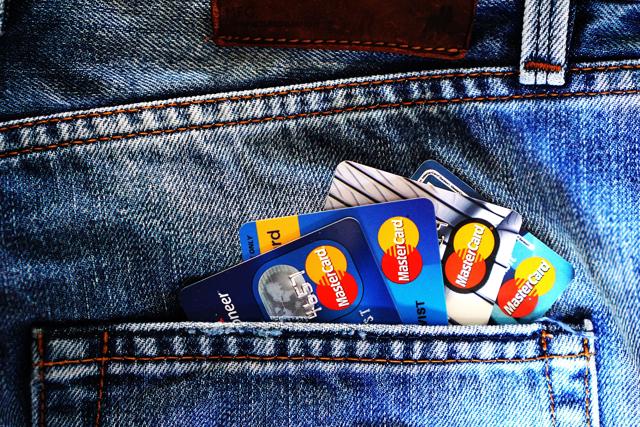 Mastercard's share price has declined nearly 17% from its peak on October 1st through this past Friday. That kind of decline gets my attention especially since it wasn't limited to just Mastercard itself, rather it was, for the most part, the entire market seeing big declines.
Dividend History
When I look to invest my capital into a business I prefer to find companies that treat their shareholders as owners. That means I want companies that have ample cash to return some of it to me in the form of dividends.
Mastercard has paid a dividend every year since their IPO in 2006 and increased the dividend payment every year since 2012. That 7 year streak of rising dividends gives them the title of Dividend Challenger.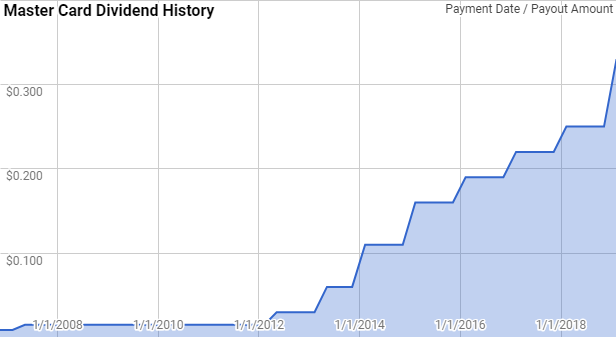 Image by author; data sourced from Mastercard's Investor Relations. A full-screen version of this chart is available here.
Despite the pause in dividend growth from 2009 through 2011, Mastercard's dividend growth rates are extremely impressive. Granted that's coming off a really small base; however, the "worst, if you can even call it that, year over year increase since the current streak started has been 13.6%. In early December management also signaled a vote of confidence in the business by raising the dividend up to $0.33 per share or a whopping 32% increase.
| | | | | | |
| --- | --- | --- | --- | --- | --- |
| Year | Annual Dividend | 1 Year | 3 Year | 5 Year | 10 Year |
| 2006 | $0.009 | | | | |
| 2007 | $0.054 | 500.00% | | | |
| 2008 | $0.060 | 11.11% | | | |
| 2009 | $0.060 | 0.00% | 88.21% | | |
| 2010 | $0.060 | 0.00% | 3.57% | | |
| 2011 | $0.060 | 0.00% | 0.00% | 46.14% | |
| 2012 | $0.105 | 75.00% | 20.51% | 14.22% | |
| 2013 | $0.210 | 100.00% | 51.83% | 28.47% | |
| 2014 | $0.440 | 109.52% | 94.28% | 48.96% | |
| 2015 | $0.640 | 45.45% | 82.67% | 60.55% | |
| 2016 | $0.760 | 18.75% | 53.53% | 66.16% | 55.83% |
| 2017 | $0.880 | 15.79% | 25.99% | 52.99% | 32.19% |
| 2018 | $1.000 | 13.64% | 16.04% | 36.63% | 32.49% |
Thus far in Mastercard's life as a public company I believe they've satisfied my requirement to both pay and grow a dividend. However, the safety of that dividend is also a top priority.

The rapid dividend growth has been fueled by Mastercard's growth in both free cash flow and net income, as well as a modest increase in payout ratio. From 2009 through the TTM period the traditional payout ratio, based off net income, has averaged 12.4% and 19.5% for 2014 through the TTM period. Mastercard's average free cash flow payout ratio has looked equally impressive at 11.4% and 17.7% over the same periods, respectively.
Image by author; data sourced from Mastercard SEC filings.
How Does Mastercard Make Money?
Mastercard is a transaction processing company that provides services both in the United States and internationally. The company makes it easier for money to move around by facilitating transactions between merchants, consumers and financial transactions. In exchange for using Mastercard's network, they receive a fee for their service. Mastercard, like Visa (V), doesn't take on the credit risk of their end user like Discover Financial Services (DFS) or American Express (AXP).
Mastercard's network operates in over 210 countries/territories and with more than 150 currencies. For FY 2017 approximately 35% of total revenue was generated within the United States with the balance coming from international sources with no international market generating more than 10% of revenue.

*Image taken from Mastercard's 2017 Annual Report
All business and geographical segments are seeing gains for Mastercard; however, the United States is the obvious laggard with only 6% growth for 2016 and 5% growth for 2017. The international markets and cross-border volumes are the main drivers of top line growth.
Quantitative Quality
I prefer to examine companies that I'm interested in through their cash flows since it gives a clearer picture of the cash moving in, out and through a business.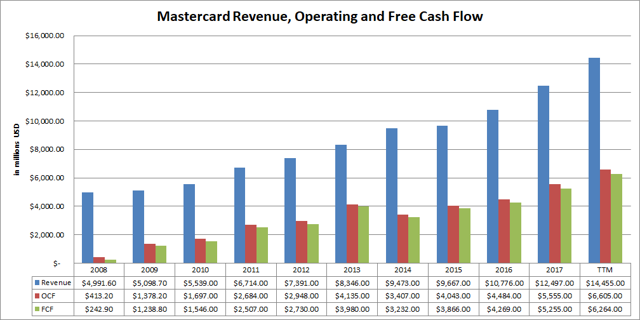 Image by author; data sourced from Mastercard SEC filings
From the end of 2008 through the end of 2017 Mastercard saw its revenues climb from $4,992 M to $12,497 M. That's good for 150% total growth or 10.7% annualized.
That rapid revenue growth has moved down the financial statements to give outstanding growth in both operating and free cash flow. From 2008 through 2017 operating cash flow grew 1,244% or 33.5% annualized while free cash flow grew 2,063% or 40.7% annualized.
Fiscal year appears to be a bit of an outlier so I've removed that year and examined the growth from 2009 through 2017. Revenue growth came in at 145% cumulative / 12.2% annualized while operating cash flow grew 303% cumulative / 19.0% annualized. Free cash flow grew 324% cumulative / 19.8% annualized. All told the last 9 years have been very good for Mastercard.

Image by author; data sourced from Mastercard SEC filings
I consider the 10% threshold to be a sign of a business with strong cash flow generation. My preference is for a >10% free cash flow margin.
Since cash flows grew at a much faster pace than revenue that's led to improving cash flow margins from already lofty levels. Mastercard's free cash flow margin grew from 24.3% in 2009 up to 42.1% for 2017. The TTM period has seen a further expansion with free cash flow margin coming in at 43.3%.
Mastercard's cash flow margins are impressive in their own right and what's equally impressive is just how little capex is needed to grow the company. We can see this through their free cash flow conversion, the amount of operating cash flow that's converted to free cash flow. Mastercard has averaged 93.7% free cash flow conversion from 2009 through 2017.
Another metric that I like to sue to examine profitability is the free cash flow return on equity and invested capital. The FCF ROIC is the excess cash that a business generates above and beyond what is needed to grow the business for every external dollar that's been invested in the business. It's also the return that one would theoretically earn each year if one owned the entire business under the current capital structure. I want to see both of these over 10%.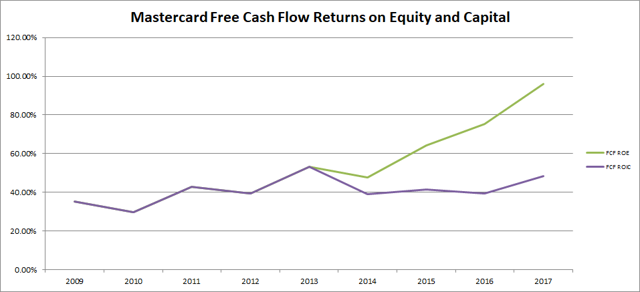 Image by author; data sourced from Mastercard SEC filings
Mastercard has maintained a FCF ROE and ROIC well above the 10% level since 2009 with averages over that time of 53.8% and 40.9%, respectively. Up until 2014, Mastercard carried no or negligible debt on their balance sheet which is why the ROE and ROIC overlapped. Mastercard's FCF ROIC has lagged behind since then, as it should, and has dipped slightly since its 2013 peak to 48.3% although it's still at a very healthy level.
The reason that I focus on cash flow, especially free cash flow, is that it's the excess cash above and beyond what a company needs to both maintain and grow the business. That free cash flow can then be used to search out new business opportunities, reduce debt or return cash to shareholders through dividends or buybacks. To see how Mastercard uses its free cash flow I like to examine 3 variations of the metric.
Free Cash Flow (FCF): The traditional calculation for free cash flow of operating cash flow less capital expenditures.
Free Cash Flow after Dividend (FCFaD): FCF less total cash dividend payments.
Free Cash Flow after Dividend and Buybacks (FCFaDB): FCFaD less cash used on share repurchases.
By looking at these 3 variations on free cash flow I can see if Mastercard generates enough cash internally to fund the entire capital allocation process. Investment candidates should generally maintain a FCFaDB over time since the business would be generating more cash than is needed.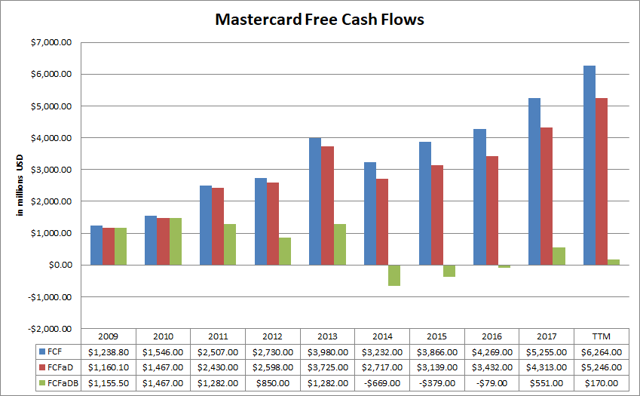 Image by author; data sourced from Mastercard SEC filings
As we saw earlier Mastercard has done a wonderful job growing free cash flow through continued expansion of their market as well as through increasing their free cash flow margins. That increasing free cash is flow is what has allowed Mastercard to grow the dividend at a rapid pace.
Mastercard has maintained positive FCFaD every year since 2009 as well. With excess FCFaD Mastercard has been able to generate more cash than is needed to expand the business and pay a growing dividend and in turn move further down the capital allocation tree to buybacks as a means to generate returns for owners.
Generally, Mastercard has maintained a positive FCFaDB since 2009. Cumulatively over the entire period they've generated a positive FCFaDB of $5,460 M from 2009 through the end of 2017. However, since FY 2014 management has a cumulative FCFaDB of -$576 M for the 4 years. That's excess cash than what was generated via the company which means it had to come from their balance sheet or debt.
However, I'm not currently concerned about this since Mastercard has $9.04 B of cash and equivalents on their balance sheet. While the headline number of $576 M might seem large, it's only approximately 6% of their current cash hoard. Also for the TTM period FCFaDB has come in at $170 M.
Over the last 4 years, and the TTM period, it appears that management is targeting roughly 100% free cash flow return via dividends and buybacks to shareholders.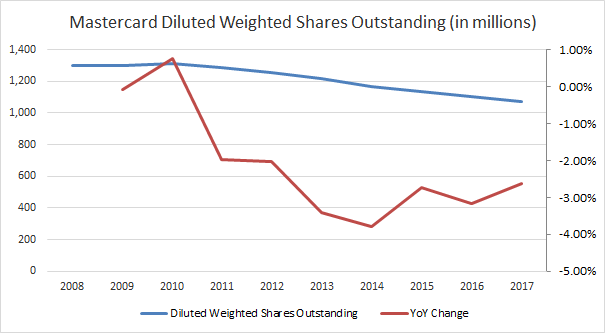 Image by author; data sourced from Mastercard SEC filings
From the end of 2008 through the end of 2017 Mastercard has reduced their share count by 17.6% or 2.1% annually. The share repurchases have certainly helped to fuel Mastercard's share price appreciation; however, given its typically expensive valuation there could be better uses of that capital.
Valuation
Throughout Mastercard's life as a public company, it's proven itself to be high quality and capable of strong growth. They generate mountains of cash that they've returned to shareholders via dividends and buybacks. From 2009 through 2017 Mastercard returned a total of $23.16 B to shareholders with $3.64 B being dividends and the remainder being buybacks.
That being said the valuation for Mastercard still needs to make sense before I'd be willing to purchase shares. Mastercard's growth will dampen the effects of overpaying for shares, however, an investor must realize what they are giving up by doing so. One method that I like to use to determine a fair price is the minimum acceptable rate of return, "MARR", analysis. The MARR analysis uses estimates for future earnings and dividends, applying a reasonable future valuation on those earnings and determining whether the return meets your minimum threshold for investment.
The average analyst estimate is for Mastercard to earn $7.52 per share for FY 2019 and to grow earnings on average at 18.9% per year for the next 5 years. I then assumed that Mastercard would maintain 8% per year earnings growth for the next 5 years. Annual dividend growth is assumed to track earnings growth in order to maintain a constant payout ratio at 20%.
Moving on to the reasonable valuation I like to use the historic valuations that the market has assigned Mastercard in the past. Mastercard's valuation has steadily been climbing higher over the last 10 years ranging from ~12x up to 50x. Currently the TTM P/E ratio for Mastercard sits at 37.6x and the P/E for FY 2018's estimate is 29.5x. Mastercard's shares could trade at a near 50x P/E ratio 5 to 10 years down the line; however, I don't think it'd be prudent to assume so. For the MARR analysis I'll examine P/E ratios ranging from 15x-30x.
The following table shows the potential internal rates of return that Mastercard would generate with a purchase price of $186, the closing price from December 28th. The returns include estimated dividend payments using the above criteria and are run through the end of calendar year 2023, 5 year, and calendar year 2028, 10 year.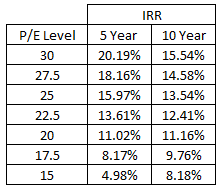 Assuming that Mastercard's growth is close to that assumed above then the returns look solid. Mastercard has a high likelihood of delivering 10%+ annualized returns if the growth pans out.
Alternatively, I've started calculating target purchase prices assuming a 15% discount rate based on the various future P/E ratios. A purchase at these prices should generate ~15% returns for the respective time frames.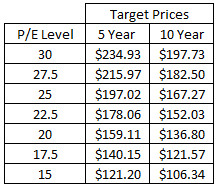 Conclusion
Mastercard has a huge tailwind pushing the company forward with the continuing trend away from cash/checks and towards cards. Personally the only times I don't use my card is when places, such as my upcoming property tax bill, charge too much to make me use my card. This trend isn't limited to just the United States, rather it's a global trend that should continue humming along.
Mastercard the business is doing just fine. The biggest issues facing Mastercard are: (1) further limitation of swipe fees (2) Visa's dominance in market 61% of payment volumes/61% of cards versus Mastercard's 30% share of volume/34% of cards. (3) some currently unknown disruptor to the business model.
Regarding the swipe fees I'm not too concerned about this as it would likely only limit some of the profitability, but not take the business down. Mastercard's network is large and makes financial transactions convenient. Even if swipe fees are limited the overall market is still likely to grow and will make up for any lost fees.
Visa's dominance in the market is potentially a good sign or a bad sign and that determination will be made based on how Mastercard is able to proceed going forward. If Mastercard loses market share to Visa or any of the other competitors that would obviously hurt the business; however, Mastercard very well could increase their market share going forward.
The last risk to Mastercard is the "unknown disruptor". Something very well could come along to disrupt Mastercard's business model; however, speculating on that happening seems foolhardy at this time. Mastercard is still growing quickly and the potential market for is estimated at an additional $17 T of cash/check transactions that can potentially be converted to any of the major transaction networks.
Since Mastercard's dividend yield is only 0.71% at this time, it might not be a suitable for some dividend growth investors. However, younger investors or investors that don't currently need the dividends should consider Mastercard as a low yield/high growth part of their portfolio.
At this time I won't be purchasing any shares of Mastercard although it was much more tempting a week or so ago with the share price in the mid $170's. If Mastercard dips to the low $170's or into the $160's, I would consider adding shares at that time.
I am not a financial professional. Please consult an investment advisor and do your own due diligence prior to investing. Investing involves risks. All thoughts/ideas presented in this article are the opinions of the author and should not be taken as investment advice.