As the year draws to a close, people tend to evaluate the results over the past 12 months. This is true for many areas, may it be sports (e.g., who was the best-scoring football player in Europe's top league; which NFL quarterback accounted for most touchdowns in pre-season, etc.), or markets (e.g., which was the best-performing stock in the S&P 500). One of these areas is the auction market. I am not particularly interested in art, nor do I have the means (yet, hopefully) to collect blue-chip classic cars or exceptional jewels. Nonetheless, I like to keep an eye on the auction market to get some additional insight. After writing a lot about holding companies in the past weeks (don't worry, I will come back to that as well), I decided to share some of my thoughts about the auction market and why it might be interesting to investors in the following.
"The Auction Market" Does Not Exist
First of all, it should be noted that there is no such thing as "the auction market". Rather there are auction markets for a wide variety of goods ranging from art works in various shapes and sizes to cars, watches and other collectables. Please note that one could probably divide the markets into different segments. For instance, you could differentiate between paintings and sculptures and divide those again in terms of styles and epochs (just like you would differentiate between stocks, bonds and commodities, for instance, while splitting stocks into segments such as banks, insurance companies and utilities, among others). In the following, I will take a look at a number of select categories without claiming completeness.
2018 Market(s)
Fine Art
The first thing that comes to mind when thinking about the auction market par excellence is probably that of fine art.
The most expensive art work on auction in 2018 was Amedeo Modigliani's "Nu Couché (sur le côté gauche)," which sold for $157.2 million.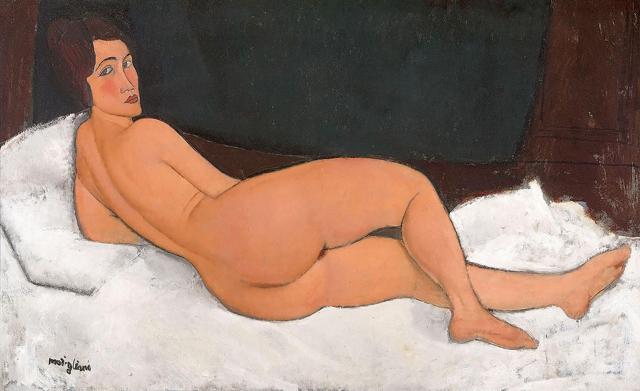 Amedeo Modigliani: "Nu Couché (sur le côté gauche)" (1917) auctioned for $157.2 million. Source: Sotheby's
The world record for an artwork thus remains - and by a wiiiide margin - with Leonardo DaVinci's "Salvator Mundi;" its unveiling was recently postponed by the Louvre Abu Dhabi due to speculations about the work's provenance. The work formerly owned by Russian billionaire Dmitry Rybolovlev fetched $450 million in 2017. Part of the reason for this record price might be a bidding war between the royal families of Saudi Arabia and Abu Dhabi (who believed rivaling Qatar to be behind the respective competing bids), according to Germany's Handelsblatt (article in German).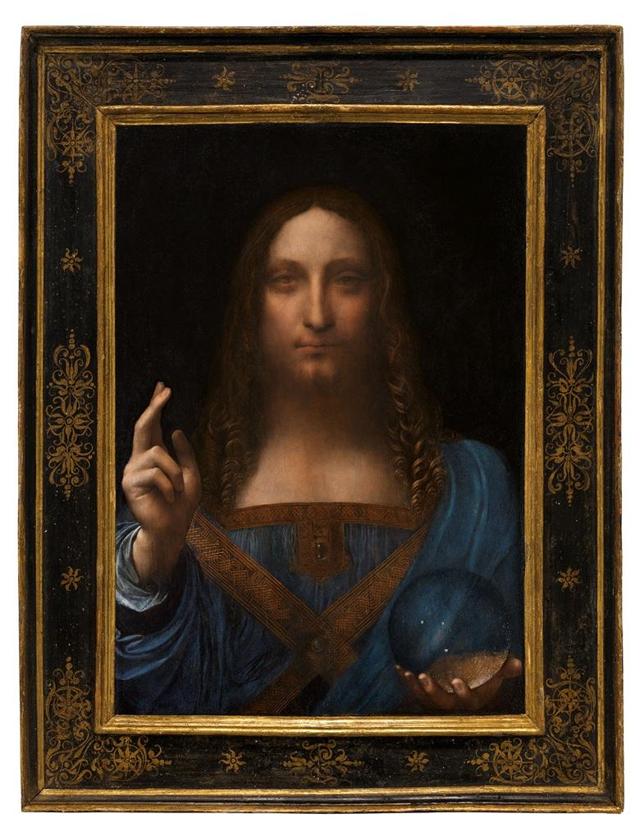 Leonardo DaVinci: "Salvator Mundi" - The most expensive art work ever auctioned. Source: Christie's
Even without new records for single works, the overall auction market for fine art continues to produce high prices, especially for blue-chip pieces.
Cars
Also one of the most visible auction markets is surely that of collector cars. There has been a new world record in 2018: A 1962 Ferrari 250 GTO was auctioned for a total of $48.4 million by RM Sotheby's in August on behalf of Dr. Gregory Whitten, the chairman of Numerix and former chief software architect of Microsoft (MSFT).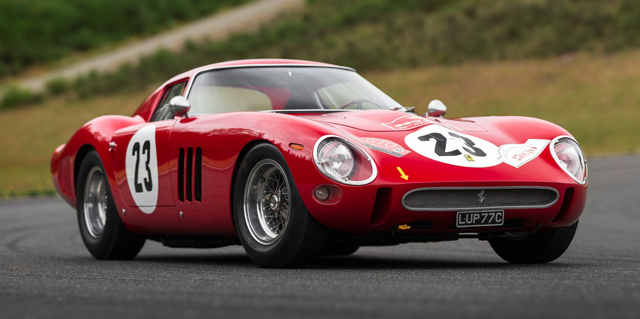 1962 Ferrari 250 GTO - most expensive car ever to come to auction. Source: RM Sotheby's
All in all, Ferraris (RACE) continued to be the blue chips of collector cars. Among the top ten auction results, there were four cars manufactured by the Italian brand (plus one 1932 Alfa Romeo that was raced by Scuderia Ferrari); among them also the runner up in terms of price.
Watches
The most expensive wristwatch auctioned in 2018 was a Rolex "Daytona" chronograph dubbed "The Unicorn". It went under the hammer for CHF5.9 million (ZAHL) in Phillips' Daytona Ultimatum auction in Geneva. While not a new record for watches at auction, this still makes it the second most valuable Rolex ever after the "Paul Newman"-style Daytona that belonged to the actual Paul Newman, which sold for 17 million in 2017.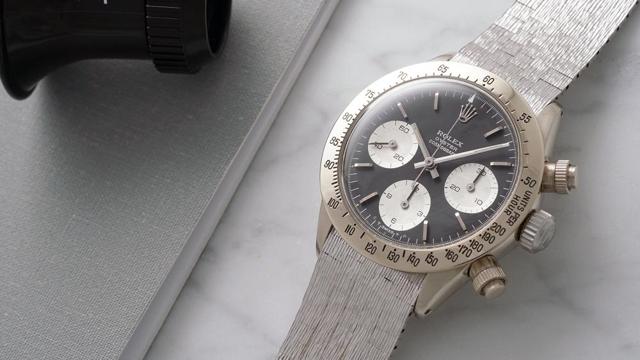 Rolex Daytona "The Unicorn" - the most expensive timepiece auctioned in 2018. Source: Phillips
Notably, the top-ten auctioned objects in the wristwatch category came from only two manufacturers, Rolex and Patek Philippe, with one exception: A Tiffany & Co. (TIF) branded Omega that once belonged to Elvis Presley. It was purchased by Omega, which is a part of Swatch Group AG (OTCPK:SWGAF), for $1.8 million, making it the most expensive Omega timepiece on record.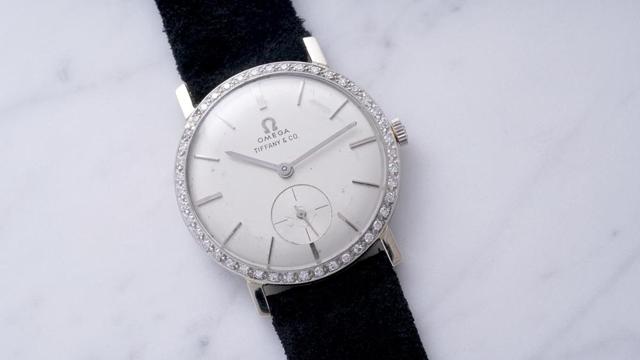 Elvis Presley's Omega. Source: Phillips
Diamonds
Unlike, for example, with precious metals such as gold or platinum, one single diamond of 19 carats (3.8 gram) tends to be worth considerably more than 19 carats of smaller diamonds of the same color and quality. The most notable auction of a diamond in 2018 was that of 18.96 carat Winston Pink Legacy, which was purchased by Harry Winston, Inc. (like Omega, a part of Swatch Group) for a world record CHF50.375million ($ZAHL) at Christie's Magnificent Jewels auction in Geneva.
It Is About What You Don't See At The First Look
Above I pointed to some 2018 (and even world) records. However, as an investor, I believe other factors are more interesting. This includes especially who are the sellers and/or buyers. As, naturally, only a very select number of individuals is able to participate in the market for such big-ticket items as multi-million-dollar cars and watches or even $100+ million paintings, there tends to be overlap between the market participants and people who exercise control over companies (or even entire nations). Hence the general willingness to spend on such items allows insight into sentiment to some degree. This information is obviously more valuable; the more precise you can assign it to a certain person or group (for instance, a number of art sales by a major shareholder and/or executive of a company without a visible private cause might encourage investors in this company to take a cautious look at this company's financials and business perspectives). Unfortunately, auction markets tend to generally be rather intransparent in this regard.
It is also advisable to not only take a look at the prices but also consider the estimates. For instance, the second most expensive car auctioned in 2018, a 1956 Ferrari 290 MM driven by Juan Manuel Fangio in the Mille Miglia fetched $22 million at RM Sotheby's. While this surely is an impressive price for a car, it is at the lower end of the estimate, which ranged from $22 million to $26 million.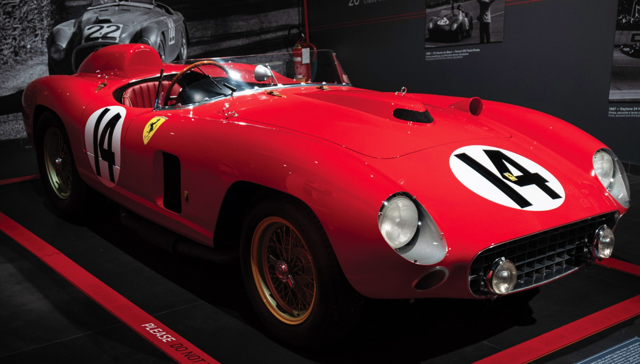 1956 Ferrari 290 MM - auctioned for $22 million with an estimate of $22 to $26 million. Source: RM Sotheby's
Furthermore, one should have a look at which and how many objects are not sold at auctions, may it be due to lack of interest or buyers' unwillingness to purchase at the demanded minimum prices.
Takeaways
All in all, I believe that keeping an eye on the auction market can provide some information about the overall sentiment of a very influential group of people. It could also provide further evidence of phenomena such as for instance the effect of low interest rates over a relatively long period on asset prices in general. For instance, I believe it will be interesting to see whether the price levels for art and other collector's items might stagnate or even decline in an environment of rising interest rates and bond yields and/or less expansive stock markets in terms of multiples.
It should on the other hand not be overstated. Other factors such as financial and economic data remain a great deal more important.
How To Invest - And Which Risks To Mind
As I believe that most readers on Seeking Alpha are more interested in investing than in art (if not both, yet still in that case one would search art content somewhere else, I guess), I will of course also dedicate a section on how to make an investment.
If you have the financial means, you could of course make direct investments into goods of the various categories. For instance, my gut feeling tells me that Chanel handbags made from exotic leathers might sell for increasing prices in the future as the company decided to no longer use such materials. The same might apply to pieces of manufacturers like Hermes (OTCPK:HESAF) (OTCPK:HESAY) or LVMH's (OTCPK:LVMHF) (OTCPK:LVMUY) brands should those houses follow the example (please do NOT consider this investment advice of any form; I am the last person you should consult on the topic of handbags). Also it seems that there may be some growth ahead for works of African and African-American artists.
I would however advise you to only buy objects that you like for what they are. There is no guarantee of rising prices (or even of as little as just stable prices), so it would be a shame to be stuck with a painting you do not like looking at or car that you do not enjoy. On the other hand, if you purchased a rare bottle of wine or whiskey and your hopes of selling it at a gain did not come true, you could still enjoy the drink with a bunch of friends.
You should furthermore keep in mind that artworks, cars and the likes are not as liquid as stocks or bonds. Therefore, an investment might only be liquidated at a loss just the time you need the money the most. Diamonds, admittedly, might be another case. In fact, I remember hearing the argument being made that diamonds are the perfect "emergency reserve" as they are valuable, can be sold almost always, and are much easier to carry as gold. However, for such purposes, I believe that smaller diamonds are better suited than record priced 20 carat ones. I therefore warn of an overallocation of assets into such objects.
Another point to consider on the con side of the argument is that these objects do not generate income via coupon or dividend, while at the same time they can produce considerable cost. For instance cars - especially classic cars - require maintenance; the same applies to artworks. Also you have to consider insurance premiums and the cost of providing security against theft or vandalism.
Another way to get exposure to the auction market would be via an investment in an auction house. Unfortunately, of the big auction houses only one, Sotheby's (NYSE:BID) is publicly listed.
So all in all, I believe the best way is to have an eye on the auction market but to only participate in it to obtain objects you want to own for their own sake. For the purpose of investments, I will stick to more "traditional" methods.
In Case You Wondered
Should you feel like I still owe you an answer to the questions raised in the introduction:
- FC Barcelona's Lionel Messi was 2018's best-scoring football player at 34 league goals.
- Chiefs' Patrick Mahomes accounted for the most touchdowns in NFL pre-season (that is if there are no 12 touchdowns by Andrew Luck in the last pre-season game; I am writing this on December 29th).
- Advanced Micro Devices, Inc. (NASDAQ:AMD) was the best-performing stock in the S&P 500 (again this might still change as I am writing this on December 29th and the 31st is a Monday)
I wish all readers a happy New Year and a prosperous 2019!
Disclaimer: All research contained in this article was done with utmost care. However, I cannot guarantee accuracy. Every reader is advised to conduct his own due diligence and research.
Disclosure: I am/we are long RACE, LVMHF. I wrote this article myself, and it expresses my own opinions. I am not receiving compensation for it (other than from Seeking Alpha). I have no business relationship with any company whose stock is mentioned in this article.