My High Dividend Yield Picks For 2019: Apple Hospitality And Pattern Energy
Summary
I avoid investing in tech, and prefer holdings with real tangible assets with predictable cash flows.
Yields of 8.3% and 9.2% with TTM payout ratios of 68% and 94%.
Theoretically, these stocks should be low-beta but the market has dragged them down with everything else.
It seems like fantastic timing to coincide with the start of 2019 Roth contributions.
One of the exercises that I do to determine if a stock position is a sound one is to try to convince myself otherwise. If a downside case cannot be shown to be realistic and the market is hitting the sell button, then we might have uncovered an opportunity.
The two stocks that I want to apply this exercise to are Apple Hospitality (APLE) and Pattern Energy Group (PEGI). NextEra Energy Partners (NEP) would also fit here as a replacement for PEGI, and remains a high pick of mine for price recovery and future growth. Both of these stocks have taken one on the chin along with the rest of the stock market, but their generous dividends are not in danger. In fact, one could argue that both companies are in a better position now than they were a few quarters ago when the stock price was higher.
APLE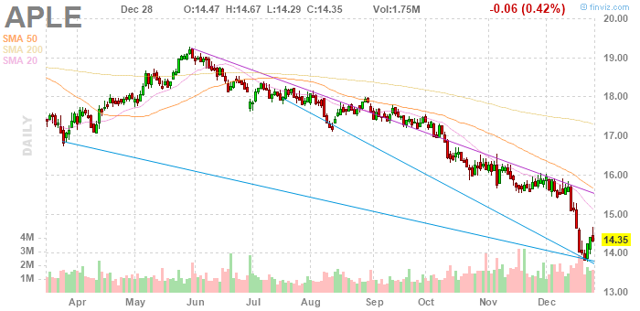 Image from finviz.com
Both Brad Thomas and I have time and again come out with table-pounding buy recommendations which have not helped the stock avoid a pretty steady decline in the past year or so. Total return has not been great, so for those investors who do not appreciate dividends as much as the rest of us, APLE could be considered a pretty lousy investment so far. However, these losses are only stock price declines, so unless you sold they are not realized.
What type of events or situations would cause APLE's stock price decline to become justified?
As we have seen in the last earnings call transcripts, APLE hotels have seen approximately equal occupancy rates during the week and over the weekends. This suggests that business travel and recreation are both large contributing factors to the overall revenues generated.
Business travel activity would be reduced if we had GDP contraction and a bad economy. While the stock market is in a bear market, the economy is still growing at a healthy clip. As Seeking Alpha contributor PendragonY showed in his recent article, GDP growth over the last 3 years has totalled an eye-popping 13.43%. If GDP continues its upward trajectory, we shouldn't be worried about corporate wellbeing at large.
One of the things that I believe is encouraging travel and recreational spending is low oil and gas prices. With more money in consumers' pockets and a full gas tank costing ~$30, hotels should enjoy robust occupancy rates. APLE has always been around 80% for average occupancy, but I think this number will trickle upwards. If oil mounts a recovery or inflation revs up again, then we would not be happy, but until then it looks like smooth sailing for hotel REITs.
With shares trading below book value and at an 8.3% dividend yield, management would be wise to pull the trigger on the buybacks that they have been mulling for the last few quarters. An 8.3% cap rate would be a better investment than expanding capacity. I don't see anything on the horizon that would make the 68% payout ratio hotel REIT with the best balance sheet in the industry start to worry about their dividend.
PEGI/NEP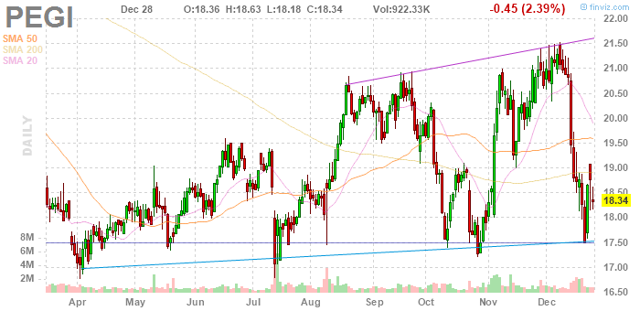 Image from finviz.com
When it comes to high dividend paying yieldco companies, as is this case with PEGI, I'm mainly interested in if the dividend can remain covered. PEGI has had a high payout ratio for a while now, but this is improving as capex slows, assets are sold, capital is recycled and investments in Pattern Development 2.0 start to factor into the company earnings.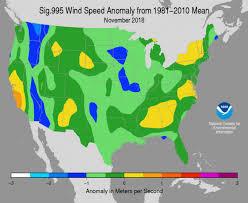 Image from the NOAA
Sorry for the image quality as the NOAA site is down due to government shutdown. This picture shows that for the month of November, national wind speeds were roughly average compared to historical norms. For a company that primarily operates wind farms, this is encouraging as it means that cash available for distribution should come in approximately in line with expectations.
The recycling of the Chilean assets and the sale of the minority stake in the K-2 wind farm in Ontario might cause a dip in CAFD in the short term in the same way that FFO dips when REITs sell property, but management will redeploy that capital to increase CAFD in the long term. When you take into account the fact that PEGI will realize a gain of $60+ million on the K-2 asset sale, it also paints a rosier picture for the long term business plan if the cash yielding assets appreciate in value.
With a trailing year CAFD of $175 million, the payout ratio comes in at 94%. CAFD should continue to grow and that payout ratio will eventually come down to the 80% goal stated by management. Some investors are upset with the flat dividend, just like with APLE, but a 9.2% steady and covered dividend should be enough for the time being. Unless the wind stops blowing or the allocated capital to Pattern Development 2.0 fails to meet expectations, PEGI will have no trouble paying out its dividend. Wind speeds and electricity demand are not going to be affected by a market downturn, so I consider this to be a low-beta position that has seen unusually high volatility as of late. This mispricing represents a great opportunity for a 2019 Roth or other long term add.
For those okay with a lower yield of 4.3% but are more focused on growth and safety (expected Q4 revenues of 282 million is 43% YoY growth, payout ratio is 63%), NextEra Energy Partners would be a better choice. I recently wrote an article on the company, and I believe they have a bright future as well.
Disclosure: I am/we are long APLE, PEGI. I wrote this article myself, and it expresses my own opinions. I am not receiving compensation for it (other than from Seeking Alpha). I have no business relationship with any company whose stock is mentioned in this article.