Back in 2017, I published an article named "Top 5 Mining Stocks to Watch In 2017" where I listed 5 interesting miners and mine developers that were expected to bring some nice gains to their shareholders. Last year, "Top 5 Mining Stocks to Watch in 2018" followed. And it is important to note that companies from the 2018 list experienced a pretty wild ride (I plan to write a review in early 2018). Here is a list of 5 companies worth taking a closer look at in 2019. Just like last year, I know that there are definitely some other companies with high potential that could have been considered for inclusion into the Top 5. Please feel free to mention them in the comments section.
I would like to note that all of the listed companies have a lot of potential and several important catalysts are expected in 2019. However, given the current state of the stock markets that are on the verge of a bear market, good timing of entering into a position is highly important.
RNC Minerals, formerly known as Royal Nickel, is a risky bet on continued exploration success. On the other hand, the risk may be rewarded really generously. RNC owns 28% of the Dumont nickel project, one of the biggest nickel-sulfide deposits. It contains reserves of 6.9 billion lb nickel and measured, indicated and inferred resources of 12.65 billion lb nickel. The 2013 feasibility study envisioned a mining operation with a 30-year mine life, with an average annual production of 90 million lb nickel, 4 million lb cobalt and 19,000 toz of platinum group metals, with an after-tax NPV(8%) of $1.137 billion and after-tax IRR of 15.2%. But the Dumont project wasn't the reason why RNC's share price grew by 150% since the beginning of 2018.
RNC owns also the Australian Beta Hunt mine. The Beta Hunt mine is a former nickel mine acquired by RNC in 2013. In 2014, the nickel production was resumed and in 2015 also a small-scale gold production began. According to the December 2017 resource estimate, Beta Hunt contains inferred and indicated gold resources of 447,000 toz. The small mining operation wasn't too interesting, RNC hadn't enough resources for the Dumont mine development and it seemed like the indebted company is primed for a bankruptcy. However, everything changed pretty quickly when the Beta Hunt mine started mining the Lunnont Basalt zone and bonanza-grade gold mineralization was encountered. On September 9, the company announced that during a single week, it extracted approximately 9,250 toz gold, including huge specimen stones containing 2,440 toz and 1,620 toz gold. The high-grade vein was later named Father's Day Vein. More than 30,000 toz gold was extracted from the initial development area of the Father's Day Vein. The volume of gold produced over a single month equaled the volume of gold produced over the preceding six months. What is important, RNC has identified a sediment horizon long 4 km and open at depth, where more areas of ultra-high-grade gold mineralization similar to Father's Day Vein are believed to be found in the future.
Revenues generated by the ultra-high-grade Father's Day Mine helped RNC to repay its debt and to improve its cash position to $18 million. The share price grew from $0.06 in late August to $0.88 only one month later. Right now, the share price is back at $0.35 and RNC's market capitalization stands at $135 million. For this price, you can get 28% of the world's biggest undeveloped and fully permitted nickel-cobalt deposit (an updated feasibility study is being prepared) and gold mine with tremendous exploration potential. If another high-grade zone similar to the Father's Day Vein is discovered, RNC's share price will sky-rocket well above its September peak at $0.88.
4. Pretium Resources (PVG)
Pretium is the only company that made it into the TOP 5 list in 2017, 2018 and also in 2019. In 2017, Pretium finished construction of its world-class high-grade British Columbian Brucejack gold mine. The initial results were positive, but in early 2018, Pretium announced that gold production experienced some issues. The Q4 2017 and Q1 2018 production volumes were much lower than expected and the share price collapsed (chart below). However, the measures adopted by the company started to work and the feed grades and gold production volumes got back on track in Q2 and Q3 2018.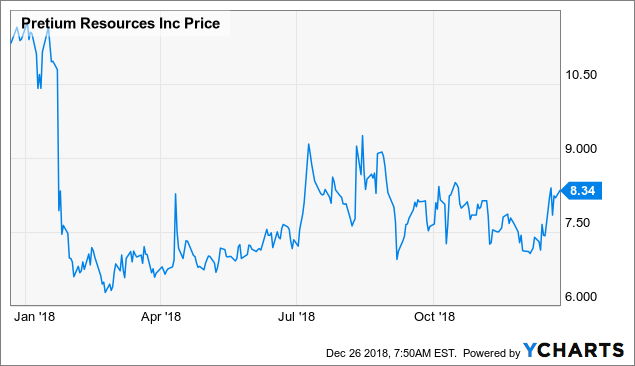 Right now, there are several reasons why to believe that Pretium's share price should improve notably. First of all, the Q2 and Q3 2018 production results were a reason for optimism. The measures adopted by Pretium's management after the Q4 2017/Q1 2018 fiasco seem to be efficient. Another positive is that Pretium was able to repurchase the gold stream as well as refinance its debt successfully. Moreover, on December 14, Pretium announced that its application to expand the Brucejack mill throughput rate to 3,800 tpd was accepted. The expansion should cost less than C$25 million ($18.4 million) and it should be completed during regularly scheduled mill shutdowns which means that it shouldn't interrupt the normal operations of the mill. After it is completed, the throughput rate will increase from 2,700 to 3,800 tpd, or by 40%. It should have a significant positive impact not only on the total gold production volumes but also on the unit production costs.
Another important factor that may support Pretium's share price is the turbulent situation on the stock market. If a major stock bear market begins, gold prices should start to grow. Also the term "stagflation" starts to appear more frequently. Only last week, the former Fed chairman Alan Greenspan mentioned it in an interview. The last major era of stagflation impacted the U.S. economy back in the 1970's. And gold price skyrocketed. Pretium's shareholders don't need gold prices to skyrocket to record some very nice gains. Steady growth to $1,400 or $1,500/toz would suffice. At this gold price, also Pretium's (often forgotten) Snowfield project that contains measured, indicated and inferred resources of more than 30 million toz gold, starts to be a real development option.
Trevali Mining is a mid-tier producer of industrial metals. Although it produces also lead or silver, its main product is zinc (more than 80% of revenues). It operates several polymetallic mines in Canada, Peru, Burkina Faso, and Namibia. As shown in the chart below, its share price has declined by 75% since the beginning of 2018. It means that the company is in a bad shape and its bankruptcy is a real threat. Doesn't it? No. It doesn't.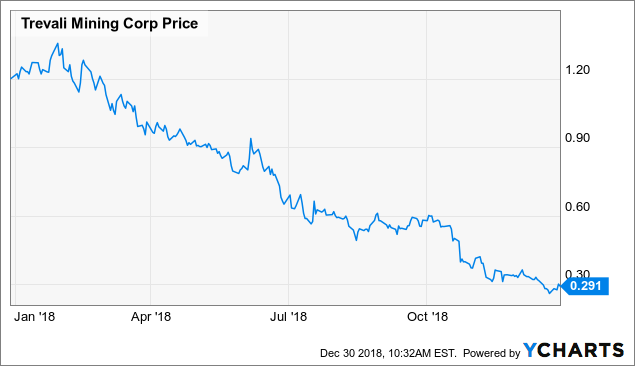 According to the still valid 2018 production guidance, the overall annual production is estimated at 392-418 million lb zinc, 39.7-42.6 million lb lead, and 1.4-1.5 million toz silver. Moreover, the company is able to successfully expand the reserves and resources (which mines also life mines) at its key operations and it is cash-flow positive at the current metals prices.
As of the end of Q3, Trevali held cash & cash equivalents worth $93.1 million and it had also an undrawn credit facility of $119.6 million at its disposal. The total debt equaled $155 million and net debt $62 million. The old debt facility was refinanced only in September. As a result, the debt matures in September 2022. It means that Trevali is in a very comfortable liquidity position. The market clearly overreacted when zinc prices started to tumble (down approximately by 20% since the beginning of 2018). The share price decline was further supported by some operational issues at Santander and Caribou mines; however, none of the events had a major impact on overall production volumes reached during 2018. As the market values Trevali only at $240 million right now, its management has realized that the shares are significantly undervalued and decided to repurchase and cancel up to 40 million of issued and outstanding shares, worth up to C$20 million ($14.67 million). The cancellation of 40 million shares would mean a reduction of the total volume of outstanding shares by approximately 4.8%.
Not only the share buyback program should push Trevali's shares higher in 2019, zinc prices should also provide much-needed support. The LME warehouse zinc levels are close to the 2007 lows when zinc prices peaked above $2/lb. The warehouse levels at COMEX or SHFE are almost non-existent. The markets are probably afraid of the trading war between the USA and China and its potential impacts on the global economy. If the situation calms down and the global economy avoids a recession, the zinc prices should start to grow again. And the currently depressed shares of Trevali will provide very nice leverage.
2. Energy Fuels (UUUU)
Energy Fuels is a mining company that hides a lot of potential. The company is the biggest uranium producer in the USA and since November, it is also the only North-American vanadium producer. As can be seen, unlike its peers from the uranium mining sector, Energy Fuels did very well during 2018 (chart below). The meaningful share price growth was caused especially by the soaring vanadium prices. And the December decline is driven by vanadium price decline from $35 to $20/lb V2O5. However, vanadium price is still up by more than 100% year-to-date and given the market fundamentals, especially the growing demand of the battery producers, vanadium prices should remain strong for the foreseeable future.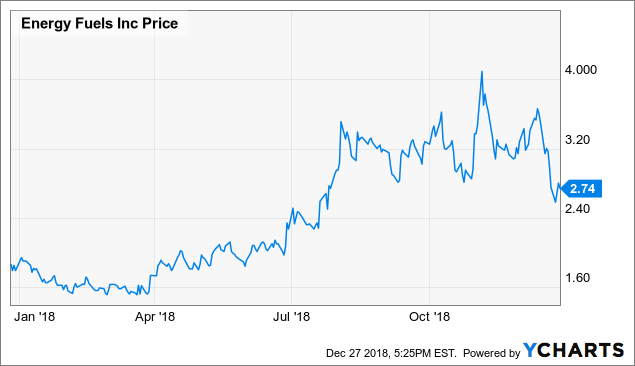 The company owns an extensive portfolio of uranium projects located in Wyoming, Utah, Colorado, Arizona, New Mexico, and Texas. The projects contain measured and indicated resources of 81 million lb uranium and 32 million lb vanadium and inferred resources of 49 million lb uranium and 8.5 million lb vanadium. Only the Nichols Ranch project is in production right now, however, six other projects are permitted and in the standby mode, waiting for higher uranium prices. Energy Fuels is able to generate some additional cash flow also from toll mining contracts and alternative feeds processed at its 100%-owned Mesa Mill.
Moreover, in November, Energy Fuels restarted vanadium production at the Mesa Mill. The pond solutions contain approximately 4 million lb V2O5 that should be extracted over the next 16-20 months. At the current vanadium prices, it should lead to revenues of around $80 million. Moreover, a test mining is underway at the La Sal mine. If everything goes well, Energy Fuels should start mining the higher-grade vanadium parts of the deposit, which should lead to a much higher vanadium-related cash-flow.
Besides vanadium, Energy Fuels has one more ace up its sleeve: Section 232 Investigation of Uranium Imports. If the outcome of the investigation is in favor of the U.S. domestic uranium producers, 25% of the U.S. uranium consumption should start to be sourced from domestic sources. Only for illustration, in 2017, the USA produced 940 tonnes of uranium but it consumes around 18,000 tonnes of uranium per year. If 25% of the U.S. uranium consumption should be sourced from domestic sources, the U.S. uranium production must increase to 4,500 tonnes per year, or almost by 380%. Energy Fuels is prepared to fill a major part of this gap, as it should be able to raise its uranium production of around 500,000 lb per year by approximately 4 million lb (~1,800 tonnes) per year very quickly if the uranium price is high enough.
Nemaska Lithium is a Canadian company developing its world-class lithium project located in a safe jurisdiction of Quebec. The Whabouchi project is fully financed and fully permitted, the construction is well underway, with first spodumene production expected in H2 2019. As can be seen in the chart below, Nemaska's share price experienced a huge decline during 2018. The vast majority of it is attributable to an equity financing that took place back in May. Nemaska issued 448 million new shares to raise C$454 million ($345 million) that was needed to complete the C$1.1 billion financing package.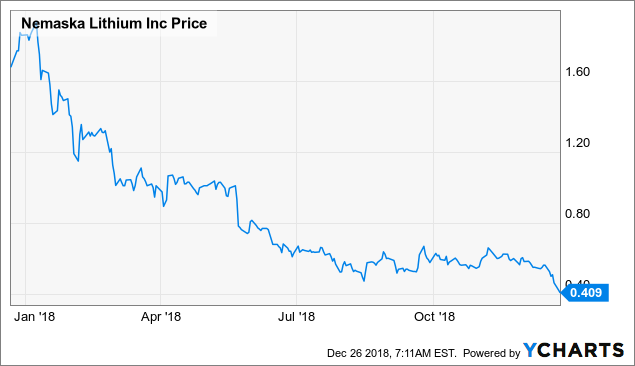 The Whabouchi project reserves contain 36.7 million tonnes of ore grading 1.4% Li2O. The volume of Li2O contained in reserves is estimated at 514,520 tonnes. The mine is expected to produce 213,000 tonnes of spodumene concentrate containing 6.25% Li2O per year on average, over the 33-year mine life. The start of spodumene production and first cash-flow are expected in H2 2019. By H2 2020, also Nemaska's Shawinigan electrochemical plant should be completed. The electrochemical plant should be able to convert the spodumene into approximately 23,000 tonnes of lithium hydroxide and 11,000 tonnes of lithium carbonate per year. Both lithium hydroxide and lithium carbonate are used for the production of batteries. As a rapid growth of demand for various battery technologies is expected in the near future, lithium carbonate and lithium hydroxide prices are expected to grow.
Nemaska Lithium is expected to become the world-biggest producer of lithium hydroxide that is considered to be a premium product and commands a higher price than lithium carbonate. As a bonus, Nemaska should also become the lowest-cost lithium hydroxide producer, with production costs around $2,811/t. The after-tax NPV(8%) of the whole project is $1.7 billion (after the impacts of the financing package are taken into account) which compares very favorably to the current market capitalization of $350 million.
Disclosure: I am/we are long PVG, NMKEF, TREVF, RNKLF. I wrote this article myself, and it expresses my own opinions. I am not receiving compensation for it (other than from Seeking Alpha). I have no business relationship with any company whose stock is mentioned in this article.