Co-produced with PendragonY for High Dividend Opportunities
Quite a few of the very High Yielders on our watchlist look like they are bottoming and it may be a last chance to buy before a rebound. One of our favorite products with a very fat yield is ETRACS Monthly Pay 2xLeveraged US Small Cap High Dividend ETN Series B (SMHB).
The recent price drop has made SMHB even more attractive. SMHB's Current Yield (annualized) is at 26%, which is calculated as "the sum of the most recently announced Coupon Amount and the two immediately preceding Coupon Amounts, multiplied by four (to annualize such coupons), divided by the Current Indicative Value of the ETN".
About SMHB
SMHB is a diversified exchange product issued by UBS Bank that tracks (twice leveraged) a basket of small cap high-dividend stocks. In fact, this is a quite unique product that provides instant diversification in several sectors across the high- yield spectrum. We will go into the details of its holdings later on in this report.
SMHB is quite a new product issued just a few weeks ago (at the beginning of November) but the concept is not new. This is the sister Fund of ETRACS Monthly Pay 2xLeveraged US Small Cap High Dividend ETN Series A (SMHD). Both funds are issued by UBS Bank (UBS) and track exactly the same index and are also 2 times leveraged. In fact, SBHB and SMHD are almost identical with very minor differences that we will highlight later in this report.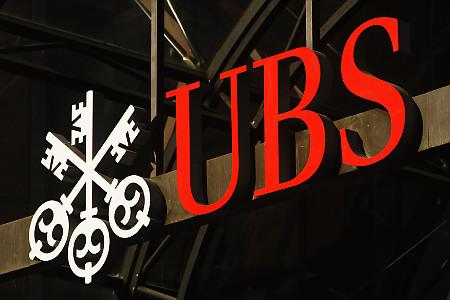 Why did UBS Bank issue the SMHB Product?
Most of the UBS Products have limits on how many notes (shares) they can issue. The limit for each ETN is listed on the UBS site. You can view these limits by clicking on the UBS ETRACS website, and then go to the press release section. The limits are listed on the press release dated October 8, 2015. If you wish to check the press release page, click here. The maximum number of notes that SMHD can issue is 4 million notes, and UBS Bank is very close to reaching this limit. Therefore, UBS is not allowed to issue more SMHD shares, and created SMHB to fill this void. So SMHB can be viewed as a continuation of the SMHD issue, and they both provide the exact same exposure. This is similar to what happened recently with ETRACS Monthly Pay 2xLeveraged Mortgage REIT ETN (MORL), another UBS Bank Product, whereby MORL reached its limit and UBS had to create a new sister fund with the same exposure which is the ETRACS Monthly Pay 2xLeveraged Mortgage REIT ETN Series B (MRRL).
How to Calculate the Yield for SHMB?
SMHB is a new product and since the issuing bank uses historical dividends to calculate the yield, currently no yield is showing for SMHB. But the good news is that we can deduce its dividends from its sister fund SMHD.
ETNs such as SMHB and SMHD will normally trade at very close to their Indicative Value which is the case right now with SMHB. But since SMHD cannot create any new shares, it has been trading at a premium of around 10%. SMHB was issued at a significantly higher price than SMHD, and perhaps the dissimilar pricing of the two issues is contributing to some buyers not recognizing that SMHB is currently the more advantageous issue.
SMHD has an annualized payout of $3.1948 (using the last 3 months coupons). The relative Indicative Value of the pair gives us a constant ratio of 1.53 which can be used to deduce an annual distribution of $4.888 for SMHB, and it comes to a 26% yield.
The High-Dividend Opportunity
Small cap stocks tend to be the first ones to decline when the markets correct, but they are usually the first ones to recover when the markets start going up, and they do recover quickly! This in part is because of their small size, a small change such as higher demand can make a big difference for them. Right now the price of the fund has taken a big hit and made the dividends/distributions mostly attractive, and we may never see such a high yield for this fund again.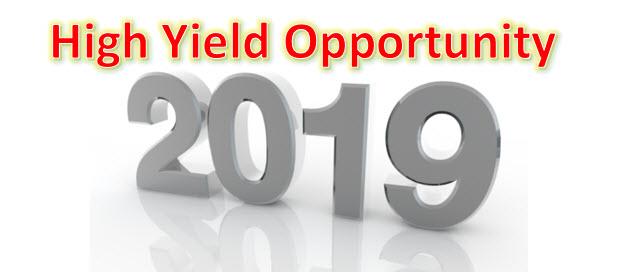 SMHD and SHMB are the only two funds that track the Solactive U.S. Small Cap High Dividend Index (the "Solactive Index") which is a fairly diverse index of small cap stocks that pay a high dividend.
Since SMHB is new and nearly identical to SMHD, let's look at the distributions paid over the last few years.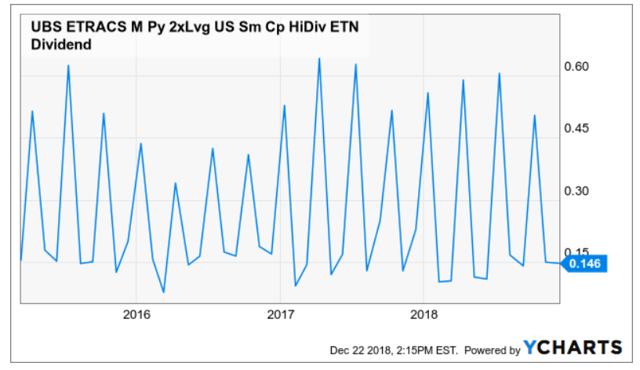 That certainly qualifies as variable on a monthly basis, but if you look on a yearly basis, the dividend is more predictable and not as variable. Part of the variability from month-to-month is because both funds only pay out the dividends as they are received from the underlying stocks. In fact, this is actually a big advantage because there is never any "Return of Capital" (or ROC) which is associated with many funds and which can be destructive. SMHB and SMHD never overpay shareholders from gains that have not been realized.
On November 9 when SMHB was issued, it was trading at $24.90. Now the Fund has dropped to $18.90 which has significantly boosted the dividend - very nicely!
I know what some may be thinking: This is a leveraged product that is highly volatile. How can you ever invest in it? Well our experience in investing in SMHD (the older version of SMHB) proved to be a highly profitable one. Since we recommended SMHD to our investors in January 2016, the returns were just stellar. SMHD returned (including dividends) 53% and that is even factoring in the effect of TWO severe market corrections (the December 2015 correction and the current one). Look at the chart below: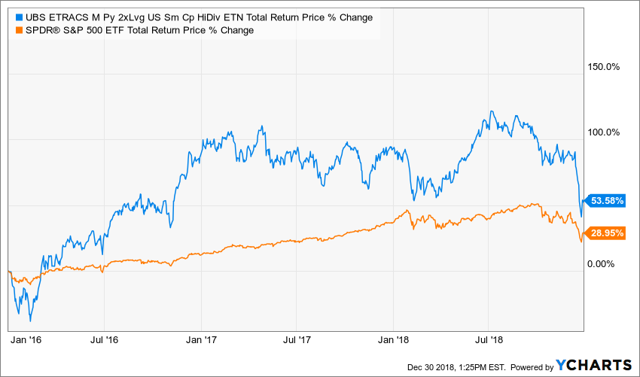 During this period, including the impact of 2 corrections, an investor who put money in SMHD made almost twice as much money as the S&P 500 index, including dividends. So what is the reason behind the resiliency and out-performance of SMHD/SMHB?
Strength through Diversity
Diversification is a very important tool for managing risk. This is true for any portfolio and specially when investing in small cap stocks. A broad sector and stock diversification is key. By investing in SMHB for instance, you get instant diversification in 100 different stocks and in multiple sectors and industries. Holding 100 companies insulates the fund to some extent from any one (or even several) companies having a big drop in share price or even in case of a dividend cut by one of the underlying stocks.
The data in the tables below are a combination of data from the funds website and the descriptions of the companies from SA's quote page.
Over 30% of SMHB's holdings are invested in Property REITs as seen in the table below.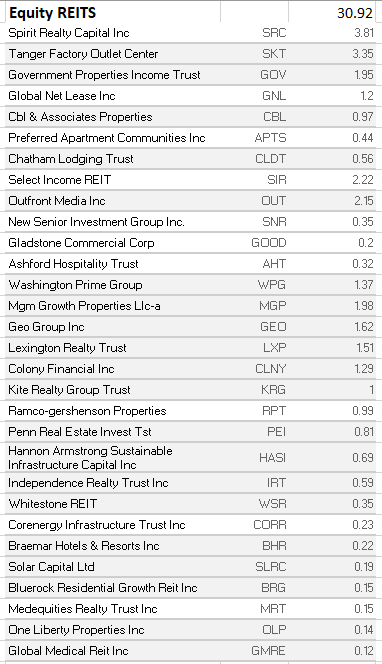 Figure 1 Source
These companies primarily make their money by leasing out the properties they own to businesses. As the landlord, these companies are near the head of the line to get paid and tend to have long term contracts. So they have a fairly safe and predictable cash flow. While some of the larger REITs are not here (because they are too large to qualify for the index), some quality names are here including Spirit Realty Capital (SRC), Tanger Factory Outlets (SKT), Geo Group (GEO), Lexington Realty Trust (LXP), Preferred Apartment Communities (APTS), Chatham Lodging (CLDT).
With some 30 different REITs, which have tenants in many different industries, we are satisfied with the diversity here. While some of the companies are facing some headwinds (that happens when you have an indexed fund), we see their allocations as correctly sized and no real threat to the portfolio as a whole. The average position size for each Property REIT allocation is just about 1%.
Mortgage REITs make up just shy of 25% of the portfolio as seen in the table below.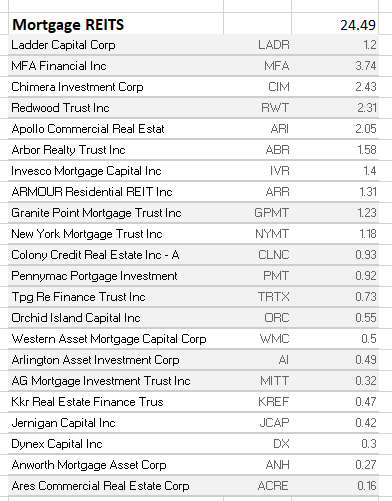 Figure 2 Source
Given that this is a high dividend index that is to be expected. We really like Ladder Capital (LADR) and Apollo Commercial Real Estate (ARI) which are part of the portfolio. The others are all reasonably sized for the risk involved. The average allocation to each of the 22 mortgage REITS is 1.11%.
Business Development companies make up just under 8% of the portfolio as seen in the table below.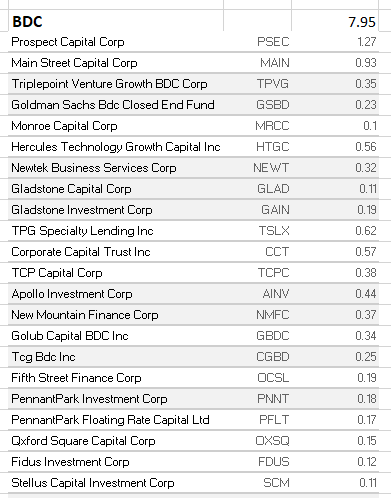 Figure 3 Source
Here you get exposure to some great names including Main Capital (MAIN), and Hercules Technology Growth Capital (HTGC). Other names that readers may be familiar with are Prospect Capital (PSEC), TCP Capital Corp (TCPC), Apollo Investment Corp (NASDAQ:AINV), and Monroe Capital (MRCC). With the 8% spread over 22 companies, we see the risk nicely balanced with income.
SMHB has also exposure to the financial sector in forms other than BDCs or REITs. Here is the list.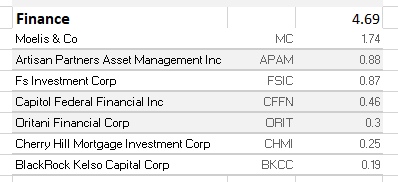 Figure 4 Source
The average position size here is 0.67% of the portfolio, or 4.69% in total for the 7 companies.
Below is a list of the remaining 19 companies that fill out the portfolio. These include a newspaper chain (owner of USA Today), a gaming company, and the company that makes Tupperware (TUP), among others. These further help increase the diversity of the fund.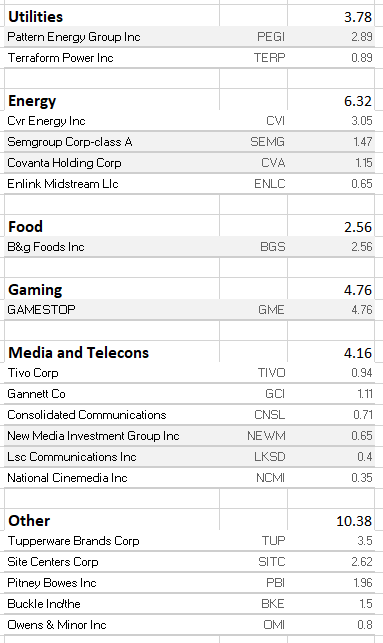 Figure 5 Source
The diversification in holdings for SMHB adds both strength and stability to an income investor's portfolio. By focusing on many different industries, SMHB has holdings that will not all be impacted by the same risk factors. That way, holdings may be able to reinforce each others' strengths while offsetting weaknesses. We think this is more stable than using funds that focus only on a single sector or industry. By focusing on companies that produce higher distributions, SMHB helps income investors generate a very high level of income which can be used to buy more shares, and thus enhance growth or provide a greater cash flow to pay expenses.
How Safe is SMHB's Dividend?
As stated above, SMHB is a highly diversified fund with 100 holdings. The dividend reflects the dividends of the underlying 100 stocks (times 2). Even if a couple of the underlying stocks reduce the dividends, it will not have any significant impact on the dividend of SMHB. Due to the diversity of the dividend source, SMHB's dividend has a pretty high margin of safety. Note that quite a few of SMHB's holdings have increased their dividends including MAIN, APTS and SKT.
Also as noted above SMHB never pays any return of capital ('ROC').
Risks
As with all leveraged funds, volatility is a risk. Do not buy this unless you are prepared to handle some fairly big price swings. Be sure to check out this page which covers all the risks and considerations in owning this ETN.
Also do not invest in SMHB if you do not plan to buy and hold for several years. Because it is very volatile, SMHB can underperform in the very short term, but can still provide great returns if held over a long period.
SMHD and SMHB are exchange notes issued by the Swiss banking giant UBS (NYSE:UBS). Investing in this security means that investors are holding the credit risk of the underwriter UBS Bank. On the other hand, UBS is considered a solid credit risk.
Big Dividend Coming Soon!
One thing to note is that the distribution seems to be a lot higher in the first month of the quarter than it is in the last 2 quarters, so we would expect the distribution for January to be in the neighborhood of 50 cents if we base our estimate on the distribution history of SMHD. If a 50 cents distribution is paid for SMHD, that would be equivalent to a 76.5 cent for SMHB. This is a big payout of 2.6% yield paid in a single month! You can see the distribution history for SMHD here. For the short distribution history of SMHB use this link.
SMHB should go ex-dividend on January 12, 2019 with the dividend to be paid 12 days later on January 24, 2019.
A Small Purchase of SMHB can Boost your Portfolio's Yield
We recommend using position sizing to help manage risk with SMHB. With such a high yield, it doesn't take much to boost the yield of your portfolio by a significant amount. For example, if an investor buys 1000 shares of SMHB at a price/share of $18.9 for a total investment of $18,800, it's likely an investor would collect in January $760, and a total amount of $1,228 for the first quarter of 2019.
Final Thoughts
We have been holding SMHD since late 2015 and plan to continue to hold the same exposure with SMHB as a long term investment. This exposure has been a highly profitable one. We particularly like the idea that with a yield of 26%, investors are able to recuperate, in form of dividends, the value of the initial investment in less than 5 years (or double the value of the initial investment), without taking into account any potential capital gains.
Diversification is important in building a reliable high-yield portfolio. Funds are an easy way to get that diversification. A balance between funds, ETNs, ETFs, and CEFs, and individual stocks can help to achieve that diversification. SMHB combines high distributions while diversifying over 100 stocks. An appropriately sized position in SMHB will provide a generous boost to portfolio income while increasing diversification. With the recent sell off, SMHB now is a gift that may not last long. As an added bonus it pays the dividend on a monthly basis, so there is a much shorter wait time to collect your dividend. As long as the price stays under $20, we see SMHB as a nice gift from the markets for this new year.
A note about diversification: To achieve an overall yield of 9%-10% and optimal level of diversification, at High Dividend Opportunities we recommend a maximum allocation of 2%-3% of the portfolio to individual high-yield stocks, and a maximum of 5% allocation to high-yield exchange traded products (such as ETFs, ETNs and CEFs) like SMHD. For investors who depend on the income, diversification usually results in more stable dividends, mitigates downside risk, and reduces the overall volatility of your portfolio.
Disclosure: I am long SMHB and added to my position last week.
If you liked this report, please scroll up and click "Follow" next to my name to not miss future articles.
About High Dividend Opportunities: We are the largest community of income investors and retirees with over 1,700 members. We provide a comprehensive service, ranked #1, dedicated to high-yield securities trading at attractive valuations: Subscription includes:
A model portfolio of high-dividend stocks currently yielding over 10%.
A "Dividend Tracker" to track your next dividend.
A "Portfolio Tracker for your holdings. Check out video here.
Join the largest community of Income Investors and start generating high-dividends TODAY. Sign-up HERE.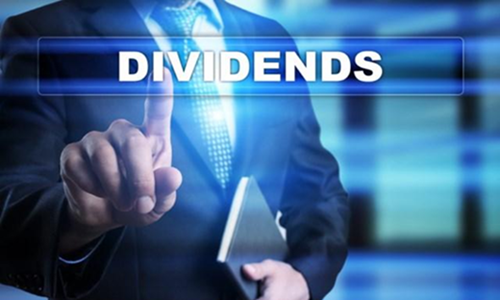 Disclosure: I am/we are long SMHB. I wrote this article myself, and it expresses my own opinions. I am not receiving compensation for it (other than from Seeking Alpha). I have no business relationship with any company whose stock is mentioned in this article.