2018 is coming to an end so it is time to analyze the results of my first full year of value investing. This will be the second article after the first portfolio introduction in September. From now on I'll try to start off with some general remarks/ideas that were valuable or insightful during the quarter. Next I'll discuss my buys, sells and stake increases during the quarter. I follow up with an overview of the holdings to show how the portfolio is doing. Lastly, my mistakes during the quarter will be discussed in the hope I, and maybe someone else, can learn from them.
Overview:
This quarter was pretty active in terms of buying and selling. One of the reasons is because of my self-imposed rule to hold at least 30% of my investing money in cash. During the current stock market climate, I believe it is prudent for me, as a beginning investor, to hold a significant portion of my money in cash. Firstly, because I still consider myself inexperienced. Holding excess cash protects my portfolio at least partly against rooky mistakes I might still make. Secondly, the current bull market has been going for the last 9 years now. Although the market has had a rough December I don't consider this a market with a lot of value investing opportunities. Therefore, I rather miss out on some current opportunities so I can profit big from a future bear market. A second reason for my increased activity during this quarter is my revisiting of some of Buffett's and Munger's principle regarding portfolio concentration. During this quarter I found quite some companies I wanted to invest in, causing the size of my portfolio to increase to around 15 stocks. In turn, this gave me the feeling I had not enough insight in the relative attractiveness of my holdings. With Buffett and Munger arguing for strong portfolio concentration I made it a goal this quarter to see if I could reduce my number of holdings a bit. To accomplish this, I made a little scoring chart on which I ranked my holdings along three criteria.
1. Downside protection/Margin of Safety.
2. Upside potential.
3. My conviction that the bull case I envision will play out.
While there is of course a lot more to it than these three criteria, I found this to be a useful exercise for me. It requires you to really compare each holding with one another to see which is the better investment. In the end, I came to the conclusion that some of my stocks that ended at the bottom of the list were clearly inferior (overall) investments then some of the best ranked stocks. This encouraged me to sell some stocks at the bottom of the list while I increased my position substantially in the top three ranked stocks. In the future I may come up with a better way to compare and rank my portfolio, but for now I view this method as a worthwhile tool to help me compare my stocks. I'll now discuss my New Buys, Sells and increases in existing positions. Starting off with the 'sells':
Sells:
Crown Crafts (CRWS):This quarter I decided to sell my position in Crown Crafts. I came to the conclusion that I had not been objective enough in my reasoning. Last time I already indicated that this stock didn't fit my usual investment strategy. Still, I convinced myself Crown Crafts was a good holding for my portfolio because it had the possibility to expand in the future. Furthermore, I identified the management as being of great quality. All in all, I felt like this was a good mix between a value investment and possible growth. My conviction in this opinion started to shift when CSS industries, another stock I own, kept dropping significantly. I started comparing the two companies. Both seemed pretty alike in my opinion. Both paying a 6%+ dividend, both having a low EV/FCF multiple and so on. Crown Crafts had the advantage of operating in an industry where they could expand further. However, all the other points where in favor of CSS. The difference in downside protection and upside attractiveness was too big with these two alike holdings, not to make a choice between the two. End result, I sold Crown Crafts and added CSS. With a 7% gain this change of mind at least didn't cause any losses.
Cato Corporation (CATO): I also sold my last 50 shares of Cato this quarter. Mainly because I realized the 25-26 price I got for the first 100 was just a lucky offer I got from Mr. Market. With the current retail environment Cato seemed fairly valued at around 20 bucks a share. It therefore was a logical sell as I want to keep 35% of my portfolio in cash for now.
Argan Inc. (AGX): Another sell this quarter. I must say I'm still positive on Argan, but in the end I sold this stock pretty for the reasons I outlined in the overview. After I had rated all my investments I surprisingly found out that Argan was in the bottom of the list. After a second review I came to the conclusion that especially Argan's upside was limited in my view. Secondly, my MoS was bigger in a lot of the other investments. In the end, holding Argan meant I would disavow my own assessment of my portfolio. Combining this with my objective of holding 35% in cash during this bull market I decided to cut Argan out of my portfolio. I had a lucky 15% gain on this holding.
Francesca's (FRAN): This is a position I bought and sold during this quarter. I hope these kind of buy and sells during a quarter won't be a common practice in the future. With Francesca's I bought my position at $3 shares. At that time management still projected positive cash flow and earnings. Combining this with their large cash pile and the fact I was now buying below tangible book value made Francesca's look appealing. It had showed very good margin and sales growth in the last few years. The sell-off because of the broader retail slump seemed overdone in my opinion. I was taken completely off guard when the company decided to release a preliminary earnings statement for the quarter citing double digit same store sales decline, a PPE write off and projected negative earnings for the year. Normally I don't care too much about extra short-term problems. With Francesca's however, management seems to be completely clueless about the current results. They had not seen this coming in the latest earnings call two months before. They had actually shown optimism about the recovery of the business. To a lesser degree this happened once already. But if management is (slightly) optimistic at the end of Q2and within two months they must issue preliminary results that are just plainly abysmal (including an actual asset write-off) that is too much faith lost in my view. I sold this position with 32% loss. Not the best result one can achieve in a month time. Lessons learned? Keep an even better eye at management. They have done such a thing before and that should have been a red flag for me. Secondly, in the current retail environment there are enough plays you can make at a large discount to tangible book value. Francesca's discount was not too great yet (although it is now with the stock trading at 0.90 a share). Waiting for a bigger discount would have been prudent here.
Chico's FAS (CHS): Another women's clothing retailer I bought after their latest 10-Q. Chico's was on my radar when the stock was at $7. While they have a great cash flow generation and a large cash pile the discount wasn't large enough for me. When the stock dropped to $4.50 after earnings it was just way too cheap to be ignored. With annual free cash flow in aggregate of a 100 million, selling below tangible book value and having a large net cash position this was a bargain. I initiated a position with the hope I would be able to average down in the coming weeks. However, the market seemed to realize quickly that the sell-off was overdone. The stock ran back up to $6 within a few weeks. Instead of waiting for possible $8-10 share price I decided to just pocket my gains and wait to see if I would get another shot below five bucks. Sometimes value investments return a profit quickly. I can't complain with 34% gain in two weeks.
Hibbet sports (HIBB): Three buy and sells this quarter? Yes, I'm a bit ashamed to admit it but my turnover was high this quarter. Hibbet is a sporting goods retailer that was on my radar during its extreme lows (at $11 per share). I failed to act then, seeing it run back up to almost $30 a share. The company itself just remained focused on their business. Rolling out their new e-commerce platform, generating plenty of cash and buying back shares. When the stock hit $16 a share I decided to initiate a first position with the hope I could average down. But again, within two weeks some unexpected news hit me. Hibbet was acquiring City Gear in an attempt to broaden their market and attract younger customers to their stores. While I'm not principally against this move it just did not fit in my investment thesis.With retailing being so volatile right now, I'd rather invest in a Hibbet that has a 100 million + cash pile. It gives me more downside protection and possibly more value due to their consistent history of buybacks. The acquisition can very well be beneficial to Hibbet and I might miss out on some big upside here. For now however, I prioritize my margin of safety above potential upside. If Hibbet's share price keeps dropping however, it might be an attractive investment again for me. I just have to remember that the Margin of Safety increases if the share price drops without major news.
New Buys:
Excluding the three "buys and sells" during the quarter I added two new companies to my portfolio. Especially, the second one was an absolute bargain.
Bed Bath and Beyond (BBBY): A company I had been following when it was still trading in the $20 range. While their cash flow generation was great the Margin of Safety was just not big enough at $20. After another few disappointing quarterly earnings the stock dropped below $15 making it a bargain in my opinion. They have been steadily accumulating cash and the cash flow is still solid. The big problem with this stock is management. Their whole buy back policy of the last 5 years shows a lot about the short-term thinking by management. Their strategy to match Amazon in e-commerce pricing, shipping and quality has eroded their margins and seems like a questionable strategy at best. While the CEO has to be given credit for the rise of BBBY he has also is responsible for the current decline. With 12 billion in sales, solid FCF, a decreasing net debt position and the good franchise, a new management could turn this company around in a big way.
Newell Brands (NWL): Up till my investment in Newell I mainly invested in companies with market caps well below $1 billion. Surprisingly enough, Newell came up on my value screen. When the stock hit $17 it was pretty apparent that there was a value opportunity here. The big debt load they had acquired with overpaying for Jarden would usually have scared me out of an investment. But, it seemed like the market had absolutely no confidence in their proposed divesture program which will give them $10 billion in cash proceeds. After a deep dive in the brands they wanted to divest I was confident they could hit their target number. With $10 billion in cash Newell plans to reduce debt by $4.5 billion while using the rest for share repurchases. At an average $20 share price that would mean they could retire almost 60% of their shares. With operating cash flow for this year estimated at$ 0.9-1.2 billion Newell is hugely undervalued. Interest and dividend payments will be materially lower in 2019 boosting FCF for the remaining shareholders. It is currently a top three position in my portfolio and I hope to add to my position below $17. Furthermore, the lower the share price the more impact the buy backs will make. Whatever happens, I'm really confident this investment will prove to be very beneficial for my portfolio
Increased stakes:
CSS industries (CSS): The more this stock drops the better I like it. It is currently at an all-time low selling well below Net Current Asset Value. You can read my detailed article on the stock here. It is my largest position together with AEY and NWL and I will increase my position on further material drops. The Margin of Safety is just huge and the upside potential is big as well.
ADDvantage technologies (AEY):This stock keeps surprising me. The last few months a bunch of good news has been announced. Of course Mr. Market choose to… ignore this. The stock price hasn't moved materially while the company had two major announcements during the quarter. I bought more at prices between $1.20 and 1.30. After their fiscal 2018 results yesterday the stock did move up 10+%, but still is hugely undervalued. You can read my recent write-up to learn more about the company.
Beter Bed (OTCPK:BBEDF): The only Dutch company in my portfolio continued their share price decline in the beginning of this quarter. I happily added to my position. In October the new CEO laid out the turnaround plan propelling the stock materially higher for the first time in months. I'm confident in the value of their franchise. It is one of the most well-known companies in the bedding retail in the Netherlands. While their German operations account for more than half of the sales I believe the Benelux operations alone have a higher value than the current market cap. It has to be seen though how long it takes for the turnaround to take hold.
Portfolio Overview: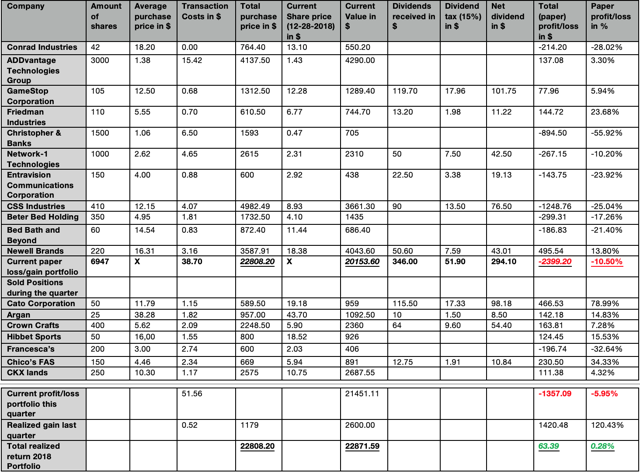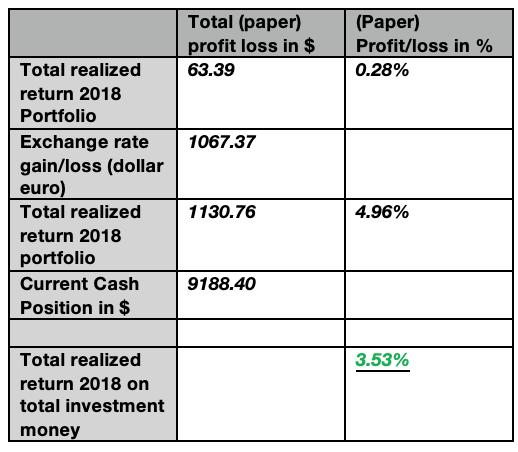 (Source: Table made by author)
As you can see the portfolio performance this quarter was less than stellar with most holdings. Just as the major indexes fell from September highs, so did my portfolio. I can't be bothered too much by these short-term fluctuations since most of my holdings are in stocks that are viewed very negatively by the market. For example, it would be a surprise to me if Beter Bed's stock price would rise significantly in the next 6 months since it is more likely their turnaround will at least take a year to play out. Knowing this, stock price fluctuations in the short-term are largely irrelevant to me. I'd rather see another 50% decline so I can add to my position than a 10% increase in stock price so I can feel better about a small paper profit. CSS, ADDvantage or Bed Bath and Beyond are other examples of these longer-term turnarounds. Quarterly performance will vary wildly in a value portfolio; to me it is the total return in the long-term that matters. Having said that, quarterly performance is still relevant in some cases. While it is not very useful to judge the whole portfolio based on a quarterly result, quarterly figures can indicate some mistakes I made during that three-month period.
All in all, for 2018, the portfolio itself basically broke-even. Only because I was lucky with the euro-dollar exchange rate the portfolio return was 5% this year. But, since I had a lot of excess cash my actual total return was 3.5%. Still an overperformance of the DJIA and S&P 500 which are down around 7% YTD. It is not a memorable performance, but at least my first year of investing will not be my worst I presume. Although enough mistakes were made by me, I'll discuss a few.
Mistakes:
In the first update I discussed a mistake regarding 'trading' when buying or selling a stock. Instead of focusing on the big picture regarding the valuation I tried to gain a few pennies by putting in a low-ball offer (for example with Office Depot at $2 a share). Instead of learning from this mistake I did it again twice this quarter. Most of all showing that I have a long way to go in becoming a more rational investor. The first example was Friedman. When the stock hit $11 a share I started to feel this was a reasonable price to sell my position. Instead of doing this right away after having made up mind I tried to get a selling price of $11.05 so I could make a staggering $5.50 more. Of course the stock never hit this price anymore and it is now below $7 a share. While I think the current share price is too low and it will come closer to the 11 once again, it is of course a stupid mistake to make. Instead of just pocketing the $11 a share and moving on to other opportunities I was greedy and for now it has cost me a lot more than the $5.50 I hoped to gain. With Newell I fell for this mistake once more when NWL was trading close to $15. Even while I had a large position already and I was certain of the big undervaluation. Instead of just buying more at $15.15 a share I put in an order for 15. It of course never hit that price and after the quarterly results I don't think the stock will come close to 15 anymore. Fool me once shame on you, fool me twice shame on me. Now I just have to make sure the third time doesn't happen. Because I'm not sure what expression to use then.
Another thing I'd like to discuss under this header is more a combination of a mistake and a new insight. In my first update I stressed the importance of a big margin of safety. I think investors can distinguish a Margin of Safety between an asset based MoS (below book value, below NCAV) and a cash flow MoS. The former is way easier to calculate than the latter of course. Assets held on the balance sheet are not too hard to appraise properly. Inventory and PPE probably being the most arbitrary. A MoS based on Cash Flows is much more difficult to value properly as I experienced this quarter. If these Cash Flows decline way more rapidly than you thought your MoS can erode pretty quickly. I experienced this during the quarter with Francesca's. Being a solidly profitable company the last few years (Operating Cash Flow in excess of 70 million in 2016) I firmly viewed a share price of $3 as a huge undervaluation. This valued the company at around 100 million. With a big cash position, positive cash flows and their profitable history I thought I was getting a bargain. As I discussed I was completely wrong. From now on I'll increase my required Margin of Safety when I value a company purely based on future cash flow.
Conclusion:
Wrapping up this update, I view this year as a positive achievement. I'm pleased with my current holdings and their future potential. My relative performance was better than the major indexes, although my absolute performance did not meet my ultimate goal of decent capital appreciation. But, in the end the things I learned this year are the most valuable to me. I feel better equipped for 2019 and I hope to improve my knowledge even more the upcoming year. Thank you all for reading, have a great 2019 and I'll update my portfolio again in March.
Disclosure: I am/we are long NWL, GME, AEY, FRD, CBK, NTIP, EVC, CSS, BBEDF, BBBY. I wrote this article myself, and it expresses my own opinions. I am not receiving compensation for it (other than from Seeking Alpha). I have no business relationship with any company whose stock is mentioned in this article.
Editor's Note: This article covers one or more microcap stocks. Please be aware of the risks associated with these stocks.