2018 was certainly a rollercoaster year for Project $1M. The overall objective of the portfolio is to turn an initial capital base of $275,000 that was deployed in late 2015 into $1,000,000 by the end of 2025. This will be done primarily through buying and holding high-quality businesses, helping returns compound, and minimizing tax and trading costs
Unlike the strong performance of 2017, which saw a 30% return, Project $1M barely managed to eke out a positive return in 2018, delivering a positive 2.5% return, which was still enough to provide a 7.5% outperformance over the S&P 500, my benchmark for this project. More importantly, the valuation of the Project $1M positions is now the cheapest that they have been for the last few years. I would argue that as a whole, the businesses are in better health than they have ever been in the context of revenue growth, returns on invested capital, and dominance of their respective markets. This should provide a good springboard for long-term growth over the next few years.
My broader investment focus with Project $1M is the purchase and long-term hold of a clutch of high growth, cash-generating businesses that are powered by secular tailwinds. The advantage of these secular tailwinds should be to allow the selected businesses to grow under any economic conditions that may be experienced over the life of the Project $1M portfolio (a decade or more).
Markets may move the prices of Project $1M businesses around, here and there, depending on sentiment; however, I am focused on the long-term returns on invested capital that my businesses can generate and the opportunity to deploy that invested capital at high rates of return over a long-term horizon. For those that are new to the Project, here are Part 1, Part 2, and Part 3 of the initial investments in the portfolio
December brings collapsing stock prices
December continued the strong bouts of high volatility that has characterized the last quarter of 2018. Project $1M was just as impacted as the broader market. Surprisingly, performance versus the overall S&P 500 index was a little better. For December, most of my Project $1M holdings were down, with the exception of Atlassian (TEAM), Pro Medicus (OTCPK:PMCUF), and Nanosonics (OTCPK:NNCSF). Holdings such as Amazon (AMZN), MercadoLibre (MELI), and Alibaba (NYSE:BABA) were all down significantly and experienced heavy double-digit percentage declines. I'm not particularly concerned about the volatility, nor the performance in December. Rather, I'm now more optimistic than ever about the risk-reward trade-off provided by the portfolio and the improved valuation profile of the portfolio.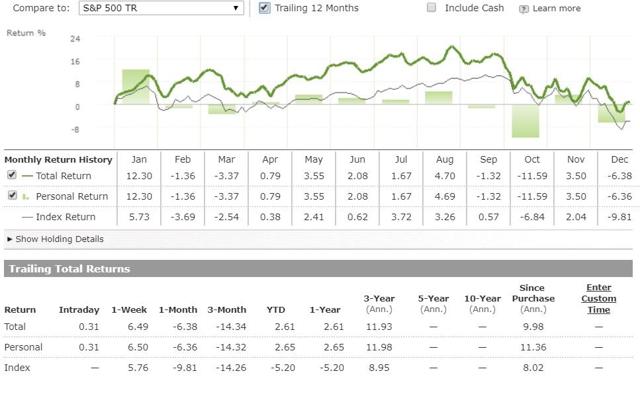 Philosophy on adding new positions
I generally look for reasons not to add new positions to the portfolio. I'm fairly content with the volume and quantity of what I've assembled. However, many of the core holdings of Project $1M are currently in a bear market, which starts to get my attention to evaluate new positions or add to my existing holdings. On balance, what I'm ideally looking for in making a commitment to add new capital is the ability to purchase, at a significant discount to fair value, a business that is riding a secular growth trend that can compound capital at above-average rates of return for extended periods of time and which will become more dominant with increased market penetration. When I see such a situation present itself, I want to take a meaningfully overweight position in the portfolio.
I'm looking for the double play here of a near-term valuation uplift which will "fairly value" a high-quality business back to an appropriate multiple and a moat protected ability to compound capital return, which will drive long-term capital appreciation. For the first time in the last 18 months or so, I've found something that I believe fits these criteria for me.
Adding to my Facebook position
Facebook (FB) doesn't seem to be able to catch a break recently. Each week brings another negative news story and this is something that I expect to persist for at least the next 6 months. Having initially braved the negative news flow around the influence of Russia in US elections and failing to safeguard user data sufficiently, most recent headline risk has centered around accusations that Zuckerberg and Sandberg failed to take sufficient action when they were alerted to security concerns internally and even that they engaged external parties to go after prominent and vocal detractors like Soros.
In spite of all this, there is no evidence that the news headlines have had any impact where it matters most, on user engagement and advertiser interest. The "delete Facebook" campaign encouraging users to delete their Facebook accounts early in the year had no material impact on user retention. User engagement on the Facebook platform continues to remain strong. Facebook's mobile app users continue to spend almost 1 hour a day on Facebook, significantly more than any other mobile app by quite some margin.
Advertiser interest in Facebook as a media platform also remains strong. There is no other platform other than Google (NASDAQ:GOOG) (GOOGL) that allows advertisers to reach such large cohort of users as Facebook allows on a global scale. 64% of social media marketers plan to increase spend on the Facebook platform next year. If Facebook is having an advertiser problem as a result of negative headline coverage, it isn't showing in the numbers.
In any case, how does Facebook's current situation fit my philosophy of adding new capital? I view Facebook's current situation as temporary and fixable. For the reasons that I mentioned above, the data privacy issues that Facebook finds itself in are not likely to do any enduring long-term damage to Facebook's customer value proposition. The essential need and desire for people to communicate with each other and share aspects of their daily life with those close to them are still most effectively met by Facebook and its related properties (Instagram, WhatsApp). Advertisers will always be where the eyeballs are.
Thus the sustained share price damage that has occurred recently will likely resolve itself over a matter of time. I find good parallels in the predicament that Facebook finds itself in with the BP (BP) Gulf oil spill in 2010. In both cases, negative headlines over a 3-6 month period with loud calls from political leaders from both sides of politics for regulation resulted in an almost 50% drop in share price over 3 month period. Penalties continued to be litigated for many years thereafter. Ultimately, BP proved to be able to move past the issue as did the stock price. With the Facebook stock down almost 40% from its $217 peak at the $130 level, I also similarly believe that most of the share price damage has been done and the stock is offering good value.
I find a compelling margin of safety in Facebook's current share price. On a forward PE ratio of ~17x earnings, there is an implicit valuation discount for a business that is analysts expect to grow earnings almost 20% annually over the next 5 years. A business that will grow earnings at better than market rates over a sustained period will eventually also be rated at a premium multiple to market.
Once the valuation discount has been overcome, I believe Facebook will continue to be able to demonstrate superior share price growth. Facebook has been able to demonstrate a return on equity and invested capital at north of 20% in the last few years. While expenses in beefing up compliance and security may depress these returns temporarily over the next few years, I believe Facebook will be able to continue to earn 20%+ rates of return on invested capital over the medium term.
As Charlie Munger has been apt to observe on occasion, over the long term, a stock will generally earn a return that correlates with the business that underlies it. Grabbing a business that can deliver such a high return on invested capital at an initial discount should additionally provide a nice tailwind for share price appreciation.
I increased my Facebook holding by almost 50% in December at a price close to $133 a share. I may opportunistically increase the weighting further if we see material share price falls from this level. I disposed of my position in REA Group to make this purchase.
Concluding Thoughts
Project $1M ended December with a balance of close to $375k. This is quite some way down from this highs of $437k that was reached at the end of September and only barely above the closing balance for 2017 of $365k. As I mentioned, I've always been optimistic about the health and longevity of the Project $1M businesses. For the first time in several years, I'm additionally excited by the valuation levels that many of my businesses are currently trading at. Project $1M has demonstrated compounded returns of just over 11% annualized in the 3+ years since inception, comfortably outperforming the S&P500 by almost 3% points over this period. While returns are currently below where they should be to achieve the long-term capital goal, I'm optimistic that share price performance will better reflect underlying business performance over the next few years. While 2019 will continue to bring elevated volatility to the portfolio, I expect to be able to deliver a 12-13% return on my capital in the new year.
Disclosure: I am/we are long ALL STOCKS MENTIONED. I wrote this article myself, and it expresses my own opinions. I am not receiving compensation for it (other than from Seeking Alpha). I have no business relationship with any company whose stock is mentioned in this article.