This article is a special contribution article of Prof. Grant Henning based on his published research material of the BLM technical theory. Additional publications are available to members of Value & Momentum Breakouts.
Winning Bounce/Lag Momentum Stocks For Week 1 Of 2019
Everybody knows that the fourth quarter of 2018 was terrible for stocks. The final week, however, saw a slight rebound. On Tuesday, the DOW set a one-day record by gaining over 1,000 points. It was also encouraging to see the major indices start negative and finish positive several times. That is a very bullish pattern and is opposite the familiar pattern of the past couple of months. It is also encouraging to note that, even in bear markets, winning stocks can be found.
Performance of Last Week's Picks
Last week, the three BLM picks were Xbiotech (XBIT), Materialise NV (MTLS), and NF Energy Saving Corp. (NFEC). Although the first two stocks registered losses on the week, NFEC gained over 39 %, so that overall gains for the three picks were approximately 12.8%. During the same period, the S&P 500 Index managed to gain only about 0.9% by comparison.
My advice in present volatile market conditions is to sell these picks if they drop in price more than 2% from your entry point. By following this rule of thumb, your gains on the week might have reached 35%. Of course, past gains are no guarantee of future performance.
A Look at Next Week's BLM Picks
For the first week of 2019, my algorithms have identified WD-40 Company (WDFC), SMTC Corporation (SMTX), Companhia Energetica de Minas Gerais (CIG), Ra Pharmaceuticals, Inc. (RARX), and NFEC as the best stocks to consider, in that respective order. Further information on these stocks is given in the charts below. And finally, a word of caution will be offered.
WD-40 Company
You can tell from the chart below that WDFC is currently showing upward momentum. The company markets household products, including maintenance, homecare, and cleaning products, along with problem-solving solutions in over 177 countries worldwide. Technically, it has just experienced an MACD crossover. Its relative strength of 60 is above its money flow index of 54, showing lots of room to run. It recently raised its dividend from $0.54 to $0.60 per share and was given a new analyst buy rating. Currently its BLM score is 50.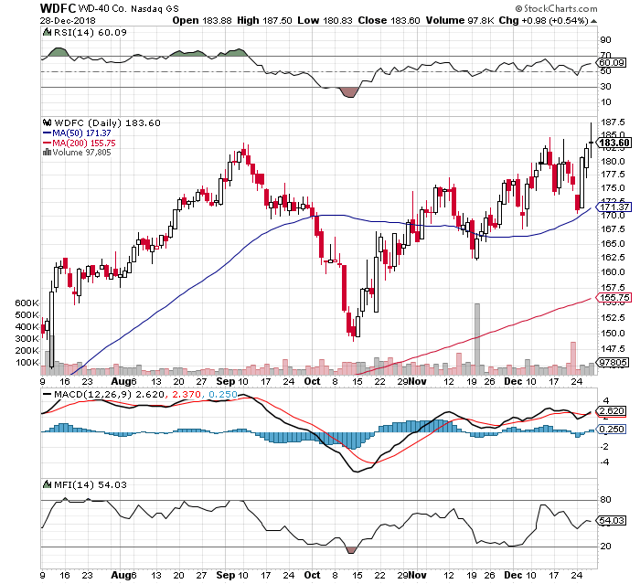 SMTC Corporation
As you can see in the chart below, this stock also is showing positive upward momentum - even in a challenging bear market. This Canadian-based company provides electronics manufacturing services, including printing circuit board assembly for markets in the US, Mexico, and China. Technically, the stock is approaching a new 52-week high. It is experiencing a positive MACD crossover pattern, positive upward RSI and money-flow movement, and has just had a new analyst buy recommendation. Currently, its BLM score is 45.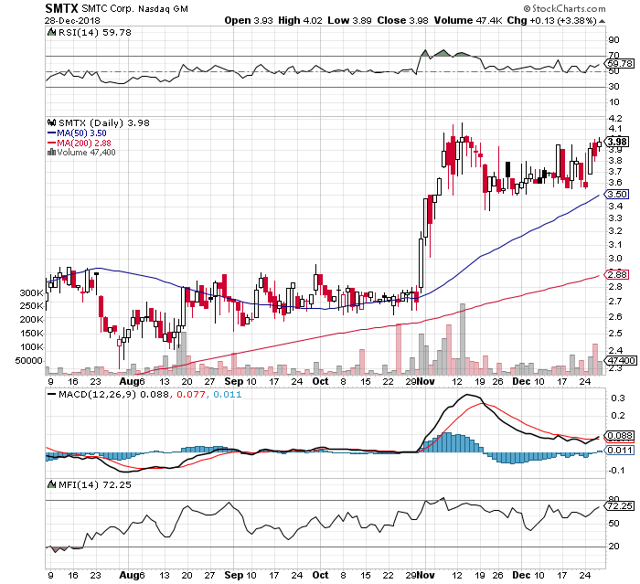 Companhia Energetica de Minas Gerais
This company is involved in the distribution of electricity, gas, and telecom services in the rapidly expanding markets of Brazil. You can see in the chart below that it is regularly posting new 52-week highs, and it has been relatively impervious to the recent equity market downturn. Technically, it is experiencing a positive MACD crossover, and it is growing in relative strength and money flow. Its BLM score at present is 40.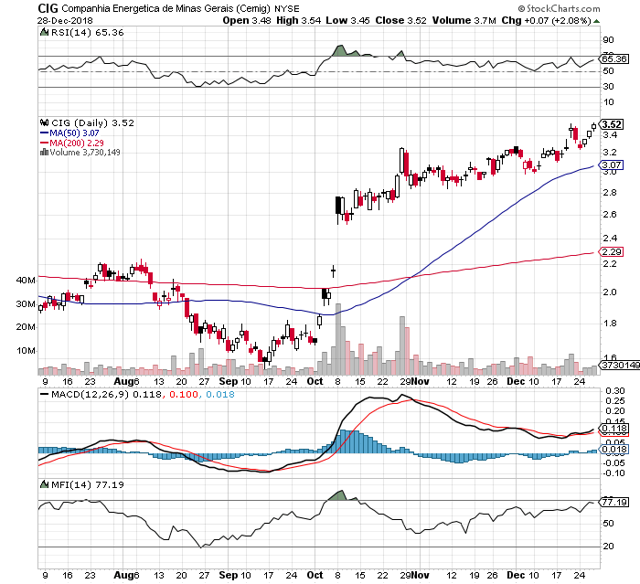 Ra Pharmaceuticals, Inc.
Ra Pharmaceuticals is a US biopharmaceutical company focused on the development of products for treatment of certain immune reactions such as those involved in the rejection of organ transplants, and the treatment of paroxysmal nocturnal hemoglobinuria (PNH). The stock has benefited from positive analyst recommendations and from hedge fund acquisitions of its shares. Technically, the stock is experiencing a recent positive MACD crossover, and it is approaching new share-price highs. It currently has a BLM score of 35.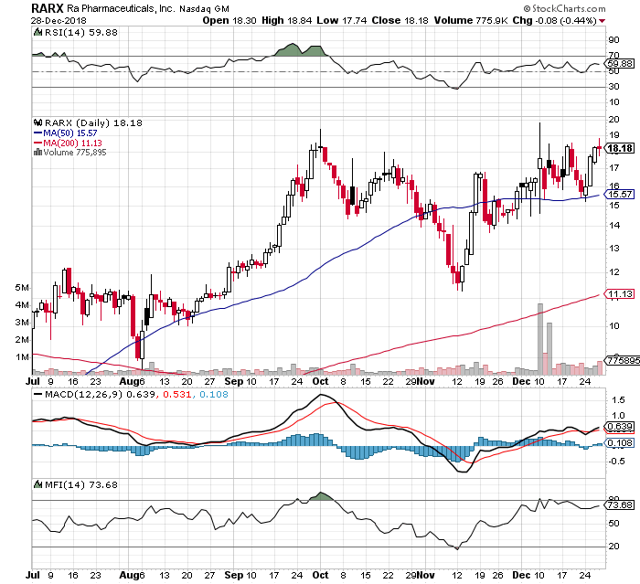 NF Energy Saving Corp.
NF Energy Saving Corp. is a China-based company focused on the production and sale of energy flow equipment and consulting services for electricity production, petrochemical, metallurgy, steel, cement, and heating supply industries. You can see from the chart below that the stock has experienced rapid growth with a lot of volatility recently. It was a BLM pick for last week also, and it subsequently gained 39% in share price. Technically, it has just experienced a positive MACD crossover, and its relative strength and money flow indices suggest that it still has room to run. Because of its volatility, it is not marginable at some brokerages, and it involves special risk. For those reasons also, its current BLM score stands at 30, which is currently only the entry threshold.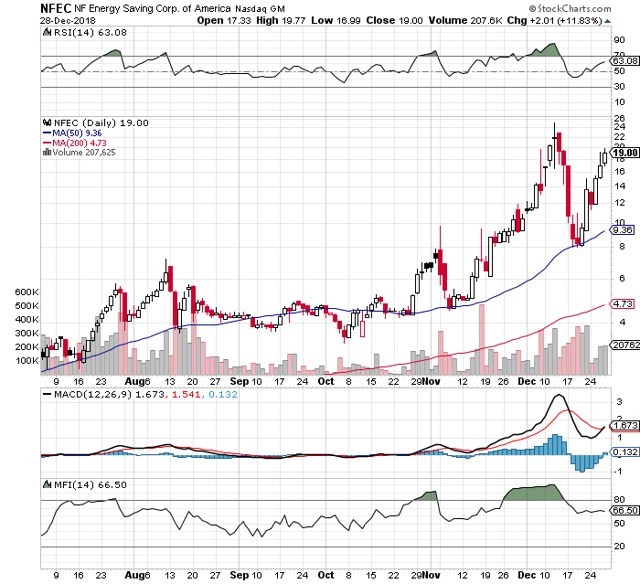 A Final Word of Caution
For me, the first half hour of trading is especially significant. I normally do not buy unless there is evidence of early buying volume. And I have no problem selling if the stock falls more than two percent below my entry position. Here, the analogy that comes to mind is the biblical metaphor of "hind's feet in high places." Opening and closing positions in a volatile market requires special feet to enable one to jump from precipice to precipice without taking a fatal fall. Accordingly, one must be quick, nimble, and able to spot solid positions for placing one's weight while maintaining balance in the face of sudden and unanticipated winds.
My last article is available at the link below, and each set of weekly stock selections are updated on the live tracking spreadsheets and V&M Dashboard available to members under the Tools section.
Bounce/Lag Momentum - Winning Stocks In A Market Downturn
I wish you every success as you approach the turbulent equities markets this coming week.
Professor Grant Henning, Ph.D. (Ret)
Disclosure: I/we have no positions in any stocks mentioned, but may initiate a long position in WDFC, CIG, RARX, NFEC, XBIT, SMTX, MTLS over the next 72 hours. I wrote this article myself, and it expresses my own opinions. I am not receiving compensation for it (other than from Seeking Alpha). I have no business relationship with any company whose stock is mentioned in this article.