Trendy and rising athletic apparel company Lululemon (LULU) has had a big 2018. Year to date, shares are up more than 50%. But at one point in time, they were up more than 100% YTD. Over the past few months, LULU stock has shed 25% due to mounting concerns surrounding a sales slowdown, weak holiday results, and a looming U.S. recession.
We identify this sell-off as grossly overdone and believe it's a buying opportunity for medium- to long-term investors. Our research indicates that the Lululemon brand remains as hot as ever, and that holiday quarter numbers should be far above consensus. Longer term, we note that Lululemon has significant growth potential in the men's, footwear, and international markets, and as such, is still a long way away from turning into a "low-growth company."
Altogether, we think there are two reasons to buy LULU stock here. One, it should get a near- to medium-term boost from much better-than-expected holiday numbers. Two, the stock should stay on a long-term uptrend due to its ability to become a company that legitimately rivals Nike (NKE) and Adidas (OTCQX:ADDYY) on a global scale. Both of those athletic apparel giants have $40 billion-plus market caps. Lululemon has a sub-$20 billion market cap, giving the stock ample runway in a multi-year window if growth trends remain healthy.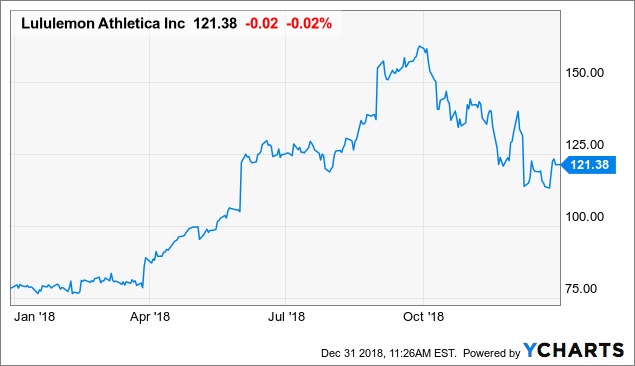 First, let's discuss how the company got here. At its core, Lululemon was a yoga apparel retailer for upper-income women in the yoga world. That was a niche market. But it dominated that niche, developed a high-quality name for itself, and established itself as a trendy brand.
Lululemon leveraged its high-quality and trendy brand status to successfully expand its product portfolio. It started to make athletic apparel that stretched far beyond the yoga world, including multi-purpose yoga pants, athletic shorts, tops, jackets, sweaters, and so on and so forth. The company also plunged into the men's and footwear departments. Broadly speaking, Lululemon has "widened out" its product portfolio and reach over the past several years, and has found great success in doing so.
Just look at the chart below for proof of market share gains. Over the past three years, as Lululemon has branched out and become a true athletic apparel company, sales have risen nearly 50%. During that stretch, no other major athletic apparel company has posted growth above 40%. Even red-hot Adidas grew sales by just 33% during that stretch, while Nike's sales grew by less than 20%.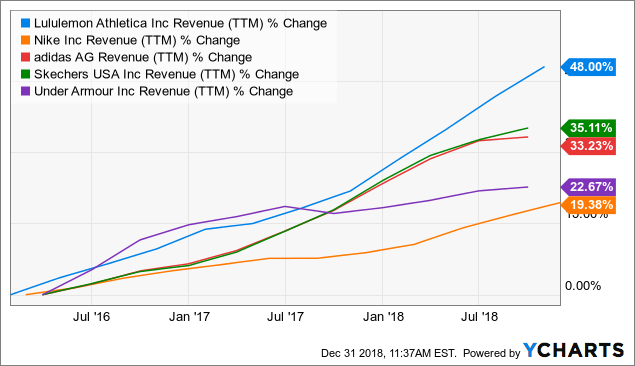 The late 2018 plunge in LULU stock has to do with investor caution regarding this era of robust market share gains coming to an end. Why? Management implied as much. The last time the market heard from Lululemon management was on the third-quarter earnings call. On that call, they gave a dour holiday quarter guide, calling for comparable sales to rise in the high-single to low-double digit range, or roughly 10%, versus nearly 20% comparable sales growth in each of the first three quarters of 2018.
That's a big slowdown, and it sparked fears throughout the market that a weakening global consumer economy and renewed Nike strength were slamming the brakes on the Lululemon growth narrative. LULU stock has consequently dropped 25% over the past several months.
But the concerns which sparked this sell-off seem overstated. Namely, Lululemon is still the hottest brand out there, and the company had a very strong holiday season.
We visited several Lululemon locations throughout California during the holiday shopping season. No matter what day it was (Black Friday, mid-December, or the few days after Christmas) and no matter what time it was (opening, lunch or closing), the stores always were packed. But don't take our word for it. A simple search on Twitter for "Lululemon store" reveals tweets like this, this, this, and this, all of which paint the picture of the company's stores across the nation being packed this holiday season. Meanwhile, Google Trends show that domestic and global digital search interest related to Lululemon spiked to all-time highs this holiday season. Data from web analytics tracker SimilarWeb also shows that Lululemon.com gained share this holiday season. As if all that data wasn't enough, Wedbush, Wells Fargo, Citi, and Stifel all sounded the bull horn on LULU stock in December.
Overall, it seems increasingly clear that Lululemon remained the hottest athletic apparel brand this holiday season, against the backdrop of retail's best holiday showing in six years. That means management's conservative holiday quarter guide will ultimately prove to be conservative. Considering that weak guide is the culprit behind this recent sell-off, actual Q4 results blowing that guide out of the water could be the catalyst which ends the sell-off and sparks a rally.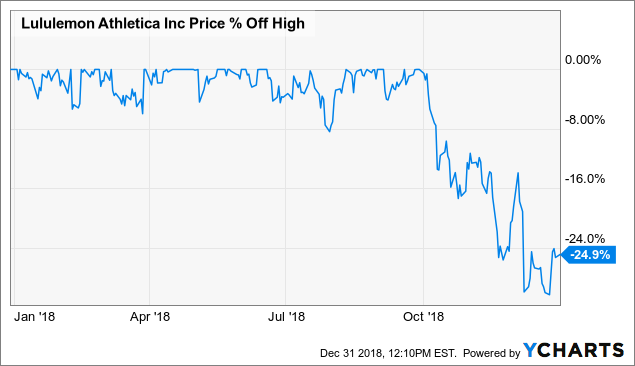 That's the near-term bull thesis on LULU stock. But the long-term bull thesis is actually more compelling.
At the current moment, Lululemon is the smallest of the "Big 5" in athletic apparel in terms of sales. The company has just $3 billion in trailing-twelve month sales, versus ~$5 billion at Under Armour (UAA) and Skechers (SKX), ~$26 billion at Adidas, and nearly $40 billion at Nike. But Lululemon is also the fastest grower in this space (see chart above with trailing three-year sales growth), and it doesn't have much of a presence in the footwear, men's, or international categories, all three of which represent large sales chunks for each of the other four big athletic apparel companies.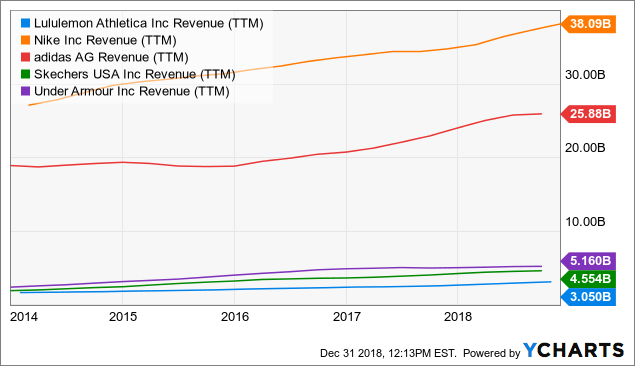 If Lululemon continues to expand into the footwear, men's, and international categories, there's potential for this company to become much, much bigger than it is today. According to Piper Jaffray's Taking Stock With Teens survey, Lululemon is second to only Nike in terms of preferred athletic clothing brands among all female teens. But the brand doesn't appear in the top 10 list of preferred brands for men's, doesn't have a footwear presence, and has limited international presence.
That being said, the men's business is growing rapidly (150% growth in men's outerwear last quarter), the international business is red-hot (61% growth in Asia last quarter and 55% growth throughout EMEA), and there's rising interest in the Lululemon's nascent footwear business.
Thus, there's reason to believe Lululemon can at least partially replicate its women's business success in the footwear, men's, and international categories. If so, per Piper Jaffray's survey, one could reasonably see this company becoming as big and as popular globally as Adidas, and perhaps even more so. Today, Adidas is worth $40 billion and Lululemon is worth $16 billion. Thus, LULU stock has a realistic long-term pathway to more than double from current levels.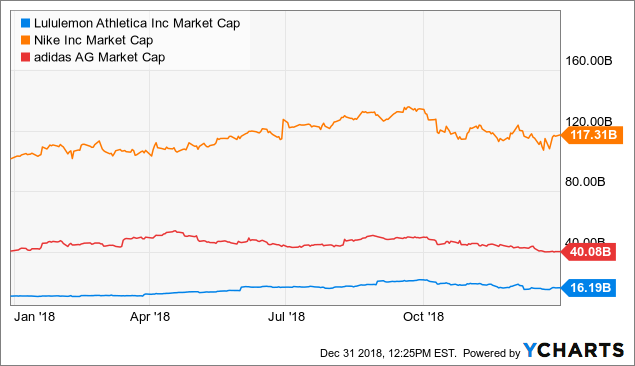 In the big picture, we think recent weakness in LULU stock is nothing more than a buying opportunity. Near-term trends remain favorable, and robust holiday numbers should spark a rebound rally. Meanwhile, long-term trends also remain favorable, and the long-term trajectory implies huge growth potential for LULU stock in a multi-year window.
Altogether, LULU stock looks like a solid pick-up here, both as a near-term upside trade and a long-term winner.
Disclosure: I am/we are long LULU, NKE, SKX. I wrote this article myself, and it expresses my own opinions. I am not receiving compensation for it (other than from Seeking Alpha). I have no business relationship with any company whose stock is mentioned in this article.