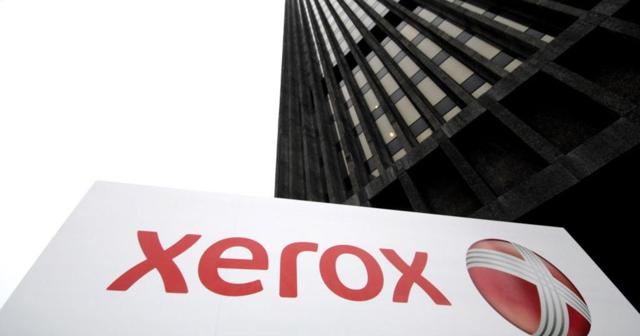 Xerox (XRX) stock has fallen approximately 50% off of 52-week highs and was one of the worst performers out of all small-cap stocks during 2018. Even though the company's sales continue to struggle, I believe the stock has entered "Buy" territory based on the following:
Cost-cutting and reorganizations have led to year-over-year expense savings. This has made Xerox a more nimble operator and improved operating margins and lowered leverage.
A collapsing stock price has increased the company's dividend yield to over 5%, which is well-supported by free cash flow.
Xerox stock price looks undervalued based on multiple valuation approaches and Wall Street's expectations.
Financial Snapshot
Xerox's revenue has fallen by 3% during 2018, which has been a consistent trend over the past couple of years. The good news is the company has been able to combat this by cutting costs and eliminating underperforming business units, which has resulted in operating margin improvement since 2016. This is an important trend to watch and is a strong indication the company's worst times are behind it.

Data Source: Xerox's SEC Filings
Note - Xerox's 4.7% revenue decline in 2017 was driven by a 6.9% decline in equipment sales.
Note - Xerox's large decline in 2017 income from continuing operations included after-tax costs of $723 million related to the amortization of intangible assets, restructuring costs, and other discrete adjustments, including the $400 million impact of implementing the Tax Act. Adjusted net income from continuing operations was $915 million in 2017, which was similar to the prior year.

Note - The large loss in 2016 was mainly attributed to the spin-off of Xerox's BPO business into a separate company, Conduent. This resulted in a pre-tax goodwill impairment charge of $935 million, which was recorded under discontinued operations.
As you can see by the table below, Xerox has made big strides over the past 5 years to improve its balance sheet. Net cash balance has improved by $2.2 billion, and the current ratio is close to 2x. This is another strong indicator that the company is on the right track despite its revenue performance.

Dividend Analysis: 5.09% Annual Yield
Xerox has had a rocky dividend history, which goes all the way back to 1971. The dividend was removed in 2002 (then reinstated in 2007) and has been cut multiple times. With that being said, the dividend is currently in good shape. A yield of 5.09% and a low payout ratio of only 31% this year is compelling (the payout ratio has averaged 37% since the beginning of 2015). Xerox basically needs to produce $300 million worth of free cash annually to support its dividend, which I don't think the company should have a hard time doing for the foreseeable future.

Note - Dividends paid includes common and preferred dividends.
Note - The large reduction in 2017 free cash flow was a result of a $658 million pension benefit contribution increase from the previous year and a $529 million increase in receivables.
Xerox Valuation Analysis
Given my analysis below, Xerox is attractively valued relative to peers based on Forward P/E and EV/FCF. Keep in mind that the company's long-term growth is likely negative based on historical trends, at least for the next couple of years (I couldn't find any reliable source that listed its growth rate). In my opinion, the discount relative to peers is enough to offset these growth concerns.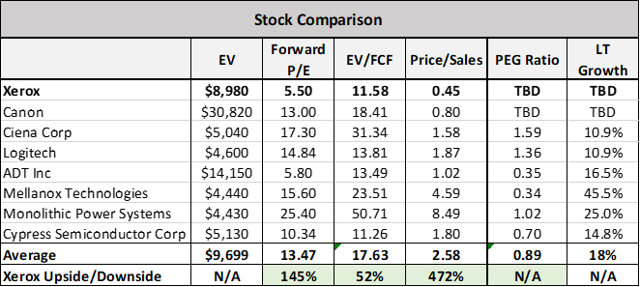 Enterprise Value, Forward P/E, Price/Sales, PEG Ratio, and LT Growth provided by Yahoo Finance and Reuters.
EV/FCF provided by YCharts.
Xerox also looks undervalued according to this discounted cash flow model, which has a number of conservative assumptions. First, I've used a beta of 1.5x, which considerably increases the required annual rate of return. Second, I've assumed almost no long-term growth. Last, I've assumed Xerox produces $650 million in free cash flow during 2019 (consider that the company has already produced this amount through 9 months of 2018).

Risk-Free Rate - I used the yield on a 30-year Treasury bond.
Equity Risk Premium - This figure is calculated every month by Aswath Damodaran, a Stern Business School Professor.
Required Rate of Return - Calculated by multiplying the Equity Risk Premium by Beta and then adding the Risk-Free Rate.
Value of Equity = CF1/(r - g).
CF1 = 2019's estimated free cash flow of $650 million.
"r" is the required rate of return, and "g" is the long-term growth rate.
Wall Street's Opinion
Xerox isn't the most widely covered stock, so I'd take these comments with a grain of salt. According to MarketWatch, there are no negative ratings on the stock, with all analysts maintaining at least a Hold rating. The average target price is $32.88 per share, which represents 66% upside potential based on the current price of $19.75.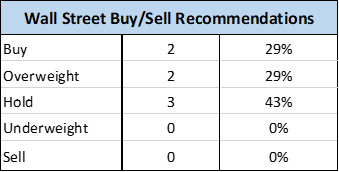 Conclusion
Xerox stock hasn't traded this cheap since the beginning of 2013. The company has certainly had its struggles since then, but difficult times have forced it to cut costs and discard underperforming units. This should help the company navigate what's likely to continue being a difficult market for the next few years. With that being said, a Forward P/E of 5.5x and EV/FCF Ratio of 11.6x significantly undervalue the stock and provide a good opportunity to begin opening up a small position. This opinion is supported by my discounted cash flow model (22% upside projected) and Wall Street's opinion (66% upside expected).
Disclosure: I/we have no positions in any stocks mentioned, and no plans to initiate any positions within the next 72 hours. I wrote this article myself, and it expresses my own opinions. I am not receiving compensation for it (other than from Seeking Alpha). I have no business relationship with any company whose stock is mentioned in this article.