We write our 2019 Market Outlook in a very particular market context. U.S. equity averages suffered one of the worst months of December on record, with the S&P 500 down more than -20% from highs. Ostensibly, the Federal Reserve has turned hostile and the global Trade War is far from being resolved. Biased by the equity market sell-off, the vast majority of commentators are now calling for a deep Bear Market and recession. Equity sentiment indicators are at the lowest levels since the Great Financial Crisis. It's easy to give in to the pessimism, especially if one believes that selling is justifiable based on extreme valuations resulting from nine years of zero interest rate policy (ZIRP) and quantitative easing (QE). However, selling into a 500-point drop in the S&P 500 in Q4, on little change in economic or corporate fundamentals, is essentially giving into one's emotions. And we already know that professional traders and algorithmic traders make their living of off taking money from the "weak hands" (retail and individual investors). High-frequency trading and inverse algos are making their market in the stock trade. However, if we are indeed in a long-duration Bear Market in U.S. equities, lots will happen before the ultimate equity market bottom is put in, perhaps not until 2020. The Trade War will be resolved, more company share buy-backs will occur, and the Fed will reverse course, ending quantitative tightening (QT), providing a short-term leg higher in equities. Perhaps even the U.S. president will be impeached and removed from office. In sum, equities markets could see a series of powerful moves in either direction from this point. Investors must avoid being dogmatic in 2019, keeping an open mind and remaining attentive to indicators of economic strength.
Forecasting how 2019 will play out may be pure guesswork under the current circumstances. As we begin the year, there is a shut-down of important U.S. government services and Trump's political fate (now in the hands of a Democratic Congress) is even up in the air. Military conflict seems inevitable in the Middle East, the end of the tariff war is not yet in sight, most market participants are calling for a recession, Federal Reserve policy seems confused, and OPEC production cuts may be forthcoming, just to name a few of the uncertainties. With that caveat, here is our current vision of what may play out on markets in 2019.
We are presenting our 2019 Market Outlook in four parts:
I. 2018 Market Review and Economic Outlook (below)
II. Bond & Yield Outlook (forthcoming)
III. Currency and Commodity Forecasts (forthcoming)
IV. Equity Market Strategy for 2019 (forthcoming)
2018 Market Review
As we say goodbye to 2018, we believe that the year will most be remembered for marking the end of one of the greatest bull runs in U.S. equity history. Surely the unconventional behavior of U.S. President Donald Trump will also be instilled in financial market history. From claiming credit for pushing the equity bubble to its peak (remember Trump's boast, "How's your 401(k) doing?" during the January stock run-up), to his pre-announcing U.S. monthly Non-Farm Payrolls data on Twitter, to his Trade War (which, unless one believes Trump, is now hurting U.S. and international stocks and the global economy), and finally to his rage against the machine (the Federal Reserve), overtly criticizing the Fed for rate hikes and calling for the ouster of his own selection, Jerome Powell, as Fed chair. We saw U.S. long rates finally rise, with the 10-Year T-Note yield above 3.20%, before swiftly coming down as fears of an inverting yield curve and recession seized market participants.
Our 2018 calls from last December 2017 were not too far off the mark. For equities, we were distrustful of the U.S. market, as we wrote:
While betting on the U.S. equity market is the status quo allocation decision, the risk/reward ratio for the trade gets less attractive each day. Our main concern is the degree of speculation in the market. Maybe the U.S. economy reaches 6% annual GDP growth and earnings justify the valuations currently attached to stock prices. But the onus is now on the speculators. If the scenario imagined by those piling into U.S. stocks today does not completely materialize, equity prices will come down fast."
Although U.S. equities did continue higher through the 3rd quarter, the 4th quarter Bear Market proved us right before the close of the year. We were also very cautious on Europe and Japan, "developed equity markets we would avoid". The DJ Stoxx 600 finish 2018 down -13.6% while the Nikkei was down 12.2%.
We liked Emerging Markets for their undervaluation and relatively under-owned status. EM markets will finish the year down about -16%. We were too early with the EM call, but still believe global equity leadership will swing from the U.S. to less-inflated EM stocks (as detailed in the Equity section below).
Our rate outlook was spot on. We wrote, "…in this context, we expected the U.S. 10-year yield to at least hit 3.0% in 2018". We also expressed an interest for EM bonds last December. Local currencies EM bond price indexes finished the year down about -13% while hard currency EM bond indexes were down -11%. Adding back the 6% annual dividend, EM bonds still proved to be a better bet than most equities classes for the full year.
On currency markets, we expected short-term Dollar strength on the Trump tax cuts, which we advised selling into. The Dollar Index indeed gained in the first half of 2018, but the Dollar has thus far held onto these gains. The Dollar Index is set to finish the year up over +6%.
On commodity markets, our oil price forecast ("for 2018, we anticipate WTI to average $65 within a range of $55 to $75") looked good until the fourth quarter. We saw gold reaching $1400/oz in 2018, which proved to be too ambitious given the firmness of the dollar. Gold traded briefly above $1350 earlier in the year, but came off in Q3, although the yellow metal is returning to $1300 as we close out the year.
Macroeconomic Outlook 2019
The U.S. economic expansion is entering its 10th year, making the recovery which began in 2009 the second longest on record. On one hand, we want to keep an eye on the exit door. On the other hand, speculating on the end of a late-cycle economic expansion can leave your portfolio mispositioned should the expansion drag on.
Among the most reliable economic indicators, including the ISM PMI, other regional business survey data, and the Leading Economic Indicators ((LEIs)), any calls for an impending recession are crystal ball, speculative guesses. This is not to say these guesses may not be right, but rather the "writing is not yet on the wall" for an impending recession in 2019.
Both the Manufacturing and Service ISM PMIs have yet to break-down.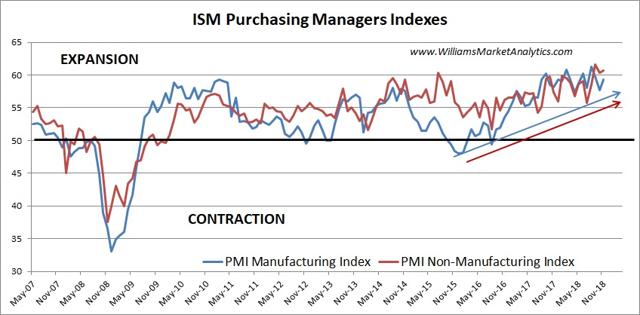 Source: Federal Reserve Economic Database (FRED)
We have never seen the S&P 500 (NYSEARCA:SPY) down on a year-to-year basis without the ISM PMI moving into contraction (below 50).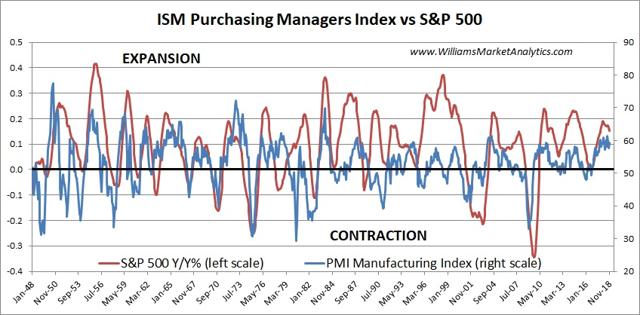 Sources: Federal Reserve Economic Database (FRED), www.eodhistoricaldata.com
The Index of Leading Economic Indicators (LEI) is also holding up, for now. The LEIs is an index of economic indicators compiled by the Conference Board. These variables have a good track record of predicting economic downturns (although they have also falsely predicted some downturns which did not occur). Looking back, however, we have never had a significant economic slowdown without the year-on-year change in the LEIs going negative. The ten forward-looking variables in the index include items such as unemployment claims, manufacturing shipments and orders, housing starts, interest rate spreads, M2 money supply, PMI indexes, the S&P 500, and consumer sentiment. We are quick to point out the stocks are themselves a leading indicator for the economy. As such, the plunge in stock prices has brought out many calls for recession. However, the overall LEI index has yet to turn down. The chart below shows the year-on-year change on the LEI.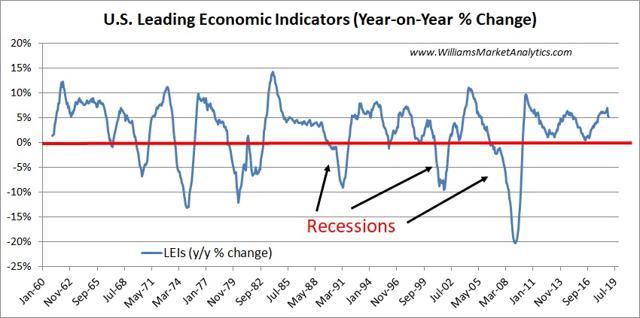 Source: Federal Reserve Economic Database (FRED)
We looked at the lead/lag times from when the year-on-year change on the LEI went negative and the date the NBER declared the official beginning to a recession. Our findings are shown in the table below.
Month Recession Began

Month LEIs

Turned Negative

LEI Lead/Lag

December 2007

August 2006

+16 months

March 2001

November 2000

+4 months

July 1990

October 1989

+9 months

July 1981

July 1981

+0 months

January 1980

April 1979

+9 months

November 1973

November 1973

+0 months

December 1969

October 1969

+2 months
Given this track record of the LEIs, we won't join the crowd, which is squawking about how the sky is falling and recession is imminent. Astute readers will recall that the S&P 500 itself peaks, on average, about 9 months before the economy enters into recession (we have written about this in prior Commentaries). To go a step further, here are the historic lead times of the S&P 500 peak versus the LEIs.
Month S&P 500 Peaked

Month LEIs

Turned Negative

LEI Lead/Lag

October 2007

August 2006

+14 months

March 2000

November 2000

-8 months

July 1990

October 1989

+9 months

January 1981

July 1981

-6 months

November 1980

April 1979

+19 months

January 1973

November 1973

-11 months

November 1968

October 1969

-11 months
For predicting the S&P 500 top, the LEIs are not as reliable. Nonetheless, Bear Markets associated with recessions are much more severe. In this sense, bailing out of risk assets prior to getting an indication from the LEIs of recession is again speculative guesswork.
One hypothesis we are currently entertaining is that the S&P 500 may just be plunging because of ridiculous valuations, not because an economic recession is imminent. If this hypothesis proves to be true, those now positioned for a prolonged Bear Market and recession starting in 2019 will end up chasing prices higher.
On the employment front, we now have a tightening labor market with unemployment now down to 3.7%. Unemployment may continue to hold at these low levels in 2019, but unemployment is the ultimate rear-view mirror indicator. Nonetheless, as long as the U.S. economy is at full employment, we don't expect the Fed to get overly dovish in the new year (barring a combination of deflation and crashing asset prices).
Sentiment numbers from consumers and business are tracking at historic highs. Perhaps the mini stock market crash in December will cool off sentiment going into 2019. Consumer spending will be crucial to keep the economic expansion afloat, so we'll be watching the retailers more closely.
As for U.S. GDP growth, we project a growth slowdown in 2019 as the fiscal policy sugar high wears off and Fed interest rates begin to bite. We do not foresee negative GDP growth but are clearly less optimistic than the Fed (central tendency GDP from 2.4% to 2.7% in 2019) and most economists on the Street. Our projection is shown in red (1% to 2% GDP growth for the year). 2019 may bring a growth scare which ensures that U.S. equities remain well below 2018 highs. The current U.S. expansion will become the longest on record, if it lasts until July 2019. Given the propensity for record-breaking financial market activity over the past few years, we would not bet on a recession beginning before Q3 2019.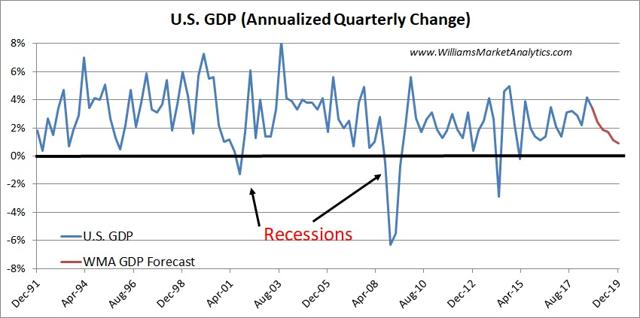 Source: Federal Reserve Economic Database
In other developed markets, we don't expect Japan and Europe to grow faster than the U.S. in 2019. Eurozone GDP slipped to 0.2% in Q3 (Germany actually contracted, -0.2%), down from 0.7% at the end of Q4 2017 (non-annualized figures). Signs of export weakness are hampering the German economic machine, while Italian budget tensions with the EU remain a concern. Japanese GDP actually contracted in Q3, -1.2%. World Bank 2019 GDP forecasts for Japan (0.8% from 1.0% in 2018) and for Europe (1.7% from 2.1% in 2018) suggest a continued slowing of growth. The surprise may come from GDP growth rates exceeding the current pessimistic expectations.
China's economy is suffering. Year-on-year GDP growth slowed to +6.5% in Q3 - the slowest rate since the Great Financial Crisis. A hard-landing seems to be the consensus view. The Chinese stock market appears to be reflecting this. Yet China is committed to rebalancing its economy, emphasizing consumption and services over exports. Debt reduction is also a priority. Any investment in China at this point are bets that the hard-landing does not play out (a bet we would take). One scenario we would not dismiss is the People's Bank of China (PBOC) taking a page out of the Fed's playbook in 2019. The PBOC may indeed decide to massively print liquidity to end the economic growth skid. Coupled with a resolution to the Trade War, we would see China enjoy a soft-landing that investors will love.
Summary of WMA Economic Outlook
As the joke goes, economists have predicted 20 of the last 9 recessions. Today market participants are scared of an impending recession due to the sharp -20% decline in the S&P 500 in the 4th quarter. We remind readers that bear markets in equities due to an earnings slowdown/growth fears (like in 2011) are very different in character than bear markets accompanying severe recessions (like seen in 2007-2009). We are not saying a recession is not on the horizon (we'll obviously see an end to the current economic expansion). However, the hard macro data is not yet pointing to a recession. The inverting yield curve is a worry, although we add two qualifiers. First, we have shown that there is typically several months' lead time between when the 10/2 Treasury Yield curve inverts, the peak on the S&P 500, and the entry into recession (see "Yields Will Signal The End Of The Bull Market"). Second, interest rate manipulation by the Fed, holding short rates down for too long, may have distorted the yield curve signal. The natural rate of Fed Funds (now at 2.25%) is likely higher than the current Fed policy rate, given that we are in the 9th year of the current economic expansion. The short end of the yield curve is possibly giving a false signal. A final consideration for timing the next recession is the massive late-cycle fiscal stimulus provided by Trump in 2017. As the effects of this tax windfall wear off in the coming quarters, the U.S. economy will indeed be more vulnerable to recession.
Disclosure: I/we have no positions in any stocks mentioned, and no plans to initiate any positions within the next 72 hours. I wrote this article myself, and it expresses my own opinions. I am not receiving compensation for it (other than from Seeking Alpha). I have no business relationship with any company whose stock is mentioned in this article.