Marijuana A Calming Influence During Market Stress
Small retail investors take no solace in headlines touting how "The World's Richest People Lost $511 Billion in 2018." My clients and followers invest in relatively small but regular increments for the Sisyphean life of paying-off house mortgages, home loans, medical bills, and building college and retirement funds. No one has more faith and hope in the future of the American economy than retail investors.
I urge my readers to generally maintain a halting position from investing in hyped industries. Today, that includes recreational and entertainment, R&E, marijuana. Investing in them demands a high-risk tolerance, disposable income and a long time out.
My recommendation is to invest in medical marijuana specialty companies actually producing products of necessity especially GW Pharmaceuticals plc (NASDAQ: NASDAQ:GWPH). Share price, fundamentals and financial technicals are all in the right place for small investors to benefit. Companies like GWPH afford insulation against share price chaos plaguing the industry induced by headlines and rumors.
In these times of sleepless nights and avoiding looking at IRA accounts focus on businesses providing necessities. For example, I have written a great deal for Seeking Alpha subscribers about food, paint, sleep device developers, electric vehicles and cyber and cyber military companies.
GWPH is proving the value of cannabis in pharmaceuticals for bettering the health and welfare of sufferers.
Second, invest in stocks catering to self-indulgence. Tap water is clean and fresh but bottled beverages are chic. Normally, I might recommend investing in R&E marijuana companies. They are one of the few fogdogs in this downer market. But share prices of and cannabis growers, distributors and retailers are surging on bombastic revenue predictions. During 2018, dozens of articles began appearing on business sites about soda, beer and burn cigarette companies eyeing cannabis producers. The buzz and spreading legalization enthrall investors but are not justifying a buy of these stocks.
For example, an Israeli grower signed an agreement to supply a public Canadian company with medical marijuana, though the company has never grown the product. The stock price upwelled but declined steadily once reality set in. The dissemble is common throughout the entire industry.
Another example is Tilray, Inc. (NASDAQ: TLRY). Tilray is a marijuana producer. It is touted as an example of a "home run" in the corporate cannabis world. The shares skyrocketed in price following announcement TLRY entered into an exploratory partnership with Anheuser-Busch InBev (NYSE: BUD). TLRY shares sold in the $20s during much of 2018. A price swing drove shares to a high as $300.00 then retreated. The recent peripeteia drove the share price to ~$75. Otherwise, TLRY is not much to look at. Debt is high in comparison with revenues. Check out the short positions for TLRY and other marijuana stocks.
Few R&E companies are making money. Share prices will crash when negative publicity forces soda, beer, and traditional cigarette companies to walk away because of pressure from authorities, NGOs including MADD, health, medical and religious groups. These factors make investing in R&E cannabis too risky for small investors.
Alt Med Is Not Recreation
In 2014, and now more than ever, I repeatedly urged investors to appreciate the distinctions between recreational and medical marijuana (Alt Med), because this affects the investment strategy.
I recommended buying GWHP at about $35 per share. It is the leader in the Alt Med category. I stick to my BUY recommendation. The current price tops $95 but that is just higher than its 52-week low and down from a 52-week high of $179.65. GWPH's most promising product is expected to spark revenues from patients suffering from epilepsy (Epidiolex). Another drug in their portfolio is oromucosal spray Sativex®ת a formulated extract of the cannabis sativa plant. Regulatory approval has been obtained in over 25 countries outside the United States for the treatment of spasticity (muscle stiffness/spasm) due to MS.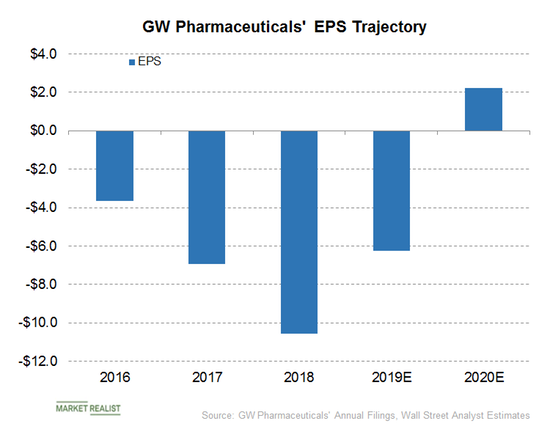 Source
The British company's focus remains on developing cannabis-based drugs for specific medical conditions. Watch for anticipated upside revenues from products coursing through the pipeline and losses turning to profits in the not too distant future. GWPH got great news that "אhe U.S. Food and Drug Administration has approved cannabis-derived prescription medicine for the first time in the country's history." Analysts are stacking up their recommendations in GWPH's favor. I anticipate revenues and profits will drive the share price over $200 each. Nevertheless, GWPH must prove its marketing capabilities for Epidiolex to short shrift drugs coming onto market from other companies.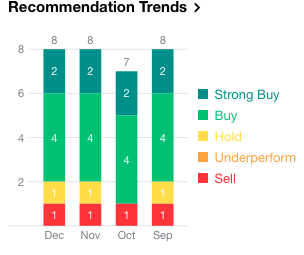 Source
Alt Med is a field opening new avenues addressing medical necessities. Let me highlight what that means with a personal story. My neighbor's six-year old daughter suffers from seizures and their debilitating and degenerative side effects. Psychotropic drugs changed her personality and behavior for the worse. Cannabis pills, not necessarily from GWPH, positively affect the frequency and intensity of the seizures, restored the girl's personality and behavior to normal conditions, so much so, her Mom boasts, that the family lives a near normal life.
GWPH's share price has been suffering from the overall turmoil in the markets in accord with the biotech sector. GWPH appears to be the leader in Alt Med and in these times I believe it best for small investors to go with the best. Other companies like Zynerba Pharmaceuticals (NASDAQ: ZYNE) are into Alt Med, but GWPH holds the lead in reaping rewards for early and deep market penetration.
The Back Story
Marijuana belongs to the agriculture industry. It is a commodity. Agriculture is labor intensive. Cheaper marijuana comes from low wage countries. American, German and Canadian marijuana companies are already signing deals with Israel companies.
There are some 300 Israeli growers, entrepreneurs, and processors with licenses to produce cannabis. Russia is developing deals to sell marijuana seeds. Globalization opens the door to lower product prices and place pressure on high-pay American and Canadian growers and processors. Business Insider reports a hedge fund pitched its short position in the company. Chris Brown, a partner at the long-short firm Aristides Capital, said that marijuana is a "commodity business" and that the price of marijuana will "come down aggressively."
Controlling costs and limiting competition are preeminent requirements of financial success. Growers of marijuana like any other crop must spend money on R&D to produce strains with the right potency, favorable aromas, enhanced crystallization, and visually appealing color palette. They accomplish this by breeding strains and genetic engineering.
Viruses, molds, and parasites are constant threats. Growing conditions require temperature and weather controls even when growing plants indoors. They affect plant maturation and quality. Natural wind or from fans is needed to make the stems sturdy, otherwise they are limp and weak. The point is with more competitors going to market they must have pockets as deep as cartels if they are going to capture a slice.
Go With The Leader
Investing in R&E pot companies is too risky for small investors. Small investors are safest using our common sense investing in Alt Med cannabis companies like GWPH. It is the leader in the use of cannabis struggling to improve the health and lifestyle of patients. GWPH products in the pipeline following years of scientific R&D point to increased revenues and profits in the near future. Although shares are pricier than a while back they seem like a bargain today and an investor can still boast about being in the hot cannabis sector.