AGNC Investment Corp.'s (AGNC) preferred stock makes an attractive value proposition for investors with an average or below-average risk tolerance. The preferred stock layer offers income investors the opportunity to lower investment risk (relative to the mortgage REIT's common shares), while securing attractive dividend income. Principal protection has gained in importance for investors in light of heightened market volatility. An investment in AGNC Investment Corp.'s preferred stock layer currently comes with a 6.9 percent dividend yield.
Preferred Stock Alternative
Income investors don't always need to invest in the common shares of mortgage REITs. Most mortgage REITs have issued preferred shares as a way to diversify their funding sources and lower their cost of capital. AGNC Investment Corp., for instance, has issued both fixed and fixed-to-floating preferred stocks, which make attractive value propositions for investors that value principal safety more than high, potentially unsustainable, dividend income.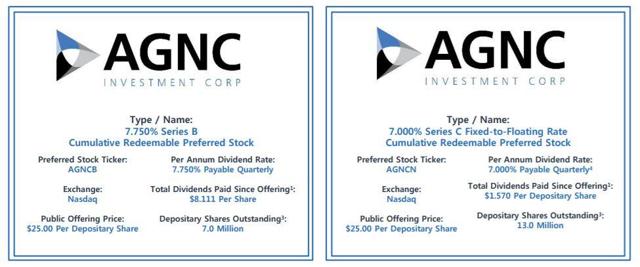 Source: AGNC Investment Corp. Investor Presentation
AGNC Investment Corp.'s 7.00% Series C Fixed-to-Floating Cumulative Redeemable Preferred Stock (AGNCN), in particular, is an attractive alternative to the mortgage REIT's common stock, in my opinion. The depositary shares each represent a 1/1,000th interest in a share of the Series C preferred stock.
Preferred stocks have seniority over common stocks in the capital structure, meaning they carry less risk. AGNC Investment Corp.'s Series C has proven to be considerably less volatile than the mortgage REIT's common shares, which will appeal to investors that primarily want to focus on principal safety.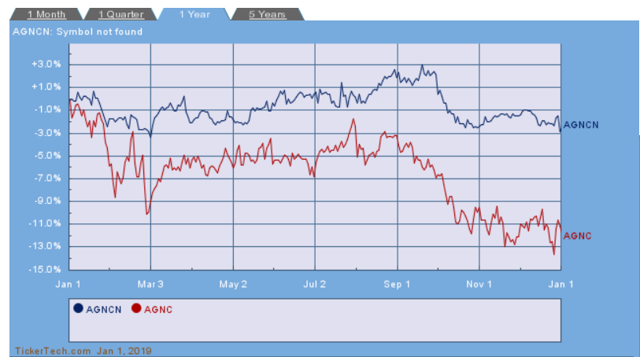 Source: TickerTech.com
In light of increasing market volatility in December and growing downside risks in the stock market, it makes sense to shift funds into higher-quality/lower-volatility income vehicles that afford investors with a high degree of principal protection.
AGNC Investment Corp.'s Series C preferred stock further combines both fixed- and floating-rate dividend payments for investors based on the following payment schedule.
Until October 15, 2022, AGNC Investment Corp.'s Series C preferred stock will pay investors a fixed rate of 7.0% annually. Thereafter, AGNC Investment Corp. will make floating dividend payments based on three-month LIBOR plus a spread of 5.111 percent annually.
The Series C preferred stock pays shareholders a quarterly dividend of $0.4375/share, or $1.75/share annually. Since the preferred stock currently sells for $25.28 (implied premium of 1.12 percent to $25.00 liquidation preference value), investors can effectively secure a 6.92 percent dividend yield. This yield is lower than AGNC Investment Corp.'s common stock yield of 12.31 percent, but it is also a lot safer.
The Series C preferred stock pays shareholders a fixed dividend which is unlikely to go up going forward, whereas the common stock dividend could theoretically grow in lockstep with rising core earnings. However, given the current market conditions and increasing investor anxiety over a U.S. recession in 2019, the smart thing to do is to accentuate safety over dividend income at this point. The preferred stock is the way to go.
Your Takeaway
Principal safety is a huge issue for income investors, and preferred stocks, thanks to their higher ranking in the capital structure compared to common stocks, are safer bets for income investors who want to reduce portfolio risk in light of an extremely volatile stock market. The AGNC Investment Corp. Series C preferred stock offers income investors a higher degree of principal safety, while the dividend yield of 6.9 percent is still quite attractive. Buy for income.
Disclosure: I/we have no positions in any stocks mentioned, and no plans to initiate any positions within the next 72 hours. I wrote this article myself, and it expresses my own opinions. I am not receiving compensation for it (other than from Seeking Alpha). I have no business relationship with any company whose stock is mentioned in this article.