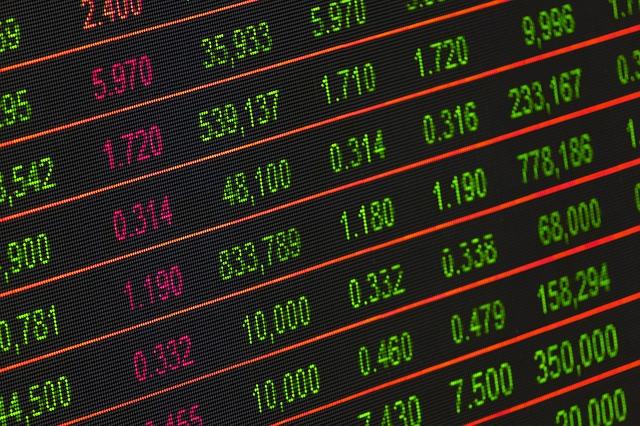 Introduction
Beginning in mid-January of 2018, I wrote a series of articles that examined how far some popular large-cap cyclical stocks might fall if we were to have a downturn within the next three years. While all the articles were generally bearish in nature and meant to be a warning to current investors that even the stocks of good companies could fall quite far during a bear market, I didn't stop there. In each article, I suggested alternative investment ideas for the cyclical stocks in question. My four most popular alternatives I suggested were Invesco S&P 500 Low-Volatility ETF (SPLV), the Vanguard Utilities ETF (VPU), Berkshire Hathaway (BRK.B), and Invesco S&P 500 Equal Weight ETF (RSP), or some mix of them. I called this series of articles "How far could they fall?" articles and the goal of the articles was to warn investors of the potential downside these stocks had, while also offering alternative investment ideas that current shareholders could rotate into while the target stocks were high, and then, after the target stocks had fallen significantly, rotate from the defensive stocks back into the target stocks. The idea was that this process would prevent buy-and-hold investors from suffering big declines while also producing free share gains in the target stocks compared to a buy-and-hold strategy.
For example, if one rotated out of the target stock and into the defensive ETF while they were both priced at $100 per share, then during a bear market the ETF might drop to $80, and the target company to $40 per share. At that point, you can rotate back into the target company stock and own twice the number of shares at no extra cost. Then, when the stock eventually recovers, you have doubled your wealth compared to what it would have been if you held the company through the entire period (minus taxes, of course).
In order for all this to work one needs to 1) identify a quality company, 2) understand when it is overvalued, 3) get somewhat close at identifying the late-stages of the business cycle, 4) correctly identify a more defensive alternative, and 5) have the guts to rotate back into the stock when it looks like the world is ending near the bottom of the cycle.
The "How far could they fall?" series essentially takes investors through this process with a fairly wide swath of large-cap names. In total there were 27 stocks that I both wrote a warning article about, and also offered a defensive alternative I thought would be better at the time. (In my last article, I misstated that there had been 28. I looked all over for that 28th stock as I was writing this article, but couldn't find it anywhere.) There were a few stocks I wrote "How far could they fall?" articles on that I decided not to offer alternatives on like Ross Stores (ROST) and T. Rowe Price (TROW), that were too hard to predict at the time that I didn't track, and one that I recognized should have been put in that category a few months ago W.W. Grainger (GWW). I noticed after I reread my original Grainger article that I explicitly said in the article Grainger's turnaround was too hard to predict, and I didn't even perform a risk/reward analysis on it because of that, but then I went ahead and offered an alternative idea anyway, which I shouldn't have done. I kept tracking Grainger's performance until the end of November when it was nearly perfectly even with my suggested alternative, and I decided to correct my mistake, call that idea a wash, and stop tracking it. So, going into December we were tracking 26 large-cap cyclical ideas and how they were performing vs my chosen defensive alternatives.
With the downturn that started in October and deepened in December, it created an opportunity to rotate out of many of the defensive alternatives back into the target stocks. I wrote a fairly detailed description of those moves in my last article "Tracking How Far They Fell: 2018's Rotational Winners", in which I went through all 14 of the 26 rotational ideas I've been tracking that have been completed. Here is the table from that article, which shows the free share gains achieved from the rotational strategy.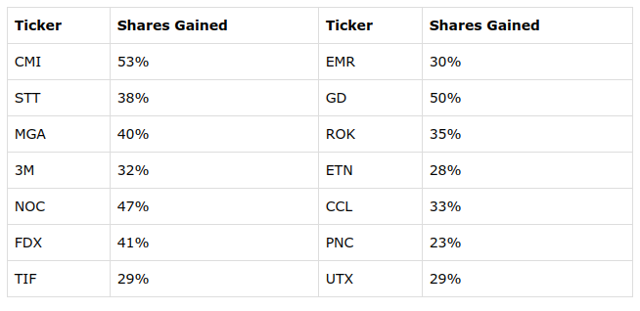 The stocks in the table are the completed winning ideas so far. Several of them have fallen low enough that I started purchasing them from a cash position: Cummins (CMI), State Street (STT), FedEx (FDX), Tiffany (TIF), and Emerson Electric (EMR), I am now long with partial 1/2 positions (about 1% portfolio value each).
So now, going into 2019, I still have 12 stocks that I'm tracking, either because they are still outperforming the defensive alternatives or because I'm still waiting for more potential share gains to materialize before rotating back in. It's a good mix of stocks that remain. There are some deep cyclical industrials like Caterpillar (CAT) and Deere (DE). There are some retailers, some railroads, some financials, some aerospace, and a couple tied to the general health of the economy and wider market. So I think even though we've realized over half of the original ideas during the recent bear market, I think there are still plenty to track and learn from in 2019.
Strong Performers
Let's start by looking at the target stocks that are still outperforming the defensive alternatives. First up is Costco (COST):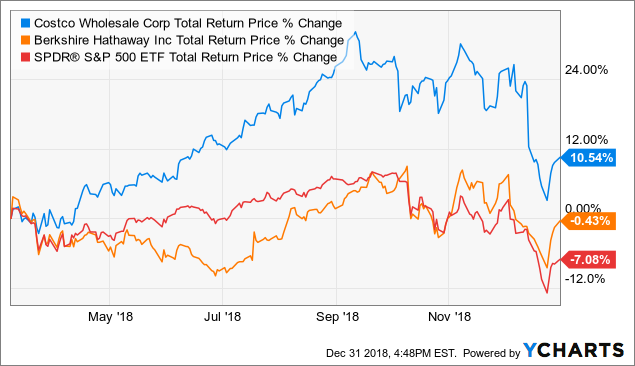 Costco is unique in the series because it hasn't been traditionally all that cyclical. However, I'm glad I included it in the series because it will give me a chance to develop a slightly different strategy for stocks like Costco (which I like more and more each time I look at it). During the past two recessions, Costco has fallen about the same amount as the S&P 500, but the stock price has grown at twice the annual rate of the S&P 500. This makes Costco a very tricky stock to buy using a cyclical strategy because, much like we see in the chart above, it tends to appreciate quite quickly. This can make it difficult to time a good entry point for the stock, and not particularly great for the cyclical strategy I'm attempting to use.
We could, of course, just ignore Costco's valuation and buy the stock for the long-term. But that doesn't seem like a good idea because of two factors: We are probably late in the economic cycle, and Costco is overvalued on a historical valuation basis.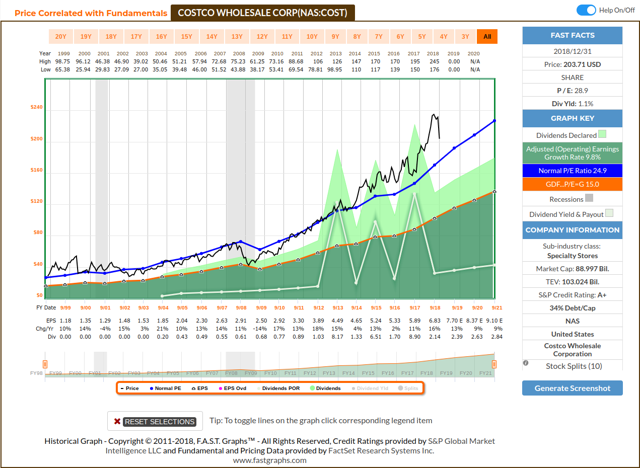 The first thing I like to do is look at how cyclical actual earnings are for a company. In Costco's case, it has only had 2 negative earnings years out of the past 20, both of them during recessions. In 2001, earnings fell -4%, and in 2009, -14%. Yet, the stock price fell 45-50% during those recessions. What that means to me is, we need to focus on basic valuation, combined with where we are in the macro-cycle, in order to determine when and at what price we should buy Costco stock. When I wrote my "How far could Costco fall?" article, I assessed that we were both late in the cycle and that Costco was overvalued on a historical P/E basis.
Notice in the F.A.S.T Graph how far the black price line is above the average P/E ratio (blue line). That represents how far Costco is overvalued compared to history. I wouldn't want to start buying it until was at least fairly valued. Perhaps I'll write a full follow-up on Costco in the coming months and outline a buying strategy for it.
Next up, are the railroad stocks CSX (CSX) and Union Pacific (UNP). These two stocks have pulled in a lot from this summer, but given the falling commodity prices we've seen the past few months, particularly with oil, I expect that the stocks continue to fall in 2019.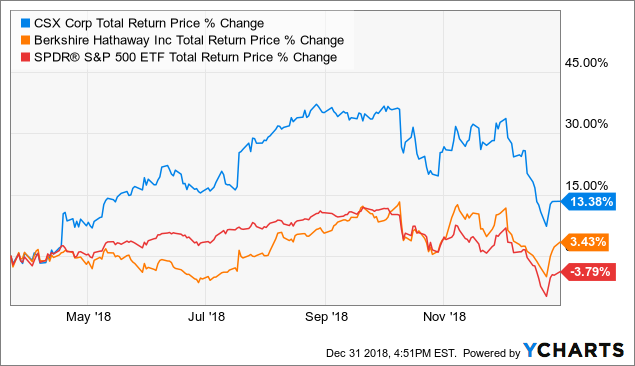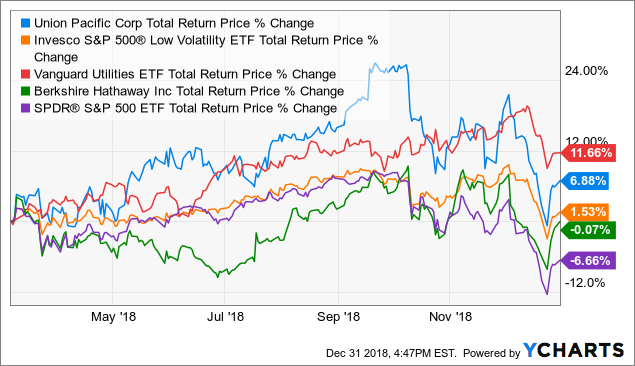 After underperforming all year, the average return of my three suggested alternatives for UNP was 4.37%, just barely trailing UNP's 6.88% at the end of December. Interestingly, all the investments have outperformed the S&P 500 at year-end.
We only have 4 stocks out of 26 that are currently outperforming the alternatives, and the last one is Paychex (PAYX). Paychex isn't especially cyclical except in respect to the overall macrocycle. So, it is probably only going to fall due to multiple-compression and earnings declines that take place during a recession.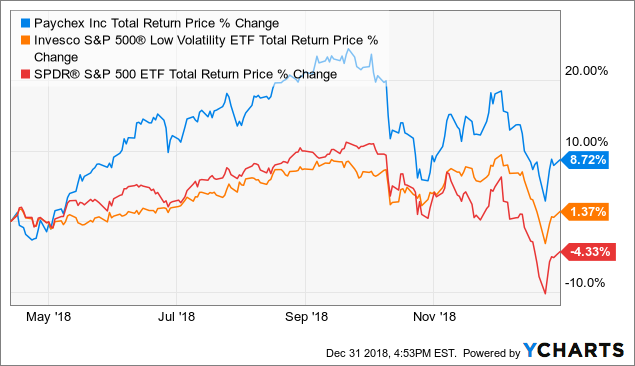 I think it is reasonable to estimate that earnings could drop -10% and the P/E multiple could compress down to 15 during the next recession. A lot of whether this turns out to be a good rotational idea is how long it takes before the next recession. If the recession happens in 2019, we might be able to pick up 15-20% more shares of Paychex at no extra cost, if the next recession is much later than that, this one could end up being a miss. SPLV is doing a pretty good job hanging in with PAYX through the bear market, though.
Beginning to show weakness
These are stocks that are currently underperforming the defensive alternatives but still have a reasonably good chance of bouncing back strong if the tone of the market changes and we avoid a recession in the next couple of years.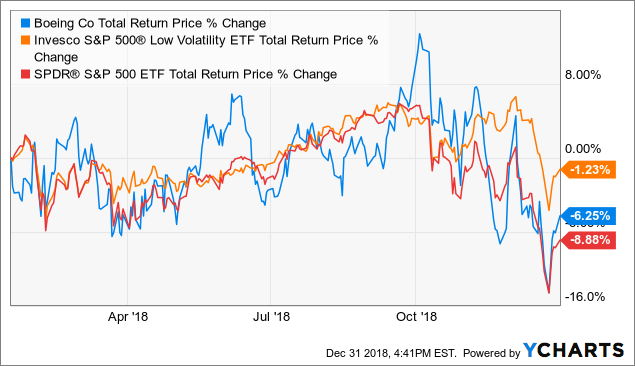 After performing reasonably well most of the year, Boeing (BA) stock finally fell over -20% off its highs and prompted a follow-up article from me. One of the interesting observations I've had about Boeing is that over the short-term it is unlikely to deviate too far from the S&P 500. The SPY is almost like a magnet for Boeing stock and whenever Boeing deviates too high or low, it gets pulled back. The good news is that SPLV is doing what it is supposed to do and falling less than Boeing during a sell-offs. That should give us an opportunity to gain Boeing shares if a deeper sell-off emerges.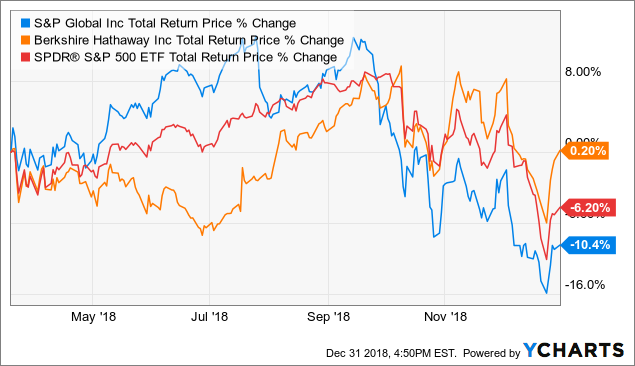 S&P Global (SPGI) has sold off strongly into the bear market, and I should probably write a follow-up on it if it continues to lag Berkshire over the coming months, but I think if a recession is delayed for several months it could rally back.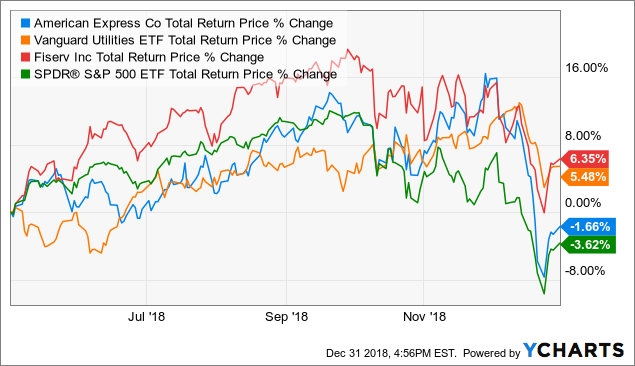 American Express (AXP) has performed better for longer than I expected. It finally succumbed to the bear market in December. It will be interesting to see if it can bounce back against the defensive alternatives, which are now performing very similarly since I wrote about them despite being very different sorts of defensive investments.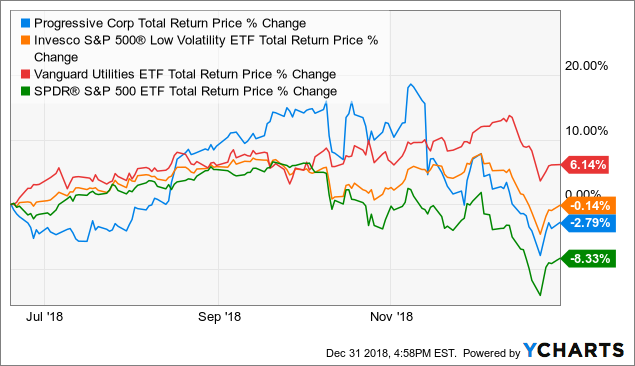 Progressive (PGR) was another stock that stayed strong well into November but succumbed to the bear quite late. I haven't quite figured out what drives this stock yet, but it's now modestly underperforming the alternatives.
Waiting a little longer to buy
The final four stocks have fallen quite a bit, but I'm waiting for a little bit wider spread between the target stocks and alternatives before rotating.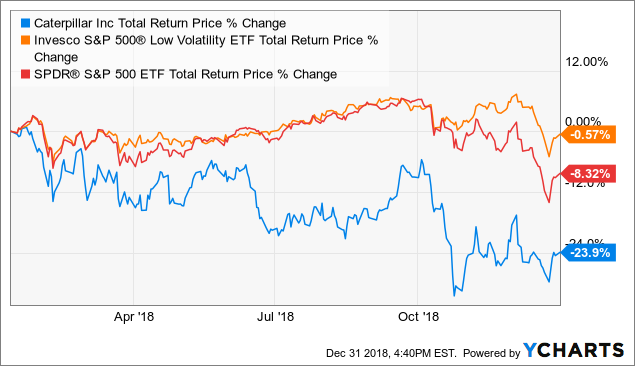 Currently, if we rotated back into Caterpillar from SPLV we could gain about 30% more shares, but I think we should be able to get about 40-50% more (actually, looking at the chart, we probably had a chance to already gain that many in late October, but I was too busy writing about other stocks to notice). I wrote one follow-up article on Caterpillar last summer, but I didn't include any backtesting for my entry points in that article, so I might do another follow-up eventually with some backtesting in 2019 and see if my entry points from a cash position still look reasonable.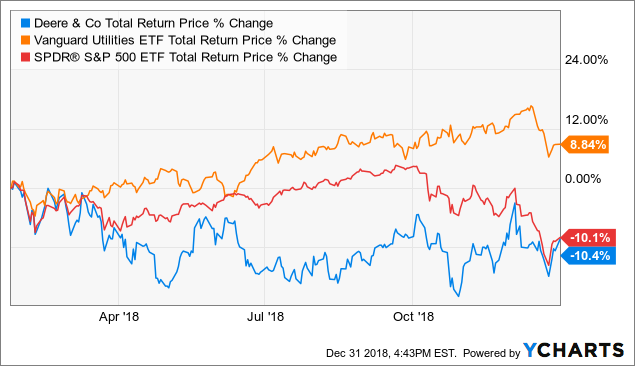 Deere (DE) has been underperforming since I wrote about it in January of 2018 but it has held up pretty well during this downturn. I really need to take a closer look at this one and develop a buying strategy for it. If I recall, it didn't look particularly overvalued going into the downturn and I think that has helped the stock find a sort of near-term bottom. We could gain about 21% more shares if we rotated back now, but I think we can probably get a little more if the market continues to struggle in 2019. (Again, I probably missed writing about a good rotational opportunity in late October, but we'll hope we get another chance after I've had time to write a follow-up on the stock.)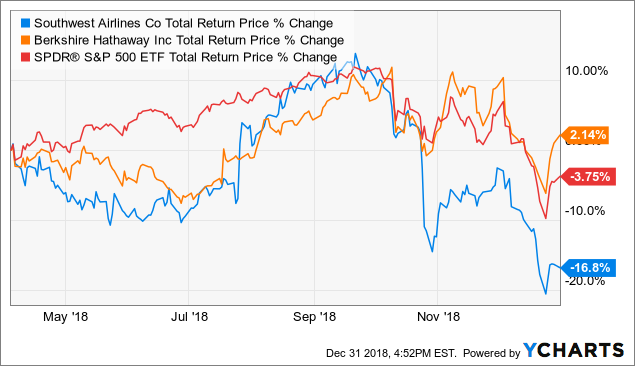 Currently, if we rotated from Berkshire back into Southwest (LUV) we could gain about 20% more shares. I think we can probably get at least a 30% share gain eventually, and, much like the other stocks in this section, Southwest is due for a follow-up article.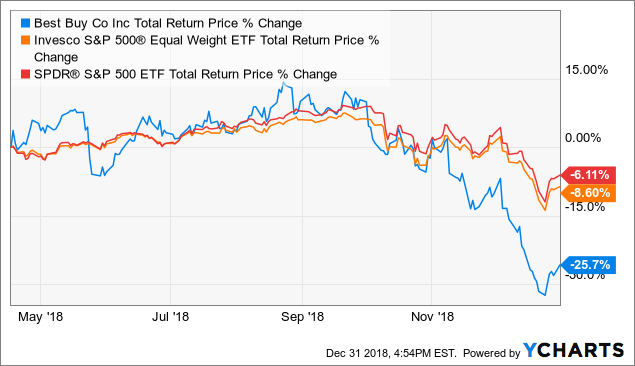 I have written a follow-up on Best Buy (BBY), and I think we can eventually achieve ~40% share gain. Currently, if we rotated back in we could achieve an ~24% share gain. One notable thing with Best Buy is I used Invesco S&P 500 Equal Weight ETF as the defensive alternative and it hasn't been quite as defensive as I would have liked even though it is still doing well relative to Best Buy.
Conclusion
Of the 12 stocks we're still tracking the performance of, from the time of publication through the end of December, the return for the defensive alternatives was +1.54%, the target stocks -4.87%, and the S&P 500 -6.34%.
The average returns for the 14 stocks listed in the table in the introduction where the rotation is complete and we are and we no longer actively tracking are: defensive alternatives +3.43%, target stocks -24.35%, and the S&P 500 -6.43%.
Combining both realized and unrealized returns together for all 26 ideas, the defensive alternatives have returned +2.56%, the target stocks have returned -15.36%, and the S&P 500 -6.39%.
I plan to continue to track the 12 stocks we are still following each month in 2019, only, whereas I used to have to do it in two articles each month, now I'll track them in just one article. I've already gained a lot of insight in 2018 from following these stocks each month, and I expect to gain more in 2019, particularly if we have a couple of stocks that we miss. In my next article, I'll review all of my realized long ideas from 2018, and tabulate the performance of those ideas, and all the ideas I've realized since I started writing for SA in 2015.
Disclosure: I am/we are long BRK.B, TIF, FDX, EMR, STT, CMI. I wrote this article myself, and it expresses my own opinions. I am not receiving compensation for it (other than from Seeking Alpha). I have no business relationship with any company whose stock is mentioned in this article.