Introduction
In the last twelve months, we've seen investor euphoria peak, replaced by pessimism and calls for a potential recession in 2019. The recent sell-off in U.S. equities during the second half of 2018 we believe was driven by three catalysts; 1) ETF redemptions, and thus selling of positions 2) Hedge Fund closures, and thus selling of positions and 3) Selling for long-term capital gains or trading losses. We believe the increasingly negative narrative regarding economic and market outlook seems oddly similar to what occurred with during 2H16, and 2017. Exiting 2018 we think markets are mispriced for what we see as higher than consensus growth in both economic and corporate earnings growth. Our expectations for 2019 include higher levels of CAPEX spending, as tax cut impact doesn't expire in 2019, potentially reaching levels near to year-over-year growth levels similar to what was completed in 2017. Markets could be positively impacted in 2019 by more robust M&A activity, and execution of prior announced buybacks, following recent volatility.
We expect the Federal Reserve will have to "blink" in 2019 as investor expectations suggest zero rate hikes compared to the two implied in benchmark rate increases by the committee. Given recent Federal Reserve data suggesting inflation could remain under the targeted ~2% for the longer-term, we don't see the need for the Fed to proceed with what is perceived as an aggressive rate hike path by investors. Anticipate the potential for the Fed to slow, or "postpone" the unwinding of balance sheet assets. Investors suggest the overall impact to global liquidity could be much more severe due to the unwinding than is implied by just the recent four rate hikes in 2018.
Following strength in 2018, we believe the U.S. dollar will likely trade lower than current December 28th closing levels of ~96 by year-end 2019. Our view is supported by expectations for lower overall GDP growth on a year-over-year basis in 2019, and a more dovish Federal Reserve relating to interest rates. This could provide a potential tailwind to global companies and emerging markets in 2019.
As of the close on December 28th, the S&P 500 forward P/E multiple is trading below the long-term average of ~15x. Based on consensus estimates of ~7.5% year-over-year S&P 500 earnings growth, we think current multiples more than support forecasted 2019 earnings growth projections. Opportunities could be available to investors in Emerging Markets in 2019. Forward P/E multiple discount for Emerging Markets versus U.S. companies may allow for multiple expansion which could fuel higher equity valuations with only minimal contribution from earnings growth.
We see several similarities in 2019 as was present entering 2017. Investors were beginning to prophesize about pending slow growth and potential recession following a decline in equity valuations in the 2H16. In contrast to consensus beliefs entering the year, 2017 delivered phenomenal stock returns. While we don't believe the S&P 500 index will reach the current average strategist target of ~2,984, nor will returns equal what was generated in 2017, we do see a favorable market environment for investors in 2019.
Second Half 2018 Sell-Off: What Were Potential Causes Leading to Broad Declines?
The sell-off in equities during the fourth quarter of 2018 was unexpected, given it was not in line with historical trading patterns following mid-term elections going as far back as the early 1940s, or our expectations for returns during the quarter. We believe three key drivers were responsible for the recent downturn in equities, with some remaining as potential ongoing concerns, while others may dissipate in 2019.
In our opinion, the recent downturn during the 2H18 was one of the first major tests for passive investing, which has gained significant investor interest and assets over the last ten years. The major driver of the growth of the ETF market was its focus on fees, offering performance essentially in-line or better than annual market returns at fees as low as 0.25% annually compared to 1-3% for mutual funds and 2%/20% costs often associated with hedge funds. ETFs are managed passively, meaning there is no active manager overseeing the portfolio, the holdings are generated by computer algorithms. While diversification was advertised, we believe many ETFs portfolios were similar in nature given the investor focus on stocks such as Amazon (AMZN), Apple (AAPL), Netflix (NFLX), Nvidia (NVDA), and Alphabet (GOOGL). Thus, during the recent sell-off as investors began to redeem their ETF holdings, the ETF fund had to sell positions to generate cash for redemption requests. This "forced selling" created an environment in which stocks that had now become a large portion of all the major indexes had to be liquated, and we believe this was intensified by multitudes of ETFs having to sell similar holdings. This not only impacted many of these stocks individually, but we believe was also a driver of the recent indices declines.
We expect the rise of passive investing has created many unknown or potentially untested risks as they have been a successful investment vehicle primarily during a period in which the market rarely experienced significant or extended declines in the past ten years until the 2H18. We believe more volatile markets may expose ETF funds to less predictable performance than delivered over the last decade. The increase we anticipate in overall market volatility in 2019 and beyond could cause similar future events like the fourth quarter 2018, one in which "forced selling" of ETF holdings magnifies the selling pressure of many leading stocks, and thus overall index performance. We see potential risks from passive investing, and ETF funds, as a potential long-term concern for investors and the markets, including during 2019.
Another potential contributor to the slide in equities during the fourth quarter of 2018 was the number of hedge fund closures occurring during 2018. Per a recent Bloomberg article (Link) published in mid-December, 580 hedge funds had announced their intentions to close down or return investor money. This was greater than the 552 hedge funds which opened in 2018 per mid-December. Similar to issues we believe occurred with ETF funds, we expect many hedge fund managers were overweight many of the same stocks we previously referenced (AMZN, AAPL, NFLX, NVDA, and GOOGL). There were likely additional tech names that were large holdings across multiple hedge funds, which along with our perceived "forced selling" pressure in ETFs, contributed to significant declines, which accelerated in December, in our opinion due to hedge funds selling holdings to return investor's funds. We anticipate further hedge fund closings in 2019 if the industry cannot deliver on promises relating to outperforming in both up and down investment markets. Hedge Fund performance over the last five years has been mediocre, at best, equaling about 3.5% for the total equity index compiled by HFRI (Link). Given the high fee structure often associated with hedge funds, manager performance will need to improve, or we expect a return to the mean, such as 1990 when there were 300 funds in total. Our prediction implies only a few funds will maintain management of a significant portion of the total industry assets, as other managers will likely either close funds or sell-out to larger firms. While risks from continued hedge fund closures could remain during 2019, we don't expect this trend to be a longer-term risk as the industry has already seen significant consolidation in recent years.
Finally, we believe the recent selling pressure, which accelerated in December, was also fueled with investors harvesting long-term gains in certain securities or tax-loss selling following continued declines as the "by the dip" mantra didn't work for the first time in several years. It is typically a seasonal trend that investors harvest losses near year-end, however, given the "by the dip" mantra didn't work, we deduce there may have been more losses than typical in recent years. Investors anticipating a rally following mid-term elections saw material declines in many of the former market-leading stocks, which we believe could cause investors to exit positions for various reasons during the month of December. This likely provided additional fuel to downside momentum. As we noted, tax loss selling is a seasonal phenomenon which typically often occurs in December and thus isn't necessarily going away in 2019, however, we think combined with other market forces noted previously, this year was an exception to the annual rule.
2019 GDP: 2018 Equity Market Declines Suggests Fear of Negative Growth in 2019, We See a Less Dramatic Outlook
In a recent article posted on CNBC.com (Link) market participants suggested the rapid decline in oil prices may be a prognosticator of a pending recession, potentially in 2019. Similar to comments made in the CNBC article, there seems to be an increasing view, which is not yet likely consensus, anticipating slowing forecasted growth in 2019, equity valuation declines, and commodity price declines due to oil implies a high probability that a recession is conceivable in 2019. Per the dictionary, the definition of a recession is a period of temporary economic decline during which trade and industrial activity are reduced, generally identified by a fall in GDP in two successive quarters. Those that ascribe to the theory of a pending near-term recession, typically incorporate two or more potential 2019 Federal Reserve Rate Hikes, anticipate no meaningful conclusion to current trade tensions with China, and are expecting a meaningful slowdown of global growth.
Based on current data, we believe a recession in 2019 carries a very low probability. While we do not dismiss risks associated in forecasts which anticipate a potential near-term recession, recent data published by the U.S. Federal Reserve, Federal Reserve Bank of Cleveland and Morgan Stanley's more bearish view of overall economic growth outlook in 2019, don't suggest that a recession should be a significant investor concern entering the new year.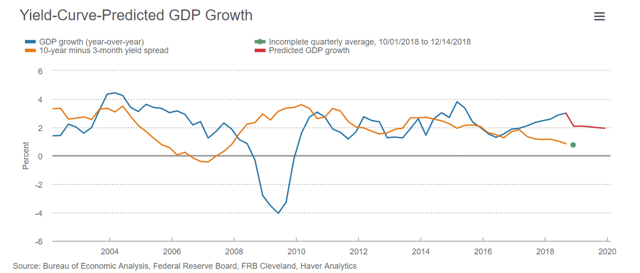 According to the Federal Reserve Bank of Cleveland's Yield-Curve Predicted GDP forecast (Link), annual U.S. GDP should not likely decline below 2%, even by the end of 2020. There is certainly an implied slowdown in forecasted 2019 GDP from ~3% in 2018 to an estimated ~2% in 2019. However, we find little within this data that would suggest we are potentially looking at a high probability of a recession in 2019.
The Federal Bank of Cleveland also provides a predictive calculator for the probability of a pending recession based on historical recession events during the last 58 years (Link). According to current data, a future recession is ~20% probability, compared to the typical minimum baseline for prior events much closer to ~40%. Forecasts imply we would likely be nearing ~30% probability of a future recession by the end of 2020, which does point to potential increased risks beyond 2020, as of today. While risks may increase in out years for a potential recession, we don't believe current economic data published by the Federal Reserve Bank of Cleveland supports a high probability of a more near-term event.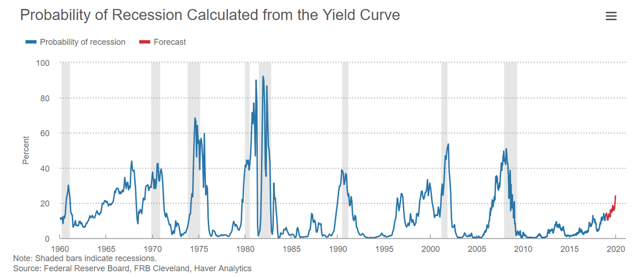 Morgan Stanley recently released their 2019 Global Economic Outlook (Link), which implies data much similar to that published by the Federal Reserve Bank of Cleveland, than a forecast suggesting pending doom. In a recent CNBC.com article Morgan Stanley's strategist Mike Wilson suggested we are already in a "rolling bull market" (Link) Even prior to the bearish outlook provided by strategist Mike Wilson, Morgan Stanley had held a more bearish view for markets during 2018, relative to other firms, which was noted in a recent Bloomberg article (Link). Thus, even the recently bearish Morgan Stanley's view for U.S. GDP growth of >2% in 2019, and just under 2% in 2020 doesn't support a pending recession at this time. Morgan Stanley is not significantly below consensus outlooks for either 2019 or 2020. In our opinion, the cries for a recession in 2019 are potentially silenced by recent data suggesting slowing, but stable growth in the coming two years.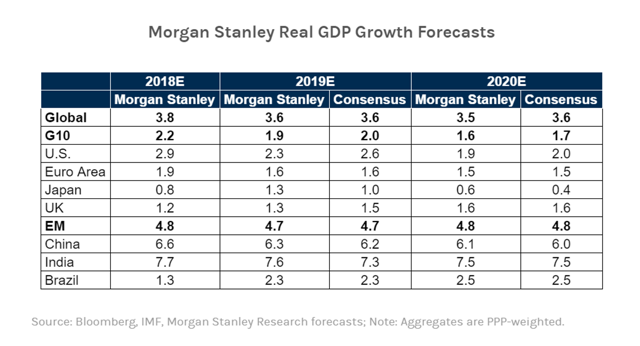 Finally, we would note that in its recent December presentation, The Federal Reserve provided an updated outlook of key economic indicators, one being future GDP expectations (Link). Similar to other data presented, there is a projected slowdown during 2019 on a year-over-year basis, with revised expectations now equal to 2.30%. Federal Reserve GDP estimates suggest the economy could see a continued decline on a year-over-year basis from 2020, equaling ~1.90% by 2021, or essentially back near prior levels over the last few years. The multiple data points we have highlighted suggest to us a near-term recession has little probability in 2019.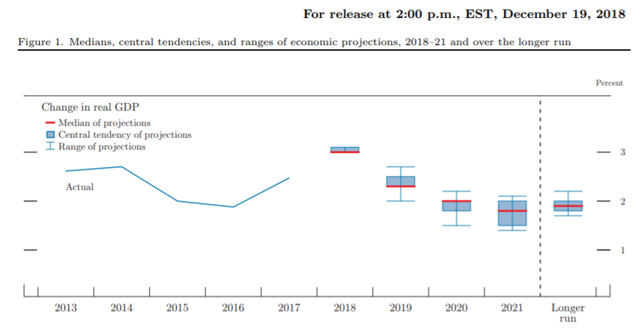 Source: U.S. Federal Reserve December 2018 Presentation
Our outlook for U.S. GDP growth in 2019 of ~2.50-2.75% is slightly higher than the current consensus forecast of ~2.6%, at the mid-point of our range. In our outlook, we note that tax benefits don't expire in 2018. We would anticipate higher levels of CAPEX-based investment. M&A should also see increased capital allocation in 2019 as we believe larger firms will acquire small-to-midsize market participants to help enhance profitability and/or growth. Along with these three factors, we would also expect a resolution, in some form, to current trade tensions between the U.S. and China. While we see potential trade disputes between the U.S. and China remaining ongoing for several years, we believe a reduction in current tensions could be reached by mid-year 2019.
In 2020, we would expect growth to see a further slowdown in year-over-year growth. We believe current consensus estimates, per Morgan Stanley data, suggest declines of ~6% in 2020 versus current 2019 forecasts. We anticipate a decline equal to, or greater than, the implied reduction in U.S. GDP 2020 projections. As we exit 2020, overall growth prospects are unclear currently. If we do face a pending recession, our current outlook suggests that it is likely more probable to occur in late 2020, or sometime in 2021. Thus, entering 2019, we don't believe a recession should be a near-term concern for investors during the first half of 2019 based on the data we have highlighted.
Market Odds Imply Zero Rate Hikes in 2019; Federal Reserve Suggesting Two, But May Back Off
Recently, at its December meeting, the Federal Reserve hiked the U.S. Benchmark Interest rate 0.25%, increasing the overall rate to 2.50%. This was the fourth rate hike enacted by the Federal Reserve in 2018. In addition to raising the benchmark interest rates four times in 2018, the Federal Reserve has also been unwinding its balance sheet. In a May presentation (Link), St. Louis Fed Research Director Chris Waller explained how the process will be handled by, "letting Treasury securities "run off" at about $6 billion a month and letting mortgage-backed securities run off at about $4 billion a month. "And then it's going to increase at every three months," he said, "to where there's a maximum of $30 billion a month in Treasuries running off, and $20 billion a month in mortgage-backed securities" running off. "So, effectively we're increasing the supply on the market of U.S. Treasuries," Waller continued. (Link)
The corresponding unwinding of the Federal Reserve's balance sheet, now called "Quantitative Tightening" or "QT" in conjunction with four rate hikes, has created controversy regarding how much the actual impact to overall liquidity may be versus simply adjusting for rate increases. This "push back" regarding the current rate hike path laid out by Federal Reserve forecasts has been demonstrated in both the stock market with a historic decline in December, and the bond market with short-term rates continuing to increase while long-term rates such as the ten-year yield seeing declines since mid-year. This "push back" from the bond market has led to additional investor concerns, as historically, an inverted yield curve, which sees short-term rates, typically 2yr. treasury bond yields exceed those offered by 10yr. treasury bonds. While not immediate, this inversion has been a leading indicator to future recessionary events.
Per the Federal Reserve presentation, at its recent press conference, following the announced December benchmark interest rate hike (Link), the average assumption by voting committee members suggests an additional two rate hikes are likely in 2019, which would increase the U.S. benchmark interest rate to ~3%. Looking beyond 2019, the estimated federal funds rate would likely remain constant, given current participants assessments for monetary policy as of the December meeting.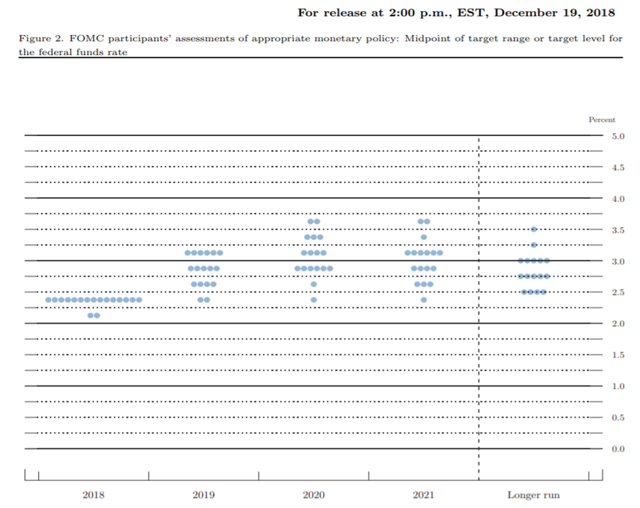 Source: U.S. Federal Reserve December 2018 Presentation
However, according to Investing.com, utilizing their Fed Rate Monitor tool (Link), it would seem, based on current CME Group 30-Day Fed Fund futures prices, investors aren't anticipating any future rate hikes during 2019, as of today.
We believe the Federal Reserve will likely need to back down from their current rate hike forecast of two further hikes in 2019. Given the Federal Reserve's own forecast for Inflation (Link) in its presentation for the December meeting, which showed inflation remaining below the ~2% target, raises questions as to why the Federal Reserve would need to continue on the current path for 2019, which is perceived by investors as a more aggressive path. We anticipate that the Federal Reserve will walk back its current projections of two rate hikes as early as the upcoming January 2019 meeting. It is our belief the Federal Reserve will likely take a more "wait and see" approach to further hikes in 2019, with the likelihood of one additional rate hike lingering in the back-half of 2019, if economic indicators continue to improve. We also anticipate that the Federal Reserve will likely slow or "postpone" the unwinding of the balance sheet at some point in 2019. These two events, in combination, will ease the heavy restriction currently applied to global liquidity during 2018. While we aren't yet ready to forecast a potential rate cut as some recent market prognosticators have begun to suggest, we do believe that the Federal Reserve will likely need to "blink", as the overall economy may not be strong enough to handle the one-two punch combo it has been dishing out during 2018.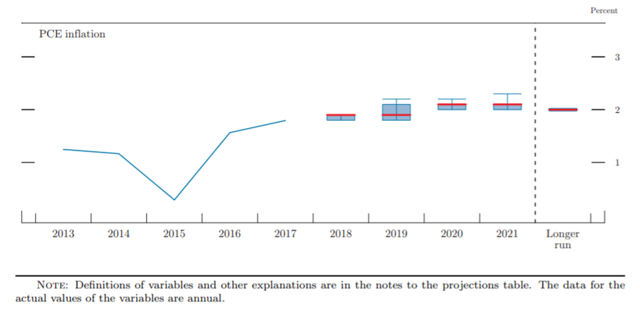 Source: U.S. Federal Reserve December 2018 Presentation
Expecting "Strong Dollar" to Weaken in 2019, Creating Potential 2H19 Tailwind for Global Companies
Since early 2018 the U.S. Dollar has seen a meaningful move higher towards levels not seen since mid-2017. This has been in part due to higher interest rates, driven by increases in the benchmark index rate by the Federal Reserve, and a better economic outlook in the United States relative to economies in Asia or Europe. Over the last 18 months, the U.S. Dollar Cash Index reached a high of ~103, in late 2017, vs. a low ~89, in early 2018, closing on December 28, 2018, at ~96. This equals a peak to trough decline of ~13.5%, and a gain of ~8% off the early 2018 lows based on the recent closing price, in what basically was just the last twelve months.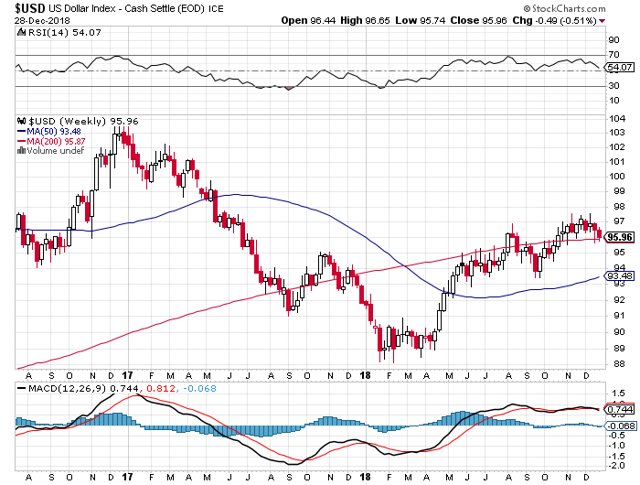 We are unsure if 2019 will bring similar volatility delivered during the last 12-16 months, but we do believe that the U.S. dollar index will likely end lower than the recent close ~96 by year-end 2019. Our forecasted decline in the dollar during 2019 is predicated on our view of a more dovish Federal Reserve relating to future rate hikes, and projections for slower U.S. growth in 2019. We see the potential for the U.S. dollar index to trade towards the high 80s, or low 90s, by year-end. This could provide some currency-based tailwinds for global companies in the 2H as a weaker dollar will allow for a more favorable exchange rate against major currencies.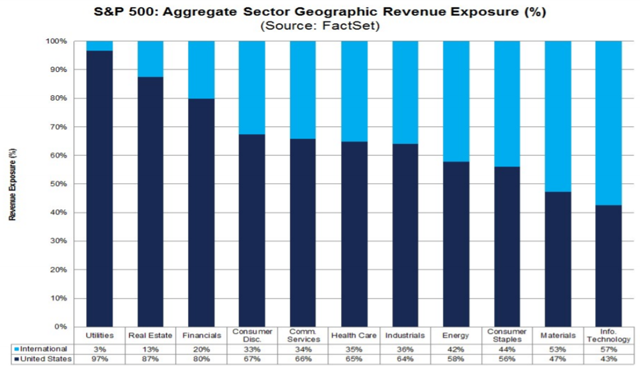 Corporate Cash Likely Allocated Towards CAPEX and Executing Buybacks in 2019
During the 1H18 announced level of stock buyback authorizations soared per data from JP Morgan and Bloomberg, exceeding $200B in July 2018 alone. However, the announcements suddenly decreased meaningfully in the 2H18 as volatility created a different stock market environment than seen in the last decade. We expect that some of the selling pressure seen in the stock market during the 2H18 may have impacted by the prior buyer of last resort, i.e. the company, not stepping up and supporting the stock through corporate buybacks as we have seen in prior years. Data from 4Q18 earnings reports should give us a better idea if our thesis is correct regarding a pullback in corporate buyback execution during the 2H18.
As we enter 2019, we would anticipate executives being more willing to execute prior buyback authorizations following the worst stock market December performance since the Great Depression. This could be a catalyst as we exit quiet periods in mid-January with 4Q18 earnings reporting season beginning, until around mid-March, when typically, most public companies enter a quiet period on the 15th of the quarter ending month. While we don't think buyback levels reach prior historic highs in 2018, given expectations for higher levels of volatility in stock markets going forward, we do see buybacks as a potential positive contributor to increasing stock prices during the 1H19. In general, we would expect buyback levels to be more in-line with estimated CAPEX investments in 2019, which would be a shift from the significant divergence in allocation of capital between CAPEX/buybacks in prior years.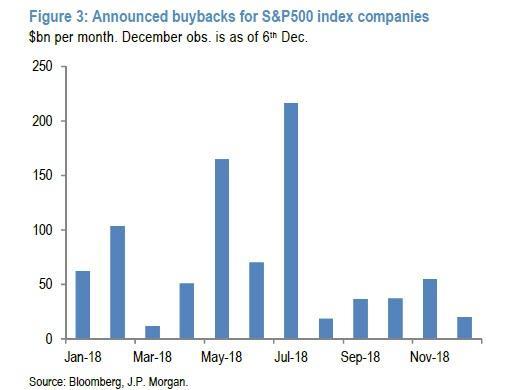 During 2018, CAPEX growth declined as capital allocation was skewed towards stock buybacks in the 1H18 and didn't deliver on the potential benefits that some expected entering the year given the new tax policy. There was a spike mid-year 2018 towards 10% year-over-year CAPEX spending growth, however, we believe this was due to easier prior year comparables than any significant change in corporate capital allocation.
We anticipate 2019 to be quite similar to what we saw in 2017. As shown in the chart below, during 2017 CAPEX year-over-year growth accelerated, while corporate profits plateaued. We anticipate higher levels of CAPEX growth in 2019 will provide a more favorable contribution to economic indicators, such as GDP, than stock markets. However, we would note that the last time leading investment prognosticators were utilizing the recession word, and stock markets were in disarray, was 2016. We then saw meaningful appreciation in overall equity indexes during 2017. Thus, we would anticipate less in overall equity returns than what was delivered in 2017, but we do see similarities in potential growth for CAPEX spending in 2019 which was the case during 2017 as well.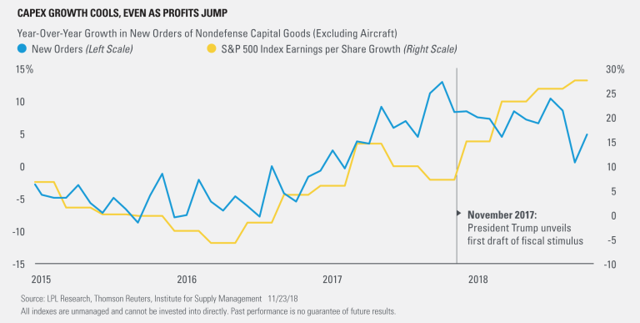 U.S. Valuations Not Expensive, But Ex-U.S. Valuations Provide Significant Discount
Since roughly 2010, there has been a distinct divergence in U.S. public equity valuations, and non-U.S. public valuations. With the recent rout in non-U.S. markets during 2018, and even following the recent downturn in equities during December in the U.S., there remains quite a spread between the forward valuations assigned to U.S. and non-U.S. public companies.
According to data published by Yardeni Research (www.yardeni.com), the current U.S. forward P/E equals ~14.6x, which is relatively in-line with long-term historical valuation metrics. However, in comparison, Emerging Markets are currently trading at ~10.5x forward P/E, which is a discount of 4.1x from U.S. multiples. In contrast, during 2009/2010, Emerging Markets traded in-line, or at half of the current discount, versus the U.S. While we believe there always should be some spread in valuation multiples between Emerging Markets and U.S. due to risks (government, stable growth, currency, etc.) we see current spread converging with an increase in Emerging Market valuations rising towards U.S.
Given the potential for higher, or more stable growth levels in Emerging Markets during 2019, due in part to our forecasts of a lower U.S. Dollar, we see the potential for equity multiple expansion in Emerging Markets, as seen over the last few years in U.S. markets. If we were to see a ~50% reduction in the current spread between Emerging Market multiples and the U.S., it would likely imply U.S. valuations stay constant, or increase slightly, while the multiples in Emerging Markets could expand.
We recommend investors begin looking towards allocating a higher portion of their investment assets towards Emerging and non-U.S. based companies. We anticipate Brazil, Russia, and China will likely be key regions driving non-U.S. growth in 2019. While we don't see the U.S. as overvalued currently, we do see the opportunity for multiple expansion in Emerging Markets, which could help enhance returns with only minimal growth necessary in year-over-year earnings.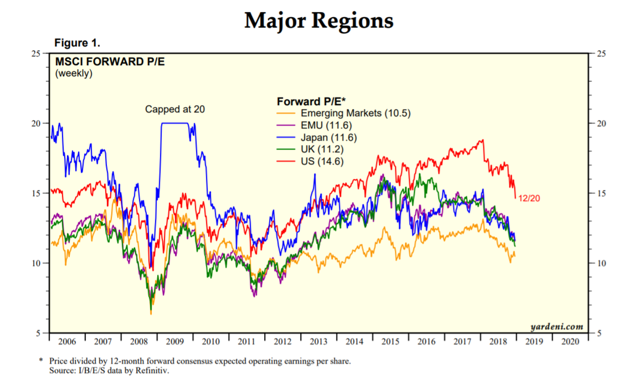 Source: Yardeni Weekly Research; Home
2019 Consensus S&P 500 Outlook Suggests Double-Digit Upside From 2018; "Doom and Gloom" Nowhere to Be Found – See Market Mis-Priced Entering 2019, in an Opposite Manner to 2018
As we entered 2018, there was significant optimism related to the economic outlook, discussions of positive impact from tax cuts, and expectations for strong market returns due to estimated growth in corporate earnings. In hindsight, we believe the market was mispriced entering 2018, much too optimistic, with little risk premium priced into equities. As we enter 2019, we see the opposite view. Pessimism is rampant with discussions of near-term recession, consistent downgrading of growth outlooks for 2019, and negative views regarding potential equity returns. In early 2018, equity valuations were trading at a significant premium to the long-term forward multiple ~15x. Exiting 2018, following the 2H18 decline in U.S. stocks, valuation multiples are now below long-term levels, equaling ~14.2x 2019E S&P 500 earnings (~$175) based on December 28th closing price of 2,486. Thus, we believe equities are likely mispriced entering 2019, similar to 2017, in which investors entered the year with significant pessimism and "doom and gloom."
On a sector by sector basis, Energy's long-term forward P/E multiple has equaled ~20x versus current valuations implying forward multiples ~13x. Industrials, Financials, and Material sectors are also currently trading at forward multiples which are quite meaningfully below the long-term average. We see risk entering 2019 in the Utilities sector as the "safety" trade has pushed forward multiples significantly above the long-term average. (~16.6x vs. 14.8x). Communications Services sector is trading higher than the long-term average multiple, but we believe some of this is likely due to the inclusion of Facebook, Inc., and Alphabet during 2018. Most other sectors are trading at, or very near, their long-term forward multiple average entering 2019. On a forward multiple basis we see current equity valuations more than supporting current estimated 2019 earnings estimates of ~7.5%.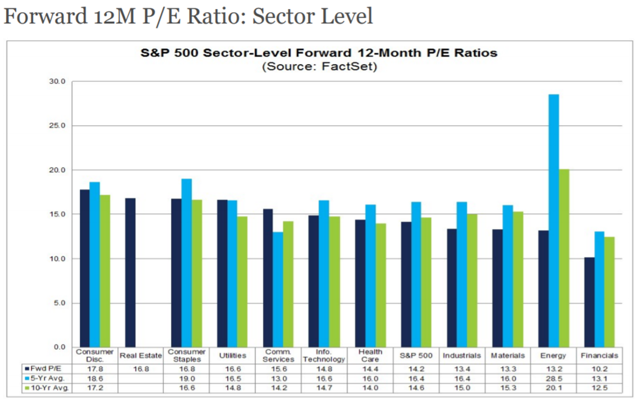 According to a recent article published by CNBC.com (Link), most Wall Street strategists are much more optimistic than other market participants. The average assumption for the end-of-year target on the S&P 500 across most major investment banks is currently 2,984, which would imply a year-of-year price gain in the index of ~20%. With current S&P earnings estimates implying year-over-year growth of ~7.5%, there would need to be significant outperformance of current 2019 earnings per share estimates with some expansion in the forward multiple to potentially reach the current average Wall Street strategists' 2019 end-of-year forecast. As of today, the current average S&P 500 end-of-year forecast would assume ~17x forward multiple on 2019 estimated earnings.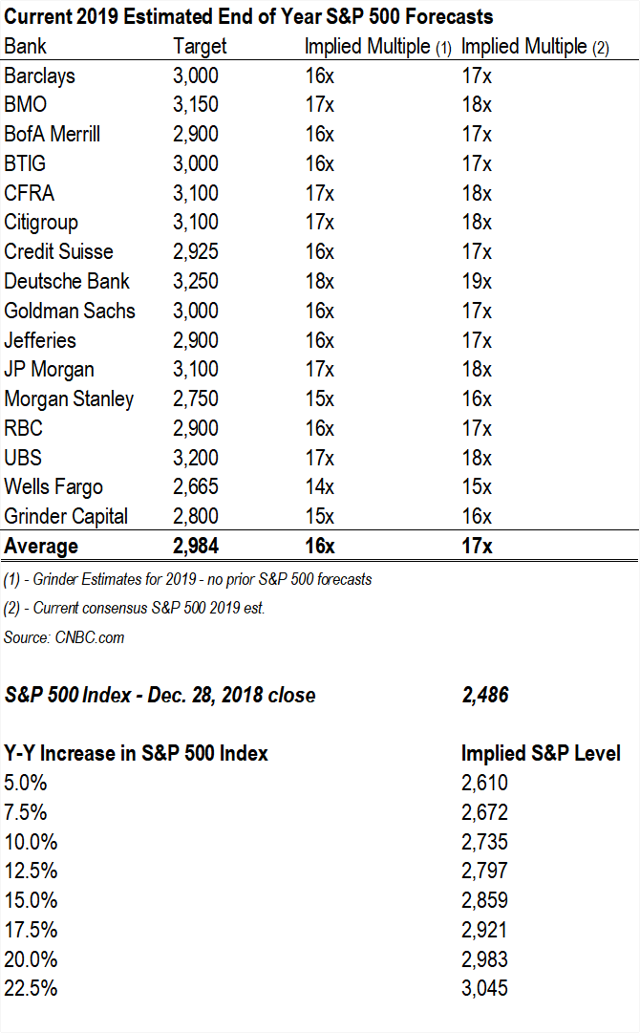 Source: Consensus S&P 500 earnings estimates compiled by Yardeni Research, www.yardeni.com
We believe the current average annual end-of-year targets for the S&P 500 may prove a bit aggressive. We see the index price likely rising to ~2,800 by the end of 2019, equaling a year-over-year index price return between ~10-15% (based on current closing value of 2,486), which we view as an above average year for investor returns. We see little in terms of market multiple expansion during 2019, but expect higher economic growth, and thus, higher corporate earnings growth than is implied in the current S&P 500 2019 estimated earnings of ~$175/share.
We estimate that 2019 S&P 500 earnings could deliver year-over-year growth of ~12% (~$185/share), potentially pulling forward some growth from the current consensus double-digit estimated growth rate for 2020 earnings. In our assumption, future stock valuations are impacted primarily by growth in earnings, and not multiple expansion, which we project was the primary driver of equity valuations in the last decade. Based on our current 2019 projected S&P 500 earnings estimates, current S&P 500 sector forward P/E multiples, and a more pessimistic overall investor sentiment entering 2019, we anticipate index returns to exceed double-digits but don't believe the overall index value reaches the more optimistic Wall Street forecasts.
2019 Investment Ideas
We have highlighted below some long and short ideas investors may want to look at based on their own investment risk tolerance. We are not recommending investors buy or sell securities mentioned. We may own, or look to own in the future, some of the investment ideas we have provided.
2019 Long Trade Ideas:
GBT (Global Blood Therapeutics) Company recently issued positive data regarding a trial for its leading therapy Voxelotor (GBT440). In early December the company received notice from the FDA that it agreed with the company that TCD (transcranial doppler flow) is an acceptable primary endpoint for Accelerated Approval of Voxelotor in a post-approval study. Most analysts who cover Global Blood Therapeutics noted the outcome of data and FDA decision as positive for the company. On December 3rd, HC Wainwright reiterated their positive outlook on GBT, while raising their price target on the stock to $150 vs. $125 and stating the following; On December 3, 2018, Global Blood disclosed their decision to proceed with the NDA filing, which firm expects to happen during 3Q19. Furthermore, the FDA appears to have agreed to a TCD based post-marketing confirmatory study, which together with the potential green light on the NDA submission, appears to be the best-case scenario for the stock." (Source: www.briefing.com) The company is trading ~30% higher than the value prior to December's key announcements (~$31/share vs. $40). Analyst average price target is ~$91/share per TipRanks (Link), which would imply a market capitalization more than double the current valuation ~$2.2B, based on $40.03/share closing price on December 28th. GBT offers investors the potential for significant upside but investing in biotech companies can see significant volatility and adds additional risks due to reliance on government approvals, drug pricing, reliance on one or two key drugs/therapies, and future market share. (GBT IR Website)
PAGS (PagSeguro Digital) We have highlighted our positive views in other articles regarding PagSeguro Digital, a Brazilian payment processing company. In the short-term, we have been flat wrong with valuations falling meaningfully since our initial commentary on the company's long-term growth prospects in late October (Link). Relative to other global payment processors, PAGS still offers one of the most favorable estimated growth and valuation metrics. We continue to view PAGS as a company that investors should look at closely for long-term diversification into international growth and exposure to Brazil. We believe the sell-off in shares since early November is likely overdone and would note that the company still has the majority of its announced $250m buyback available. Average analyst price target per TipRanks (Link) is $33/share, which implies upside based on the current average target of >75%, based on closing price of $18.28 on December 28th, 2018. International investing involves additional risks such as currency, political, and stable growth prospects. (PAGS IR Website)
DBD (Diebold, Inc.) Diebold has struggled in recent years with flat topline growth and continued operating losses. If you have patience, activist investors are involved, including Mario Gabelli. Gabelli has put up director nominations for next Annual Meeting. Sale of the company valued at fraction of current revenue run rate in 2016-2019E (~$4.5B) offers meaningful upside vs current market capitalization of ~$190m as of December 28th, 2018. The company has significant debt currently which adds additional risks to the company if no sale can be negotiated in future periods. (DBD IR Website)
HWKN (Hawkins Chemical) Company distributes, blends, manufactures bulk/specialty chemicals, and other products. Trading in the stock is very light, and no analysts currently cover the stock. During the 1HFY19 company has grown revenues in the low double-digits on a year-over-year basis. Based on the closing price on December 28th, 2018 of $41.01 stock offers investors a current yield of >2% which assumes ~$0.90/share. 1HFY19 EBITDA margin ~12%. Small cap stocks offer higher levels of risk, and the light trading in shares of HWKN could add additional volatility to shares. (HWKN IR Website)
2019 Short Trade Ideas:
ANET (Arista Networks) Our short thesis is predicated on the potential acquisition of Mellanox by Microsoft, as noted in recent press reports (Link). Microsoft continues to be one of the top customers for Arista Networks, selling the company its network switches. If Microsoft were to buy Mellanox, we believe the company would be mimicking other data center competitors such as AMZN, FB, and GOOGL, in moving towards internally developed products. In our opinion, the use of white-box switches, with MSFT's software running inside, would likely negatively impact the future earnings potential of ANET. With the stock off ~34% from its 52-week high of ~$313, we would also predicate our short thesis on shares rebounding above ~$205/share before putting on any potential short positions in shares of ANET. We recommend investors set stop/loss targets at ~10% from their individual cost basis in acquiring any future position According to TipRanks (Link) the average analyst price target for shares of ANET is currently ~$293/share, suggesting potential material upside from December 28th closing levels of ~$206/share. We could be wrong in our short thesis regarding investors' views of the impact of Microsoft's acquisition of Mellanox, with some believing it may be a much longer-term issue that can be solved over time. Investors should determine if their individual investment goals include the short sale of stocks. Selling stock short is very risky and involves the use of margin and can potentially incur significant losses. (ANET IR Website)
XLU (Utilities ETF) As we noted previously the Utilities sector is trading at a significant premium relative to its long-term average forward P/E multiple. We believe investors began to shift assets towards the Utilities sector in mid-2018 as a "safety trade" given concerns about global trade, global growth, and rising costs. While shares are down ~7% from recent 52-weeks, we see the potential for investors to initiate a potential short position following a rise above ~$53.50/share with shares closing on December 28th at $52.83/share. We recommend investors set stop/loss targets at ~10% from their individual cost basis in acquiring any future position. We could be wrong in our short thesis regarding the Utilities ETF as economic growth and global trade concerns could amount to a negative impact greater than what our current outlook implies, leading to investors using the Utility sector as a "safety trade." Investors should determine if their individual investment goals include the short sale of stocks. Selling stock short is very risky and involves the use of margin and can potentially incur significant losses. (XLU)
Conclusion
Pessimism is running rampant following declines in equity valuations during the second half of 2018 and the continued lowering of forecasted targets for both economic and earnings growth. We believe equity markets are mispriced entering 2019, as we anticipate key economic indicators, and projected corporate earnings, to exceed current consensus forecasts. Higher levels of CAPEX investment should a provide boost to overall 2019 GDP. Execution of stock buybacks, given recent volatility, could be a positive catalyst for U.S. equity markets in early 2019. Current forward P/E multiples are below the long-term average ~15x entering 2019, which we believe can support higher index levels based on current consensus S&P 500 earnings growth ~7.5% during 2019. We would also recommend investors begin to focus more on stock selection as we anticipate the environment for passive investing may not be tested under the new volatility witnessed in recent months.
We see several similarities in 2019 as was present entering 2017. Investors were beginning to prophesize about pending slow growth and potential recession following a decline in equity valuations in the 2H16. In contrast to consensus beliefs entering the year, 2017 delivered phenomenal stock returns. While we don't believe the S&P 500 index will reach the current average strategist target of ~2,984, nor will returns equal what was generated in 2017, we do see a favorable market environment for investors in 2019.
Disclosure: I am/we are long GBT. I wrote this article myself, and it expresses my own opinions. I am not receiving compensation for it (other than from Seeking Alpha). I have no business relationship with any company whose stock is mentioned in this article.
Additional disclosure: We are also currently long HWKN, DBD, and may trade-in other companies' securities mentioned over the next 30 days.

This report should not be considered a recommendation to buy or sell securities. Investing involves risk. Investors should conduct their own due diligence regarding securities discussed in this report.