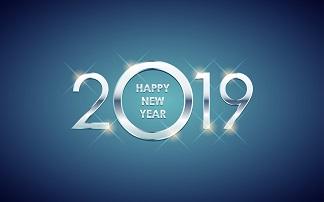 I hope everyone had a wonderful New Year's Day. From a market perspective, Christmas Day came as a relief after the annual lows set on Monday, Christmas Eve Day, when the S&P fell just two ticks (-19.8%) short of closing down 20% from its recent peak - the general definition of a "bear market." After a lower opening last Wednesday, the major indexes gained about 6% in the three days after Christmas, but most indexes remain down about 7% for 2018 as a whole, as December wiped out all 2018's hard-fought gains.
I did a podcast last Monday that explained why we are now grossly oversold, based on the S&P 500's dividend yield of 2.22% vs. the 10-year Treasury bond yield of 2.72%. Since most stock dividends are taxed at a maximum Federal rate of 23.8%, while Treasury interest is taxed at a maximum Federal rate of 40.8%, the stock market yields more (after taxes) than getting out of the stock market, for most investors.
The wild stock market gyrations last week may have been complicated by tax selling. Specifically, last Monday's dramatic sell-off seems to be largely attributable to record ETF redemptions, which adversely hit many stocks due to light holiday trading volume. Then Wednesday's record one-day surge seemed to be propelled by short covering and "smart money" that was bargain hunting. Finally, Thursday's intraday pullback was complicated by year-end tax selling, as well as quarter-end window dressing.
As I said in my Thursday podcast, these daily oscillations will likely persist into January, when trading volume typically picks up. The analyst community was largely absent last week (many were out skiing), but when they get back later this week, I will be on the lookout for any analyst upgrades and downgrades.
After a rough 2018, I am expecting that we'll see a more prosperous New Year!
Why the Fed is Not Likely to Raise Rates in 2019
Before Christmas, President Trump effectively declared the Federal Reserve as the #1 enemy of the stock market. The Wall Street Journal reported that President Trump said that the Federal Reserve is "the only problem our economy has," adding that the Fed doesn't "have a feel for the stock market."
In his Christmas message, the President was more conciliatory when he said the Fed is "raising rates too fast because they think the economy is so good. But I think they will get it pretty soon. I really do." Trump added that "I mean, the fact is that the economy is doing so well that they raised interest rates and President Obama had a very low-interest rate. We have a normalized interest rate, a normalized rate, it's good for a lot of people. They have money in the bank, they get interest on their money."
Although President Trump seemed to be rambling a bit in his Christmas message, the good news is that the Fed Funds futures market is not (as of now) expecting another key interest rate hike by the Fed in 2019. As I have said multiple times, the Fed does not like to fight market interest rates and does not want to invert the yield curve, so for all practical purposes, the Fed may be done raising key interest rates.
As I mentioned on last Monday's podcast, the Fed can no longer raise key interest rates, no matter what their official Federal Open Market Committee (FOMC) statement said, since market rates have fallen significantly, and the Fed never fights market rates. Here is a sampling of the falling Treasury yields:

Complicating matters, Treasury Secretary Steven Mnuchin summoned a call with the top officials at the Federal Reserve, the Securities & Exchange Commission (SEC), the Commodity Futures Trading Commission (CFTC), the Comptroller of the Currency, and the Federal Deposit Insurance Corporation (FDIC) to discuss coordination efforts to assure normal market operations. Secretary Mnuchin also called the heads of six major banks to reassure them that there are no liquidity problems and, specifically, no "clearance or margin" issues, and then he issued a press release. Unfortunately, Secretary Mnuchin's efforts were grossly misinterpreted by the financial media to imply that the U.S. might be on the verge of another financial crisis, which just exacerbated the situation and likely triggered more selling pressure.
Interestingly, there was also a Treasury Department statement that said, "With the government shutdown, Treasury will have critical employees to maintain its core operations at fiscal services, IRS, and other critical functions." In other words, we still have to pay taxes for government services we're not getting.
Treasury yields should remain under pressure as a strong U.S. dollar continues to attract international capital and push Treasury yields lower. Based on recent Treasury auctions, the bid-to-cover ratios remain healthy around 2.8 to 1 as yields meander lower. In other words, there is no "debt bomb" about to go off. The U.S. remains an oasis for international investors fleeing low interest rates and weak currencies.
As a result, I remain optimistic for 2019, despite the fact that the financial media refuses to report any good news, such as falling market interest rates, as well as record corporate earnings and stock buy-backs.
The Stock Market Decline Has Hit Consumer Confidence Hard
Last Thursday, the Conference Board announced that consumer confidence declined sharply to 128.1 in December, down from a robust 136.4 in November. Previously, consumer confidence peaked at 137.9 in October. There is an amazing diversion between super-high "present situation" beliefs and sharply lower "future expectations." Specifically, the present situation component remained high at 171.6 (down a bit from 172.7 in November), while future expectations declined sharply to 99.1 (down from 112.3). The resulting 72.5-point spread between the "present situation" and "future expectations" is second only to the all-time high set in 2001, right before a recession, so this is a statistical anomaly we should watch closely.
The best economic news last week was that the consumer kept spending in the holiday season, despite the stock market's decline. According to MasterCard SpendingPulse, consumer spending between November 1 and December 24 reached $850 billion, up 5.1% vs. a year ago. During this period, MasterCard SpendingPulse said that online sales surged 19.1%, apparel sales rose 7.9%, and sales at brick & mortar stores rose 3.3%. Interestingly, department store sales declined 1.3% due largely to store closings. Clearly, consumers were in a good mood this holiday shopping season, despite the wild stock market!
The demand for bigger ticket items - like homes and cars - remains lower. On Friday, the National Association of Realtors announced that pending home sales declined 0.7% in November to a 4-month low. In the past 12 months, pending home sales have declined 7.7%. Interestingly, the federal government shutdown has temporarily shut down Federal flood insurance, which is estimated to reduce pending home sales by 40,000 per month, so I expect this decline in pending home sales to continue.
Speaking of the federal government shutdown, the U.S. Bureau of Economic Analysis is suspending all its data releases! In the meantime, during his Christmas message, President Trump said that the recent decline in U.S. stock markets is a buying opportunity for investors. As usual, the stock market does not seem too upset over the federal government partial shutdown over the border wall funding issue. In his Christmas message, President Trump said that the government is going to remain partially shut down "until we have a wall (or) fence." Overall, it looks like the federal government shutdown will continue well into January, especially since most of the Congressional leadership is on vacation.
Interestingly, I should add that the crude oil market is actually more volatile than the stock market lately. On Wednesday, crude oil prices surged over 8% for the biggest daily gain in more than two years, based on speculation that worldwide demand would remain strong in 2019. Even with the surge in crude oil prices on Wednesday, crude oil prices ended the week approximately 40% lower than in October, when oversupply concerns caused crude oil prices to plunge. The truth of the matter is that crude oil is seasonal because worldwide demand declines in the fall and rises in the spring. As a result, much of the decline in crude oil prices could be attributable to weak seasonal demand. When worldwide demand picks up in the spring, hopefully crude oil prices will find equilibrium and settle into a much tighter trading range.
Disclosure: *Navellier may hold securities in one or more investment strategies offered to its clients.
Disclaimer: Please click here for important disclosures located in the "About" section of the Navellier & Associates profile that accompany this article.
Additional Disclosure: The summary bullets for this article were chosen by Seeking Alpha editors.