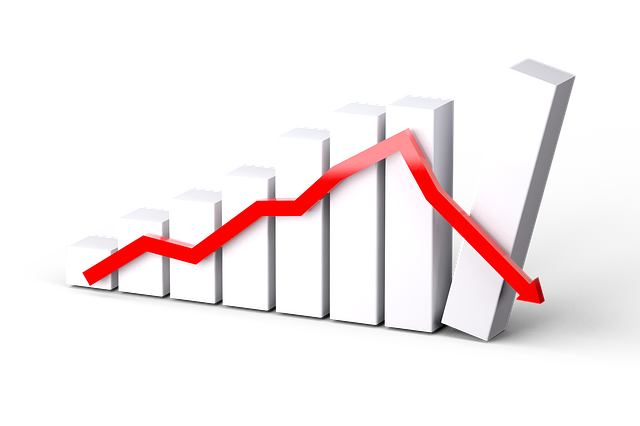 Image Source
Our portfolios are "going to hell in a handbasket." A mixture of China trade tensions, an increase in interest rates in the face of a supposed recession, and garden-variety uncertainty had the staid among us closing browser tabs within the past month out of fear of what the brokerage account would say we we were left with.
Do the recent price declines represent generational buying opportunities, or are they simply canaries in the coal mine of something far greater? I have no idea about the future, but I can tell you what has already happened in 2018 in my retirement portfolio.
The Context
Due to my noticing expensive mediocrity within the options of my 401k and a belief that I could do better, I made the decision in 2013 to manage predominantly all of my retirement account myself, inside of a just-instituted self-directed brokerage account. This decision was buttressed by my belief that a) even though my company has a pension, fortunes dictate that it should not be relied upon, and b) I am of the age to not completely depend upon future Social Security payouts. As a result, I have tackled this portfolio with the assumption that it would be my sole responsibility to fund my family's financial situation post-retirement. "Discretion is the better part of valor."
Things were great, but as a side-effect of my then "investing" style, annual trades reached into triple digits. I did a swell job at making the portfolio dollar amount get bigger. Couple this with investing always being a hobby and I was hooked. I was a wonderful portfolio manager while I had the time to babysit my portfolio. Then real children (3) came and I quickly didn't. The thing about momentum or swing trading is, if you are tuned to PBS Kids rather than market and industry news, things can get ugly and fast. They did.
The idea for a "portfolio rehab" was born in 2015 - to overhaul my retirement account from something I was doing a bad job at babysitting, to something that I didn't have to. I became a Dividend Growth Investing convert - the still-simplistic but difficult idea of not chasing percentages in favor of buying a stream of income that I and mine will be able to live off of in retirement.
The Metrics
To give a nod to short-termism, the total return on my portfolio for the fourth quarter was -2.23%, giving a final harrowing total of 3.3% for the year - a far cry from the S&P 500's -6.24% and some other ETFs that are related somewhat.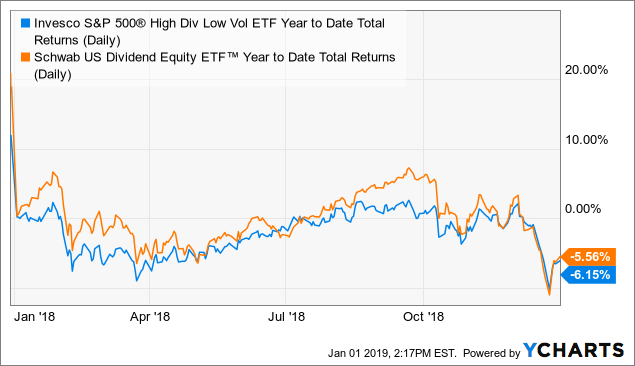 While it is comforting that my efforts amounted to a high single-digit beat, some missteps in the quarter have resulted in me getting a bit apprehensive about being solely responsible for the finances in my post-retirement life.
As a result, while I had been contributing 100% of all 401k deposits to this account, as of 2019 this number will be cut to 95% (and perhaps less later), with the balance split up between two new low-cost ETFs inside of my 401k - one that tracks the market and one focused internationally. The latter is a nod towards diversification, as dividend growth investing is predominantly a United States phenomenon.
However, since this is a dividend growth portfolio, the real banner is in its growth in income. 2018 proved to be a banner year in terms of actual income that my portfolio generated. 2018 income increased 24.76% from 2017.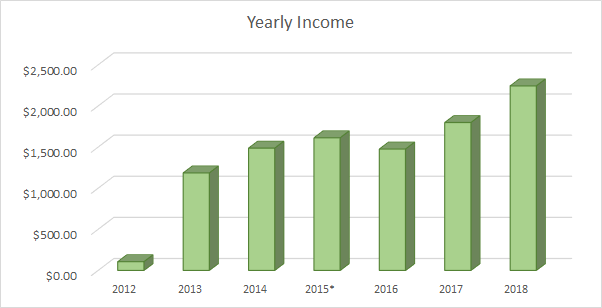 *Data from portfolio, chart created by author*
As the last quarter came to a close, I fully expected to continue to write covered calls to increase income as I had been doing. In fact, in my previous article I actually wrote that with covered calls and a special dividend from Main Street Capital (MAIN), "I fully expect this next quarter to be my first $700 quarter." In reality I must shake my head at my optimism.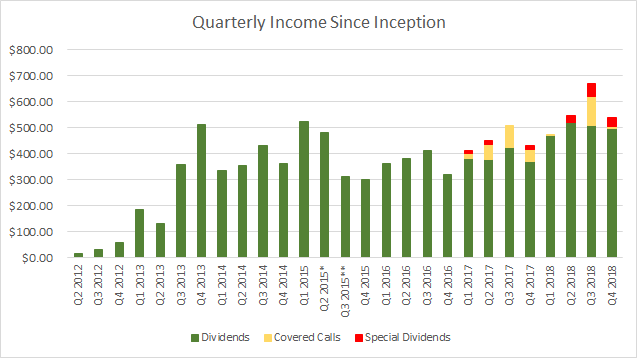 *Data from portfolio, chart created by author*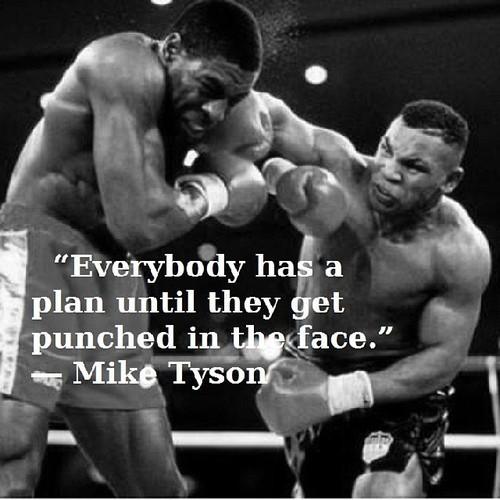 Image Source
The covered call piece of the equation simply did not materialize as I thought it would. Truthfully, though, I must be thankful.
I had been flirting with $30 covered calls for L Brands (LB) - below my cost basis, but at a level where I could still get some additional income off the position while I waited for the business to turn around. On October 12, my luck ran out and shares were called away. I was forced out of the position at a loss, which is never ideal, but in reality it saved me from much more pain later.
Not only was I saved from an additional 14% decline, but there has since been an announcement that the dividend would be cut in half. There is no telling how long I would be waiting until I simply got back to even. Bullet dodged!
Also, though it happened sooner (resulting in less "free" income) than I would have liked, I also used covered calls to close out my Southern Company (SO) position. Shares were called away on November 16th at $47, which the broader market meltdown in December turned into wonderfully lucky timing.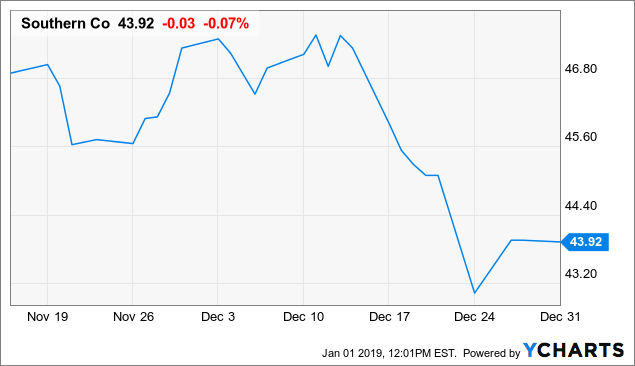 So the question became: What to do with the prodigious inflow of cash? At one point it was around 14% of my portfolio. Should I hold it to wait for a bear market, or put it to work elsewhere? In the end I remembered that I am horrible at market timing, so I decided to put it to work. I blended it with new deposits to:
Due to the high current dividends of both L Brands and Southern Company, the machinations above actually resulted in me having ~$32 less in Forward Twelve Month income, which I view as my most important metric. But the amount gained from dividend raises and simple compounding was enough to push me into slightly positive territory for the quarter.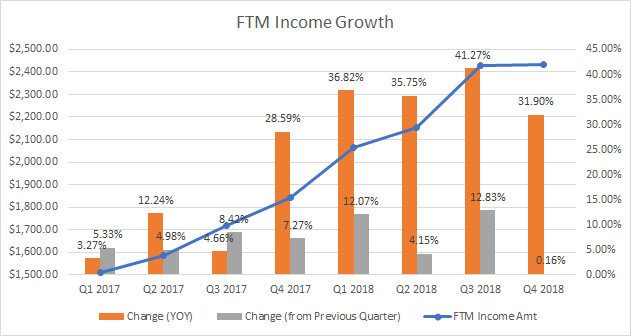 *Data from portfolio, chart created by author*
However, I am still on track with the upper portion of my income goals:
*Data from portfolio, chart created by author*
And most importantly, I was able to make my portfolio marginally safer, both in terms of diversification and risk. As a result, the graph that closed out Q3: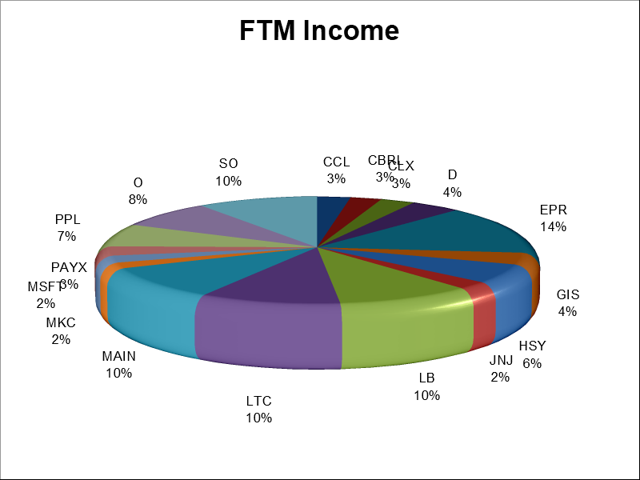 Now looks like this: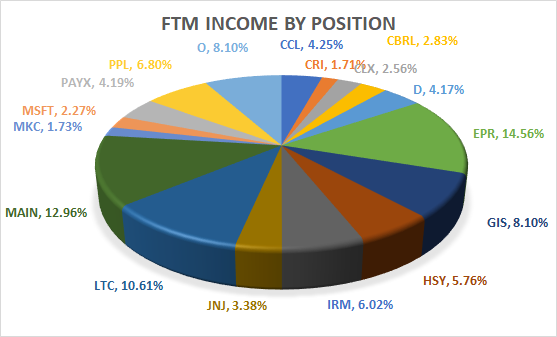 *Data from portfolio, chart created by author*
Next Steps
There are a few positions I would not mind opening to keep for the long haul. Texas Instruments (TXN) and 3M (MMM) come to mind. Also, if Johnson & Johnson and Carter's continue to languish I could see myself buying more of these as well. However, foremost on the list of priorities is to raise cash. I have a personal rule that transaction costs cannot equal 2% of the amount of money I spend. So, looking ahead, I will be on the sidelines until at least the end of February. That is, unless another covered call gets called away.
I am not a professional investor, and as such, the strategies, companies and/or positions mentioned and any associated analyses are related to my own personal experience, expertise and situation, and is not intended to be personal advice or a recommendation for you to buy or sell. It may even serve as a caution tale about what not to do. As everyone has their own risk tolerance, goals and needs, it is important that you perform your own due diligence. Happy Investing!
Disclosure: I am/we are long CCL, CRI, CBRL, CLX, D, EPR, GIS, HSY, IRM, JNJ, LTC, MAIN, MKC, MSFT, PAYX, PPL, O. I wrote this article myself, and it expresses my own opinions. I am not receiving compensation for it (other than from Seeking Alpha). I have no business relationship with any company whose stock is mentioned in this article.