Editor's note: Seeking Alpha is proud to welcome FlowPoint Capital Partners, LP as a new contributor. It's easy to become a Seeking Alpha contributor and earn money for your best investment ideas. Active contributors also get free access to the SA PRO archive. Click here to find out more »
Two global investment risks that are top of mind are Australian and Canadian real estate, where home prices dwarf those of their Western peers. We've been watching these bubbles inflate for years, and our portfolio is short mortgage lenders and other beneficiaries of these trends. There may be a long way to fall. Paired against these overvalued stocks, we recently began to buy Texas banks.
Pair Trade: Short Australian and Canadian Banks vs. Long Texas Banks
Canadian and Australian housing markets are in bubbles that make prior runups in the U.S. look tame. We see double-digit downside for bank stocks such as CIBC (CM) and Toronto-Dominion (NYSE:TD) up north and Westpac Bank (NYSE:WBC) down under.
Like their Canadian and Aussie cousins, Texas banks also have exposure to the oil patch, housing and commercial real estate. But the differences within are remarkable, and we are long Texas banks in a pair trade. We see 25% upside in small cap TX banks such as TCBI, CFR and PB.
We're also short the EWC and EWA ETFs for exposure to the trend. 42% of EWC the Canada ETF is in the financial sector, including the largest six banks and 31% of the EWA Australia ETF is invested in banks.
Analysis at-a-Glance
Texas banks are valued similarly as Canadian and Aussie banks on P/E and book value, despite faster growth, much more productive assets (ROA), half the financial leverage (assets/equity), better M&A opportunities and similar credit profiles.


Source: Bloomberg and FlowPoint
Texas, Australia and Canada are all levered to the energy sector, though recent OECD economic surveys on Australia and Canada contain data on their respective housing markets to be noted. Specifically, home prices and consumer indebtedness are highly elevated in both countries, well above levels those observed in the U.S. leading up to the GFC.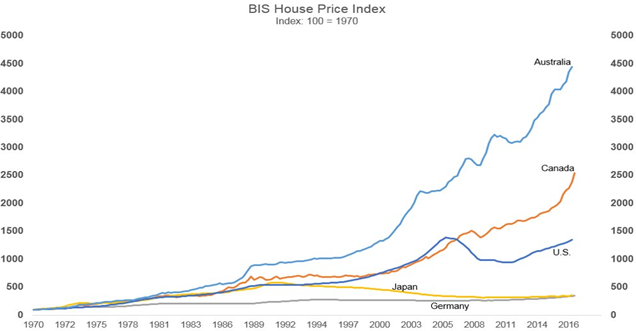 Source: BIS
A quick Google search for Canadian housing bubble will even reveal that topic's own Wikipedia entry. But far from jumping the shark, these price bubbles are very real, and now-observable knock-on effects of home price weakness are pressuring bank earnings and share prices. Predictably, both Canada and Australia have seen government attempts through policies aimed at containing exploding house prices and speculation. Further, rising interest rates may to put a damper on highly valued housing markets. In both nations, housing is an important part of the economy and a major driver of bank earnings.
So far, we do not see the credit deterioration that would signal deeper issues such as integrated regional or global financial systemic reaction, but we will monitor the data to see if further stress develops that would support a more aggressive position.
Here in the U.S., there has been weakness in select U.S. housing markets of late, particularly coastal markets that have enjoyed solid recoveries post GFC and are now showing some wear and tear due to rising rates, SALT and migration to lower-tax states such as Florida and Texas.
The Data: Extended Housing Markets + Price & Sales Weakness
The following charts are from the Australia OECD report, which can be found here.
These charts illustrate that (1) household indebtedness is very high (2) house prices have rocketed in nominal terms (3) housing values are very high relative to rents and (4) house prices are very high relative to incomes.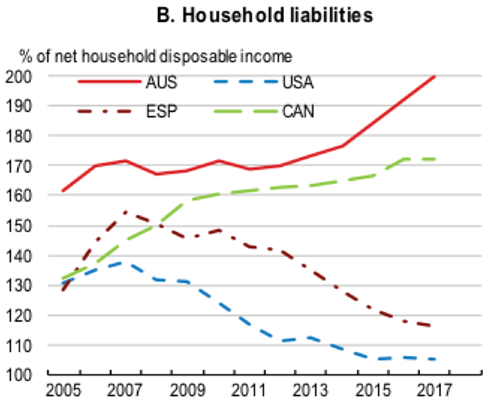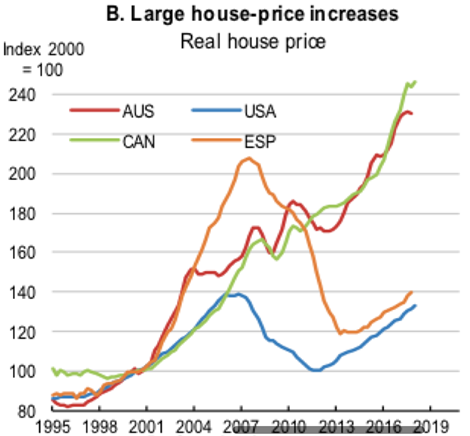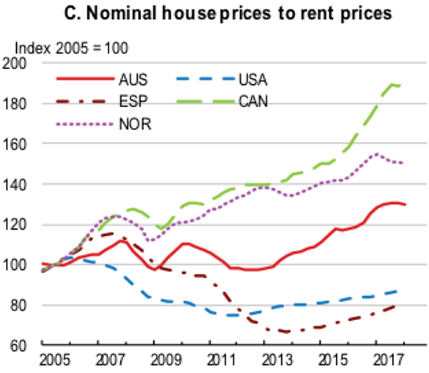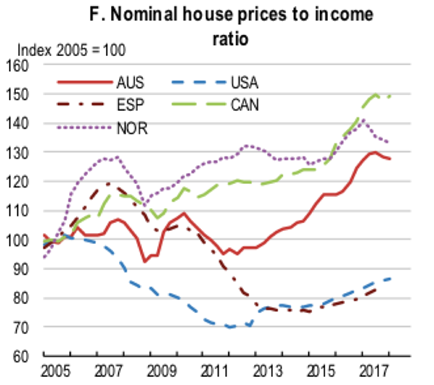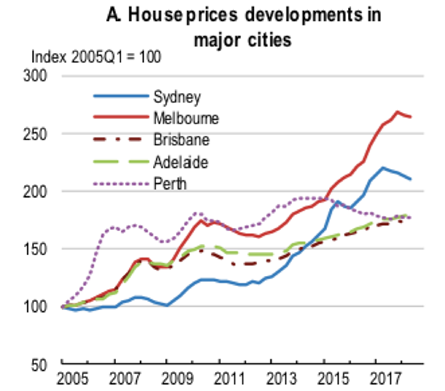 Australian Housing Market Weakness
The OECD charts do not illustrate the pressure on Australian house prices that has developed in recent months. We consulted Corelogic data and found some interesting charts. The data can be found here Monthly Housing & Economic Chart Pack | CoreLogic
The first chart illustrates the y/y pressure on the Australian housing market as a whole. The second and third drill down into some key regional markets, Sydney and Melbourne. The third chart illustrates the slowdown in housing sales activity.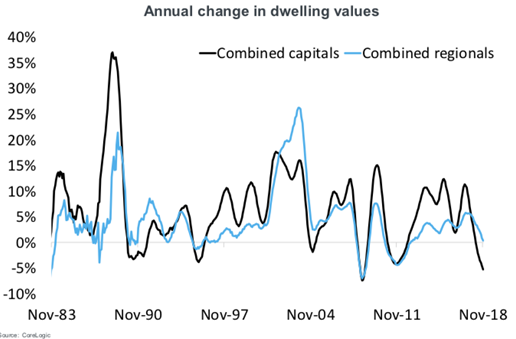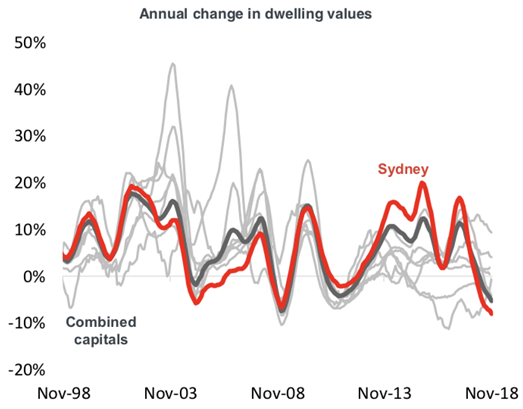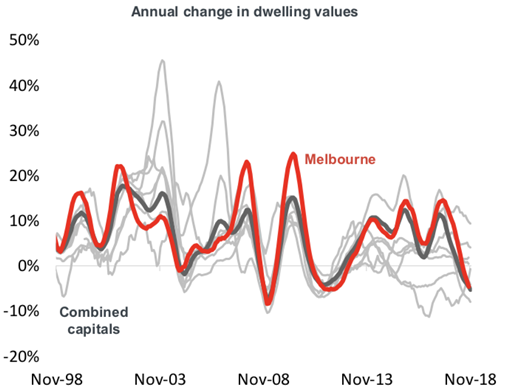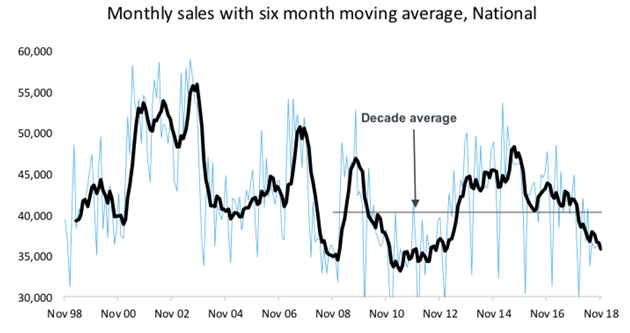 Canadian Housing Market Weakness
Below are some charts on Canadian housing courtesy of RBC. Overall pricing is particularly weak in key markets such as Toronto and Vancouver, and sales activity is soft.
Source data can be found here.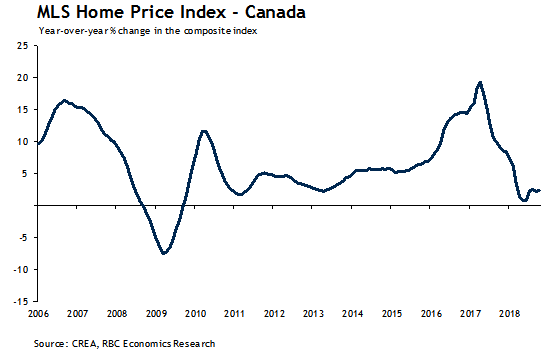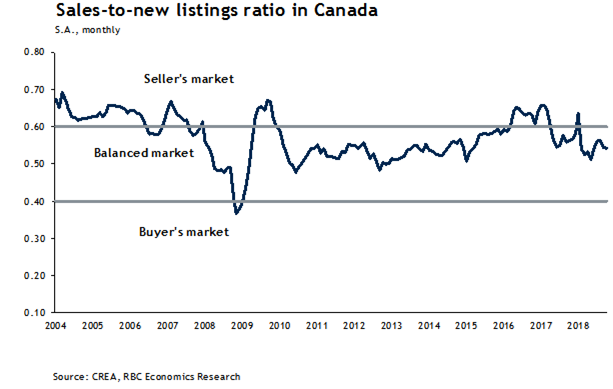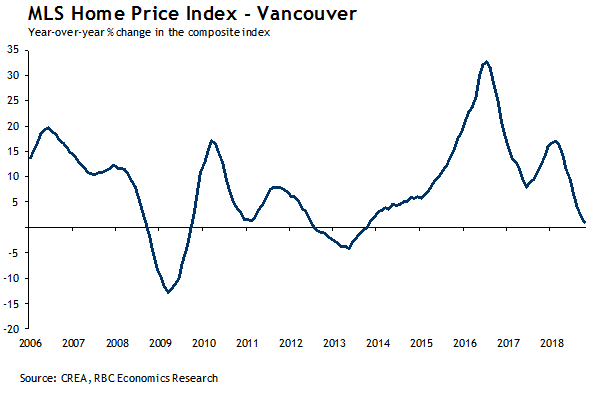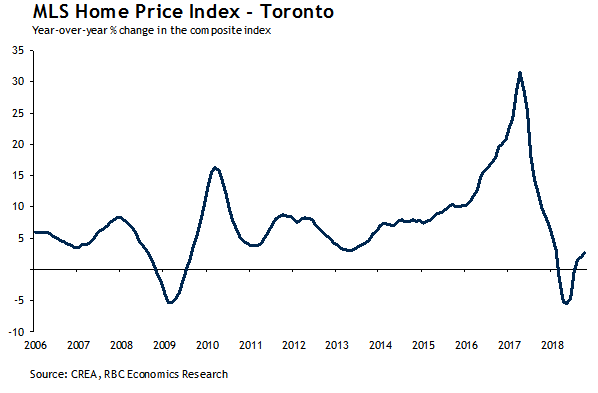 We pulled the Statistics Canada data on new home prices. The series were updated this week up to October. Same story.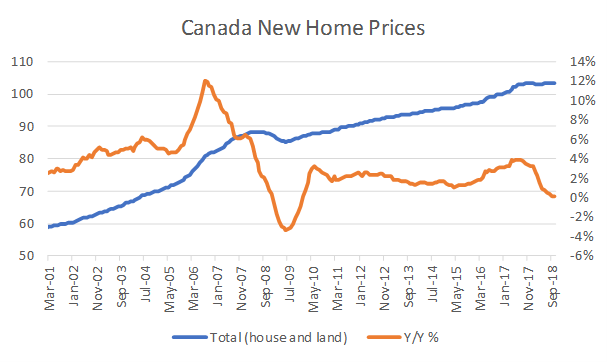 Source: Bloomberg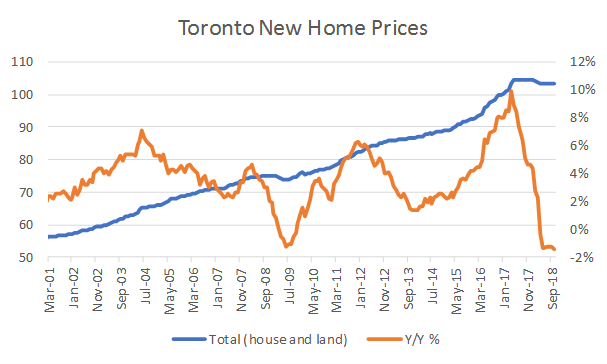 Source: Bloomberg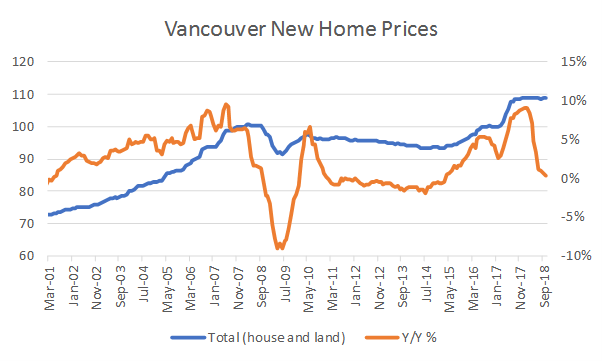 Source: Bloomberg
Divergent Interest Rate Policies Yet Similar Housing Slowdown
The slowdown in housing activity and the pressure on home prices is similar in Australia and Canada. Monetary tightening is often the proximate cause. However, monetary policies are on divergent paths. In both countries there have been some enhanced underwriting standards and limits on foreign buyers. But in Canada monetary policy has been on tightening path while in Australia the policy rate has not been rising.
Below we also include charts of select mortgage rates in Canada, which illustrate that mortgage rates have been rising. While the vast majority of Canadians will manage through this without issue we still expect enough borrowers to feel the pinch to create a headwind for bank earnings.
The data can be found here.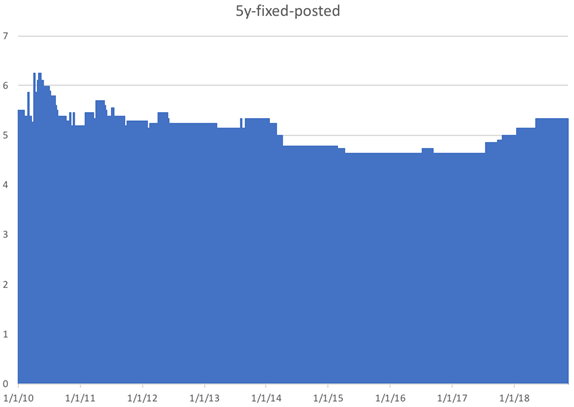 The next chart is the Reserve Bank of Australia's policy rate. Interest rates remain at very low levels. This means an overheated market can slow without much policy intervention if it is sufficiently extended.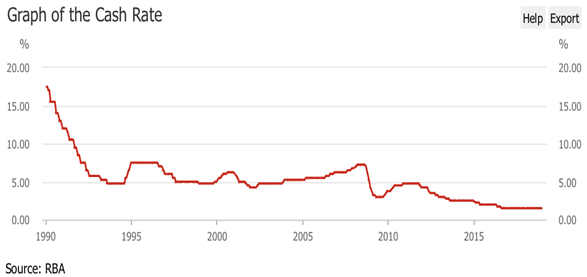 What Does This Mean For Banks?
Looking into bank results we can see the initial symptoms. Credit quality still remains generally benign. But there is a meaningful slowdown in mortgage banking.
Let's use Canada's CIBC as an example. In this slide from CIBC Q4 results we see exactly that. We do not observe an uptick in credit issues that would lead us to conclude there is a financial crisis happening here. But we do see that there is no growth in a key business line. We expect the growth pressures to be enough to produce a profit on the short side. We will monitor the position to see if it leads to credit deterioration and a broader short case.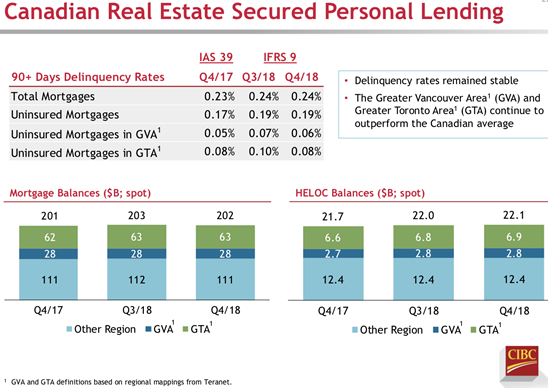 Meanwhile, commercial banks located in Texas represent a more compelling investment case and a long opportunity in a pair trade vs. Short Canadian and Aussie banks.
Like Canada and Australia, the Texas banking system is levered to the energy industry, residential mortgages, and commercial real estate. Texas has a vibrant economy, low taxes, a business friendly climate, and organic population growth as well in in-migration. Texas has a healthy real estate market, not characterized as a bubble.
The average TX bank has lent out just 80% of deposits (vs. 119% at average Canadian)
TX banks also have much higher ROA (1.41% avg TX bank) than Canadian (0.88% ROA) or Aussie (0.80%) banks
TX banks are valued similarly on book value and earnings as Canadian and Aussie banks, despite being faster growing, with much more productive assets, half the financial leverage, with similar credit profiles and better M&A opportunities
TX banks average 1.23 times book value and 11 times EPS, reasonable entry levels by historical standards. Our average TX bank has 25% upside to current prices

Source: Bloomberg and FlowPoint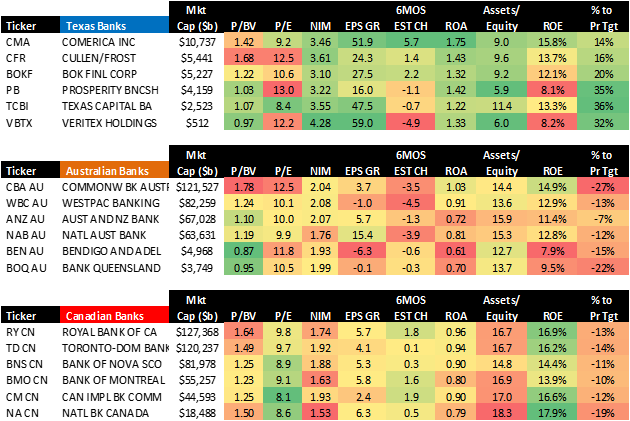 Source: Bloomberg and FlowPoint
These valuations are especially attractive relative to short opportunities given TX banks' superior returns on asset, net interest margin, EPS growth and dry powder in the form of low loan/deposit ratios and 8.5x leverage factor (assets/equity).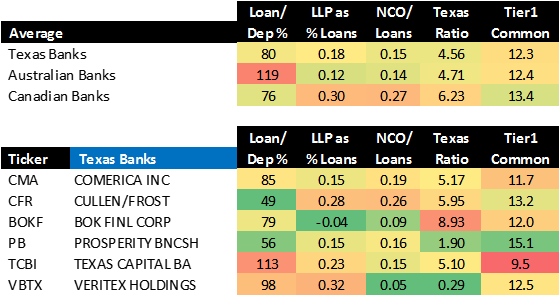 Source: Bloomberg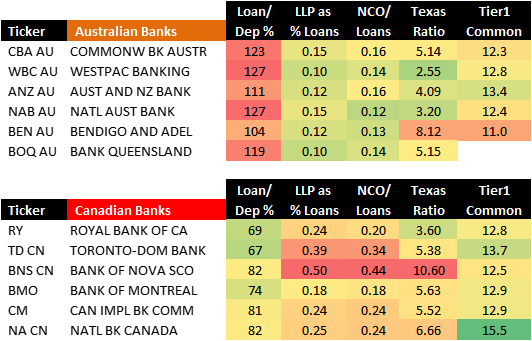 Source: Bloomberg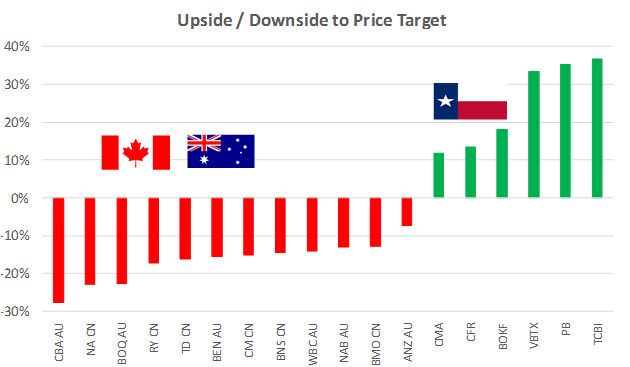 Source: FlowPoint
Our strategy follows a disciplined fundamental and thematic long/short strategy based on the creative destruction in the global financial sector. In addition to the TX banks, our short positions in the Canadian and Aussie banks are also complemented by long positions in mall REITs and growth stocks in the payment sector, fintech, securities exchanges.
Disclosure: I am/we are short EWC, WBK, BNS, TD, CM, NABZY, CMWAY. I wrote this article myself, and it expresses my own opinions. I am not receiving compensation for it. I have no business relationship with any company whose stock is mentioned in this article.
Additional disclosure: We are long TCBI and PB.
Editor's Note: This article discusses one or more securities that do not trade on a major U.S. exchange. Please be aware of the risks associated with these stocks.