We are launching a brand new series called "Best and Worst of the Month" where we discuss the extreme price movements of the month.
Best Performing Stocks
Worst Performing Stocks
Terra Tech (TRTC) (50.9% loss)
Planet 13 (OTCQX:PLNHF) (45.8% loss)
Cronos - Altria Buys 35% for US$1.8 Billion
The reason that Cronos outperformed the market should be well-known by everyone. On December 7, Altria (MO) announced a US$1.8 billion investment into for 35% of Cronos at a price of C$16.25. Cronos shares rose sharply post the announcement but have since come down to end the month at C$14.38, 12% below the price that Altria paid. We discussed the transaction in "Altria's $1.8 Billion Bet On Cronos Is Both Risky And Expensive" and discussed why we have been consistently cautious on Cronos. We upgraded Cronos to Neutral after the transaction as it now has the second largest cash balance after Canopy Growth (CGC) to pursue global cannabis opportunities.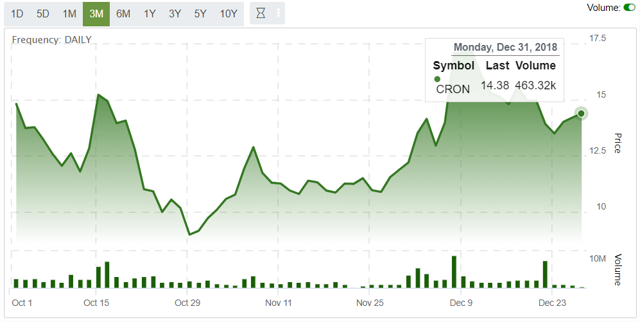 (Source: TSX)
Auxly - Cannabis Streaming
Auxly is another outperformer in December after posting a 5.8% gain. There was no specific catalyst for the outperformance, but rather we think the stock was merely experiencing a temporary reversal after a prolonged sell-off. Auxly has dropped 47% in 2018, and the stock remains one of our bearish ideas from 2018. We would not view the outperformance in December as too much of a reason to cheer about. In fact, we continue to believe that Auxly's business model carries higher than average execution risks, and investors need to understand these risks. Auxly has not proven its business model so far and it remains in the investing stage while Canada is already two months into legalization. We do not see a clear path for Auxly to achieve satisfactory returns for the capital it has deployed and remain our Sell rating on the stock.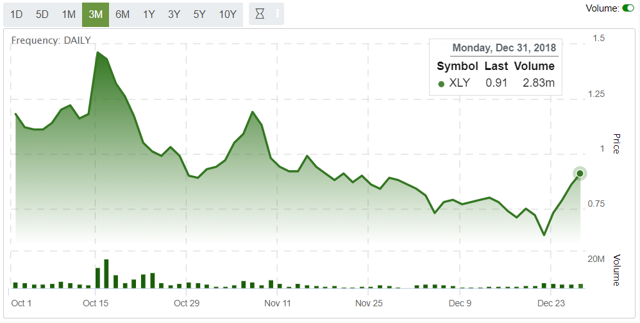 (Source: TSX)
Terra Tech - Don't Waste Your Time Here
Terra Tech was never a stock that we would recommend to investors. In fact, when we published our first article on it, we told readers that this OTC-listed cannabis stock has too much controversy and questionable management track record that for making into anyone's portfolio. In November, we discussed its proposed merger with another penny stock Golden Leaf (GLDFF).
Then, on December 17, Terra Tech was accused of defrauding its business partner in Nevada and then on the following day, Golden Leaf announced that it will not pursue the acquisition by Terra Tech. Terra Tech shares dropped 42% in two days as investors wanted nothing to do with its troubles. We don't think Terra Tech is investable and wouldn't waste too much time on this stock.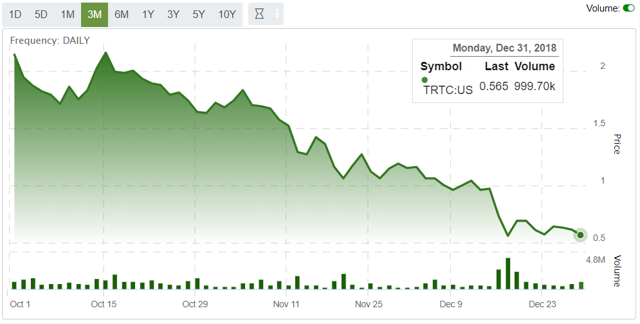 (Source: TSX)
Planet 13 - Overpromise and Underdeliver
Another underperformer is Planet 13 which illustrated the risk when management overpromises and ends up underdelivering. The stock went public in June this year, and it wasn't until late August when its stock started to catch the fast train. The stock generated lots of buzz with its Superstore on the Las Vegas strip on November 1. However, because Planet 13 only has 1 recreational license, it had to close its Medizin location which generated $4.9 million of sales in Q3. The company applied for six retail licenses in the latest Nevada licensing round but was rejected for all of them. The outcome is devastating because Planet 13 now has to keep its Medizin location shut in order to keep its Superstore open. The defeat in the Nevada licensing round was the main reason that drove its share price down 46%.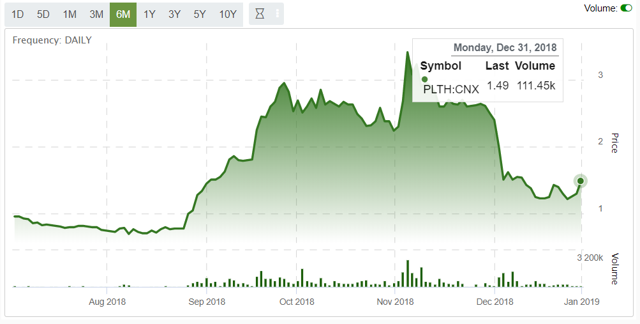 (Source: TSX)
Summary and Outlook
December was another tough month for cannabis stocks and the broader equities market. Despite the rally on the 28th and 31st, most cannabis stocks ended December in the red. In fact, both the Marijuana Life Sciences Index ETF (HMLSF) and the U.S.-listed ETFMG Alternative Harvest ETF (MJ) have lost 15-18% during the month. Despite all that, there are still a few stocks that outperformed others and some that did worse. Most of the big movers had specific reasons behind their drop/rise, but we struggle to identify the catalyst in the case of Auxly. Let's hope January 2019 will be better!
*Check out November's Best and Worst stocks here.
Cannabis Stocks Performance 2018 YTD