Gold ETF products bounced upward on Thursday as unofficial word began coming out of Greece that the debt swap being offered investors appeared to be likely to pass. About 75% of bond holders need to approve the swap and reports from Greece indicated that number was close at hand by the offer's close at 10pm Athens time Thursday. According to Bloomberg, Greece was preparing to announce a successful swap around 1pm Athens time Friday.
GLD, the largest gold ETF, and the overall markets slid into line for a successful debt swap with assets like the Euro experiencing its best gain against the U.S. Dollar in several weeks. The U.S. Dollar had stood to benefit if the Greek debt swap fell through as investors would have flocked to the safety of the U.S. Dollar. This dynamic hurts the value of gold, as gold is denominated in U.S. Dollars. Accordingly based off the expectation of a successful swap, gold prices rose around .50% for the day. The iShares gold ETF, IAU, lead physical gold ETF performance gaining .67%. Here's the list of all gold ETFs, with meaningful volume, that are backed by bars of gold stored in a vault.

Source: GoldETFs.biz
Gold stock ETFs rallied even more, shrugging off their recent poor performance versus physical gold ETFs. GDXJ, the junior gold miners ETF, led the pack with a 1.74% gain. It has now regained its place as the best performing gold ETF year to date with gains of over 9%. GDX, the largest gold stock ETF, only moved about .40% for the day. Here's the performance chart for all gold stock ETFs, which primarily own gold mining and exploration companies.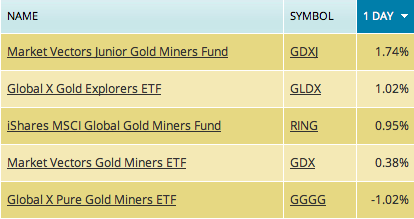 Source: GoldETFs.biz
Friday's gold prices are likely to be dictated by the debt swap news from Greece and the analysis of it. Gold has declined about 2% throughout the lead up to this second Greek bailout over the last month. Thus it is conceivable that gold could shoot upward another half a percent or more if the swap is approved and the participation rate is exceptionally high. Gold stock ETFs could be poised for even larger gains. Of course, this all assumes the Greek debt swap passes and unfortunately the history behind this crisis has been full of many delays, twists and turns.
Some investors will likely look to leveraged and inverse gold ETFs and ETNs to play tomorrow's gold price movement. For convenience, here's a list of the entire universe.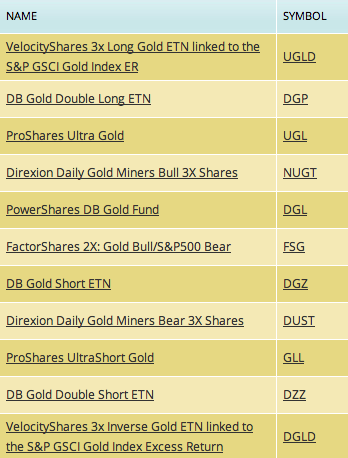 Source: GoldETFs.biz
Disclosure: I have no positions in any stocks mentioned, and no plans to initiate any positions within the next 72 hours.