After experiencing some serious turbulence in 2018, gold has since bottomed and launched a meaningful turnaround in the final months of the year. In today's report we'll look at reasons investors should expect a continued revival of the metal's fortunes in the first few months of the New Year.
While gold experienced a down year for 2018 - its first annual decline in three years - it finished the old year on a bullish note. The gold price was down nearly 2% for 2018, but has gained more than 6% since bottoming in August. This solid year-end performance is all the more remarkable when you compare the yellow metal's recent gains with the under-performing U.S. stock market. Shown here is a graph that illustrates gold's relative strength vs. the benchmark S&P 500 Index (SPX).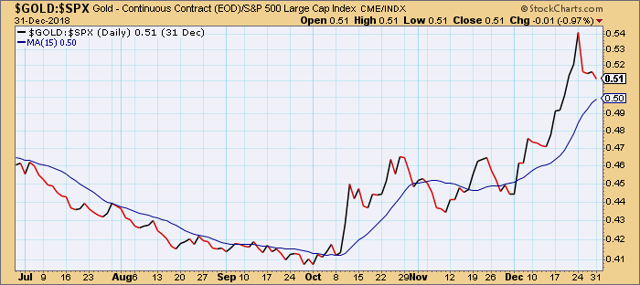 Source: StockCharts
For much of 2018, gold was in a position of declining strength compared with equities. This relative weakness argued against owning gold in favor of stocks. But now that gold's relative strength position has drastically improved, fund managers and market-moving institutional investors have a major incentive to favor owning gold over stocks. As long as gold's relative price strength vs. the SPX remains in a rising trend above its 15-day moving average, participants should continue to lean bullish on the metal.
Yet another argument in gold's favor as we enter 2019 is the continued erosion of U.S. government bond yields. For much of 2018, rising bond yields argued against owning non-interest bearing gold. But with the sharp reversal of the rising yield trend starting in October, gold suddenly had less competition in the fight for investors' attention. As the chart below shows, the CBOE 10-Year Treasury Note Yield Index (TNX) is still declining and hasn't found a bottom yet. This is more good news for gold's immediate-term prospects.
Source: BigCharts
One of the strongest obstacles that faced gold last year was the almost continual strength of the U.S. dollar. Gold's currency component is essential for determining its directional movements, so a strong dollar index created a powerful headwind for the metal and kept the gold bulls on the defensive for much of 2018. But now that the dollar is showing its first signs of sustained weakness in several months, gold's currency component is improving.
Shown below is the Invesco DB US Dollar Index Bullish Fund (UUP), my favorite dollar proxy. As long as the dollar ETF stays below its psychologically significant 50-day moving average, the pressure is off gold and the gold bulls should have little trouble controlling the short-term trend.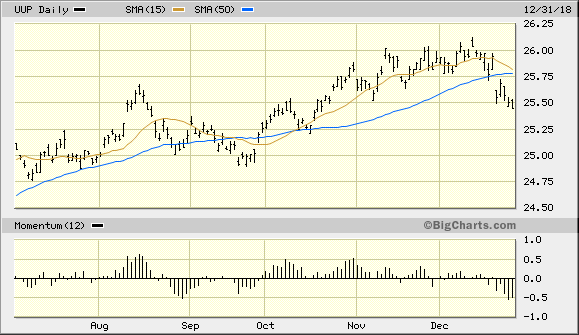 Source: BigCharts
Meanwhile on the sentiment front, investors have apparently thrown in the towel on gold and silver based on sales data released by the U.S. Mint. According to the Mint, sales of American Eagle gold and silver coins fell to their lowest levels in 11 years during 2018. This underscores the widespread lack of interest in both metals in the wake of the 2018 gold market plunge. From a contrarian's perspective, this is an encouraging sign in that it implies the last holdouts among the long-term gold bulls have been washed out of the market. This has historically been a necessary prerequisite to a renewed bull market getting underway. The latest gold coin sales data is thus another in a growing list of signs that point to gold's recent rebound having longer-term staying potential.
The iShares Gold Trust (IAU), the gold trading vehicle I use for this report, remains in a confirmed immediate-term (1-4 week) uptrend. The ETF continues to move higher above its rising 15-day moving average and is at a 6-month high as of Dec. 31. It can be argued that IAU is becoming over-extended from its immediate-term trend line, and therefore is vulnerable to a corrective pullback. Nonetheless, as long as the dollar ETF shown above remains below its 50-day moving average, gold's trend should remain up in the near term despite the increased potential for a brief pullback or "pause that refreshes."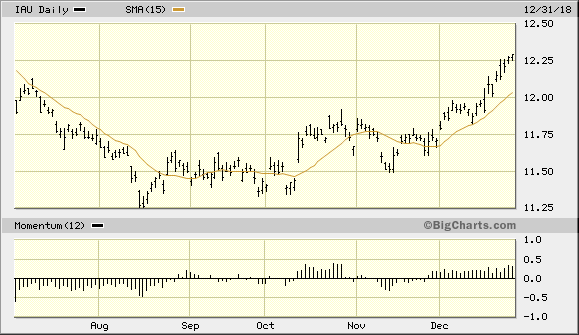 Source: BigCharts
In light of the above-mentioned factors, investors should expect good things ahead for gold in the early part of 2019. Gold's currency component is finally improving, and the metal has diminishing competition from other financial assets. On a strategic note, traders should remain long the iShares Gold Trust after recently taking some profit. I recommend raising the stop loss for the remainder of this trading position to slightly under the $12.00 level on an intraday basis. A violation of $12.00 in the IAU would mean that price has fallen under the technically significant 15-day moving average, in turn signaling a shift in the immediate-term trend.
Disclosure: I am/we are long IAU. I wrote this article myself, and it expresses my own opinions. I am not receiving compensation for it (other than from Seeking Alpha). I have no business relationship with any company whose stock is mentioned in this article.