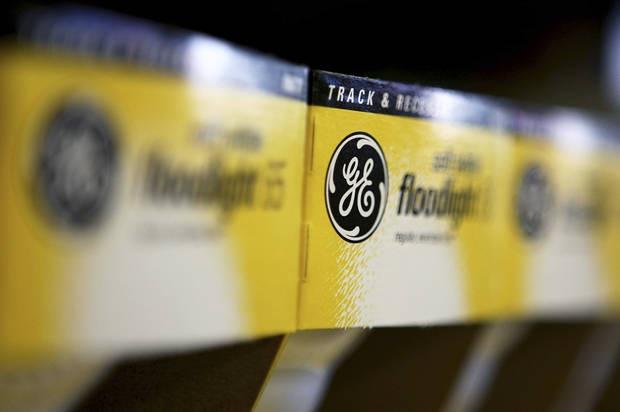 Source: Barron's
After years of deriding General Electric (GE) over its opaqueness I still find the company's financials rather mysterious. Prior to Q4 2018 I had written only about GE's industrial businesses, purposely avoiding GE Capital ("GECC"). The company's credit ratings have come under scrutiny, forcing me to parse through GECC. On General Electric: Was That A Run On The Bank? I questioned whether GECC's borrowings exceeded its customer loans:
GE Capital had short-term borrowings, non-recourse loans, and long-term borrowings totaling $70 billion. I assumed $16 billion was used to fund the financing receivables and $54 billion for some other purpose. I find it hard to believe that the lion's share of that $54 billion debt load was not GE debt simply parked at the financing arm.
Just over a week later Barron's provided an update on GE's debt load and the so-called "matched book" at GECC:
At GE, new CEO Larry Culp is working to address leverage concerns. GE representatives referred us to a recent interview in which Culp said the company has ample liquidity. Culp referenced some $40 billion available in untapped revolvers. He also said GE Capital runs a "matched book" of business. That refers to the fact that the cash from GE's financial assets arrive at the same time that the debt used to buy those assets comes due. When it works it lowers the refinancing risk.
The problem is that Culp nor his predecessors ever walked investors through GECC's financing assets and leases and borrowings they were matched to. It has been left up to investors to figure it out. It appears GECC's $70 billion in borrowings could exceed its financing receivables and leases by $25 to $32 billion.
Billions Of Debt At GECC Appears To Be "Mismatched"
At Q3 2018 GECC had assets of $129 billion, of which about $16 billion was related to loans and commercial mortgages and another $29 billion related to PP&E or aircraft leases. The total financial receivables and leases was about $45 billion.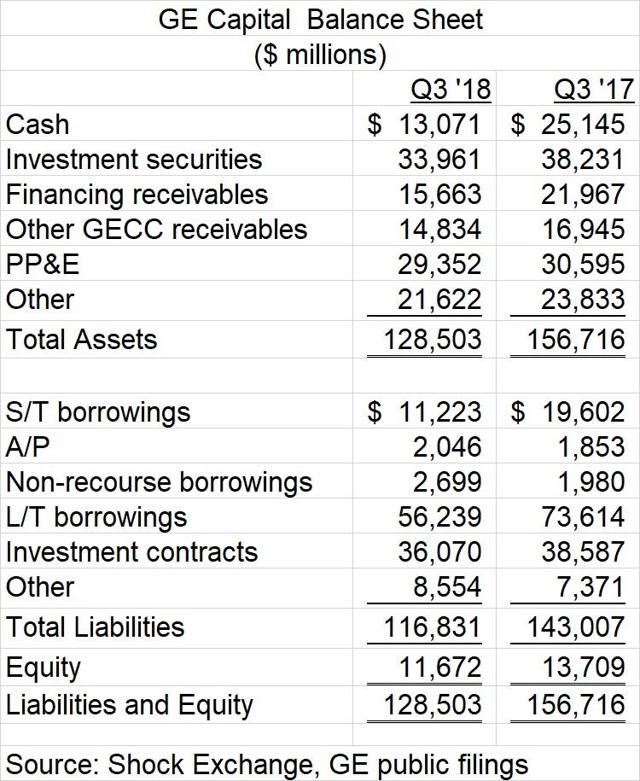 GECC has short-term borrowings, non-recourse borrowings and long-term borrowings of $70 billion. Borrowings leaves $45 billion of financing receivables and leases leaves about $25 billion of "un-allocated" debt. This could potentially be debt that belongs to the industrial businesses that's being held at GECC.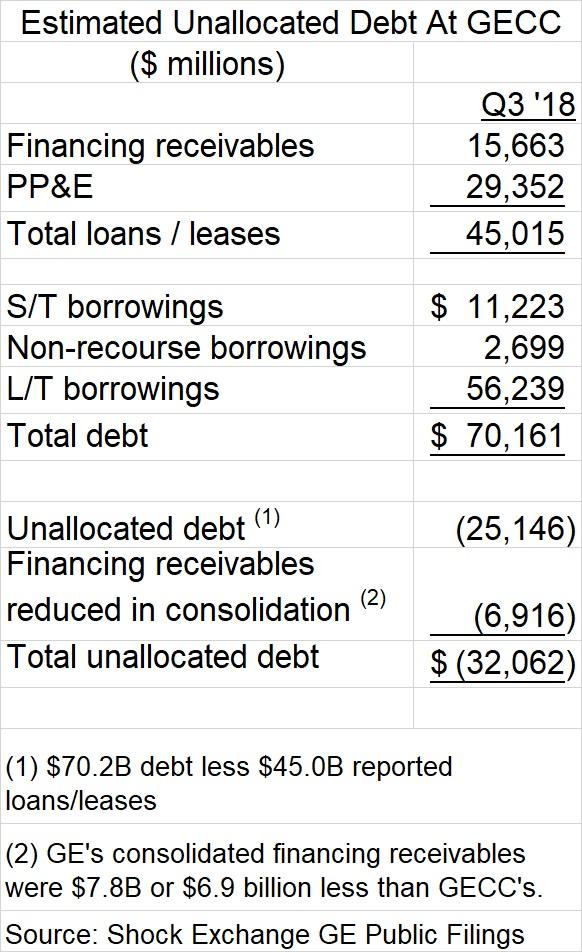 While GECC reports financing receivables of $15.7 billion, on a consolidated basis GE reports financing receivables of only $7.9 billion. There appears to be $6.9 billion of financing receivables that go away in consolidation. This $6.9 billion differential, combined with $25.1 billion of un-allocated debt, totals $32.1 billion of debt that appears to be un-allocated or "mismatched."
Will The Rating Agencies Respond?
I previously estimated GE's total debt load of $115 billion was at 7x run-rate EBITDA, or junk status. Apparently, GE believes its credit rating should be based on its industrial leverage. In a June 2018 presentation the company outlined how (1) it could reduce net debt from around $50 billion to $25 billion by 2020, and (2) its industrial leverage (ex. BHGE) could decline from about 3.5x EBITDA to about 2.5x: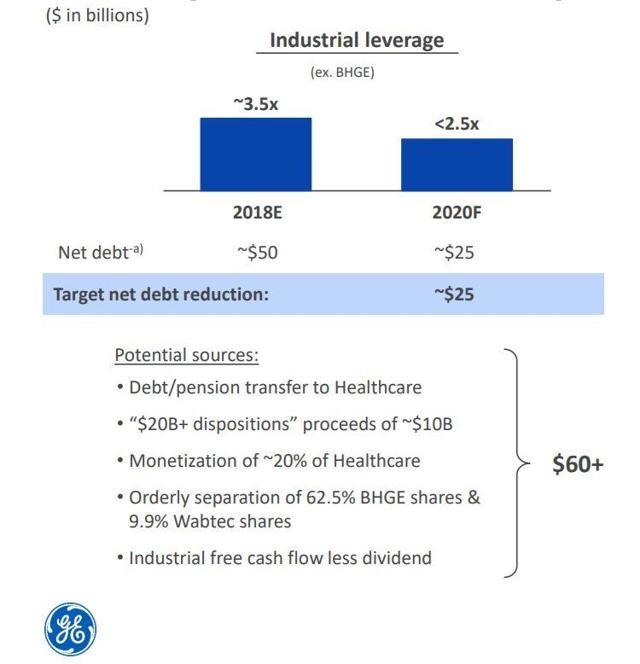 Source: GE June 26, 2018 Company Update
GE's estimate of net debt is opaque. According to the company, net debt = (1) gross debt + (2) after-tax pension deficit + (3) adjustment for operating lease obligations + (4) adjustment for 50% preferred stock - (5) 75% of cash balance. It's difficult to derive GE's calculation of net debt by simply looking at its financial statements.
How my estimated $25 billion to $32 billion of un-allocated debt at GECC could impact GE's net debt or industrial leverage is unclear. How would it potentially impact the rating agencies' view of GE's credit metrics and/or its rating? In the past I do not believe the investment community really focused on GECC. Now that there appears to be a "run on the bank" it's paramount that rating agencies and investors understand GE's total debt load, including GECC's.
I believe it's cleaner to look at GE's total debt (including GECC's) to EBITDA. Again, this would imply a junk credit rating. I believe the current spike in GECC's funding costs makes it a potential black hole. Apparently, UBS analyst Steven Winoker also believes GECC could have negative value:
In a note released on Tuesday, UBS analyst Steven Winoker laid out some scenarios for GE Capital's issues and came away with a scary conclusion: "Our base case implies negative value for GECC (GE Capital)." GE had not responded to a request for comment by Wednesday evening.
The other scenario would be to include the $25 to $32 billion of un-allocated debt in GE's industrial leverage calculation. This could potentially cause GE's industrial debt to spike and its industrial credit rating to deteriorate in the eyes of the rating agencies.
Conclusion
Has GE parked billions of industrial debt at its financing arm? I would assume the worst until GE CEO Larry Culp clears up the matter. Sell GE.
Disclosure: I am/we are short GE. I wrote this article myself, and it expresses my own opinions. I am not receiving compensation for it (other than from Seeking Alpha). I have no business relationship with any company whose stock is mentioned in this article.