Within the historically volatile and cyclical construction industry, two companies stand out for their consistent growth and returns to shareholders. Shares of both of these companies have fallen into bear market performance in 2018 amidst the broad market sell off and investor concerns about a the US economy falling into recession in 2019 or 2020. While the risks of an economic downturn have increased amidst rising interest rates and turmoil in Washington, we see the current valuation levels of EMCOR (EME $59) and Comfort Systems (FIX $43) as a great opportunity for investors.
Both companies are on track to generate record earnings in 2018 and yet the shares have come under pressure amidst the broader market sell-off in apparent anticipation of cyclical decline in non-residential construction. However, unlike most of the largest E&C companies, EMCOR and Comfort Systems are notable for their low risk strategies to provide specialty contracting services focused on the increasingly complex inner systems of new and existing facilities. We anticipate the ongoing growth in demand for new systems as well as retrofits and maintenance of sophisticated non-residential electrical, low-voltage communications, heating and air-conditioning, fire protection, plumbing for commercial, industrial, infrastructure and other non-residential will continue to create opportunities for these two market leaders.
Demand for electrical and mechanical construction has been driven by the proliferation of more technologically advanced electrical distribution, voice and data communications, lighting, fluid handling and environmental control systems in all types of facilities. Customers are requiring and utilizing these advanced systems for improved control, safety and energy efficiency.
EMCOR provides electrical, mechanical and industrial construction and maintenance work. Comfort Systems is primarily a mechanical contractor and service provider. Both companies operate through branches spread across the US, with EMCOR concentrated more in larger metropolitan areas and industrial centers and Comfort focused on smaller metro markets. EMCOR is principally a Union contractor and Comfort is exclusively non-union. Both companies pursue and execute a large number of short duration projects each year, with about 2/3 associated with servicing or retrofitting existing facilities as opposed to new construction. Typical construction projects for Comfort are valued at less than $1 million and less than $10 million for EMCOR. Customers include a variety of commercial (office, retail, entertainment, etc) industrial (processing, data-centers, refineries, etc) and institutional (government, education, medical, etc) facilities.
The breadth of projects and rapid turnover substantially reduces the risk profile and provides relatively stable revenue and earnings streams. Working on many projects, directly for owners/tenants or as subcontractors, these speciality construction companies have been able to avoid the higher levels of volatility reported by many of their peers and have been among the few E&C companies to generate double digit returns on capital in recent years.
Selective small acquisitions have expanded operations while cash-flow has led to improved financial strength. Additionally shareholder focused management teams have returned substantial capital in the form of share repurchases with moderate dividends.
End Market Opportunities - More than New Builds
As commercial construction contractors, both companies are exposed to the cyclical construction market. As shown below non-residential construction spending has been growing over the last several years, albeit in a seasonal pattern. Most forecasts suggest this growth will continue in 2019. The value of construction contract awards continues to trend higher.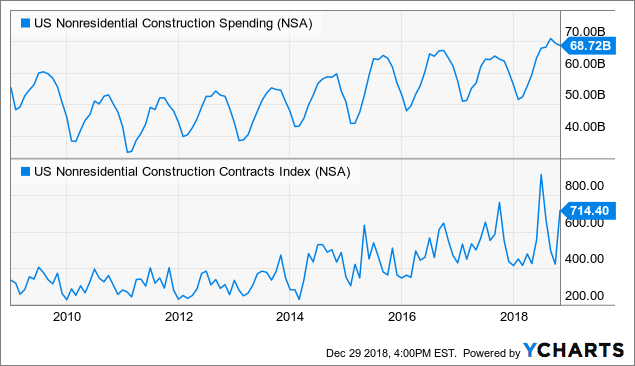 The non-residential construction market could be negatively impacted by a broad economic slowdown beyond 2019, however with a substantial portion of work for both EMCOR and Comfort tied to upgrades and replacement of systems the level of new construction is not the sole driver of work. The ongoing trend to improve energy efficiency and offer more sophisticated systems for operating and monitoring facilities are major drivers of demand for specialty electrical, mechanical and industrial contractors and should continue to support above market growth for both of these companies over the longer-term given their execution capabilities.
As shown below, over the long-term the shares of these contractors have not closely tracked the level of non-residential construction spending. Notably during the last decline in non-residential construction levels from late 2008 into 2011, shares in both of these companies appreciated after dipping ahead of the peak in non-residential construction spending.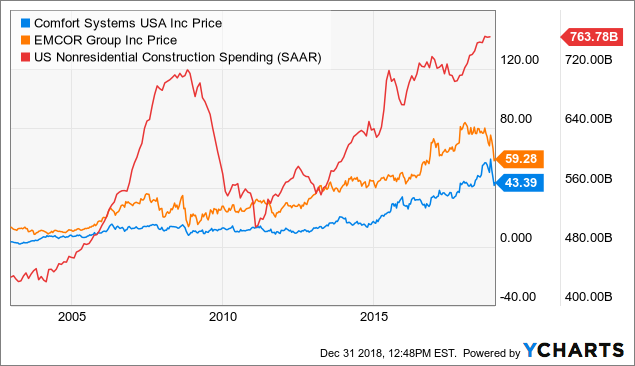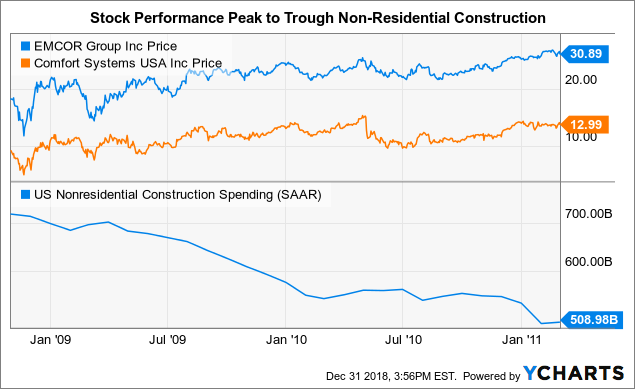 Both companies reported record levels of outstanding orders at the end of the third quarter and appear poised to build on anticipated record earnings levels for 2018. Although neither management teams have provided earnings guidance for 2019, recent comments indicate neither company is seeing signs or significant market weakness or a loss of current momentum.
Notable Financial Performance - Leveraging Top Line Growth for Shareholders
Both companies have delivered impressive growth over the past decade with average annual earnings per share gains of 6% and 22% over the past 10 and 5 years respectively for EMCOR and 9% and 32% for Comfort Systems respectively.
Top line revenue growth reflects a combination of internal expansion supplemented with acquisitions. Expanded service offerings keeps the companies in front of their customers, while the development of offsite fabrication capabilities and investment in internal systems and training has allowed both companies to build market share. Selective acquisitions have added to top line growth, with both companies pursue relatively small independent operations which can be quickly integrated and additive to earnings. Notably, their acquisition strategies have avoided the "transformational" or major purchases which have proven dilutive for many E&C companies and/or added substantial financial leverage. EMCOR's top line growth has averaged 3% and 4% annually over the past ten and five years. For Comfort Systems annual revenue growth has averaged 5% and 6% respectively for the same periods.
Both companies have leverage this growth with relatively consistent margins and modest leverage but ongoing share repurchases which have shrunk the share basis and provide more earnings for remaining shareholders. The benefits of these strategies is shown in the charts below.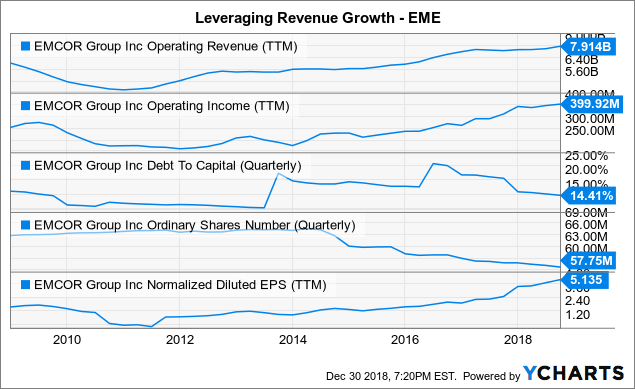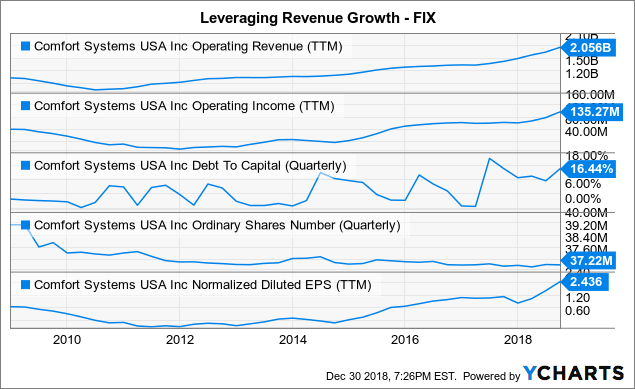 Long-term Growth Prospects
Amidst an ongoing demand for improvements in efficiency within commercial and industrial facilities as well as needs to service and maintain these increasingly sophisticated systems, the opportunities for these companies should continue to expand. While non-residential construction cycles will impact revenue opportunities over the short-term, long-term secular growth trends should allow for revenue growth. The largest companies in the sector should be particularly well positioned to take advantage of market growth as they can capitalize on new technologies and processes, including off-site fabrication, remote systems monitoring and regional/national coverage for clients. These companies are able to operate nationally which further reduces project, sector and geographic risks. Both companies should also benefit from ongoing consolidation as preferred acquirers for regional operators seeking to align with larger companies.
EMCOR's operations are spread across a broader range of end markets with both Electrical and Mechanical construction as well as down-stream oil markets which provide a relatively stable revenue base as well as exposure to more potential growth markets. Comfort Systems business is smaller and more concentrated but with an impressive long-term expansion record.
Discounted Current Valuation Levels
Shares of both EME and FIX have suffered during the recent broad market sell off. The shares are both down nearly 30% from their 2018 high points and now trading at multi-year valuation lows of 12X and 15X earnings estimates for 2018 and 11X and 12X current consensus expectation for 2019. A return to historical mean valuation levels could generate over 50% returns for current buyers.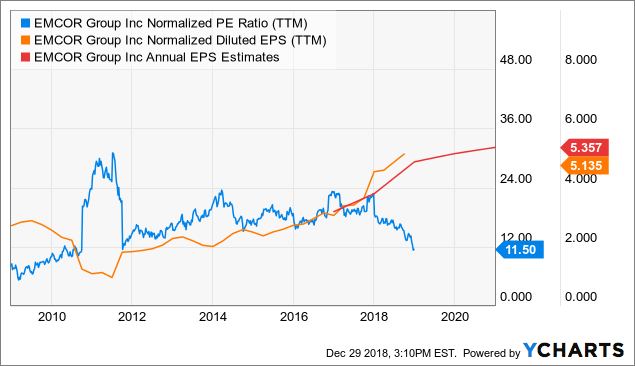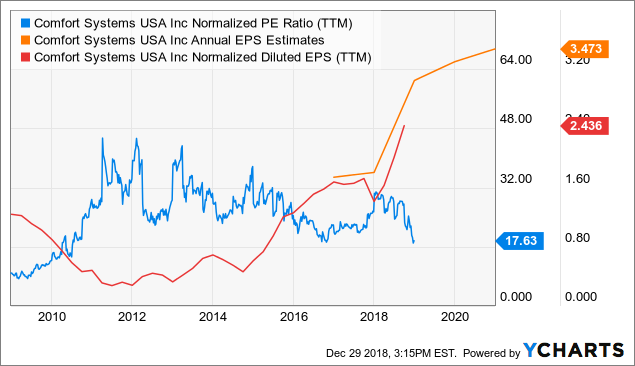 Investors looking for growth opportunities at depressed valuation levels may want to consider EMCOR and Comfort Systems. While the non-residential construction market will continue to offer cyclical risks, both of these shares appear to already anticipate a decline from current levels. Over the long-term we expect both of these companies to continue to leverage their lower risk models and capitalize on the longer-term growth potential of advanced technology and support systems within structures.
Editor's note, January 7, 2018: The disclosure has been updated to reflect the author's long position in FIX, which was previously overlooked.
Disclosure: I am/we are long EME, FIX. I wrote this article myself, and it expresses my own opinions. I am not receiving compensation for it (other than from Seeking Alpha). I have no business relationship with any company whose stock is mentioned in this article.