The John Hancock Tax-Advantaged Dividend Income Fund (HTD) didn't seem to get any love in 2018. It is one of many funds that were punished with the overall sell-off in Q4 of 2018. This led to a sharp drop in the performance of the broader S&P 500 Index falling 6.2% for 2018. The investible SPDR S&P 500 (SPY) ETF is showing a market price loss of 4.56% in 2018. This can be compared to the drop in HTD that had a market loss of 9.79%, which makes it appear like it would have been a terrible investment for 2018. However, a true CEF investors knows that the market price is what you pay - the NAV price is what you get. And for the NAV price, HTD is showing a loss of 3.56%. Now, this is where the opportunity comes in, as it has dropped the fund to a discount of 9.79%. This is significant, as the fund is showing a 1-year z-score of -1.30, meaning it has a larger discount than its average for the last year. Even better is the fact that the 5-year discount of the fund is at 7.92%, meaning it is even more of a discount than is typical for the last 5-year period.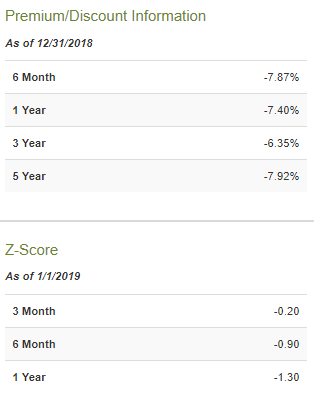 (Source: CEFConnect)
HTD is a fund I have covered a couple times in the past, the first article being a comparison to another fund that is similar to HTD, the John Hancock Premium Dividend Fund (PDT) - this is another fund that I own and actually like, except the fund has now been trading at a pretty consistent premium over the last several years. It is wise to avoid funds that are at a premium because you are purchasing funds that above what the underlying assets are even worth on a per share basis. The other reason to avoid a fund that is trading at a premium is because the fund actually has to earn a higher yield than what is paid out to investors. For a quick example, PDT has a market yield of 8.44%, but the fund has to earn 8.79% to maintain this yield without eroding the NAV. This example isn't too extreme, but in certain funds, this can become quite a wide spread.
That reasoning is partially responsible for why I still favor HTD over PDT at this time.
Performance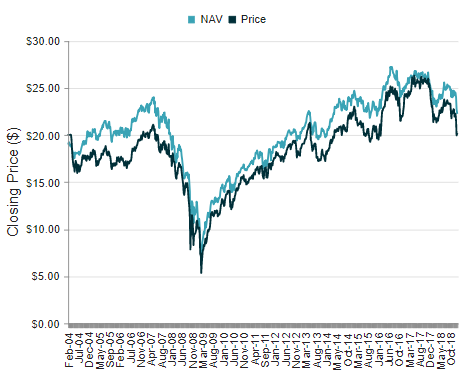 (Source: CEFConnect)
HTD's performance in 2018 was lackluster; even while "beating" the broader market, it still showed a loss. However, looking over the longer term, it has been able to produce quite impressive returns. The managers have been quite successful with maneuvering the fund at opportune times to take advantage of market conditions.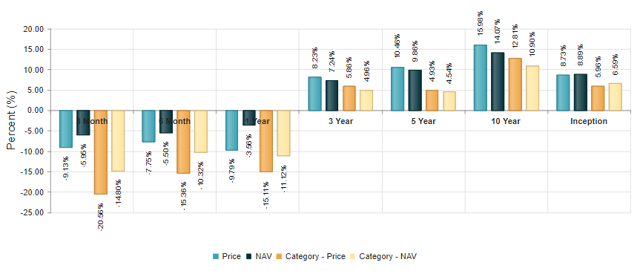 (Source: CEFConnect)
The 10-year annualized returns coming in at a whopping 14.07% has treated investors well over this time period. This can also be compared to the annualized returns of SPY shown below.

(Source: Morningstar)
HTD has shown similar returns to SPY over the last 3-, 5-, and 10-year periods. While past performance is not a guarantee of future results, this is still encouraging for investors, as the fund has been able to keep up with the broader market.
However, the fund isn't the broader market and it doesn't hold the same securities. It actually invests in "at least 80% of assets in dividend-paying securities." The fund also has a focus on "targeting securities paying dividends that typically qualify for a more favorable long-term capital gains tax rate." This can be achieved as it can invest in companies that pay out qualified dividends as opposed to dividends that are classified as ordinary income. The other advantage for HTD is that being registered as a CEF, it itself can pay out distributions in the form of capital gains throughout the year. This CEF benefit can help investors, as it provides a more stable distribution month to month and can also potentially lower investors' tax burden at the end of the year.
HTD also has significant exposure to utilities, and as it states, "typically emphasizes preferred and common securities in the high-dividend-paying utilities sector." Utilities make up roughly 55% of its overall assets as of 11/30/18. This is a fund that invests in preferred and equity securities, which typically lowers the volatility for the fund, as preferred shares typically don't see significant price swings - this is at least the usual case. Utilities are also a very defensive sector and typically are seen as a safe haven in times of uncertainty, like right now with U.S.-China trade war concerns and the worries over a global slowdown.
Taking all of this and putting it together, it would appear that HTD has been able to rival the overall performance of the market but with "less risk." While all investing involves risk, HTD holds securities that are typically viewed as more defensive in nature. This can be seen in the NAV dropping less than the overall market, with an NAV loss of 3.56%.
The current discount for HTD, like stated above, of 9.16% is relatively attractive. Although, it should be noted that this fund does typically carry a deep discount. However, even over the past 5 years, it is showing a relatively attractive valuation compared to that time period.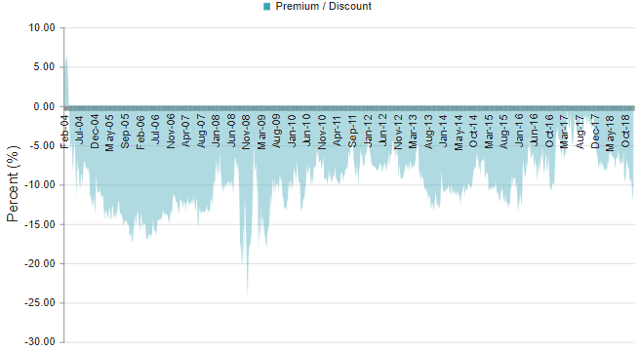 (Source: CEFConnect)
Distribution
Another highly attractive point for HTD is that the fund pays on a monthly schedule, at a current distribution rate of 8.11%. The other benefit of the fund being at a large discount is that the distribute rate on NAV is at 7.37% - this means that the fund only has to earn 7.37% and pays its investors over 8%. The ~8% yield isn't the highest in the world of CEFs, but it isn't anything to ignore either. You can also consider the fact that HTD has raised its distribution 4 times since 2009. The fund has paid out special distributions in 2016, 2017 and just recently in 2018 - these were in amounts of $0.1639, $0.5265 and $0.4051, respectively.
The reason the fund has been able to raise its distribution is because of the success it has seen since 2009. It has an inception date of 2/27/2004 and came in with an inception NAV of $19.10; currently, the NAV per share is at $22.48. As CEF investors know, this isn't always typical of CEFs, as they tend to pay out extraordinary distributions that slowly erode the NAV over time. HTD being more of a conservative CEF, with its holdings and distribution rate, has added to its ability to navigate difficult markets and has led to an increased distribution rate over time.
Don't get me wrong, having funds that yield 10%+ can be successful too, and I own many that fall into that category. But I also sprinkle in more conservative holdings to help decrease the risks of a distribution cut that would lower my income generation.
(Source: CEFConnect)
Holdings and Exposure
The fund is made up primarily of U.S. securities, with a total allocation of almost 90% in the U.S. category. This can be seen as a positive for many, as the U.S. is typically seen as one of the most stable places to invest in the world.
(Source: Fund Website)
The sector allocation is also similar to what is expected, with the utilities sector as the largest allocation for the previous few years. Although, financials make up the second-largest category and similarly have been relatively at the same allocation over the past few years at ~26%. The financials sector is more dependent on a growing economy and will trade with more volatility in general.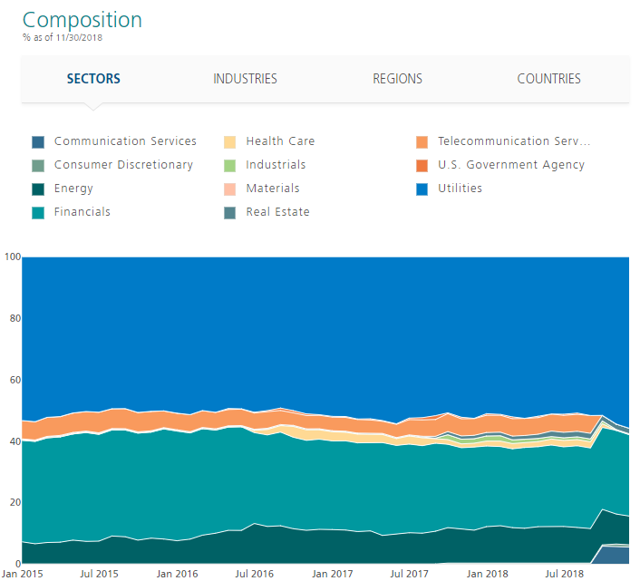 (Source: Fund Website)
The top ten holdings show a mix of well-known utility companies and large energy companies, which includes some not-so-well-known or large names.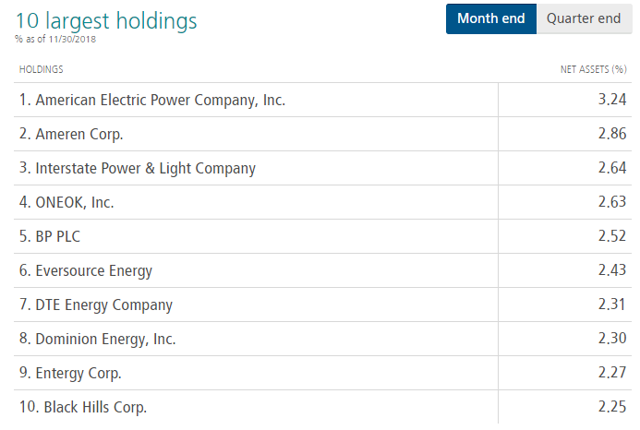 (Source: Fund Website)
The largest holding is American Electric Power Company, Inc. (AEP), a very large electric utility company operating in the U.S., coming in at a weighting of 3.24%.
Interstate Power & Light Company (IPLDP) is actually a preferred security of a utility company, giving it a kind of "double" defensive type holding as HTD's third-largest holding. The parent companies of Interstate Power & Light Company are Alliant Energy (LNT) and Wisconsin Power and Light Company, a private company.
The energy exposure in the top holdings may give some investors pause; however, I would think the managers are right on this. The likelihood of energy prices continuing to fall would appear to be minimal, as oil went from around $76 per barrel down to the low $40s in 2018. Although, it must be stated that in 2016 oil had actually seen a drop down to below $30 per barrel before recovering - so it can't be ignored, but downside seems minimal.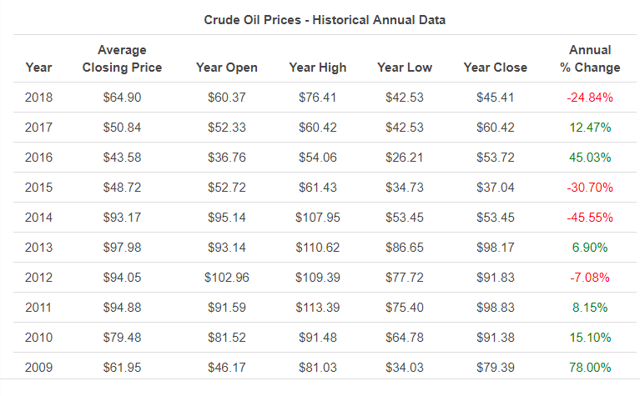 (Source: Macrotrends)
Conclusion
HTD is giving investors another opportunity to pick up some shares in a solid CEF that has potential going forward. This fund has a current discount of 9.16%, which is primarily due to the wild sell-off in Q4 of 2018. The market price has dropped significantly more than the NAV drop from that fact, leading to this opportunity.
The distribution is at an attractive 8.11% yield, paid on a monthly schedule, making the fund income-oriented investor friendly. It also has the potential for price appreciation like the NAV has been doing for the past 10 years. However, this isn't guaranteed and may not materialize if 2019 shows more worries of a global slowdown.
For those interested, the prior two HTD articles can be found here: "PDT Or HTD: Which Closed-End Fund To Buy Now?" and "CEF HTD: Still Looking Attractive?"
Disclosure: I am/we are long HTD, PDT. I wrote this article myself, and it expresses my own opinions. I am not receiving compensation for it (other than from Seeking Alpha). I have no business relationship with any company whose stock is mentioned in this article.