Welcome to my December update for my Green Dot Portfolio, a real self-managed retirement portfolio created in a Roth IRA trading account.
At the end of October, I reported that the first year had ended since my portfolio was presented on Seeking Alpha, and that I had surpassed my initial goal to achieve a total realized annual return of at least +8% in cash income, using high-yield dividend investments and swing trading. In one year, I was fortunate to realize total cash income of +12.76%. I also set a higher goal for this second year, at +10% in total cash income. My first challenge for this second year is to profit from the bear market pullback that started in October.
1. Market Action and Pattern for December 2018
Readers of my previous updates know that I try to translate and synthesize information from technical analysts and Elliotticians (those who apply Elliott Wave theory) in order to understand the market pattern and to inform my investing/trading. I use the largest broad-market traders' index, the SPDR S&P 500 Trust ETF (SPY), to determine changes in the trend of the markets.
Readers also know that the information I incorporate led me to some conclusions throughout the past year that were often different from or generally ahead of the mass financial media, including that:
In late 2017, after months of an unrelenting market float-up, a pullback of an intermediate degree was expected in early 2018;
The market pullback in early 2018 was not going to be the low for the year and would be surpassed by another pullback of a larger degree (depth and duration);
The current pullback is a bear market, and even though the market rebounded for the last week of December, the downtrend may not be over; and
While others are only now calling for a bear market or worse, what lies ahead is not a recession but is the start of a new leg of the bull market since 2009.
Looking at a weekly chart of the SPY for the past three years (below), the magnitude of this recent pullback compared to the early 2018 pullback is easily seen. The extent of this pullback is on the deeper side, as it just recently pierced the 200-week moving average (magenta line). Using a Fibonacci retracement, the low last week also pierced the 50% retracement of the entire bull market from the January 2016 low (SPY 181.02) to the mid-September 2018 high (SPY 293.94). Price action since the recent low has halted, at least temporarily, at the .382 retracement.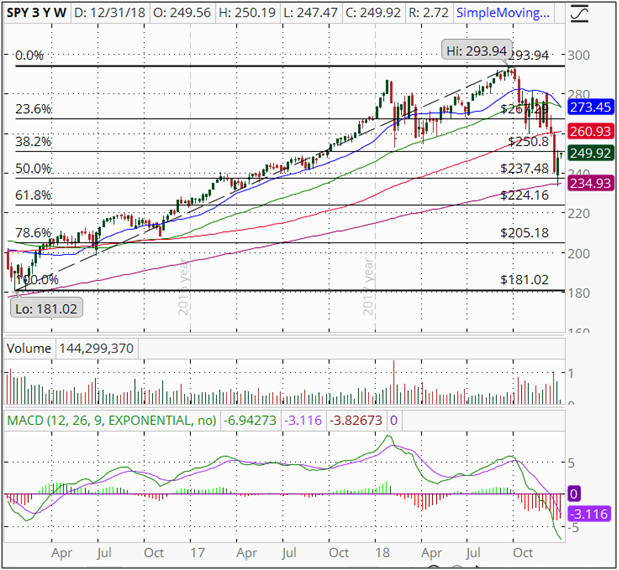 (Source: Chart created by author from the TD Ameritrade 'thinkorswim' platform.)
In recent months, I have presented the analysis of Caldaro (Objective Elliott Wave), who has expected that the pullback since October would be a zig-zag (down-up-down) bear market. The details of his pattern count have changed several times, however, throughout this downtrend, which has made trading it a bit tricky. Caldaro ended up settling on the thought that this pullback would consist of three Intermediate level waves, each comprised perhaps of a series of Minute level waves.
The SPY daily chart below for the first part of this pullback shows that the first leg down to the low on October 29 was fairly straightforward. The Fibonacci retracement shows that the rebound from that low reached the .618 level on November 7. The SPY then declined again but rebounded before reaching the October 29 low, and for the rebound to December 3 it fell just short of the November 7 level.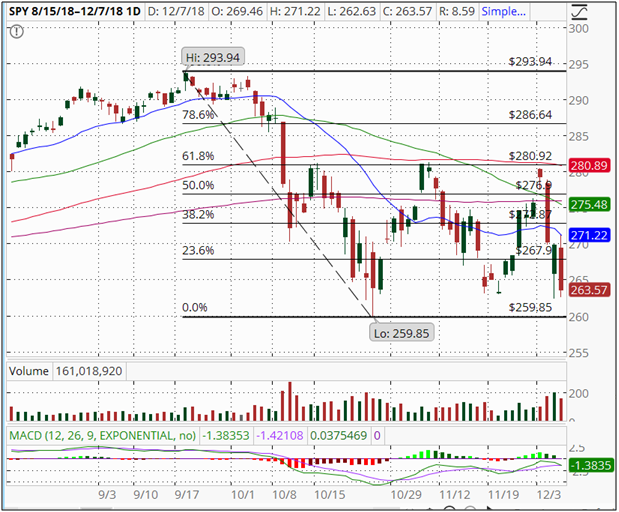 (Source: Chart created by author from the TD Ameritrade 'thinkorswim' platform.)
The question at that point was whether the first downtrend was the full Intermediate a down, and whether either of the rebounds to November 7 or December 3 were Intermediate b up. Only a few weeks ago, Caldaro was considering that perhaps the Intermediate a down had not yet been completed.
The daily chart below of the SPY through the end of December shows that the SPY continued to drop rapidly and steadily until December 26, when a strong reversal occurred that changed the short-term trend and that continued to the end of the year.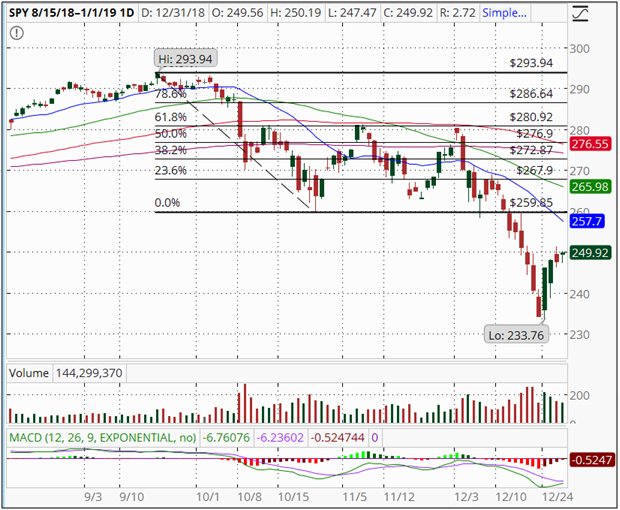 Previously, Caldaro suggested that the entire pullback from October might reach SPX 2400 (SPY 240). But as that level has been exceeded, it seems more likely that the entire 3-wave zig-zag pullback is closer to completion. In his latest commentary from December 29, Caldaro states:
"As a result of this weeks market activity, and the above noted observations, we are seriously considering that Intermediate waves A and B have already occurred... We had thought that SPX 2400 would be the maximum downside. We got that wrong as the SPX has already hit 2347."
Regarding new target levels for the low and for the end of this bear market, he states:
"We see two potential support levels for the next, and maybe last, selloff. SPX 2310 C = 1.5 A, and SPX 2270 C = 1.62 A... Also if the potentially last selloff is not too severe many positive divergences would be set up in the daily and weekly charts, with oversold monthly charts. These typically work to end downtrends and bear markets." (emphasis on the SPX numbers added)
Below is Caldaro's recent chart for the SPX pattern. The blue, lowercase 'a' and 'b' are the Intermediate wave completions he describes, despite the fact that they are not labeled as such at this time.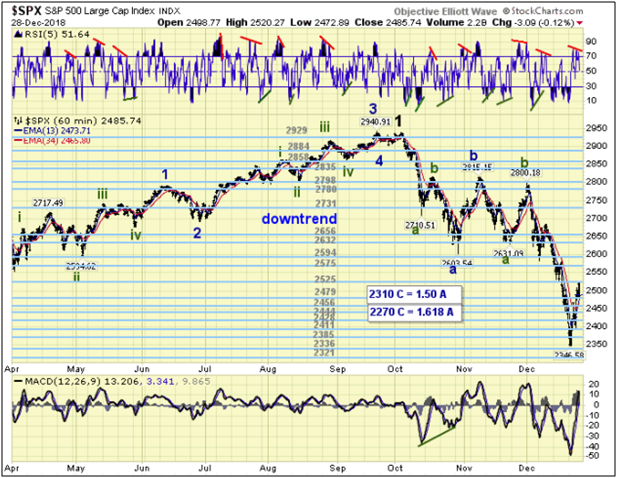 (Source: StockCharts.com - Note: See Caldaro's site for specific links; charts on the website may be updated throughout the week.)
As I'll present shortly, despite my uncertainty about the exact internal structure and levels for this bear market, I have continued to enter long trades with the expectation of the Intermediate b up. If the entire bear market is instead closer to completion, then my swing trades should still work well, and sooner.
2. Portfolio Strategy and Asset Allocation for December
In December, I continued to try to trade the bounce from the recent bear market pullback. Whereas I expected the pullback to be of a shorter duration and depth, it instead intensified throughout most of the month. While a number of my trades were entered too early, in retrospect, it is difficult to always pinpoint the lows and highs of the markets. But I think that I'm still positioned well to capture a lot of upside if the bounce matures as expected.
Highlights of changes to my portfolio in December are as follows:
The total investment cost did not change much since I added cash in November. The cost of my portfolio investment at the end of November was $154,374 and at the end of December was was $155,571.
The number of holdings changed only slightly, from 46 in November to 48 in December.
The total number of shares decreased a bit, from 8,597 in November to 8,518 in December.
The overall unweighted average dividend/distribution yield of my REITs, CEFs, and income and dividend growth stocks decreased slightly, from 7.39% for 30 holdings in November to 7.42% for 32 holdings in December.
The average investment for the 47 non-option holdings in the portfolio decreased slightly, from $3,409 in November to $3,295 in December. The average cost for the 31 non-swing trade holdings was $3,910 for November and $3,713 for December.
Portfolio Adjustments in December
I made 5 portfolio adjustments in December. With the market pullback extending longer than initially expected to reach what I thought was the Intermediate a bottom, I decided to raise some cash in order to enter additional long swing trades.
As always, even though I do not count capital gains or losses for my income positions as part of my overall portfolio returns (only the dividends), I obviously don't want to incur losses of capital for my income positions. So, looking at those holdings that were either still profitable or that were nearly so, I moved out of 5 positions in December, most of which I had only purchased recently. After costs and a few dividends, the net gain was only $200 (+2.0%), but it allowed me to free up $10,050 for swing trades.
I don't often do this, but when opportunities arise to pick up stocks that I expect can appreciate 5-10% or more within relatively short time frames, I think it is worth the effort to step out for a few months. Hopefully, I can re-enter some of these positions at still-attractive levels if prices pull back again.
Portfolio Allocation
At the end of November, I reported that my Green Dot portfolio consisted of 1 preferred stock ETF, 5 REITs, 19 closed-end funds, 5 stocks for income and dividend growth, and 16 swing trade positions. The latter included 1 option premium swing trade, 8 stocks, and 7 leveraged ETFs.
At the end of December, my portfolio consists of 1 preferred stock, 2 REITs, 18 closed-end funds, 10 income and dividend growth stocks, and 17 swing trade positions. The latter includes 1 option premium swing trade, 8 stocks, and 8 ETFs (6 leveraged).
The pie chart below shows the percentage of the portfolio investment allocated to these assets at the close of December.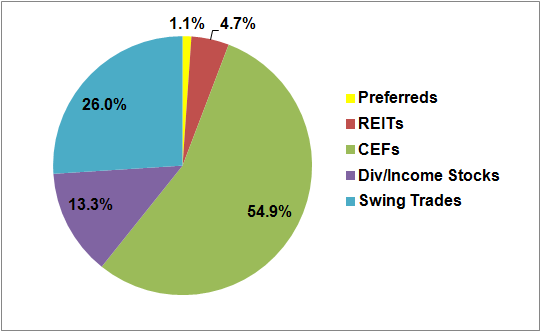 (Source: Chart created by author from portfolio data as of December 31.)
Readers of my previous monthly updates and weekly blogs know that I took profits on a number of REITs in the past few months, thereby reducing their composition in the portfolio. When REIT prices rotate lower, I hope to re-enter some of those positions.
Looking at the investment cost for only the 31 non-swing trade holdings, about 74% are domestic holdings, as presented in the pie chart below, and 57% are fixed-income holdings. This compares to 69% and 66%, respectively, for November.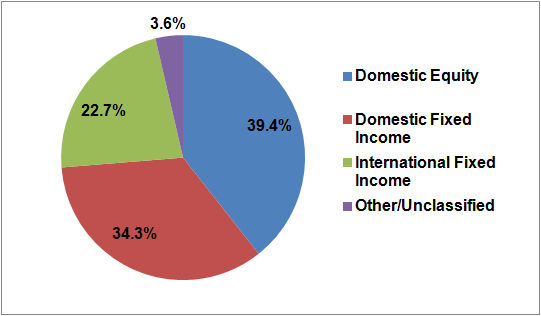 (Source: Chart created by author from portfolio data as of December 31.)
3. Dividend Income in December
For the first year of my Green Dot portfolio, I collected $6,190 in dividends, mostly from high-yield REITs, closed-end funds, and preferred stock. Dividends contributed almost half of the total cash income from my portfolio, with swing trade profits comprising the remainder.
For December, I collected $779 in dividends, with 90% from CEFs. December's dividends were the highest since portfolio inception. Dividend income was high in part because two CEFs paid a special distribution (NVG $0.0275/share and PCI $0.35/share) and two paid the January distribution early, in December (EMD and JPS). I also received dividends from two of my recent swing trade purchases, GS and OIH. Dividends contributed 57% of total cash income for December.
Total monthly income from dividends (not including dividends for swing trades) in December was higher than for November, as presented in the chart below. The average monthly dividend income (blue line on chart below) is currently $664. Overall, dividends have provided 52% of my total cash income so far this second year. For monthly dividend income for the first year of my portfolio, please see the October update article. The ending average monthly income for the first year was $541, and the highest monthly dividend income was for October ($727).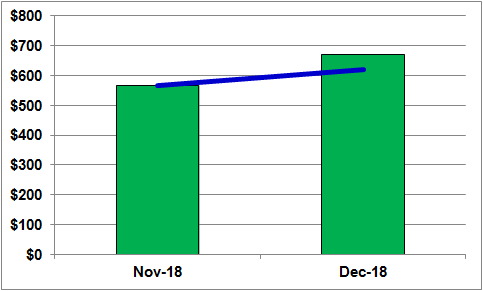 (Source: Chart created by author from portfolio data as of December 31.)
4. Swing Trades in December
With the extension of the market downtrend well into late December, I was only able to close 3 of my swing trades. I still have more than a dozen active swings that I will close whenever they bounce back.
For those new to my monthly updates, I provide detailed information, charts, and my trade logs for swing trades in my weekly blogs for followers. In May, I detailed my simple approach to swing trading option premiums in this article.
Closed Option Premium Swing Trades
On 12/3, I "sold to close" my 7 C Mar 15 2019 70.0 Calls at $1.88/contract, for a net gain of +30.84% for 13 days in the trade.
Closed ETF Swing Trades
On 12/3, I sold my 20 shares of Qualcomm (QCOM) at $59.835/share, for a net gain of +8.09% for 15 days in the trade.
On 12/17, I sold my 30 shares of the VelocityShares 3x Inverse Natural Gas ETN (DGAZ) at $87.50/share, for a net gain of +7.87% for 22 days in the trade.
Active Swing Trades
In December, I added to some of the swing trades that I initiated in November, and as well entered new swing trades. As a quick recap, in November I entered 1 stock option premium trade for Citigroup (C) (now sold); 5 ETF trades (DGAZ (now sold), SPXL, TNA, TQQQ, and UCO); and 7 stock trades (AAPL, C, GE, GS, MO, QCOM (now sold), and VLO).
After I closed the Citigroup Call trade and the price of C retreated again, I opened the same trade again.
On 12/4, I "bought to open" 5 C Mar 15 2019 70 Calls at $1.02/contract. When C continued to decline, I added 5 contracts on 12/10 at $0.37/contract, for an average of $0.709/contract. Unfortunately, the price of C dropped sharply for the next 11 days before beginning to bounce, so my trade is losing a lot at this time. But as I have March expiration, this might still recover if the price of C rebounds strongly in the next 4-6 weeks or so.
In December, I added to 2 existing swing trades:
On 12/14, I added 25 shares of the ProShares UltraPro QQQ ETF (TQQQ) at $44.247/share. My average cost now for my 75 shares of this 3x bull ETF on the Nasdaq 100 is $49.0347/share.
On 12/17, I added 44 shares of the Direxion Daily S&P 500 Bull 3X Shares ETF (SPXL) at $35.74/share, bringing my total position to 144 shares at an average cost of $39.367/share.
The table below presents the dates, symbols, names, number of shares, and unit costs for the purchases of 8 additional non-option swing trades in December.
| | | | | |
| --- | --- | --- | --- | --- |
| Buy Date | Symb. | Name | # Shares | $ Buy Price per Share |
| 12/4 | SLB | Schlumberger NV | 40 | 44.10 |
| 12/6 | OIH | VanEck Vectors Oil Services ETF | 75 | 16.92 |
| 12/14 | FDX | FedEx Corp. | 8 | 187.55 |
| 12/14 | HBAN | Huntington Bancshares Inc. | 110 | 12.385 |
| 12/14 | CE | Celanese Corp. | 17 | 86.66 |
| 12/14 | LRCX | Lam Research Corp. | 10 | 136.7356 |
| 12/14 | CMA | Comerica Inc. | 22 | 69.99 |
| 12/17 | FAS | Direxion Daily Financial Bull 3x Shares ETF | 30 | 48.20 |
Despite the fact that I'm including these as swing trades, as I explained in my blog update for the week ending December 14, I may hang on to some of the stocks depending on the time and extent of their price growth as well as increases in dividend growth.
5. Cumulative Swing Trade Results
Non-Option Swing Trades
For the first year of my Green Dot portfolio, from November 2017 through October 2018, I was fortunate to close for profit 41 out of 42 non-option swing trades. The total net gain for these mostly small-cost trades was +6.86% for an average of 39 trading days (+44.2% annualized). Details about those swing trades were presented in my October update article.
For my second year, I have closed 9 non-option swing trades to date, for an average gain of +8.07% for an average of 10 trading days (+203% annualized). The chart below shows the percentage gains for these non-option swing trades for the second year of my portfolio.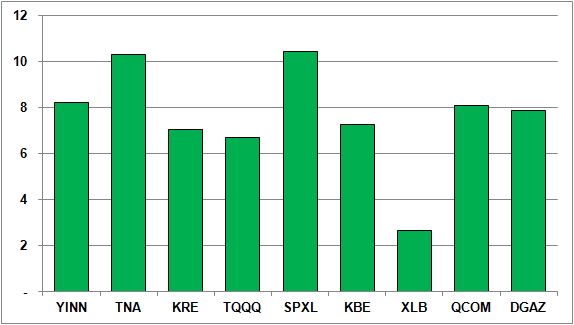 (Source: Chart created by author from portfolio data as of December 31.)
Option Premium Swing Trades
Since I started adding option premium swing trades to my portfolio in April 2018, I closed for profit 24 out of 30 trades through October. For my second year, I have so far closed only 1 option swing trade in December, as described in Section 3 above.
Swing Trade Profits
For the first two months of my second year, swing trades have added $1,226 in cash to my portfolio. The table below summarizes the contribution by month of cash income from option and non-option swing trades. Swing trades have provided 48% of my total cash income to date.
| | | | | |
| --- | --- | --- | --- | --- |
| Month | Option Swings | Non-Option Swings | Total Swings | % of Income |
| Nov 18 | 0 | 640 | 640 | 52% |
| Dec 18 | 308 | 278 | 586 | 48% |
| Total | 308 | 918 | 1,226 | 50% |
6. Realized Total Return
My Green Dot portfolio generates cash income each month through dividends and profits from swing trades. These are realized gains, or cash that is available for additional investment. In October, I raised my portfolio goal for this year to a 10%+ annualized gain (average of 0.83%/month). In November, my portfolio returned a total of +0.78%, and in December, it returned +0.88%, for a monthly average of 0.83%. So, for now, I am on target for my new 10% goal. The cumulative 14-month total cash return is now +14.42%.
The table below shows the cash income returns by source: swing trades, dividends on swing trades, and dividends from non-swing trade holdings (preferred ETFs, REITs, CEFs, and other stocks).
| | | | | | | |
| --- | --- | --- | --- | --- | --- | --- |
| Month | $ Cost | $ Swing Profits | $ Divs on Swings | $ Other Dividends | $ Total Income | % Return on Investment |
| Nov18 | 154,374 | 640 | - | 567 | 1,207 | 0.78% |
| Dec18 | | 586 | - | 779 | 1,365 | 0.88% |
| Total | | 1,226 | - | 1,346 | 2,572 | 0.83% |
The chart below of the monthly source of realized cash portfolio profits depicts the data graphically. This compares favorably to the first year of my portfolio, for which only 5 of the 12 months had total cash income >$1,000. The monthly average for that period was $1,063 and is now $1,286. Data for the first year are provided in my October monthly update article.

(Source: Chart created by author from portfolio data as of December 31.)
7. Unrealized Gains/Losses
The total current value of all 48 positions in my portfolio at the end of December was -18.0% below costs, a decline from November. But as the market is still far from recovered from this months-long bear market, I know that I just need to be patient for the rebound. Stocks cycle in time, and while many positions declined since last month, others that became very beaten down in November are rebounding well so far. For example, my USLV and UGLD positions were off in November by -31% and -20%, respectively, but ended down by -7% and -10% at the end of December. While I wait, I'm receiving decent dividends from most of the portfolio, at an average of 7.4% for the non-swing trades.
8. Current Portfolio
In December, my portfolio consisted of 48 holdings, including swing trades. The table below lists these holdings, including the current number of shares, average unit cost, dividend/distribution yield, and the percentage they comprise of the overall portfolio.
Symbol
Qty
$ Unit Cost
Cls 12/31
% Div. Yield
% of Portfolio
Preferreds
PFXF
84
20.149
17.72
6.60%
1.1%
REITs
CLNY
345
11.785
4.68
9.32%
2.6%
SKT
125
26.052
20.22
6.69%
2.1%
CEFs
AWF
900
11.955
10.53
8.00%
6.9%
BGX
100
14.846
13.74
9.81%
1.0%
DFP
450
22.646
20.37
8.78%
6.6%
DSL
645
19.909
17.33
10.34%
8.3%
EMD
100
14.135
12.29
9.83%
0.9%
FAX
1,000
4.956
3.87
10.74%
3.2%
FEO
100
14.907
12.16
11.56%
1.0%
FLC
130
20.542
17.21
8.49%
1.7%
FRA
240
14.096
11.9
6.52%
2.2%
HPS
100
17.225
15.84
9.34%
1.1%
HYT
315
10.552
9.28
9.48%
2.1%
JPS
1,100
9.351
8.28
8.35%
6.6%
KIO
200
15.557
14.25
10.78%
2.0%
LDP
80
25.328
21.81
8.81%
1.3%
MSD
400
9.523
8.23
6.35%
2.4%
NVG
249
15.236
13.98
8.13%
2.4%
RA
314
22.977
19.07
12.89%
4.6%
RNP
50
19.990
17.8
8.69%
0.6%
Income & Dividend Growth Stocks
CE
17
86.925
89.97
2.41%
0.9%
CMA
22
70.195
68.69
3.53%
1.0%
D
15
80.194
71.46
4.56%
0.8%
FDX
8
188.113
161.33
1.61%
1.0%
FRME
75
41.053
34.27
2.62%
2.0%
HBAN
110
12.426
11.92
4.74%
0.9%
LRCX
10
137.186
136.17
3.30%
0.9%
MIC
33
69.741
36.56
11.09%
1.5%
SNV
75
38.699
31.99
3.18%
1.9%
SYF
130
29.796
23.46
3.59%
2.5%
Swing Trades
AAPL
16
183.755
157.85
1.87%
1.9%
C
30
62.020
52.06
3.48%
1.2%
FAS
30
48.350
44.77
1.28%
0.9%
GE
203
16.064
7.57
0.55%
2.1%
GS
16
196.846
167.05
1.93%
2.0%
KHC
9
80.994
43.04
5.71%
0.5%
MO
30
53.750
49.39
6.57%
1.0%
OIH
75
16.980
14.03
7.60%
0.8%
SLB
40
44.213
36.08
5.51%
1.1%
SPXL
144
39.367
32.9
0.75%
3.6%
TQQQ
75
49.096
37.04
0.11%
2.4%
TNA
50
64.720
42.09
0.30%
2.1%
UCO
225
23.503
13.3
--
3.4%
UGLD
16
105.548
95.41
--
1.1%
USLV
12
79.660
74.1
--
0.6%
VLO
15
78.600
74.97
4.29%
0.8%
C Mar 15 2019 70 Call
10
0.709
0.03
--
0.5%
Final Thoughts
After taking about three months for this bear market to reach a bottom, I am waiting anxiously for the uptrend to begin and confirm. I have rotated a lot of capital from income positions into swing trades and look forward to that tactic working successfully for increasing the total return of my portfolio.
My Green Dot portfolio is one of several that I manage, and represents one of many possible approaches to investing and trading. My costs are relatively low, as I have an active trader discount, and I have no taxes on swing trading profits or dividend income, as this portfolio is in a Roth IRA. What I do here may or may not be appropriate for others, so please perform your own due diligence if you follow any of my ideas or trades. I wish readers well with their own endeavors!
Author's note: I appreciate the comments and questions from readers in the Seeking Alpha community, and I look forward to continuing to share my investing and trading experience and to learn from others.
If you found this article of interest and want to receive my weekly blogs, please click the "Follow" button at the top of this page. And please share this with others who you think would be interested.
Best to your investing/trading in 2019!
=Green Dot Investor=
Disclosure: I am/we are long AAPL, AWF, BGX, C, CE, CLNY, CMA, D, DFP, DSL, EMD, FAS, FAX, DFX, FEO, FLC, FRA, FRME, GE, GS, HBAN, HPS, HYT, JPS, KHC, KIO, LDP, LRCX, MIC, MO, MSD, NVG, OIH, PFXF, RA, RNP, SKT, SLB, SNV, SPXL, SYF, TNS, TQQQ, UCO, UGLD, USLV, VLO. I wrote this article myself, and it expresses my own opinions. I am not receiving compensation for it (other than from Seeking Alpha). I have no business relationship with any company whose stock is mentioned in this article.