In a recent article posted on December 18, 2018, I predicted that the EUR/CHF currency pair would fall to 1.12000. At the time it was trading at around 1.12600. Today, it is trading at around 1.12300, after some short-lived upside in the days immediately following my article.
Further, on December 28, 2018, the pair saw an intra-day low of 1.12149; very close to my 1.12000 target. In this article, I reinforce my prediction that the EUR/CHF will hit 1.12000 in the short term. In addition to this target, I believe that the pair will target 1.11850, which was the intra-day low set on September 10, 2018.
The chart below shows EUR/CHF on the daily candlestick chart, juxtaposed with the SXY (a Swiss franc currency index, courtesy of TradingView.com) and EXY (a euro currency index, also courtesy of TradingView.com). In the first instance, we can notice that the Swiss franc index (marked in red) is making higher highs and higher lows. The euro index (marked in blue) meanwhile sunk to a lower low (in terms of the past few trading days).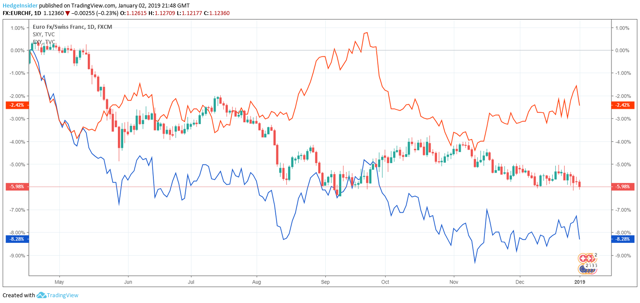 (The chart above was created by the author using trading tools provided by TradingView.com. The same applies with respect to all further charts presented in this article hereafter.)
While a longer-term perspective is also important, the immediate short-term does not look favorable for the EUR/CHF pair. Not only is the Swiss franc index making headway (to the upside), but the euro is also simultaneously flat-lining. The EUR/CHF pair itself is therefore dropping, and the round 1.12000 level remains in sight.
The chart below illustrates the current price of EUR/CHF in relation to both the 1.12000 level (marked in red) and the 1.11850 level mentioned earlier in this article. The 1.11850 level lines up with the intra-day lows found on September 7, 2018 and September 10, 2018. Judging by the recent price action of EUR/CHF, the author believes that this level is a likely short-term target for EUR/CHF.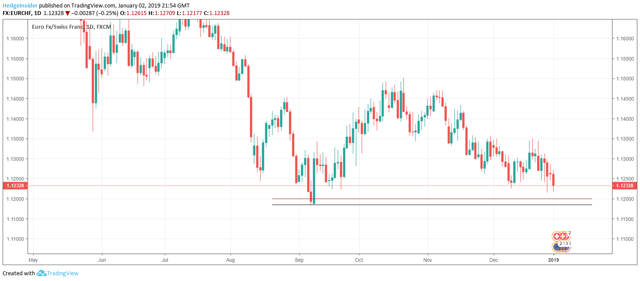 I am not confident as to how this pair might move after dropping to these levels. A short-term retracement would probably be on the cards, drawing from the pinpoints of 1.13145 and 1.11850 (as shown below). This would indicate a potential future upside retracement (at the 0.618 level, as indicated in the Fibonacci diagram below) of 1.12650.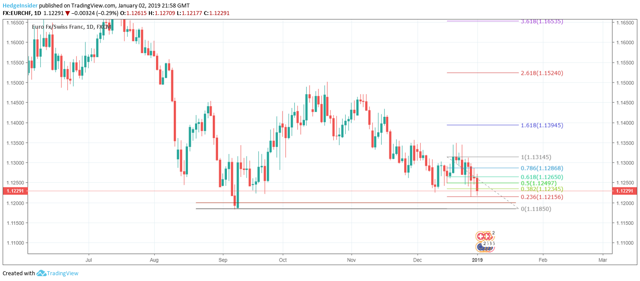 Note that any retracement may be limited to the 0.500 level on the Fibonacci diagram, which would suggest a possible upside retracement to 1.12497 instead (that is, after first falling to the 1.11850 level). In summary though, while further downside is probably in store for EUR/CHF, the immediate downside potential is now more limited than before.
Therefore, traders who are short EUR/CHF may wish to consider reducing their position sizes at this juncture. Nevertheless, a longer-term and lower target of 1.10885 is conceivable. This lines up with the intra-week high of 1.10885 achieved during the week commencing July 17, 2017 (as indicated on the weekly candlestick chart below, per the dashed black line).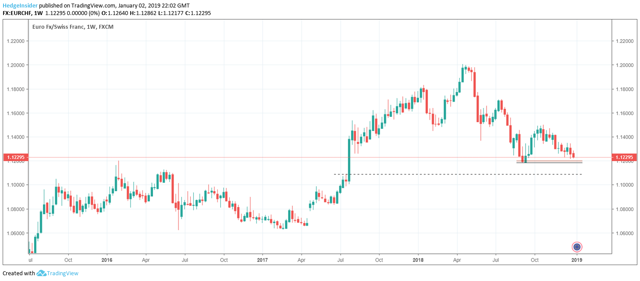 The market is definitely currently demonstrating a willingness to test this 1.10885 level, which would represent a return to EUR/CHF's previous trading range which began in August 2015 and carried through to July 2017 (when price ranged from around 1.06000 to 1.11992.
A touch (and revisit) to the top of this previous trading range at the 1.12 is what I have already been predicting. But I certainly would not find a return to the 1.10885 unsurprising either. As always, as price updates over the next week or so, we will have further context with which to make another round of predictions.
For now, I remain bearish on EUR/CHF, with an immediate price target of 1.12000 and a subsequent short-term target of 1.11850.