Although I am mostly interested in equities and currencies, not long ago I attempted to predict an oil price spike in late 2018. The oil price then continued its relentless decline, and I learned a few lessons.
The first lesson, or rather the first important reminder, is that market movements do not follow normal distributions. While tools such as Bollinger Bands can show great utility in markets such as equities, the oil price makes a joke out of such a tool.
Oil is inherently volatile and unpredictable, and the price can overshoot in either direction over extended periods of time. The same can be said for other asset classes like equities, yet equities are (under ordinary conditions) not nearly as temperamental. Commodity prices, like the oil price, are indeed mercurial, and can move relentlessly.
The chart below illustrates this with 20-day, two-standard-deviation Bollinger Bands shown against WTI crude oil prices on the daily candlestick chart.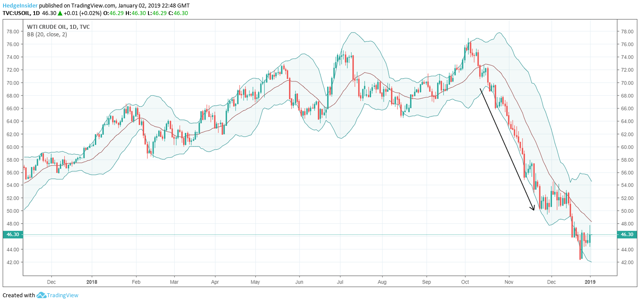 (Chart created by the author using TradingView.com charting tools. The same applies to all further images presented in this article hereafter).
Note that the relentless drop in oil prices produced several apparent "buying opportunities" at the lower end of the trailing 20-day Bollinger Bands. Of course, these were not buying opportunities; the oil price was simply accelerating to its target price of around $45, which is where WTI crude prices are currently trading around.
Trend lines, which I also drew in my prior article, are equally useless. This is the second hard-won lesson. Repeat: trend lines are useless. This is definitely a controversial opinion, as they are very popular. But they do not appear to produce reliable results for the majority of traders, and they are far less clear-cut than price alone.
Price alone and key levels are all that we need. See the below chart, on which I have drawn just one line. This is a longer-term monthly candlestick chart for WTI crude oil prices with the black line leveled at $40.00. Notice the clarity that the chart affords us, without the use of any indicators or trend lines.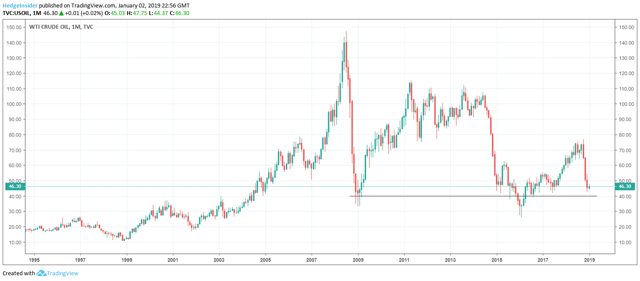 Indeed, I would not rule out further downside; WTI crude oil prices could fall further to meet the $40.00 level once again in January 2019. However, what the identification of this significant long-term level might tell us is that the potential medium-term downside for oil prices is now likely limited.
We can however use Fibonacci tools to provide further context. First, we can "prove" the usefulness here by drawing a Fibonacci diagram with pinpoints set at the intra-month high set in June 2014 of 107.65 against the intra-month low set in February 2016 of 26.08. Almost "by magic", the diagram lines up perfectly with the 0.618 retracement level of 76.72, which matches up practically perfectly with the intra-month high of 76.88 achieved in October 2018.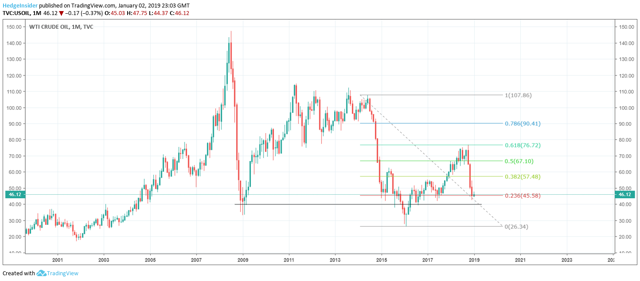 Of course, had I noticed this earlier, and had not wasted time with trend lines, I would not have made the mistake that I did.
Is there potential for another Fibonacci retracement? Indeed. The below chart draws the pinpoints from the intra-month low of 26.08 set in February 2016 against the intra-month high of 76.88 achieved in October 2018. Notice that the 0.618 level matches up with the current price area perfectly (the 0.618 level being 45.49).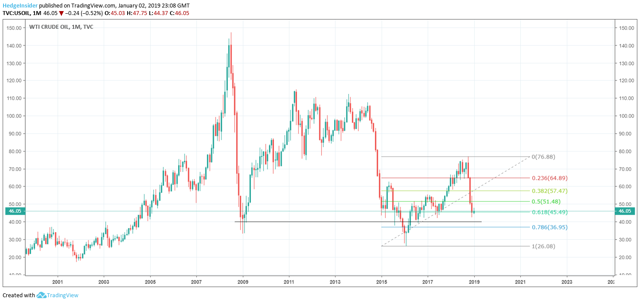 Let us assume that the 45.49 level represents the next short-term low. This would indicate a potential medium-term target of at least $60 (per the 0.618 Fibonacci retracement level).
However, prices do not necessarily jump from one perfect level to the next. And hence the oil price could still find its way back to the round $40.00 level before enjoying upside once again.
Nevertheless, it is of this author's opinion that oil prices are not likely to drop below $40 over the next few months. Further, WTI crude prices could be setting themselves up for a strong first quarter (or first half) in the new year of 2019.
Disclosure: I/we have no positions in any stocks mentioned, and no plans to initiate any positions within the next 72 hours. I wrote this article myself, and it expresses my own opinions. I am not receiving compensation for it (other than from Seeking Alpha). I have no business relationship with any company whose stock is mentioned in this article.