It doesn't come so much as a surprise.
This Wednesday after the closing bell, Apple (NASDAQ:AAPL) released a revision to its fiscal 1Q19 guidance. Revenues are now expected to come in at $84 billion for the always crucial holiday quarter, a sizable $7 billion lower than the previous guidance. It is worth noting that the now stale outlook had already been $2 billion short of previous consensus estimates, suggesting that sales will come in about 10% below the Street's October-end expectations. Other minor revisions to the P&L guidance are expected to cause a two-cent positive impact to the previous EPS outlook, which I find immaterial.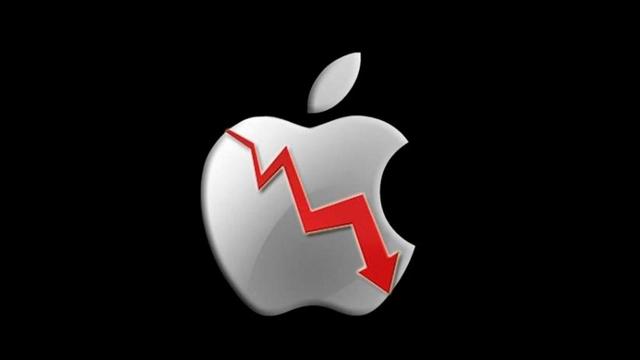 Image credit: TechAdvisor
The news seem to reflect the overall bearish tone on short-term financial performance that analysts have been sharing recently. The proximate cause, according to Apple's management team itself, seems to be of both external and internal nature -- namely, China and iPhones. In fact, the intersection of these two factors seem to have broken Apple's holiday quarter, as the following statement from CEO Tim Cook illustrates:
Traffic to [Apple's] retail stores and channel partners in China declined as the quarter progressed [...] and market data has shown that the contraction in Greater China's smartphone market has been particularly sharp.
I find the developments slightly concerning not only for Apple, but for the global economy as a whole. With over $50 billion in revenues having come from Greater China in fiscal 2018 alone, I believe the Cupertino company may serve as a good gauge for the robustness of discretionary consumer spending in this crucial Asian market. Should Tim Cook's concerns over a slowing Chinese economy and the negative impact from the rising trade tensions take hold, the negative implications for the U.S. macroeconomic environment could be noticeable.
On a more positive note, I was encouraged by one small piece of information shared in this Wednesday's press release: "results in China include a new record for Services revenue, and our installed base of devices grew over the last year". It is no secret to anyone following AAPL that growth in the service business will be highly important for the overall success of the company in the foreseeable future -- despite recent reports that suggested fear for the current growth trajectory in this segment.
On my end, I continue to project service revenues rising past my original estimate of $12.65 billion by fiscal 4Q 2020 (see solid orange line against dotted blue line below), driven by the large global installed base and continued momentum in the App Store. An eventual deterioration in global macroeconomic factors, however, could cause a hiccup or two in the overall trend between now and then.

Source: DM Martins Research, using data from company reports
Specifically on the iPhone side, the flagship product category did not seem to have had a good holiday season at all. Based on information shared in the press release, I estimate that iPhone revenues will land a whopping 15% below year-ago numbers -- which, in turn, had already benefited from the late 2017 launch of the iPhone X and the ensuing channel fill that took place in fiscal 1Q18. The management team pointed the finger at "(1) consumers adapting to a world with fewer carrier subsidies, (2) U.S. dollar strength-related price increases, and (3) some customers taking advantage of significantly reduced pricing for iPhone battery replacements" as key factors driving the revenue deterioration.
While the results of the quarter will certainly fall well below expectations, I believe the overall theme of slower growth in smartphone sales to be very much in line with my expected longer-term trends. I argued in September that iPhone revenue growth was "most likely to taper off in the mid-term future, with unit sales comps becoming increasingly tougher as we enter the 2018 holiday season" (see graph below, the dotted line is DM Martins Research's estimate published in fiscal 3Q18). Even if or when short-term headwinds subside, I continue to believe that phone revenue growth is most likely to stabilize around the mid-single digits, either later is fiscal 2019 or next year.

Source: DM Martins Research, using data from company reports
All accounted for, I estimate that Apple's guidance revision will result in EPS of $4.16 that is about 50 cents below current consensus. With gross margin deteriorating a bit and opex rising a rich 14% YOY, pretax income is curiously likely to dip by an eye-catching 12%. EPS should grow modestly YOY, but only as a result of (1) a lower effective tax rate and (2) Apple's aggressive share buyback program.
See summarized, projected P&L below.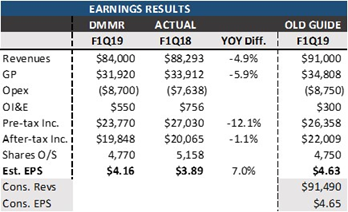 Source: DM Martins Research, using data from company releases
"Don't do something, just stand there"
The news is certainly not great. The iPhone and the Chinese market are very important pieces of the puzzle for the Cupertino company, and both seem to be undergoing a difficult period -- precisely during Apple's most important quarter of the year.
Yet, I continue to see a bright future ahead and remain an AAPL bull, despite the near-term headwinds. Tomorrow's stock price pullback to what I anticipate will be $145/share should push current year P/E to only 11.3x (after accounting for earnings estimate adjustments), which I find a bargain for such a high-quality company whose EPS is still projected to grow 12% in the long run (see chart below).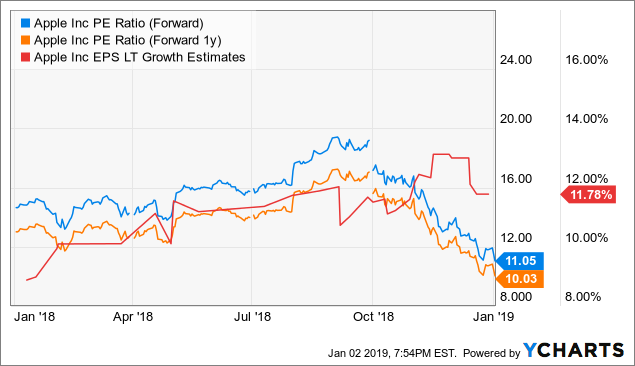 While I can not confidently call a bottom in AAPL (the stock has dipped nearly 40% since the start of the fourth quarter 2018), I continue to think that this is a great name to buy and tuck away inside a growth portfolio for a period of several years.