The end of year tax write-offs probably added to Neptune Wellness Solutions' (NEPT) PPS decline. At the end of the year, stocks can become like unwanted Christmas gifts, people taking them back and dumping them off at the store. With stocks, this causes the price to drop and also causes more frantic investors to sell rather than hold through short-term decline. On the other side of the deal, this activity creates cheaper buys for new shareholders of 2019.
Neptune Wellness Solutions
Neptune Wellness Solutions had hit a 52-week high of $5.14 PPS during the month of September. This was a response to a rush of late informed investors that Neptune was in the legalized Canadian marijuana/CBD business. Also responsible was news of the partnership with Canopy Growth Corporation (CGC).
The pullback was nothing to be shocked about though. PRs had circulated, but Neptune Wellness Solutions was still waiting on a granted license from the Canadian health department. Without more solid accomplishments versus news, the stock slowly eroded much of the gains back to a mid-$2 PPS.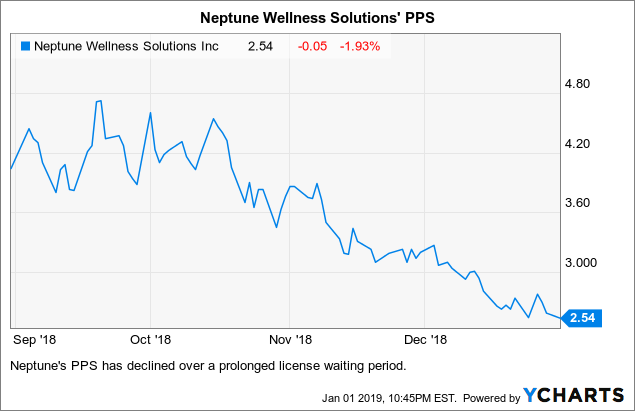 The delay in Neptune Wellness Solutions marijuana "processing" license can be better explained by looking at the government spreadsheet.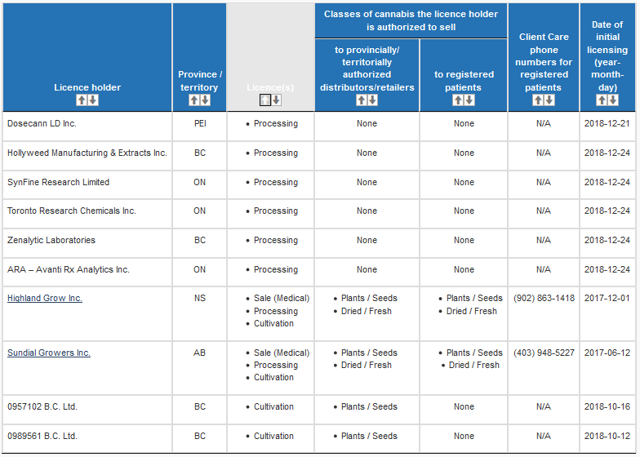 Although licenses have been granted since 2013 they have first went to cultivators or multi-purpose companies such as Canopy's Tweed, which received its multi-purpose 2013 license for sale, processing, and cultivation. Only recently in December 2018 have strict "processing" companies started to receive their license. The delay is not a fault of Neptune, but more likely the timing and priority of Canada to review cultivation and sales first and then processing as the lessor. This priority also aligns with the fact that oils and infused drinks have a delayed legal rollout date.
The next major catalyst to happen is by October 2019 when marijuana infused drinks will be legal in Canada. Not until then will the alcoholic beverage partnership with Constellation Brands (STZ) have much meaning with Neptune & Canopy.
Neptune Wellness Solutions has been a long analyzed company of mine. Dating back to a 2015 review of its recovery since the omega-oil factory explosion to the 2017 interview with CEO Jim Hamilton regarding their acquisitions and krill patent victories. I rate this stock a buy and see plenty of room for growth as the license is granted and Canada oils/drinks legalize in Q3 2019.
Canopy Growth Corporation
Canopy Growth Corporation (CGC) is another company that saw a huge, 2018 surge into elevated prices of $59.25 PPS. This sentiment was not sustainable, it was mainly PRs and other speculation. The company does have a major footprint in Canada's legalized marijuana market, however it is still early to see how well it fairs against competition. The pullback continued into the tax write-off action as it fell to the mid-$26 range.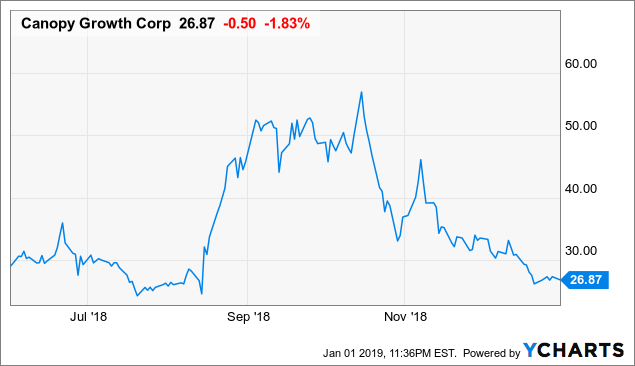 Canopy can catch another bull run if it better navigates the U.S. market of FDA's approved CBD oil. The company formally stated to have interests in the U.S. after the Farm Bill moved hemp and CBD oil from DEA's ban to FDA's permissible products. Canopy is most likely to benefit from the U.S. patents its partner Neptune filed for CBD extraction.
Canopy Growth Company's supply of CBD hinges on Neptune being licensed and functioning. Additionally, it will not be able to realize its beverage partnership with Constellation Brands until late 2019. This is why 2019 is a year of more catalysts and a bounce back in PPS. I rate this stock a buy.
Moneygram International Inc.
Moneygram International Inc. (MGI) suffered greatly for the break of its M&A deal and the simultaneous, $125 million settlement with the US Department of Justice. These negative actions should be considered one time events; horrible for shareholders of that time, but opportunity for newcomers.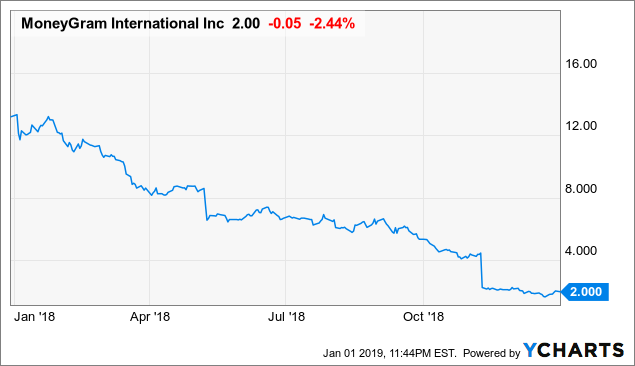 Moving forward in response to Moneygram's failure to protect against fraudulent schemes, the company has implemented new operations, policy, and the LinkedIn job recruitment for the fraud department has grown. It is expected that the company is taking change seriously.
At the same time, the company has grown in: (1) global presence such as Ghana and Mexico; (2) U.S. presence such as Kroger, Fry's, King Soopers, Smith's and Fred Meyer locations; and (3) features such as a mobile app in the U.S. and France, Germany, Spain, U.K., Australia, Austria, Belgium, Denmark, Ireland, Italy, Netherlands, Norway, Portugal and Sweden.
The 52-week lows of 2018 give way for a bounce, an off-the-lows type opportunity moving into 2019. Although the mistakes made by the company warranted a drop, the sentiment has now become misguided and overly negative. I rate this stock a buy.
Light Path Technologies Inc.
LightPath Technologies Inc. (LPTH) was a buy pick in May of 2018. This was mainly built upon a thesis for the shares being in a low support price range, some trend in revenue growth and early positioning of the micro-cap stock in the lidar and autonomous vehicle technology. Since the publishing of LightPath Tech Focuses On Autonomous Vehicles the shares have lost 28% in value.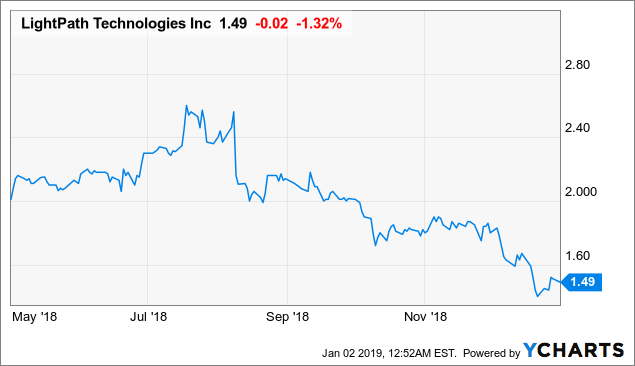 The two proceeding quarters and earnings reports were mixed. In September the company reported its fiscal Q4 2018 revenue of $8.09M for a Y/Y decline of 10%. In November, fiscal Q1 of 2019 revenue was $8.55M for a Y/Y growth of 13%. A significant development in Q1 was the rapid development of 5G network technology coming sooner than expected.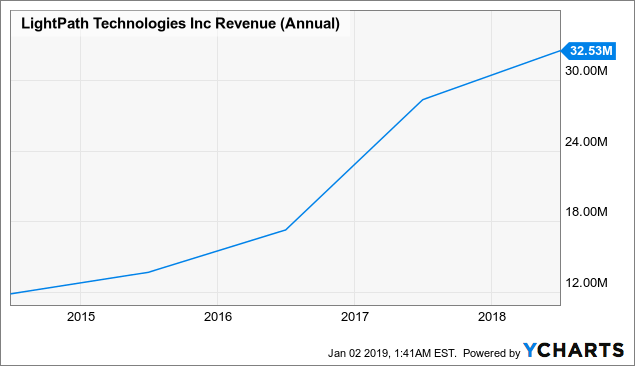 Well, we attended a key supplier conference with Huawei during the quarter and that was all they wanted to talk about was 5G and that's where their focus is and they expect that to see that ongoing over the next five years. So that was very encouraging and then we got a really nice order from them for those type of product so I think and we've done a lot of work as we pointed out in the past on the new design lenses for that type of application. So we're starting to see that stuff build. - CEO, Jim Gaynor
This was in reference to a contract with Huawei prior to their CFO, Meng Wanzhou's capture and detention in Canada for violating Iran sanctions. Further allegations by the international community have been raised that China's 5G network may have intentional flaws or security weaknesses that would allow China to gather intel on competing nations. Adoption of Huawei's 5G products may be challenged and the future resolve for Wanzhou's charges will affect how LightPath's contract with Huawei plays out. Meanwhile, the momentum behind 5G interest is not slowing down.
"On Dec. 21, AT&T will be the first and only company in the U.S. to offer a mobile 5G device over a commercial, standards-based mobile 5G network." You can read the full news release for AT&T 5G network on their website.
The uptrend in autonomous vehicles and 5G are two technologies that LigthPath stands to benefit from and the recent lows present room to grow in 2019. LightPath is rated a buy.
Risks of Buying These Companies Off The Lows
As reviewed, these companies have all declined towards the end of 2018. Some have reached their 52-week low. They all share the basic risk that the bottom hasn't been reached. It is the common adage that illustrates the danger, to catch a falling knife.
Aside from some sliding stock prices here is a deal breaker event for each stock that could warrant an exit.
NEPT - if product quality of the first B2B orders of CBD require any recall. This would delay and cause the company to fall behind the CBD infusion race.
CGC - if the partnership with Constellation Brands proves to be sloth versus Anheuser-Busch InBev (BUD) & Tilray Inc. (TLRY) partnership.
MGI - any further warnings from FTC/DOJ or setbacks in their anti-fraud efforts.
LPTH - if the Huawei 5G contract falls through and there are no other similar orders in the pipeline.
Disclosure: I am/we are long NEPT, LPTH. I wrote this article myself, and it expresses my own opinions. I am not receiving compensation for it (other than from Seeking Alpha). I have no business relationship with any company whose stock is mentioned in this article.