The wise investor can profit if he can think independently of the crowd and reach the rich answer when the majority of financial opinion is leaning the other way. - The Father of Growth Investing (Philip Fisher)
Fiscal 2018 was definitely a memorable year for the bioscience sector because most bioscience equities went through a period of high volatility. Interestingly, the year commenced with many equities enjoying the robust appreciation that continued through the first three quarters. In the fourth quarter, most bioscience stocks gave back the prior gains as the market bears came out of the woodwork. Amid this difficulty, there are great opportunities for investors who are on the prowl for high-quality bargain stocks. While building shares in the thick of a market downturn are highly likely to yield some gains, selecting the most promising stocks will deliver sizeable profits at the next bull market cycle. In our private investment community, Integrated BioSci Investing ("IBI"), we've featured a good number of five-star stocks. Therefore, the selection of the best performing equity for 2019 was quite difficult. Be that as it may, we drilled our selection of the 2019 top candidate down to Regenxbio (RGNX). In this article, we'll present an analysis of Regenxbio from the lenses of our M4 investment criteria.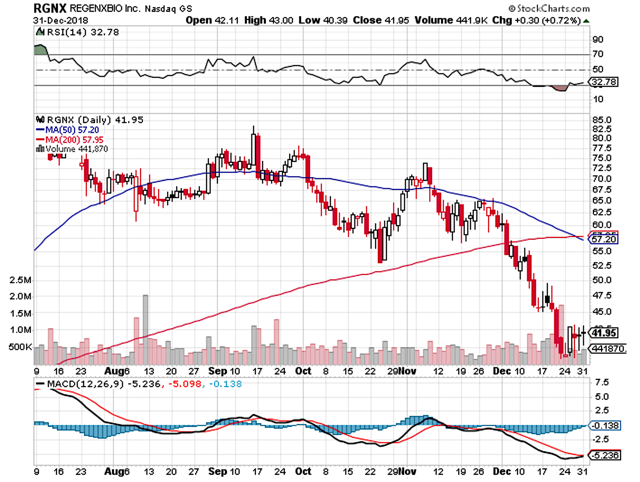 Figure 1: Regenxbio chart (Source: Stockcharts)
M4 Selection Criteria
Prior to diving into the individual companies, we'd like to present an overview of the M4 elements of our investment approach, Integrated BioSci Investing. Notably, investing research usually has a great deal of subjectivity. To minimize the potential bias associated with subjectivity, we employ a set of criteria known as M4 in seeking better analytical accuracy and enhancing research quality. The aforesaid elements include medicine, market, money, and management. We noted in an IBI Educational Series article:
Our decision to refine certain criteria is similar to Warren Buffett's emphasis on the price to earnings (P/E), price to earnings growth ("PEG"), discount cash flow ("DCF"), net present value ("NPV"), and business moat. In contrast to Buffett, we believe that the M4 model is most applicable to early-stage growth bioscience stocks.
2019 Top Performing Candidate
Without further ado, we'll analyze Regenxbio within the M4 analytical framework. Operating out of Rockville Maryland, Regenxbio is focused on the innovation and development of various gene-therapies to manage retinal, metabolic, and neurodegenerative diseases. As shown in Table 1, all evaluating elements - medicine, money, market, and management - ranked extremely favorable for Regenxbio.
| | |
| --- | --- |
| Medicine | Regenxbio is powering by the proprietary NAV Technology. The company out-licensed NAV to 11 partners who are innovating therapeutics to manage 20 different indications. Moreover, the company also has an interesting pipeline. |
| Market | The company is targeting the $169B mega-blockbuster orphan disease market. |
| Money | There was $474.9M in cash, cash equivalents, and marketable securities as of Sep. 30, 2018. |
| Management | As an MIT graduate, the CEO and Founder (Kenneth Mills) has the strong executive leadership experience at other companies. |
Table 1: M4 analysis for Regenxbio (Source: Integrated BioSci Investing)
M1 - Medicine
We first look at the pipeline to see if any particular molecule or technology platform stands out. Usually, it's the lead drug. Once in a while, there is a hidden gem (a medicine in the earlier phase) that holds the most value. What attracts us is the drug novelty. We prefer the first-in-class therapeutics over a "me too" medicine that typically fails to gain market traction (even if approved). - IBI M4 Model
As follows, the crown jewel of Regenxbio is its novel gene delivery platform coined NAV. Harnessing the wisdom from the earlier setbacks relating to adeno-associated viral vectors, NAV is delivering unprecedented early clinical efficacy and safety in the management of various rare diseases. Based on its sound underlying science and highly promising early clinical outcomes, NAV scored extremely high on our scientific novelty variable.
Though the company is brewing an organic pipeline with stellar molecules like RGX-314, Regenxbio also out-licensed NAV to 11 innovators that are investigating the aforesaid technology in over 20 different indications. The fact that NAV received the votes of confidence from many partners speaks volume to its potential success. After all, the decision to employ NAV as the premier gene delivery vehicle is the aggregate wisdom of many top-tier experts.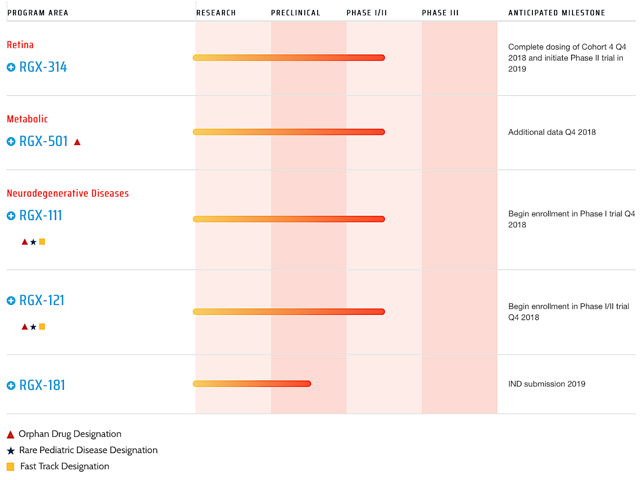 Figure 2: Therapeutic pipeline (Source: Regenxbio)
M2 - Market
Even if a drug can gain regulatory approval, it can nevertheless fail in commercialization due to a weak market. Hence, we grade the demand for the drug by looking at the unmet needs for a corresponding disease. Ideally, we want a medicine that is going to manage a condition without an approved treatment. There is nothing better than a monopoly due to its high-profit margin. Realistically, there are few developing drugs that will enjoy a monopoly. Therefore, we usually settled for a first-in-class or next-generation drug that has a good chance of cutting into a particular niche. - IBI M4 Model
As mentioned, Regenxbio is targeting the lucrative orphan disease market. Accordingly, Allied Market Research projected that the global market for orphan diseases is growing at the 6.8% CAGR: it will reach $169B in 2022 from $106B in 2016. Despite that Regenxbio will only earn a small percentage of the potential sales from its +20 indications that is still a blockbuster earning potential.
M3 - Money
It takes approximately $1B to fund a molecule from bench research to commercialization. As a development-stage bioscience company has yet to generate any drug sales, the firm has to raise money for working capital. A public offering, in which the company issues more shares, is the most common and prudent approach. Instead of incurring debts, we prefer that a company executes a public offering when their stocks are trading at a high valuation. A short-term bank debt can be recalled at any time, thus subjecting the company to a Chapter 11 filing. - IBI M4 Model
That being said, we'll assess the financial strength by analyzing the Third Quarter 2018 earnings report. As of Sep. 30, 2018, Regenxbio has $474.9M in cash, cash equivalents, and marketable securities, thereby representing a 169% increase from $176.4M for the same period a year prior.
Notably, the robust cash position is due to the $189.1M generated from an equity raise back in August 2018. Moreover, Regenxbio also received $180.0M from its partner AveXis which were acquired by Novartis (NYSE:NVS) for $8.4B. Based on the $28M quarterly OpEx rate, there should be adequate capital to fund operations for four consecutive years prior to the need for additional financing. Due to its strong cash position, we do not believe that Regenxbio will execute a public offering for at least two more years.
M4 - Management
In other lines of business, mediocre management can still deliver value to the company. Those businesses are more straightforward and have easy operations. In contrast, bioscience investment is another beast. It requires the "cream of the crops" management to be successful. To this date, we have yet to witness a company (even with good medicines) performed satisfactorily in the long haul when the management is subpar. - IBI M4 Model
Interestingly, Regenxbio is leading by the CEO and Founding President, Kenneth Mills. As the captain of this ship, Mr. Mills has a strong pedigree and aptitude for innovation as reflective by his education at the Massachusetts Institute of Technology. Additionally, Mills held strong leadership roles as the former CFO and VP of Business Development of Meso Scale Diagnostics. He also served as the Director of Business Development for the medical diagnostic company, IGEN International.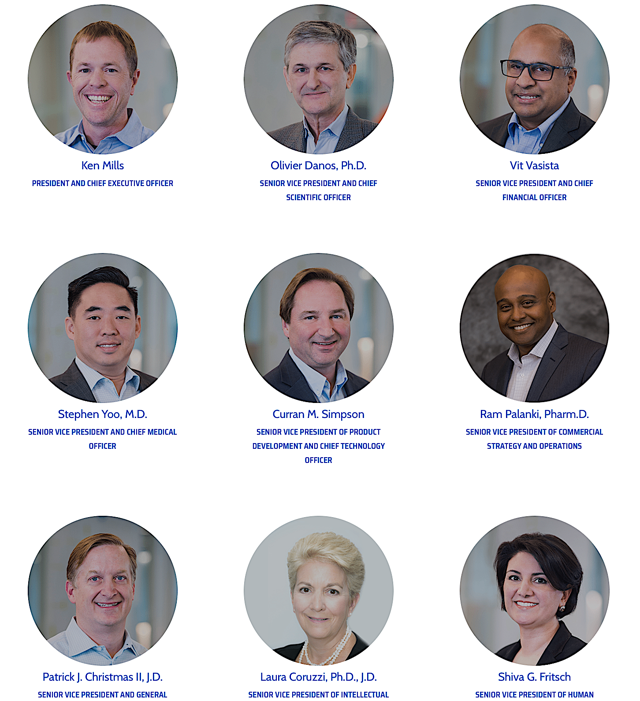 Figure 3: Regenxbio management (Source: Regenxbio)
Potential Risks
As with any investment, one should be cognizant of the associated risks. This is because investing research is an imperfect science. There are intermingling elements of arts as well as science, which altogether contribute to the subjective nature of the analysis. We believe that the main risk to Regenxbio is if NAV can continue to post positive clinical outcomes for the 20 plus franchises in development. Despite the 65% (i.e. more than favorable) chances of success, there are still 35% chances of clinical failures. And while the failure of several partnered franchises won't materially affect Regenxbio, if the lead molecule RGX-314 cannot procure positive outcomes, it's most likely that the shares will tumble over 50% and vice versa. The other concern is that the partners might prematurely terminate the partnership. Given that gene therapy is a novel field, there are rough edges that necessitate time to smooth out.
Conclusion
In all, we strongly believe that late 2019 and beyond will herald good news to shareholders of our Top Pick, Regenxbio. The company is riding on the waves of revolutionary breakthroughs in gene therapy. In using the similar AAV technology, Spark Therapeutics (ONCE) already gained approval of Luxturna to manage a rare form of blindness. Our analysis of the NAV platform of Regenxbio revealed that it should deliver excellent clinical efficacy and safety. Ultimately, the gene therapies powering by NAV will service many orphan conditions in the foreseeable future. And, gene therapy is an exotic medicine that warrants a premium reimbursement. The orphan disease market is also quite gargantuan at $169B. There is an aplenty of room for further growth. Furthermore, Regenxbio has abundant cash to fund its innovation for the next couple of years.
That aside, the runner-up for 2019 is Madrigal Pharmaceuticals (MDGL). Its lead medicine, MDGL-3196 will most likely become the standard of care for nonalcoholic steatohepatitis ("NASH"). We strongly believe that investing in a leading NASH innovator like Madrigal will lead to substantial profits in the next few years: the NASH market is estimated at $25.1B yet there is no approved medicine.
Regarding the Third Place, Vanda Pharmaceuticals (VNDA) took this spot. The company has a hidden asset that is tasimelteon (Hetlioz). It is already approved as the management of non-24-hours sleep-wake disorder. Moreover, Vanda is investigating its potential application for the orphan condition, Smith-Magenis-Syndrome, that we believe will bear fruits. Furthermore, the pipeline has other interesting molecules to deliver more "shots on goal" of finding a blockbuster. Last but not least, we recommend that you build shares in at least ten IBI 5-star companies to achieve an adequate level of diversification that is one of the requisites for successful bioscience investing.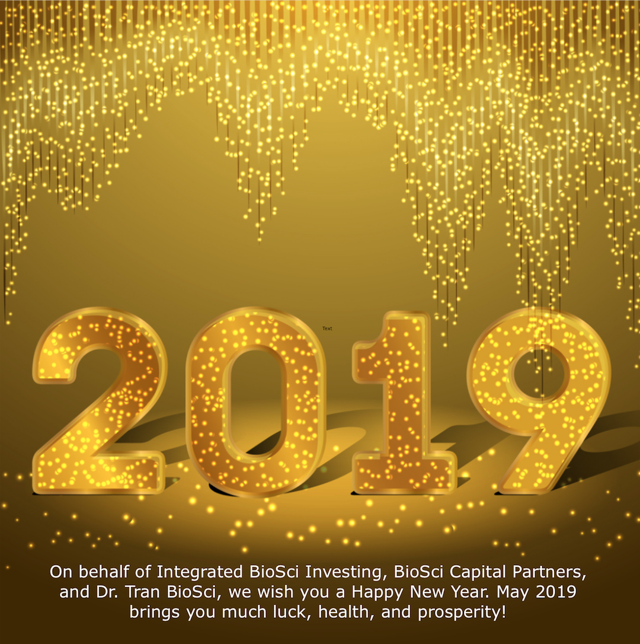 Image source: 321Happynewyear
We're honored that you visited us today. Founded by Dr. Hung Tran, MD, MS, CNPR, IBI is uncovering big winners like KITE, JUNO, and CORI that got acquired. While uninformed investors fear a bear market, we're seizing this opportunity. Our secret sauce is extreme due diligence with expert data analysis. The service features daily research/consulting. Though we publish some ideas publicly, those articles are available in advance and are discussed extensively in IBI. We also reserve our best ideas exclusively for members. And, we invite you to subscribe now to lock in the current price.
Disclosure: I/we have no positions in any stocks mentioned, and no plans to initiate any positions within the next 72 hours. I wrote this article myself, and it expresses my own opinions. I am not receiving compensation for it (other than from Seeking Alpha). I have no business relationship with any company whose stock is mentioned in this article.
Additional disclosure: As a medical doctor/market expert, Dr. Tran is not a registered investment advisor. Despite that we strive to provide the most accurate information, we neither guarantee the accuracy nor timeliness. Past performance does NOT guarantee future results. We reserve the right to make any investment decision for ourselves and our affiliates pertaining to any security without notification except where it is required by law. We are also NOT responsible for the action of our affiliates. The thesis that we presented may change anytime due to the changing nature of information itself. Investing in stocks and options can result in a loss of capital. The information presented should NOT be construed as recommendations to buy or sell any form of security. Our articles are best utilized as educational and informational materials to assist investors in your own due diligence process. That said, you are expected to perform your own due diligence and take responsibility for your action. You should also consult with your own financial advisor for specific guidance, as financial circumstance are individualized.