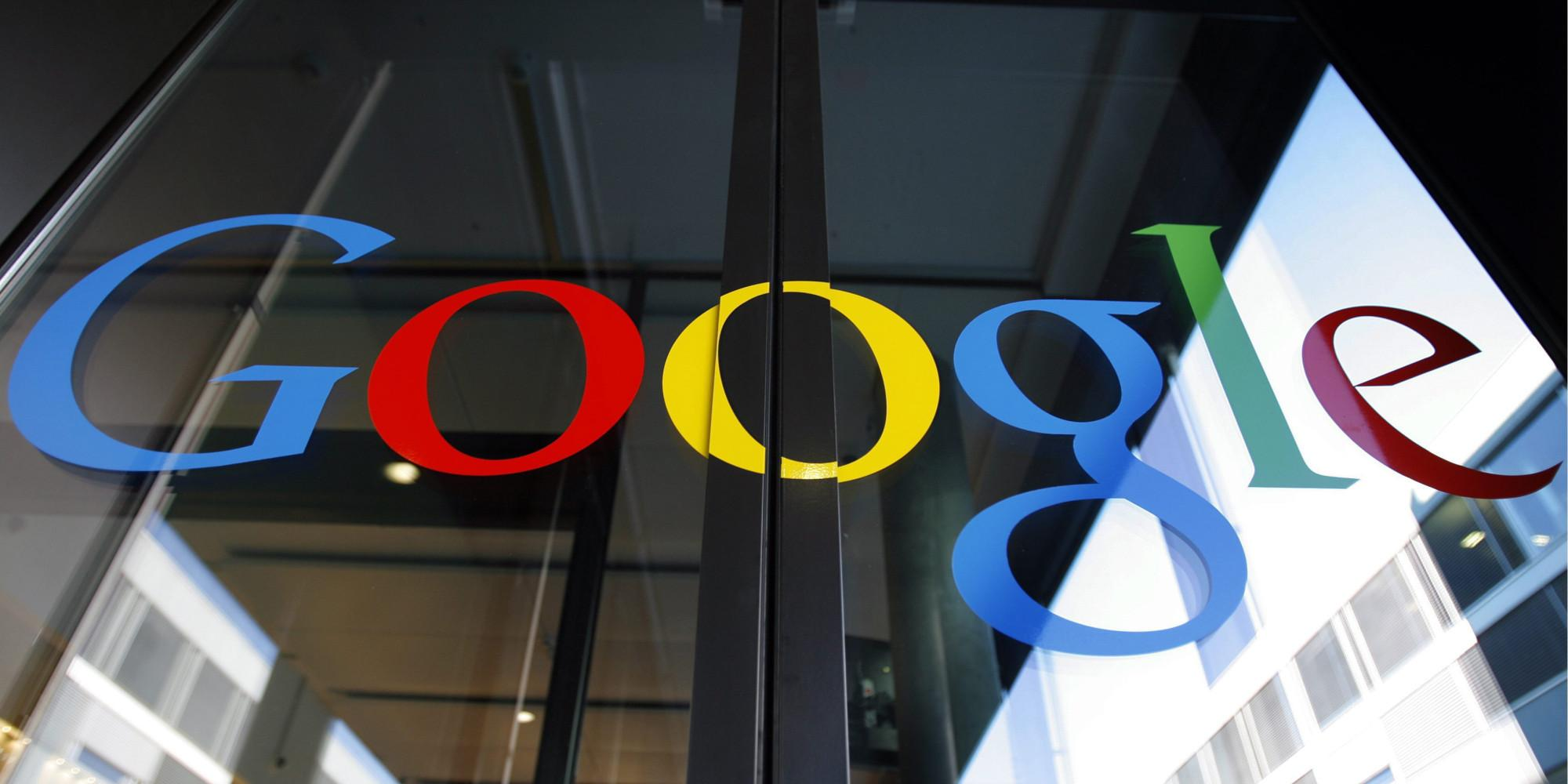 Both Google (GOOG) (NASDAQ:GOOGL) and Amazon (AMZN) have suffered in the latest market correction. Google's stock is trading 18% off of 52-week highs and Amazon is trading 25% off of 52-week highs. With that being said, I see Google as the superior stock to buy for the following reasons:
There's no weakness to Google's operations. The company consistently delivers strong revenue growth, high margin profits, and impressive free cash flow.
Google has amassed a cash war chest of $106 billion and almost no debt. This will give Google an opportunity to close multiple large acquisitions, increase internal investments, or start a dividend in the near future.
With a Forward P/E of 22.4x and EV/FCF of 28.84x, Google's valuation is far more attractive than Amazon's.
Operating Performance - Winner: Google
For the first 9 months of the year, Google has recorded the following results:
Revenue growth of 24.2% ($78.5 billion to $97.5)
Net Income growth of 39% ($15.7 billion to $21.8 billion)
Operating Cash Flow growth of 30% ($26.8 billion to $35 billion)
Over the same time period, Amazon has recorded the following results:
Revenue growth of 37% ($117.4 billion to $160.5 billion)
Net Income growth of 499% ($1.2 billion to $7 billion)
Operating Cash Flow growth of 137% ($6 billion to $14.2 billion)
Amazon's sales growth has been impressive, but what's not impressive is its profit. Recognizing only $14.2 billion in profit off of $160.5 billion in sales (9 months 2018) shows Amazon's core uncertainty, that it may be a low margin business. As I'll discuss below, Amazon's operating cash flow is also inflated and isn't as impressive as the growth outlined above. Google on the other hand yields strong results across the board. Every additional dollar of revenue for Google translates into meaningful additional profit and free cash flow.


Free Cash Flow - Winner: Google
This comparison isn't even close. Since 2013, Google has been able to turn 23% of its revenue into free cash flow, which makes it one of the best producers of free cash flow on the market. Amazon is valued more than Google, yet produces far less free cash flow. Just like operating performance, Amazon has yet to turn its large amount of revenue into something meaningful. It's also important to point out that Amazon has been using capital leases for approximately 50% of its property & equipment purchases, which aren't included in operating cash flow. This essentially inflates free cash flow, but worsens the balance sheet. Over the last twelve months, Amazon has acquired $9.7 billion worth of equipment using capital leases, which would have reduced free cash flow to only $3.6 billion if it were included in operating cash flow (not much considering $160 billion in revenue). In 2017, Amazon purchased a similar amount of equipment using capital leases, which would have pushed its free cash flow into the negative.


Balance Sheet - Winner: Google
With a net cash balance of $102 billion, Google has a cash war chest that is second to only Apple (AAPL). This amount of cash provides a level of operating flexibility that Amazon can't match in terms of investment and acquisition potential. Amazon has been taking on debt recently and actually has a negative net cash balance, which is a result of some of the things I've already pointed out (e.g. no meaningful profits yet and heavy capital investments through operating leases). While its level of debt is still small compared to its enterprise value, I do think this is something to watch.


Valuation - Winner: Google
Amazon trades at a premium to all other large-cap technology companies given its growth profile, but I still see the stock as over-valued. From a fundamental perspective, a Forward P/E of 57.6x and EV/FCF of 54.6x are still high. Don't forget what I pointed out about Amazon's 'true' free cash flow. If you include capital leases, Amazon's EV/FCF would be 221x.
Google's valuation on he other hand is rooted in fundamental analysis and looks more attractive across the board. Google does have a lower long-term growth percentage, but it's a much more efficient company than Amazon. Google has operating margins that have averaged 25% over the last 5 years, where Amazons are normally less than 5%. This means Google generally turns any growth into meaningful free cash flow and profits, which Amazon can't claim. So when comparing Google's growth to Amazon's, less is actually more.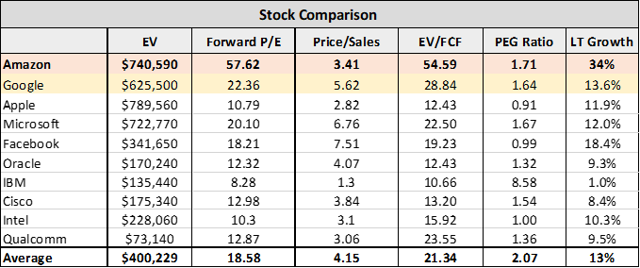 Forward P/E, Price/Sales, and PEG Ratio provided by Yahoo Finance.
EV/FCF provided by Ycharts
LT Growth Rate derived from Forward P/E and PEG Ratio
Wall Street's Opinion - Winner: Amazon
Wall Street is more bullish on Amazon than Google. Buy/Sell ratings are pretty similar, but the consensus target price indicates more upside for Amazon. According to MarketWatch, the average target price for Amazon is $2,153, which represents 40% upside based on the current share price of $ 1,539. The average target price for Google is $1,335, which represents 28% upside based on the current share price of $1,045.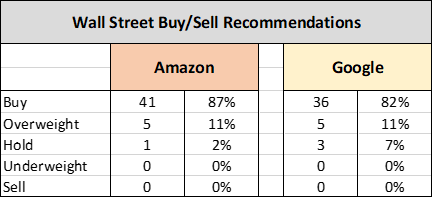 Conclusion
In my opinion, there's a number of factors that make Google look much more attractive when compared to Amazon:
Google trades cheaper at every major valuation multiple. In particular, a significantly lower Forward P/E and EV/FCF are compelling.
Google's stock price is result of strong performance and is rationale from a fundamental perspective. To the contrary, Amazon's valuation is still based on too much growth and hitting operating metrics that are years away. There's no reason to wait and increase your risk when you can have everything with Google right now.
Google produced significantly more free cash flow ($22.9 billion vs $13.3 billion over the trailing 12 months), which has allowed it to amass a cash war chest that's almost unrivaled in the market.
Google turns its growth into meaningful profits and cash, where Amazon's growth can often be superficial. As an example, Amazon's balance sheet has consistently deteriorated on an annual basis. Consider that Amazon hasn't made any large acquisitions, doesn't fund a dividend, and stock repurchases have been negligible.
Disclosure: I/we have no positions in any stocks mentioned, and no plans to initiate any positions within the next 72 hours. I wrote this article myself, and it expresses my own opinions. I am not receiving compensation for it (other than from Seeking Alpha). I have no business relationship with any company whose stock is mentioned in this article.